Big Data Index
I talked about the index coop in my article covering the interview with Dark Forest Capitol that Zima Red did. This can be found on Medium or maybe dGEN Network.
In short, index coop builds awesome financial products for investors in the crypto space. Some of these are index products. I would like to take this opportunity to briefly discuss their newest product. This is another index product focusing on the burgeoning data economy. Here is briefly what this index is, and some details on its current constituents.
Data is defined by Merriam/Websters dictionary as factual information (such as measurements or statistics) used as a basis for reasoning, discussion, or calculation. People like to say now that data is the new oil. By this they mean that it in an important industrial commodity used in every single supply line we have. The data is not the final product that is sold to consumers, rather, it is consumed along the lines of production to get the product right to your door. There is more data and information available to be learned right now than there has ever been.
So many tiny details, that when added up and aggregated by computers can control and predict our world. Data collection, analysis and marketing is now huge business. It is the business of Facebook, google, every social media app and just about every other large technology company.
This data is largely about you and I. This data is about what we buy what we click and how many steps we take. There is little minutia of your life that cannot be quantified and sold to someone. Why would anyone want to know how many steps I took today or what my last website visit was? So, they can sell me shit of course.
Data collection and curation is an important step in the consumer process these days. Some people call our current system "surveillance capitalism." The companies tell us what we need to think and own based on the data they have purchased about us. This is a perfect system, wherein the chance of me making a mistake is mitigated through complete top-down control by my corporate masters. I jest here. It's easy to get a little dystopian and pissed off. Everyone is measuring me and they're making money off it too!
Some of the trends in decentralization technology are offering a glimpse out of this gross paradigm. The hope of a world where users control their data and a portion of the platforms that exploit this data has emerged. Whomever controls the data, it is clear that data is an increasingly important cog in the machine of our markets. The data economy is a loose term that has arisen to describe the players in this system.
In the literature for this index, they define the data economy thusly: "The Data Economy is an ecosystem of data-based products and services." The folks over at index coop see this section of the economy and the projects that represent it as poised to disrupt the data monopolies built by big tech over the last few decades. They view this as being as inevitable as the protocols being built in DeFi toppling the current financial system.
If this data economy is going to be the next best thing since sliced bread that will topple Apple, Google and Amazon, I'd like some price exposure to it please sir. But I hardly understand WTF this emerging economy is, how will I ever pick the winning projects? This is where the DATA token comes in to your portfolio. You hold DATA, knowing that the geniuses and strategists at the coop will be watching and curating the index to capture the growth potential in this wacky space they call the data economy. Now I would like to talk about how they create their index and then what is currently in it.
The DATA index is described by index coop as "a digital asset index capturing the growth of data economies with significant economic activity." They call the index "data-centric and chain agnostic" noting that it may include tokens from any blockchain if that token represents a protocol that provides services or products that are in some way data-based. You can look at RenFils current inclusion as an example of this. This is also an example of one of the index's requirements.
The token must be available in an erc20 form as this index is on Ethereum. Thus, they are ready to take advantage of growth outside of Ethereum so long as that growth can be represented as a token that can interact with eth smart contracts. It is unclear to my why ren itself is not in the index. It may just be because it is already in the DeFi index. These two indexes may be a bit incestuous. What is money but financial data? I could see a place for ren in the DATA index as a way to get token data from one chain to another.
My digression is over, so here are more requirements for inclusion in to the index. As already stated the token must represent a protocol who's primary products or services are data-based. The token must have a market capitalization of over 100 million and sufficient on chain liquidity. As this index is fully backed and collateralized, liquidity on a centralized exchange does not help the index access tokens. For inclusion, the tokens liquidity must be available through a dex. The token itself must have at least three months of public on chain trading activity as well as growth and usage that the index coop deems "organic".
While they prefer tokens from protocols with independent audits the team does reserve discretion to add unaudited tokens to the index if they are approved by all the requisite methodologists and team members. While token inclusion has a great deal of subjectivity, the token weightings once in the index are determined mathematically. The percentage of the index that is allocated to each constituent token can be represented by the following equation.

The maximum weighting given to a single token cannot exceed 25%. If a token allocation does exceed 25% then the excess liquidity over 25% is distributed to the other tokens in the index. The index is maintained and re-balanced quarterly. The current token allocation is shown in the following picture. The subsequent paragraphs describe the tokens themselves.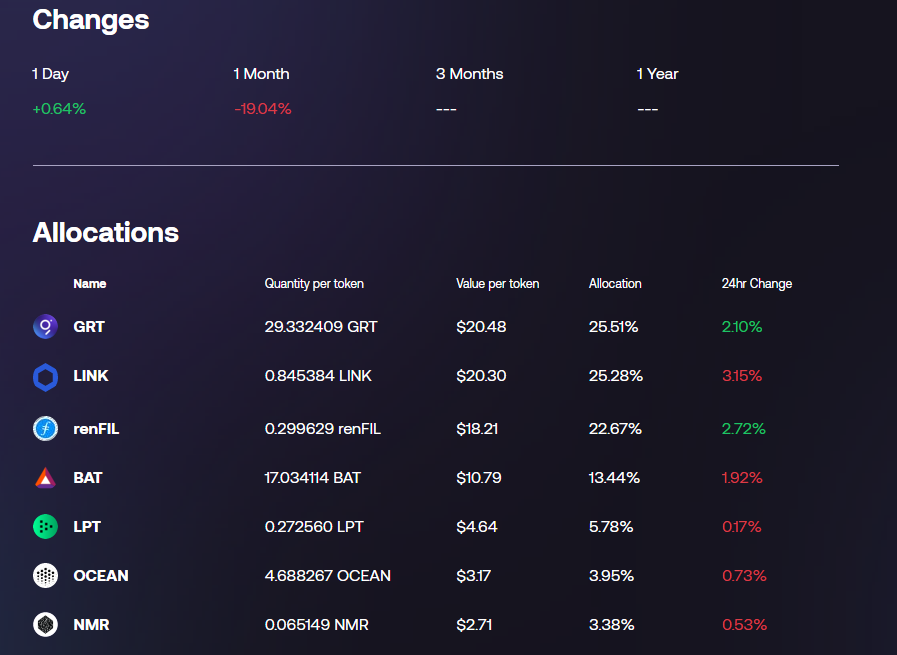 GRT is the token for the graph protocol. As well as the largest allocation for the index at present, this is one of the most underrated protocols and teams in the wider crypto space in my opinion. This lack of appreciation for what the graph does is because, like most other constituents of the data index, they do not really make a consumer facing product. Another faux pas they committed in the hype your project space was having a working and useful project well before they had a token for degenerates to speculate on.
I'm talking years of functioning product without a token. That's right, this is already your favorite DeFi team's favorite protocol. People building in the space have been using the graph for years. What do they use this for? People building on blockchains use the graph to order and query on chain data. A network of node operators index and curate on chain data into open APIs called subgraphs. These subgraphs can be queried by smart contracts and users alike. The graph and its protocol are part of what helps the different sections of the Ethereum ecosystem interact with each other.
GRT is described as a work token, used by all participants of the graph ecosystem. It is staked by indexers curators and delegators alike. This allows these participants to benefit from the growth of the network while letting them have something at stake to slashing to encourage prosocial behavior. The tokenomics of this ecosystem seem complex. They were designed with the help of the 0x team which seems to understand tokenomics well.
LINK is going to be the most familiar name on this index to most. Link is the token for the chainlink network. As well as having an ardent fanbase of retail investors and lots of ways to access their token on exchanges they have a great role to play in the data economy. That is the role of an oracle. An oracle is a protocol to help blockchains access accurate data from off chain. This is a very complementary role to the graph, but for data not on blockchains.
Off chain data is important for DeFi protocols that track the price of off chain assets. Off chain data can be used to make NFTs dynamic and able to respond to real world events. At this point most of life is still off chain. So most of the data in life is off chain. It makes a whole lot of sense that blockchains will need a trust minimized way to access this trove of ever changing off chain data. Chainlink is the first oracle, the largest and the most widely used. It is however far from the only oracle. Many other oracle solutions have gained favor both on and off of Ethereum.
The winner in the oracle space is not yet chosen in my eyes, but the role of oracles seems to have cemented its importance in the public eye. Of note is that many defi protocols run their own oracles. The LINK token is used to incentivize accurate data provision in the network. There has been talk of LINK staking for a long time but to my knowledge this is still not live.
Their oracles are widely used by many other protocols in the industry. Chainlink also offers the VRF to blockchain protocols. This stands for verified random function. Randomness and entropy are things that blockchains can't do very well. Before Chainlink offered this function to bring off chain entropy on chain, any "randomness" generated on chain could actually be seen and forecasted from metadata on the blockchain.
The third constituent at this time is RenFIL. RenFIL is the version of the native Filecoin token FIL that is wrapped by the ren protocol to be available on Ethereum. Filecoin is a data permanence solution! Built by Protocal Labs, Filecoin is a system for decentralized file storage and sharing.
Theirs is a much more censorship proof method of data storage than the cloud services used by most people and firms today. They aim to create a data storage marketplace wherein people with spare disk space can offer that up for some FIL. You can also pay with FIL to have things stored on the blockchain forever.
The FIL token is the incentive mechanism that this protocol uses to ensure the safe storage and dissemination of information. The NFT fervor of this year has lots of people talking about permanent on chain storage. Most of the weirdly expensive NFTs in the market don't store their metadata trustlessly on chain and that is a problem. You don't really own something if you just own an arrow pointing to a bit of amazon infrastructure where your crap "may" be stored. Filecoin, Siacoin and arweave are some possible solutions to the centralized data storage problems that are currently plaguing the theoretical longevity and censorship resistance of many popular NFT and PfP projects.
BAT is the basic attention token from the brave network. The brave network produced a browser that is pretty awesome to use. It blocks pop ups and is generally a lovely browser. It's functioning seems to have little to do with the token or its possible future value. I do very much like the name of the basic attention token and I would love for a unit of denomination for attention to catch on. They call themselves a "blockchain based digital advertising and rewards platform."
There are optional advertisements available to view while using their browser. If you choose to watch these ads you are rewarded in BAT. I like the idea of optional advertisement and getting a bit of the money that the ads bring in. I am not sure whether this has caught on any, or if the scale of the program has increased at all. The BAT token can also be used to tip the creators of content you appreciate when using the brave browser.
That is if the creator of your content has a specific wallet set up with brave. The token is listed all over and has lots of liquidity for those who want to speculate. I have yet to speak to anyone who has made an appreciable bit of BAT from content creation or advertisements. It is a lovely browser. I hope the team builds out more products and integrations to make role part their token will play in the data ecosystem more clear to me.
LPT is the livepeer token. Livepeer is a decentralized video streaming application building tool. This protocol allows developers to build products with streaming video without the cost and security threats inherent in today's more centralized cloud based transcoding options. If the preceding sentence sounds like I don't understand what transcoding is its because I don't. I do understand that it sounds computationally difficult. If you are using a small device, not capable of this live transcoding, presumably you can get this network to do that for you in a decentralized sort of way.
LPT is the utility token that connects the people with the GPUs doing the transcoding, the people recording and disseminating live video and the token speculators like you and I. While I don't understand the technical issues inherent with trying to stream live video, I do know that this is an important part of our world. Sharing media like live videos is likely to become a more frequent form of communication for our species. Our reliance on large, centralized services for transcoding or other computationally heavy processes makes all systems that rely on these services open to censorship.
OCEAN is the token for the ocean protocol. The ocean protocol is a data marketplace with its eye towards artificial intelligence applications. My understanding of AI is that it is an umbrella term for a huge family of statistical modeling tools. These tools can create things that approximates intelligence through noticing patterns and details in data and then recreating similar things. This means the AI gets a lot more "I" as the amount of data available to its models increases.
As the importance of AI, data sets, and the resultant mergers of the two grows there needs to be a trust minimized marketplace to anonymously exchange data. I think this is what ocean protocol is. This protocol allows for and incentivizes the safe and secure sharing of these data sets. Staking helps preserve and signal quality or reputation of data sets. The OCEAN token is what incentivizes accurate data and prosocial behavior in the marketplace.
NMR is the token for the numeraire network. This is a network that aims to build an AI aided, crowd-sourced system for hedge fund assembly. This team wants to fix the problem in traditional finance of having a few people pick the stocks in a fund. But this system seems much more complicated than anything in traditional finance.
So, although this is crowd sourced in nature, I can't help but think it may be sourced from an even smaller crowd than the crowd of hedge fund managers. It seems there would be a very small subset of data scientists who would have the ability and the desire to interact with the markets in this way. I may be super wrong here. This is certainly an interesting project to watch develop. The DATA fund currently has a little over 3 percent in NMR.
Arweave, siacoin, akash, band, api3, radicle, kylin and tellor are just a few other interesting players in the data economy. There are many more on many chains. The index funds requirements at the moment are for erc-20 tokens on Ethereum only although the criteria does include the line "This will be revised if the Set Protocol infrastructure becomes multi-chain." I see no reason why the set team or the index coop would not want to bring their projects to other chains.
I also represent neither of these teams and have no idea what their future intentions are. The overton window has largely shifted to multichain being the accepted future. I know that set protocol has migrated to polygon, so it is fine with L2 solutions on eth. I have no idea the technical difficulty, but it seems to me it would be pretty cool if they retooled their contracts for other L1s that are EVM compatible. No matter what chains the coop goes to in the future, there are many tokens that represent and capture the expansion of the data economy. I will be following them as well as their DATA index.
If you are bullish on the crypto space, then you need to get some DATA. The space cannot grow without further proliferation and growth of the data services serving both on and off chain needs. If you are bullish on any of the other index products offered by the coop, then you should be bullish on the data index. The metaverse does not exist without a composable set of tools to interface with and analyze data. The ecosystems represented by the all-encompassing BED token, are made much richer by their interconnection and shared data capabilities.
The DATA index is the logical next step from this team of builders that are closely following the space which they grew out of and helped build. The expanding data economy is complicated and opaque to most of us. This is a space nearly none of us will need to understand in depth but surely one that will change all our lives and attract a great deal of capitol. It is just this sort of asset class that can benefit from indexation.
This is the sort of trend that the products from index coop are made to help people capture. I am happy to hear these folks are on top of it. Please reach out to me to discuss indexation, my opinions on the DeFi space and data predictions! Please reach out to the folks at the coop through @indexcoop if you have questions about their products or offerings.
Check out my other articles here.