Bitcoin Ordinals are now dominating the Web3 landscape. Purists (Bitcoin Maxis) dub these an assault on the network, while others passionately mint these without care.
Yet, it is undeniable that some Ordinals NFTs are selling for BTC prices in the double digits. So, what are they, and why is the crypto community split? 
What is a Bitcoin NFT?
A non-fungible token (NFT) is a unique piece of information stored on a blockchain that may be connected to digital and physical items to prove ownership. Hal Finney conceptualized the idea for NFTs in 1993, and the market has since expanded to be worth several billions of dollars.
Counterparty was the first project to offer non-fungible tokens to the Bitcoin ecosystem, followed by the 2017 launch of Stacks. And the first Bitcoin NFT, known as "Rare Pepe," was minted in 2016.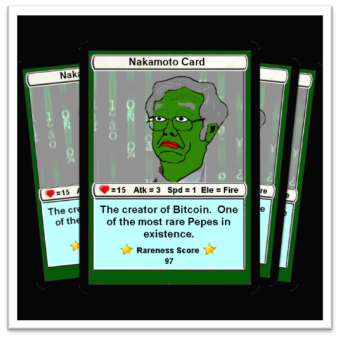 However, Bitcoin NFTs gained little traction, and most NFT activity took off on Ethereum.
The need for smart contracts was one problem impeding the growth of NFTs on Bitcoin.
To solve this problem, earlier projects like Counterparty and Stacks devised other approaches that leverage their native tokens for the contract portion but ultimately settle their transactions back on the Bitcoin blockchain.
Now a new kid is on the block.
Web3 world is buzzing with excitement and controversies with the advent of Ordinals NFTs.
Ordinals differ from past efforts in that the digital assets are directly inscribed onto Bitcoin without requiring a sidechain or token.
How do Ordinals NFTs work?
The Ordinals Protocol uses the Taproot upgrade introduced in Bitcoin. It stores NFTs by "inscribing" data in satoshis, or sats, equal to one hundred millionth of a bitcoin.
Casey Rodarmor, a software developer, discovered a flaw that allowed him to store roughly 4MB in a single Bitcoin block. By inscribing a serial number to each Satoshi on the Bitcoin network in the sequence in which they are mined, the Satoshi becomes a trackable and transferable NFT.
The blockchain then stores the Satoshi after being processed similarly to any other BTC transaction. As a result, these NFTs are as safe, decentralized, and indestructible as the Bitcoin blockchain itself.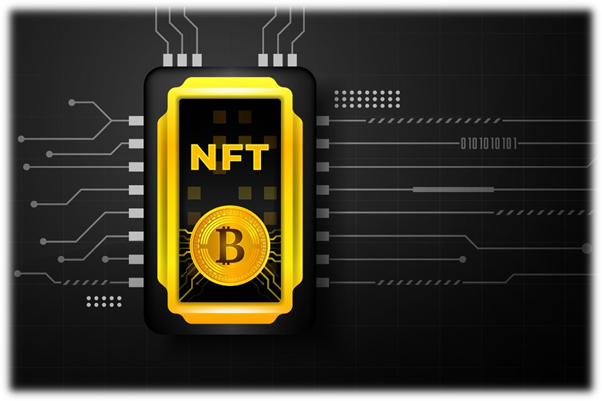 In essence, the Ordinals allow for the direct inscription of pictures and other sorts of data on satoshis (each worth 0.00000001 BTC) on the blockchain without needing a separate sidechain or token.
The network could hold up to 2.1 quadrillion NFTs since there is a limit of 21 million Bitcoin supply with each coin into 100 million satoshis.
Casey Rodarmor, the man behind this standard, is reluctant to use the term "NFTs" as he believes it to be tainted; Instead, he calls them "digital artifacts." Since every Ordinal inscription is said to be irreversible and permanently recorded on the Bitcoin blockchain, it is not wrong to deem them as such.
But how do they compare to Ethereum NFTs?
Creating and using Inscriptions on Bitcoin differs from NFTs on Ethereum or other chains.
Ordinal NFTs offer a radically different approach to NFTs on the Bitcoin blockchain by using two recent developments—the segregated transaction witness section of a Bitcoin block and tapscripts, a scripting feature made accessible by the Taproot update.
It makes it possible to save the whole NFT's content, including its pictures and videos, on-chain as opposed to previous NFT standards that store a link or reference.
Besides, NFTs on Ethereum may be expensive to create or transfer. But sending Inscriptions costs much less, thanks to Taproot's minimization of transaction fees on Bitcoin.
Moreover, creator royalties, often associated with NFTs on other chains, are absent in Ordinals NFTs (for now!)
Another distinction between the two is that Inscriptions are entirely decentralized and immutable since they are all kept directly on the blockchain.
In contrast to NFTs on Ethereum, there have been worries regarding the loss of information if the centralized storage solution is down or if the project alters the metadata.
Immutability has advantages, but it also implies that any unlawful or undesirable information in Inscriptions will stay on the chain indefinitely.
People have already discovered obscene Inscriptions, and it won't be long until someone adds unlawful artwork to the mix. These graphics could still be on the blockchain even if websites that aid in visualizing Ordinal data ban them.
Nevertheless, it's crucial to remember that this problem is not exclusive to Inscriptions and has existed with arbitrary data storage on blockchains from the beginning of the technology.
Ordinals may not only herald a cultural shift for Bitcoin but may also represent a technological advance over NFTs.
Ordinal market trends- Anything but 'Ordinary.'
Despite strong resistance from Bitcoin purists, Ordinals on the Bitcoin blockchain are still going strong, with over 76,400 inscriptions already minted.
According to statistics from Dune, the number of Ordinals peaked on February 9, 2023, with more than 20,800 inscriptions for the day.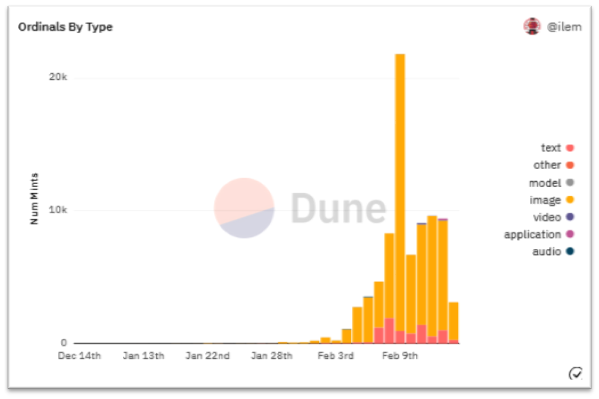 Although the total number of Bitcoin NFTs is unclear, data from the Ordinals website and Gamma, a Bitcoin NFT marketplace on Stacks, indicates thousands minted on the network.
While Bitcoin Twitter continues to debate the benefits of including images and videos in blocks, Bitcoin miners are collecting a tidal surge of fees that reached $92,220 on February 12, 2023, for Ordinal transactions alone.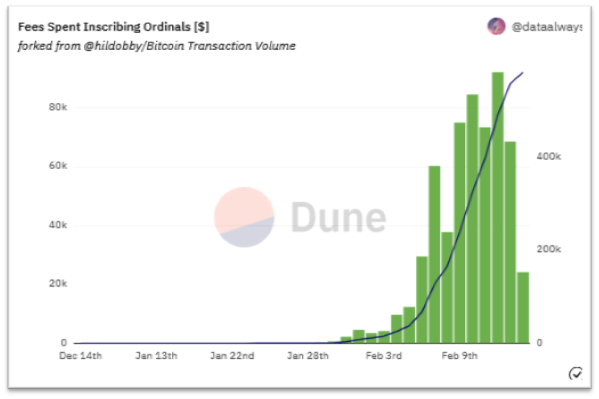 According to crypto analytics firm Glassnode, the introduction of Bitcoin NFT has pushed the total number of non-zero Bitcoin addresses to a new record high of 44 million.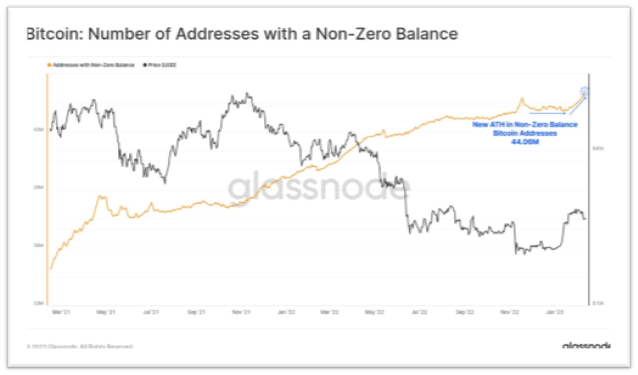 Predictably, replicas of well-known NFT initiatives like CryptoPunks and Bored Ape Yacht Club NFTs have found their way into Bitcoin.
The sale of the Ordinal Punk seen below, which cost 11.5 BTC (or $249,052), demonstrates how some of these early ventures are already generating considerable value.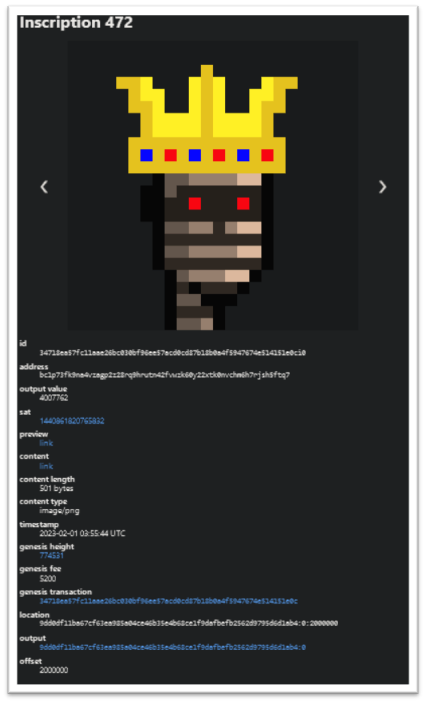 Ordinals have managed to capture a new group of Bitcoin users and developers. It will promote network experimentation and growth, encouraging fresh innovation within the Bitcoin ecosystem.
Ordinals could also challenge the community's technical rigidity and calcified ethos, which might reignite interest in Bitcoin development.
Additionally, we can observe popular creators and NFT collectors on other chains embrace NFTs on Ordinals by leveraging the permanence and immutability of Bitcoin.
In the following weeks and months, we can also anticipate that wallets and marketplaces will start providing native support for Ordinals, bolstering the protocol's potential applications.
What it means to investors
Many of the Ordinals NFT collections are fetching high prices. But investors should DYOR before jumping on the bandwagon.
Ordinal NFT projects like Ordinal Punks are rising in value because they are the "first" to be launched on the protocol. Moreover, the relative "scarcity" of many of these collections, such as the 100 total Ordinal Punks vs. 10,000 CryptoPunks supply, makes it easier to raise the price.
Buyers of these assets should exercise caution since they are still primarily speculative investments.
Newer initiatives that offer more usefulness, compelling stories, visually stunning artwork, or other appealing attributes could easily displace earlier ones.
If the Ordinals protocol gains traction, some of these projects could become early adopters' status symbols and accrue significant value like CryptoPunks or Autoglyphs.
However, most inscriptions could ultimately be useless and shrivel towards zero, showing power law dynamics in value accretion.
Besides, there are still unanswered concerns around intellectual property and copyright infringement with Bitcoin NFTs. Copycat initiatives will undoubtedly exist, and some of these issues may need to be settled in court.
Moreover, inscriptions' full potential still has not been explored yet. It remains to be seen whether the creative creator royalties and auction procedures that Ethereum-based NFT projects have developed can be applied to Bitcoin.
Controversies over Ordinals
Ethereum's advent offered up numerous opportunities for blockchain solutions like smart contracts, DeFi, and the NFTs. And no one can deny Ethereum's contribution to the current Web3 landscape.
NFTs were so popular at the height of their craze in 2021 and 2022 that they elevated Ethereum to the status of one of the most crucial blockchains for commerce. People spend tens of millions of dollars for a single NFT.
It would undoubtedly be beneficial if Bitcoin could tap into some of that demand, right? Well, the crypto community has polarizing views.
The fact that the NFTs will be held on the main Bitcoin chain rather than any sidechains has divided the community. Many Bitcoin developers are concerned that introducing additional file types may have unforeseen repercussions for Ordinals.
One of their main concerns is blockchain bloat, which fills up block space that might otherwise be utilized for just financial transactions, slowing down the network and increasing the cost for regular users.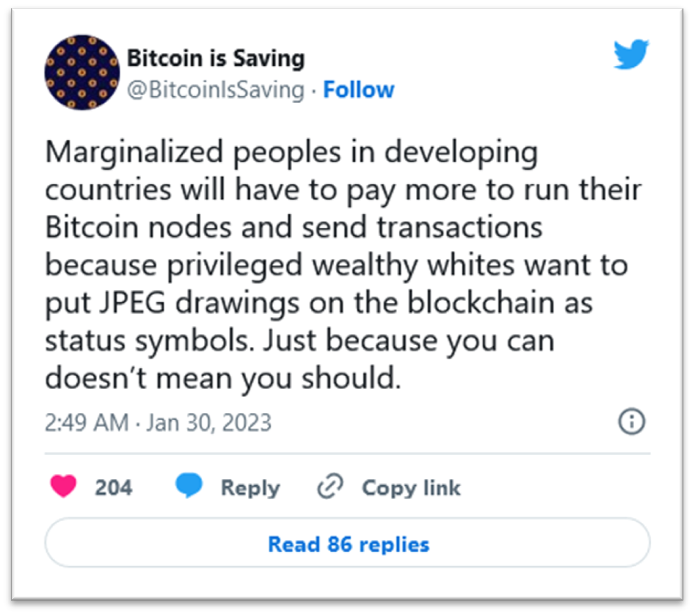 On the other hand, advocates of Ordinals contend that Inscriptions boost demand for block space and stimulate a thriving fee market that pays miners for securing the network.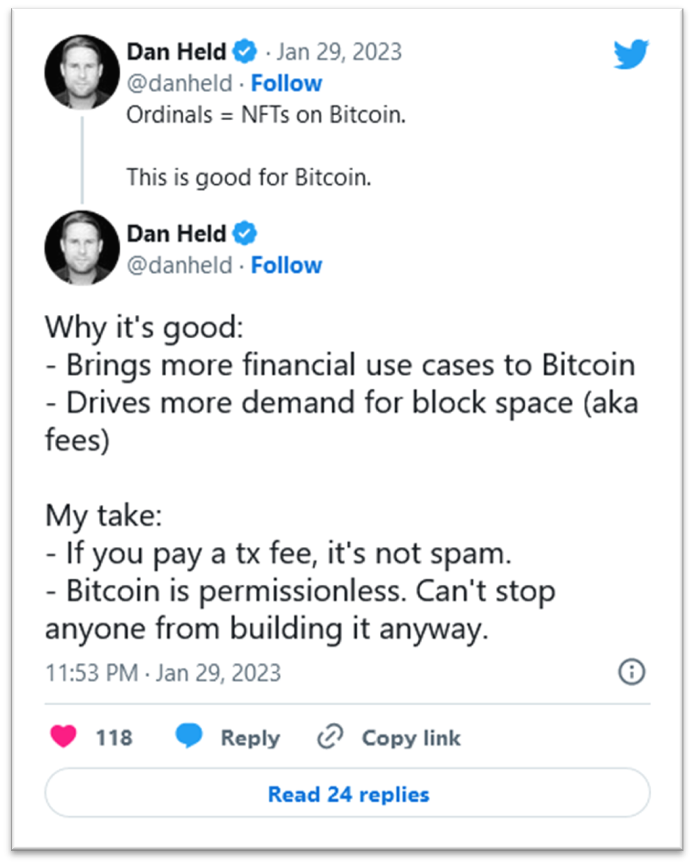 Supporters also point to libertarian economic views, under which the market selects the best way to utilize block space.
Other Bitcoin advocates, however, think that Inscriptions are the same as spamming the Bitcoin blockspace.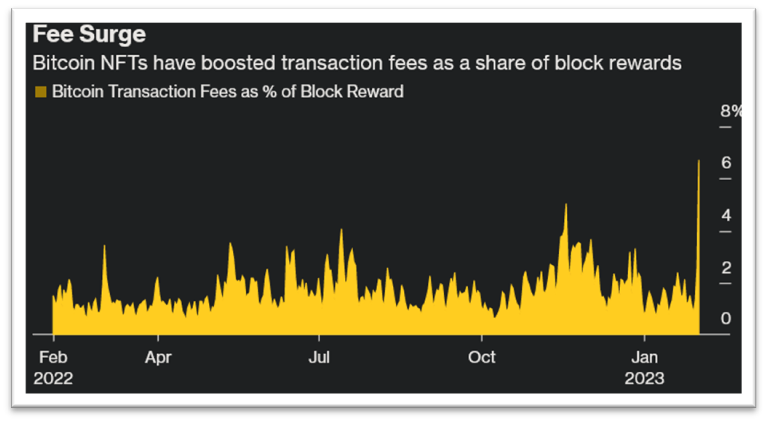 Some critics of Ordinals have attempted to persuade Bitcoin miners and node administrators to censor inscriptions.
After all, nodes and miners ultimately decide which transactions are valid and recorded on the blockchain. They possess the power to censor certain transactions.
But given that transaction fees will eventually account for a larger share of miner earnings, it is in their best economic interest to favor any use cases that increase fee revenue.
Conclusion
The core idea behind bitcoin is permissionless action—doing something just because you can and without waiting for approval. That's what it has developed into, at least.
Do NFTs on the Bitcoin network follow Satoshi's original goal?
But maybe it isn't the question we should be asking.
Maxi or not, many of us have held too tightly to the wording of the Bitcoin whitepaper and lost sight of the original principles, much as fundamentalists in many faiths sometimes cling overzealously to the precise terms of their founding papers.
Perhaps, Satoshi would be appalled by the current activity on his cherished chain. However, it's also feasible that NFTs will lead to greater adoption of Bitcoin. Similarly, further acceptance may result in more individuals trading tiny sums of money without relying on an intermediary, just as Satoshi envisioned.
Adding NFTs to Bitcoin may seem like a novelty, but that edge could be invaluable.
Bitcoin has existed longer than some other crypto "kids on the block(chain)." So, deploying NFTs on Bitcoin has far-reaching effects. Combined with Ordinal's ground-breaking mechanics, it might help NFTs stand out in an increasingly crowded market.