According to The Wall Street Journal, the crypto lender BlockFi is preparing to file for bankruptcy protection, as the fallout from FTX's collapse continues to spread, lowering the price of Bitcoin and disrupting operations at dozens of exchanges and lenders.
BlockFi, a major crypto lender that received a bailout from FTX, halted customer withdrawals last week. According to people familiar with the situation, the company stated that it had "significant exposure" to FTX.
The bankruptcy filing of FTX, which includes the trading firm Alameda Research, is leaving a trail of destruction in the crypto world. BlockFi does not appear to have escaped unscathed. FTX bailed out the major crypto company last summer, extending the lender a $400 million revolving credit as it faced a liquidity crisis amid a broad crypto selloff and collapse of a major hedge fund, 3AC (Three Arrows Capital).
BlockFi Statement
The company recently stated on its website that "Given the lack of clarity" on FTX it was "not able to operate business as usual."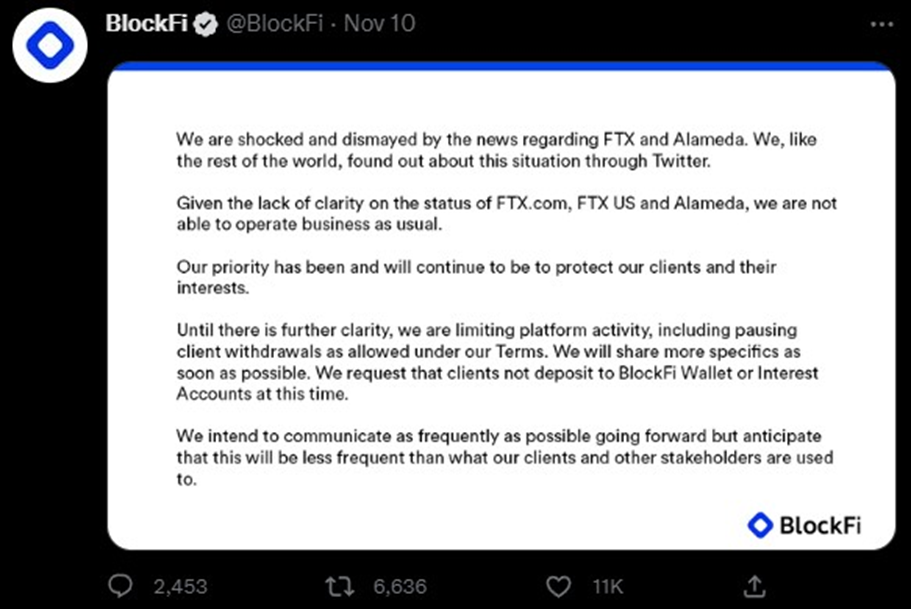 "We are shocked and dismayed by the news regarding FTX and Alameda," the company said, adding that it learned about the situation via Twitter and was requesting that clients refrain from depositing funds into BlockFi Wallet or its Interest Accounts.
BlockFi has faced a slew of regulatory actions from state and federal regulators, including the SEC. The company agreed to pay a $100 million fine in February to settle charges brought by the SEC and 32 states that the company failed to register its BlockFi retail lending product as a security and misrepresented its risks. It agreed to halt sales of the product in the United States and replace it with one that would comply with securities laws.