Bobby Quinn's Best NFT KPIs – Volume 1
Written by: bobbyquinn.eth
Building an Inventory of Metrics for a Healthier NFT Ecosystem
Strategy is a story, and a good strategist is a good storyteller. The best stories are told with data.
The NFT community spends a lot of time tracking floor price, weekly/daily/minute-ly volume, and unique # of holders. These are the commonly accepted, low-barriers-to-entry, basic metrics that occupy meaningful portions of our mental real estate. Who hasn't clicked through their OpenSea to obsessively check and re-check floor price and recent activity? Who hasn't opened 25 tabs to do this… 'at scale?' Who wakes up in the middle of the night to check Discord or perhaps their inbox for any new, low-ball bot offers? We're all guilty.
We know that we should focus on the long-term value, but it's so damn fun to flip JPEGS. As fun as this all is, and as much as I believe wagmi… I also believe that there's a better way. Perhaps we can find a middle ground. A better set of NFT KPIs, metrics, and measures for us all to pay attention to. Floor price is an OUTCOME. Volume is an OUTCOME. The INPUTS are the long- and short-term roadmap of a project, the sentiment of its holders, the depth of its floor listings, the health of its community, the strength of its founders, etc., etc., etc. So what might a new, data-driven approach look like?
I'm beginning on a journey to define what I consider the set of 'better' metrics and KPIs of a collection. None of these will be perfect, and I will continue to repeat #NFA and #DYOR until I die, but I hope I'm contributing to a smarter, more data-driven approach to NFT mania. If nothing else, I'm giving you a couple interesting things to track along with me.
So, this article tees up my NFT KPI thesis and introduces 5 cool metrics I've been noodling on for the last month. In subsequent articles, I will do a deep-dive on each to discuss the underlying data, the dynamics that contribute to the metric, and how it can be used in the wild. I'll continue to add to the list and continue to refine my tracking and approach. In this first article, I've included a screenshot of my most 'mature' metric, the Sentiment Score. It's not a good article without a sexy chart or two. So, without further ado, onto the metrics.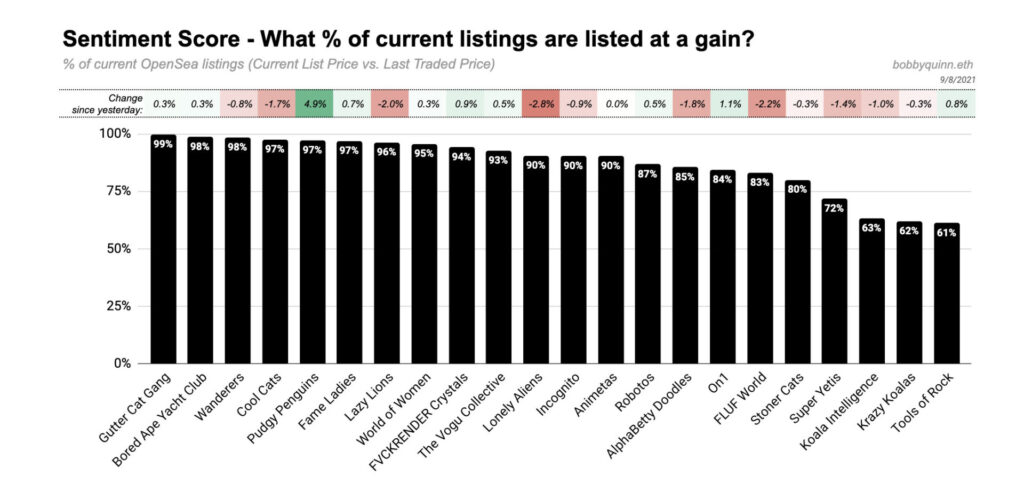 SENTIMENT SCORE: measured as the percentage of items currently listed for sale that are priced at a gain (i.e. the list price of an item is higher than its last traded price). This measure should indicate the market's current feelings about a collection – the higher the score, the more optimistic holders may be about being able to turn a profit.
PASSION INTENSITY: measured as the percentage of items currently listed for sale that would be priced at a gain if listed at the current floor price (i.e. the floor price of the collection is higher than the item's last traded price). This measure should indicate the conviction of a collection's current holders – it effectively represents the current breadth of wealth creation.
FLOOR DEPTH and VALUE: measured as the number (and value) of items currently listed at a price below 1.5x the current floor (i.e. how many floor items traded it would take to raise the floor price by 50% and their total value in ETH). This measure should indicate how much upward price resistance exists for a given collection – the thinner the floor, the easier the upward motion.
DISCORD HYPE: measured as trailing 3-day daily active users (i.e. over the last 3 days, how many users engage on a collection's Discord per day). This measure should indicate current community engagement (on Discord anyways), a critical ingredient of longer-term success.
HOLDERS-TO-ITEMS RATIO: measured as the number of unique wallet addresses expressed as a percentage of the number of items in a given collection (i.e. number of holders divided by number of items). This measure should indicate some measure of decentralization, which many take as an indicator that a collection is more/less immune to price manipulation. I can't take credit for this one, but I think it belongs in this inventory of better metrics – it's a good guide for decentralization.
Final Thoughts
One final note: these metrics are hard to track! I get countless questions on Twitter about where I get my data from, how I access various APIs, what program I use to make pretty charts and graphs, etc. In short, I've custom built a little Python script that hits up various platforms and feeds into Google Sheets. It's super scrappy – I learned Python about a month ago specifically for this project. I don't even know how to upload it to Github because I've never used Github. If I can do it, so can you. As this progresses and gains traction, I absolutely plan to publish a Dune dashboard or some sort of commercial web app for broader use.
For now though, we learn and build and iterate together. Let the data set you free.
gn,
bobbyQ