BONEHEADS is doing "phygital" in style.
Following Wicked Craniums, Deadheads, and likely countless other projects, BONEHEADS is the next skeleton-themed avatar to grace our timelines.
But according to the team (written in large type on their website), this one is different:
"THIS IS NOT YOUR RUN-OF-THE-MILL HALF-BODIED ANIMAL COLORING-BOOK CATALOG PROJECT (NO OFFENSE, WE LOVE YOU). NOT ALL PROJECTS ARE CREATED EQUAL. THIS IS A REAL BUSINESS, WITH EXPERIENCED INVESTORS, AND A CLEARLY DEFINED OBJECTIVE."
With its glossy corporate feel, tight communication boundaries, cultish tone, and air of superiority, BONEHEADS really might be… well, different. We're just not convinced it's in a good way.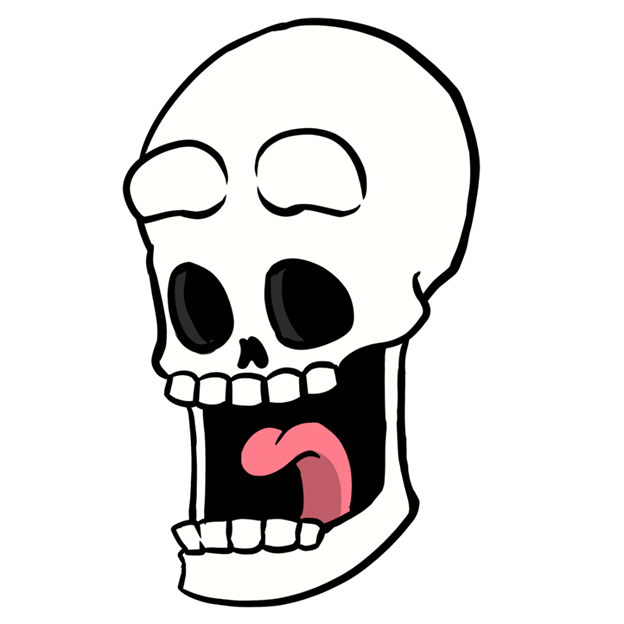 Lifestyle Brands in the Metaverse
BONEHEADS describes itself as "a fashion and lifestyle brand for the Metaverse" that lives at the intersection of physical and digital ("phygital") design, fashion, and gaming. They're the mannequins of the Metaverse: avatars that show off your luxury brand purchases in digital space, and let you see what they'd look like online in a physical store.
The roadmap is expansive, but pivots around a consumer facing app which can be licensed to brands to generate cash flow.
A BONEHEAD clothing brand is also on the horizon, which would feature digital-first collectibles, to customize your Bonehead avatar using a consumer-facing app. Collectibles can be "forged" and brought to the physical world.
Of course, this will cost you some $BONE.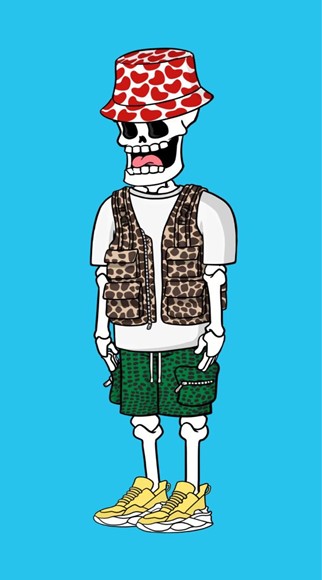 WHAT?
Built on the ERC-20 standard, $BONE is the only payment method accepted in the Bone Gang's marketplace. It supports all of our favourite DeFi applications (yield farming, liquidity pools), and will be distributed randomly in amounts ranging from $25 to $250,000 to buyers during the primary BONEHEADS drop.
Post drop, you'll be able to buy credits in $ETH, or get them from other BONEHEADS.
Beyond that, however, the roadmap is as hazy as it is unoriginal.
In addition to Metaverse renditions of Bonehead avatars, the project has plans for dynamic backgrounds, a gallery, drops of companions and "Spaceheads" (Aliens in the Boneheads universe), breeding (combining two unique Boneheads to create a third) and a partner SDK.
At various points, it's been stated that there may (or may not) be a secondary release of Boneheads; drop dates have changed to accommodate hype around other project launches; and tokenomics descriptions are blurry at best, with big numbers thrown around to patch them together.
The only thing that's clear at this point is that owning a bonehead will entitle you to purchase phygital streetwear, to customize an avatar via an app, and to transfer $BONE to anyone who wants it – they need to be a BONEHEAD to use it for purchase.
Cult Lingo
Maybe the most interesting thing about BONEHEADS is their explicit attempt to create a cultish feel around the brand.
Best exemplified by #BONEHEADSFOREVER, the Supreme-style callback at the top of their website, BONEHEADS tries very hard to hit the blend of cool, devil-may-care exclusivity that cult streetwear brands here in meat world have become known for.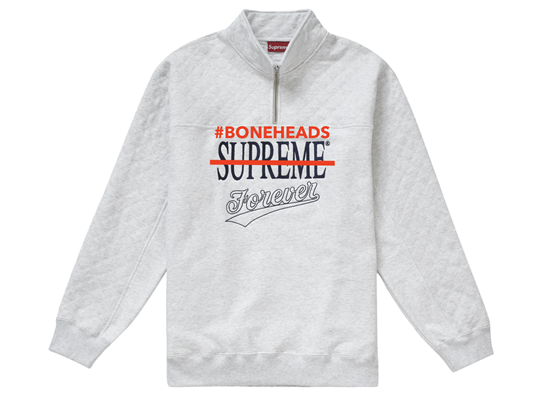 We just wish they were a little more original.
Like every good cult, Boneheads has its own language, and in true cult form, community leaders are intentional about building rituals to admit new members.
The Metaverse gallery is termed "BoMA" (the Bunker of Modern Art), breeding is re-dubbed "Boning", and the community liquidity pool is being termed "The Spa", among other changes – these are the same roadmap features we've seen a dozen times, given new names.
The community onboarding process involves a pretty lengthy pledge which grants hopeful boneheads an identity on the cutting edge of technology and culture.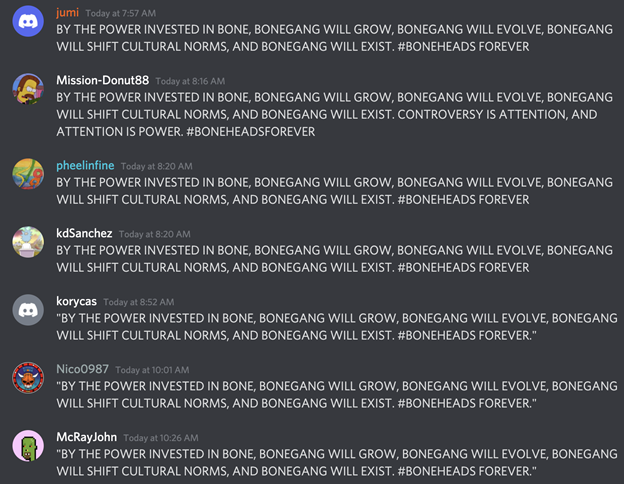 "This is not a cult"
While Morning Drop is generally long cults, when you peel back the layer of blurry, hazy language, BONEHEADS is fundamentally the same project we've seen a dozen times with shinier marketing, and a higher mint price.
We've got…
Standoffish, anonymous founders making grandiose statements they won't to back up;
A token with a community liquidity pool;
Plans for expansion into the Metaverse;
An influencer campaign that grants a free avatar, a share in 5% of primary sales, as well as 5% of secondary sales for a year, once the campaign hits 75% participation (pro tip: click the link to see who's on the payroll);
A collection of merch; and
An app with commercial potential.
At the end of the day, BONEHEADS is sort-of just another avatar project, with better funding, a corporate glaze, and a well-thought-out plan to monetize the community. Minting a bonehead designates you as the person who can buy BONEHEAD merchandise for anyone you know, which isn't exactly a privilege; in the real world, people get paid for affiliate sales.
A Drop for Boneheads
BONEHEADS is very explicit about the fact that they are a business, first and foremost, and intend to make money. There's a clear path to generating value in the business and for investors, but where this creates value for holders remains to be seen.
Investment returns (excepting those for influencers) hang on the idea that there's a future world in which distributing a brand's products will be a privilege people are willing to buy.
BONEHEADS team is charging 0.1 ETH mint sometime between August 12th and 16th, and 10% of secondary market sales, to give its token holders access to this somewhat dubious privilege. The team justifies the hefty price with (unseen) work done to date, (unverifiable) credentials, and (admittedly) great web copy that references a superstar team with powerful backers.
If any of this were verifiable, the price point could be compelling; access to a powerful marketing engine and other resources can make all the difference. Unfortunately, the superstar team behind BONEHEADS prefers to remain anonymous, and is opting out of interacting with the community in any meaningful way leading up to launch.
Verdict?
DYOR as always, but we'll sit this one out.
Originally published via Morning Drop. Subscribe to get free alpha in your inbox every Saturday.