Bored Ape Yacht Club Blew It
Before I get into my critique of the Bored Ape Mutant drop, I want to make something clear: I love Bored Ape Yacht Club
It's provided countless opportunities for me both financially and otherwise, and for that, I'm grateful. The site where you're reading this article right now literally would not exist without Bored Ape Yacht Club (BAYC). I owe BAYC a huge debt of gratitude. That does not mean they're above critique. So, with that in mind, I strongly believe the Mutant drop was a miss. A big miss.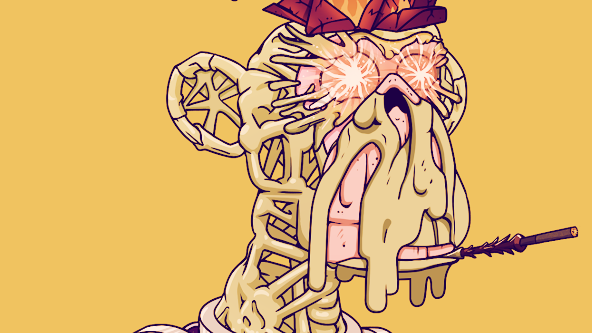 Analysis Paralysis
Leading up to the drop, there wasn't a lot of communication, and that was by design. It built anticipation, which is fun. But then the release happened, and it started with a long and detailed post. With something this complex, I question their choice to keep it a secret till drop night. People frantically read through, trying to figure out what's next.
A Surprise Drop…For Whales
In the post they announced a sudden, unexpected drop of 10,000 mutants. This was in addition to the 10,000 potential mutants for current holders, meaning 20,000 mutants could enter the ecosystem. The drop style was a Dutch auction starting at 3 ETH (roughly $10,000). They said this was to bring in new community members and hopefully discourage gas wars. I can't get on-board with those two reasons. Who has 3 ETH lying around for an unexpected drop, which will sell out in less than an hour? Whales. And who was religiously checking the details of this drop? Current members. And what's going to happen when BAYC, an elite project, has a sudden drop? A gas war.
If they wanted to bring in new community members, they could have done some sort of private sale at 0.08 ETH (roughly $300) to new members who have been fans of the BAYC, but are priced out. Or at least announced it in advance to let potential new members ready their ETH. This drop simply encouraged more big money to hop in and gauge the secondary market for hopeful new members.
The Most Concerning Line…
As I read through the long and detailed post, one line was particularly alarming. From the site:
"Mutants represent the final tier of membership; everything going forward occurs with the intention of accruing utility and member's-only benefits to Bored Apes foremost, but also Mutants, and to a lesser extent, Bored Apes with BAKC companions."

BAYC
Two things in this are wildly concerning. First, they seem to put Mutants and Bored Apes on a very close playing field, if not the same one. This devalues OG holders who have chosen to support the BAYC. Those who have not sold, even as the asset crossed 60 ETH (roughly $200,000), are now seeing their asset diluted. We absolutely expected up to 10,000 new mutants being given as a reward to current ape holders. But with the drop, the supply is at least doubled, and and could be tripled, and with similar (or the same) benefits. They said at one point in the post that Mutant Apes were a lower tier membership, but this line seems to contradict that to some degree (or at least soften it). We'll have to see how it plays out.
The Second Part: The Devaluation of the Dogs
I know people who were priced out of BAYC that went and got a Bored Ape Kennel Club (BAKC). They wanted a piece of this magical community. They wanted to feel like they had a piece of a blue chip project. With this release, BAYC is saying that anyone who bought a dog and doesn't own an ape is out of luck. And, at best, they positioned BAKC as an afterthought.
Final Thoughts
This is the first miss from a project that has consistently hit home runs. As I said up top, I love BAYC. I have no plans to sell my ape, dog, or mutant anytime soon. As someone said on a Twitter Space last night, if I'm voting with my ETH, I'm still wholeheartedly supporting BAYC.
But I think this release was a miss, and I see many community members (and non-ape holders) who feel the same. This is the first major move by BAYC that hasn't been met with overwhelming praise. They've set the standard for projects time and time again. How they respond will say a lot. I absolutely believe this team can (and will) recover. And with that surprise sale, they have 25,000+ ETH (over $83M) to concoct their next big thing. I'll hold my ape, still be proud, but in my mind, Mutant Apes were a big miss.
Disclaimer: This article is not financial advice. The NFT and Cryptocurrency markets are very volatile. Please don't invest what you can't afford to lose. Always do your own research before investing.