Bored Apes banned from the airwaves! This is the story of our BAYC national TV commercial that got flatly rejected by the network.
Hello! My name is Mike Wagstaffe and I'm shooting a documentary about the Bored Ape Yacht Club and this exploding world of NFTs. I've been working in the entertainment industry for the past 15 years and one of my recent projects was a documentary called Foosballers where we followed the top professional foosball players in the world as they trained for and competed in the Foosball World Championships.
I love documentaries that go deep down the rabbit hole of hidden and passionate communities and that is certainly what attracted me to the BAYC.
So one night in late May I frantically called my two filmmaking partners (@JoeHeslinga and @casciafilms) and said I needed $1,000 from each of them to buy a Bored Ape. And I need it quick, the floor price is rising from 0.69 —> 0.89 because all the merch sold out! We need to buy it now! After catching my breath and telling them I was not on heavy drugs, I explained my movie pitch: We buy an Ape, (it's this new thing called an NFT) and we get the IP rights! Our Bored Ape will be the on screen director of this documentary (like a Michael Moore or Werner Herzog) and take the audience into this crazy world.
NFTs are weird and scary to most people but this Bored Ape is funny, he can hold the audience's hand on the journey! My friends of course thought it was insane to spend nearly 3k on a picture of a monkey but they reluctantly agreed. On June 1st we bought Ape 9081 and began filming our movie.  
Bored Apes Community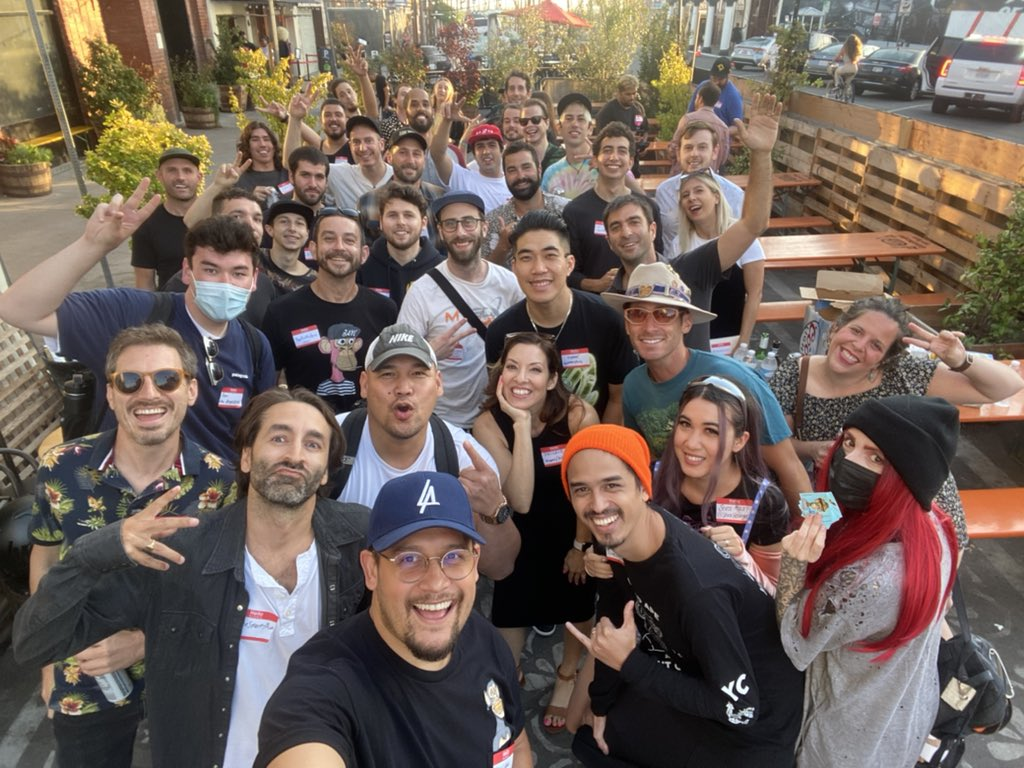 The Bored Apes are unlike any community I have ever seen or been a part of, the passion and creativity that these 10,000 ape pictures have inspired is almost unreal. But as we we're filming I quickly saw project after project pop up that had that same passion, community and creativity, from Cool Cats to Alien Boys to WOW. I want to capture all that exciting energy in our movie to tell the story of this wild world of NFTs!
We wanted to make a big announcement about our project, so inspired by the likes of @Bassjackers #BoredApeRaveClub and @themonarch00's ape billboard project we decided we had to release a national TV commercial for the Bored Ape Yacht Doc. I put out a call on twitter and a bunch of Apes and other Avatars submitted to be in the commercial. I cut a fun and strange :30 second teaser trailer and submitted it to the network.
I was so excited for people to see their NFTs on national TV. But then we got an email from the networks legal department, our Bored Ape ad had been flatly rejected. What?! It must be because I snuck in a few apes that were smoking, telling them we can swap those apes out! Nope, our ad was rejected because the network does not allow any kind of NFT advertising on their airwaves. NFTs are banned. No, we said, this is an ad for a movie about NFTs, we're not selling NFTs.
We can change the ad to make that more clear, we can put in documentary footage of us talking about the movie! No, they said. If you were making a movie about marijuana or cocaine we couldn't show people smoking marijuana or doing cocaine on TV. Sorry no NFTs. Bored Apes are the same as illegal drugs. Woah! 
Initially I was upset. How can you compare this amazingly supportive and creative community to hard drugs! NFTs are the future and the possibilities of this technology are endless! But then as I thought about it maybe they had a point. If I'm being honest, part of what attracts me to this world, both as an NFT buyer and as a filmmaker is that it's still the wild west. We're in Deadwood, a lawless rapidly growing town filled with saloons and gambiling dens, there are fortunes to be made and no sheriff in sight, yet.
Sure in one saloon there's a group of honest, passionate and creative Apes. But the next saloon is full of rug pull golf pandas, influencers being secretly paid to shill, or a few Russian men pretending to be women. It's new and it's exhilarating, but it's also rough and a little dangerous. And so maybe that's what this movie is about too, what happens to this lawless town of NFTs.