Creature World's Social Experiment
For anyone unfamiliar, Danny Cole is an NYC based artist and the leader of the Creature World Project. What if I told you that Danny Cole is positioning himself to be the Andy Warhol of the NFT space? Danny is one of my favorite artists to follow in the space because his perspective is like no other.
In one of his twitter spaces leading up to the release of the Creature Word, Danny conducted an in-depth discussion about dreams and the meaning behind them (He also managed to get Gary Vee in a space to drop some sick Creature sounds). In summary, there are a total of 10k Creatures. The project has chosen not to go with rarity tools to define rarity.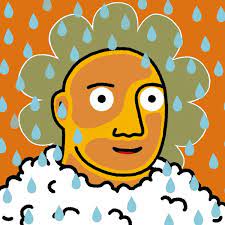 Each Creature is unique and shouldn't have a value assigned to it, that should be to the eye of the beholder. Having been around for roughly a month, The Creatures have conducted the greatest social experiment in the NFT space, and I feel like not enough people are talking about it.

Recently a snapshot was taken of all Creature NFT holder. This snapshot was taken to airdrop the 1st collab collection alongside the original Creature World project, The Creature Playground. Each wallet holding a Creature at the time of the snapshot was airdropped 1/7 of collectibles.
Shortly after this, a twitter space was started that explained the reason for everything. It was revealed that holders needed to team up in order to get all 7 items into one wallet to unlock the next step. This kind of team building has never been attempted before on such a large scale. Since everyone is usually anonymous it forces 7 complete strangers to all come together to put the pieces of the puzzle together.
It also adds a layer of trust with the members of your group considering it had to be in one wallet. Each piece was valued at roughly 600 dollars. Which brings up the question: Would you entrust 600 dollars to someone you just met?

After I saw the news, I instantly went to the discord to try and get a feel for how people felt about the news. I was pleasantly surprised to see that there were already leaders stepping up trying to organize groups. A flurry of comments weaved through the general chat channel trying to find or be the missing piece to the team. After a few minutes of reading through I finally found an up incoming team with only 2 members at the time.
From there we added each other as friends and created a group chat for our members. We all agreed that we would only target members that were verified creature holders in the group chat to try and eliminate any potential scammers. After a few minutes, 7 members were assembled (Almost like an NFT Avengers).
The biggest thing we needed to sort out was who is going to hold all our NFT's, and can they be trusted. There were some reports of some users getting scammed by holders with bad intentions. Luckily, I had some experience with Gnosis Safe and recommend we go this path. Gnosis Safe is a smart contract wallet that multiple signers can sign off on to verify a transaction.
This instantly removed any doubt of foul play as all of us held the keys. Verifiable and fair for all participants. *Also, a quick note here: For anyone choosing this approach, keep in mind that the NFT's will not appear in your multisig wallet. Currently the safe only supports ERC-721 NFT's.
The Creatures Playground drop happens to be ERC-1151 NFTs. Users can transfer their assets to the safe address via Opensea (the little gift icon). Once all 7 are there, a user will need to use wallet connect (there's an app in the safe for this) and connect to Opensea as your vault. From here, users can transfer back all their assets to their respected wallets. Only thing that is needed is signatures from all members if it was set up this way. *
The coolest part of the entire experience wasn't setting up the wallet, but the relationships formed in the process. I was fortunate enough to team up with some awesome people. We all entered the group openminded with one goal in common. It was surprising to see just how helpful everyone was throughout the entire process.
Since we chose to use Gnosis, there was a learning curve for some, but the information was presented beautifully by Vera as they took time to explain how to get to the Polygon network to see the vault we created. Pretty soon the conversion veered to where we were across the globe as well as some of our experiences in the space.
The more I think about how it all happened; I realize that these conversations never would have happened without the Creature World. 7 strangers were all able to come together and accomplish something in less than an hour. After we all had all the pieces in our safe wallet (which one of holders placed a picture of dragon balls together once it was completed. Couldn't have picked a better picture) we exchanged socials.
I'd like to take a second to give thanks to: @BrandonShamy, @MaabusETH, @globalEknown, @aeaea81, @Jerryshi6, & Vera (who doesn't have twitter but still is updated on everything which is truly impressive to me). There is no doubt that this is what was envisioned by the creator when the news was first announced.
At the time of this article there is still time to try and pull your team together. One thing for certain, this kind of innovation is welcomed in the space and I can't wait to see what's next in the Creature World!
Check out my other articles here.