DeFi Review: Badger DAO
What is the Badger DAO? What are Badgers? Badgers are small carnivorous mammals of the family Mustelidae. These short-legged fellows are wonderful diggers and have cute striped faces. These animals are also the mascot for one of the most impressive DAOs in the DeFi landscape. Jack from Twitter is trying to bring DeFi to Bitcoin. The Badgers have already brought bitcoin to DeFi.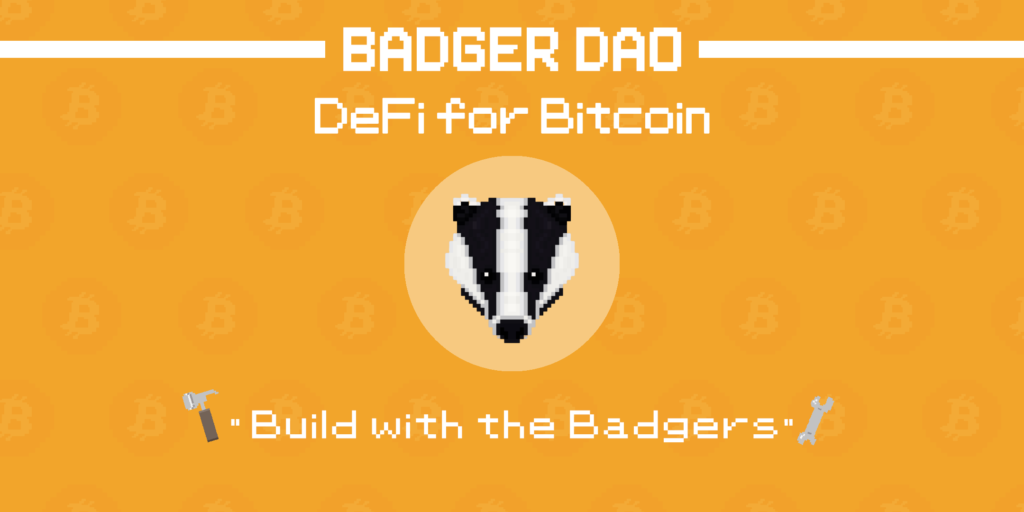 Wherever DeFi has begun to thrive, the Badgers are there to help you utilize your BTC. While they initially brought BTC on to Ethereum, they have quickly expanded to encompass many chains. Their product offering is staggering and updated often. Most importantly though, the Badger DAO is composed of Badgers. I have found the community to be very strong with this project
During the first DeFi summer, all the focus was on governance tokens and the next new thing. People briefly forgot about which technologies had a use case or sound code base. Bitcoin is the strongest currency available and as such should have a part in any financial plan be it decentralized or otherwise. Badger DAO is a group of people committed to finding the best ways to use bitcoin in decentralized financial products. The Badger Mainnet went live in December of last year.
Since then, they have added a slew of useful products. They have their own bridge to bring native BTC on to ETH in a noncustodial manner. They have twenty something vault projects. They have a synthetic rebasing bitcoin pegged DeFi Lego named DIGG. They have an interest-bearing bitcoin product that offers easy access to yields. They have NFTs and games. Some of their NFTs can be redeemed for wearable swag. Some of them give you a boost on your DeFi yields on the platform. Some do both!
They have a monster community with a great deal of involvement. This community has 2 scheduled meetings a week with badgers never die on Friday and a DIGG focused meeting earlier in the week. Not only do they have a unique and dedicated community of people pushing their projects forward, but they also have a community that shares members with nearly all the other exciting teams building in this space.
The builders and enthusiasts in Badger are often also active in other projects. In addition to working with the other degens in the DeFi community, they have had substantial integrations with institutional investors. They are putting institutional BTC to work through a partnership with Fireblocks. The ethos around the badger hole is one of pragmatic anti-tribalism.
The protocol itself puts your assets to work through integrations with scores of other successful DeFi protocols. Badger vaults are deployed in conjunction with the folks from yearn and curve. The DIGG token was deployed will help from the folks at Ampleforth. The super-umans at uma have been instrumental in deploying the options that should allow DIGG to thrive.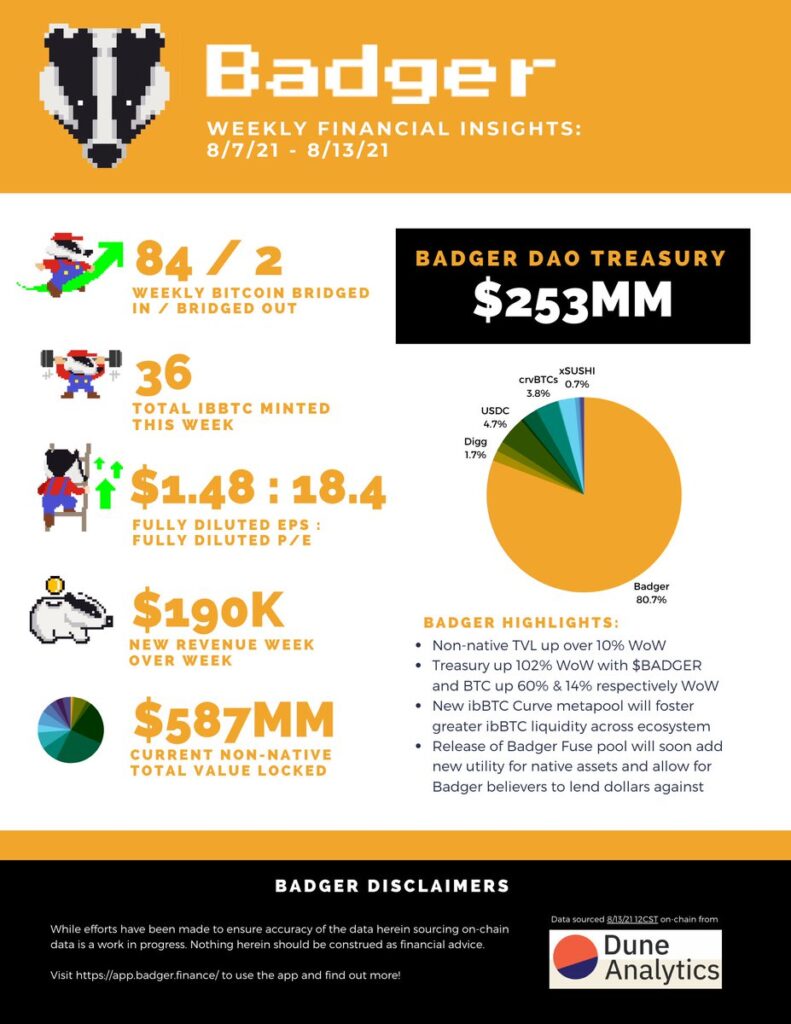 Working with the people at cream have given Badgers more options to use their BTC and Badger tokens as collateral. Their ibBTC product is made with the help of the fine folks at DeFiDollar. I am certainly missing many integrations, but you get the point. These people don't care what team you say you are on, and they don't want to fight about which is the bests layer one or best application. These folks just build.
Badgers live in very neat underground tunnel homes called setts. In DeFi parlance, the sett is the name for the vault products that Badger DAO offers. These are automatic yield farming positions that make the most of your BTC or badger tokens. These setts use strategies that allow you to gain the best share of market fees as an LP. While staking these resultant vault tokens to the protocol, you earn DIGG and badger rewards.
The Badger token is the governance token for Badger DAO. This token is extremely undervalued in my estimation and represents a chance to own a cheap stake in one of the fastest building communities in one of the more promising parts of the market. There are currently 21 setts available. In addition to BTC, wBTC and every other form of BTC, there are setts for tricrypto LP tokens and a few other convex tokens. These setts will earn you rewards in whatever you have put in them, in addition to badger and or DIGG depending on the sett.
The DIGG token is a very interesting experiment. It has already led to incredible innovation, and I look forward to seeing what the badgers build with this product in the future. In the Badgers' own words, "DIGG is the first decentralized elastic-supply cryptocurrency that is pegged to the price of Bitcoin, and it is governed by the Badger DAO."
That's a lot there. So, DIGG is a synthetic representation of bitcoin, backed by math, people and other assets. It is a token that seeks to be at the same price as bitcoin. It does this by incentivizing market forces in addition to the "rebasing" of the token. This rebasing refers to the fact that the total supply of the token is not fixed. Indeed, when a person buys a certain amount of DIGG, that amount is not even fixed in their wallets. Rather, the proportion of the total amount of DIGG that one badger owns is fixed.
The supply of DIGG, both in aggregate and in one's own wallet, changes once a day. If the price of DIGG is over BTC, the supply of DIGG will increase. The reverse is also true. This is what is meant by DIGG being a synthetic rebasing and elastic supply token.
The fact that this token represents BTC but remains noncustodial and non-associated with corresponding BTC on a particular chain, gives it composable superpowers. Another thing that makes DIGG an interesting Lego is the fact that the nature of the lag in its rebasing means it should always be less volatile than bitcoin. You can provide your DIGG to a LP position on Uni or Sushi, then stake it to a sett. additionally, you can stake it alone in a sett for bDIGG. bDIGG is the single sided liquidity provision token for the DIGG token on Badger protocol and does not rebase with DIGG. This fact gives it different capabilities than the DIGG token itself.
Another incredible bitcoin centered product is their ibBTC. This is interest bearing bitcoin. IbBTC is an index token representing the average yield available to BTC on Ethereum (for now). It is managed in collaboration with Defidollar and allows one to access fees from the curve and convex platforms, as well as a myriad of other yield sources for your BTC.
This is sort of like lending your bitcoin to all the best places and people possible, but while only dealing with a single interface. One-click exposure to all DeFi for bitcoin. Again, composability is the name of the game. I believe this token will be incorporated into many more cool services soon. Already, there are awesome incentives to put your bitcoin to work with the badgers.
A great result of how well they get along with other protocols is being able to use their tokens and LP positions on a whole bunch of other DeFi applications. This can allow you to create some leverage in your portfolio. You are holding BTC denominated positions in a sett, then those are used as collateral on another platform to mint debt.
So, you are exposed to the price of BTC, but also exposed to the price of whatever you buy with the debt you minted, and all the while still earning yield on your collateral. To me this offers the best and possibly safest way to apply mild leverage in DeFi right now. Crypto currencies are volatile certainly, but king corn is the most stable. Also, this platform is tested and trusted. It can be a wonderful way to hold BTC, earn yield on it, and then access money to play further out on the risk curve.
This project is far too expansive and ambitious to be explained thoroughly in a single article for this site. Furthermore, many of the more exciting implications of the project come about due to innovations that are too technical for me to understand, let alone try to explain. I hope that I have at least conveyed a bit of my excitement, and the Badger's vision. Badgers never hide, and a honey badger don't give a fuck.
The Badger community is one of the strongest group of builders I have ever seen. They have a steadfast commitment to bitcoin, but a love of interoperability. They were one of the first DeFi protocols to use graphic NFTs as a game incentivized element of staking. I have not come across another project with its hands in so many exciting spaces, while being anchored by the strongest asset in the world.
Please reach out to these Badgers to clear up any confusion I have caused. Chris Spadafora is the dude that founded this wonderful community. Jon Tomkins is another lead badger who can explain their present and future projects. If you have an idea, you think could help the cause, please contact them. If you are interested in meeting more badgers and DeFi enthusiasts, please go check out their discord and get involved in the DAO.