The bear market has been tough for us all, be it through dents in our crypto portfolio valuations, or the plummeting prices of our beloved NFTs. In-fact, Blue-Chip NFTs have also felt the brunt of the ongoing market conditions, as collections such as Moonbirds and CloneX- which once had respective floor prices of 34 ETH and 19 ETH around this time last year- can now be picked up for under 4 ETH.
Now getting on to the premise of this article, Doodles — which is undoubtedly one of the biggest and most popular OG Blue-Chip collections to grace the Ethereum blockchain — has announced that it is turning its back on the non-fungible space in order to achieve its 'long term vision'.
This is not the first time we've had an issue with how Doodles' communication has been. In September 2022, the Doodles team was on the hot seat for an extended Twitter silence. Fast forward to today, the Co-Founder Poopie dropped a message in the project's Discord announcing Doodles is "no longer an NFT project," with the rationale being that:
"The more time/money/resources we invest in following the latest 'build in public' trends that fuel speculation, the less we have to achieve our long term vision."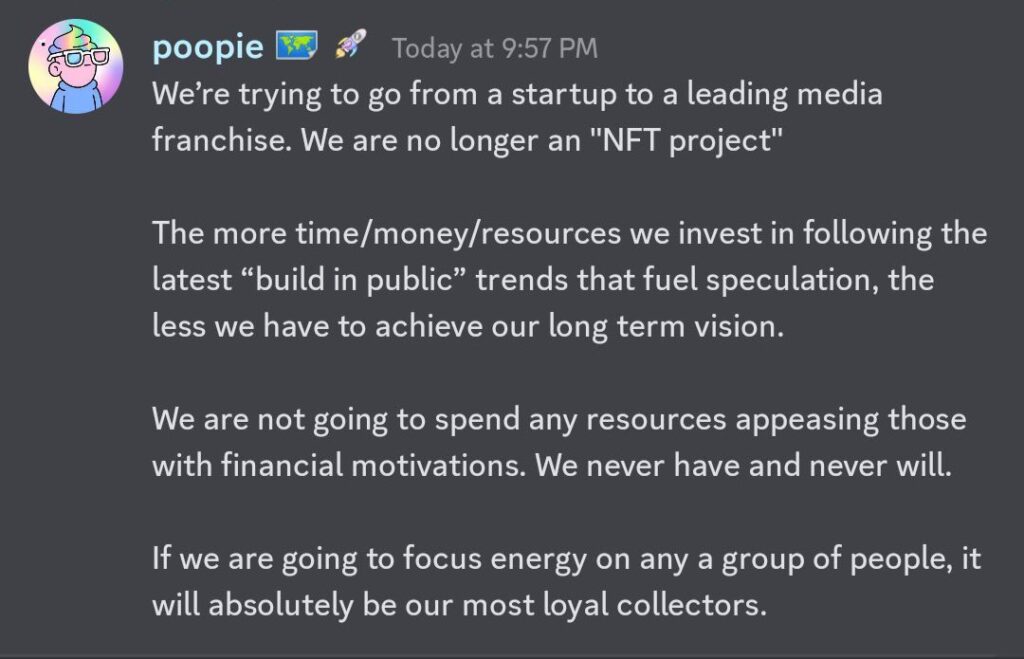 Poopie then went on to say that the project isn't going to be spending any resources to appease 'those with financial motivations,' and that the project never has or will do. The post then ended with the statement:
"If we are going to focus energy on any group of people, it will absolutely be our most loyal collectors."
For now, determining what fuelled such policy switch is merely speculation. However, the most concurrent hypothesis from the onlooking community for now is that the project is trying to re-devise how it can offer both value to its holders and sustainable revenue streams for its team. Of course, the bear market has most certainly had some play in this, as the collection's current floor price of 3.6 ETH sits in stark contrast to its 21.8 ETH figure of May 2022.
And it seems that Doodles had already begun its switch-up before making the announcement, as yesterday saw the launch of Doodles 'Sock Piling'. Here, users are tasked with collecting one of each of the 12 different socks on offer through trading with one another. Participants have until March 30th to do so, with those who complete the task with flying colours to receive a special golden pair.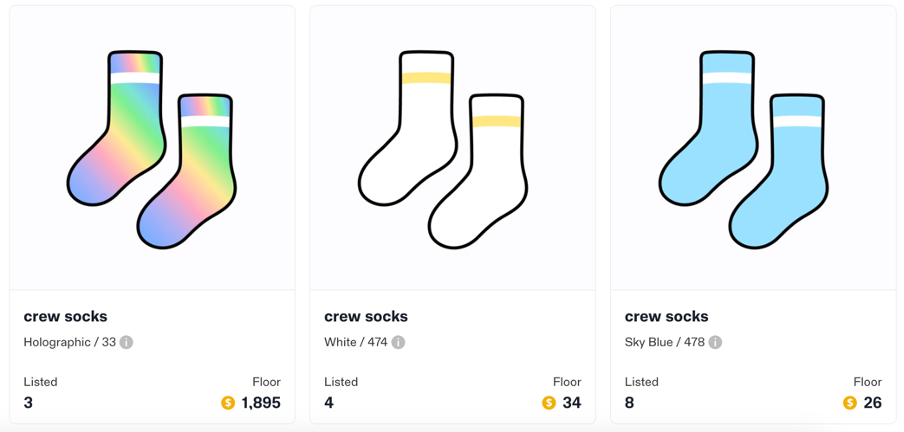 In making things even less surprising, the project also issued its intent to reimagine the 'Doodleverse' earlier this month, as through the use of an artistic roadmap, it stated that it's "striving to build one of the greatest entertainment and lifestyle experiences in the world".
In the past, the project other Co-Founder Tulip also stated that Doodles already goes way beyond being a PFP NFT project, as in reality, it intends to become a holistic web3 entertainment platform that covers areas such as gaming, music, animation, consumer products, IP partnerships, and events/attractions. In adhering to such mission, it had previously hosted immersive IRL events at Art Basel Miami and NFT.NYC, whilst in the summer of 2022 it raised $54 million to propel itself into 'music, culture and entertainment' ventures.
Doodles- The Former NFT Project
Doodles is (or should I say was) an NFT collection comprised of 10,000 unique, line-drawn PFP characters created by Evan Keast, Scott Martin, and Jordan Castro- or as they're known by their work aliases, Tulip, Burnt Toast and Poopie. Before launching Doodles, Tulip and Poopie were already famous in the NFT space for creating CryptoKitties in 2017.
The project launched via a sell-out mint in October 2021. Each asset was assigned a mint price of 0.123 ETH, with such a relatively expensive figure said to have been chosen in order to ensure that the project's treasury amassed 420 ETH. In adding another layer of uniqueness to the mint, it was also preceded by the closing of the official Doodles Discord server- a decision that was made to reward early supporters and enhance the project's exclusivity.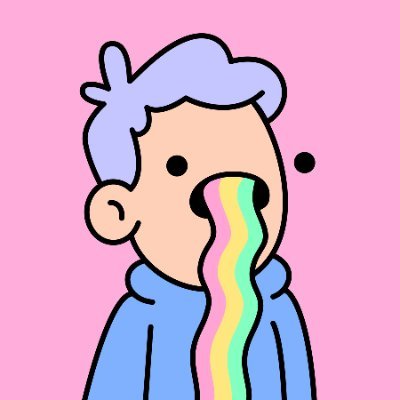 As is the case with the majority of PFP projects, each Doodles character consists of a unique semblance of traits which collectively determine its rarity ranking- these include background, face, hair, body, head, and piercing (with the majority being 'human,' and the rarest of them all being of the cat, ape, alien, pickle, and skeleton species).
Through the playful and colourful artwork and traits in play (as well as its host of marketing efforts), the collection garnered its Blue-Chip status in rather quick time, as has been able to hold onto it due to consistently maintaining a floor price in the multiple ETHs.
Via the Doodles DAO, the project's roadmap is described as being 'collaborative,' as '1 Doodle = 1 Vote' when it comes to decisions regarding the project's treasury (a.k.a. the DoodleBank). One of the most notable elements of such scheme is its derivative approval system- i.e. a vote which allows community members to approve/reject derivative project proposals which take inspiration from Doodles. Via such system, projects such as Noodles and Pukenza have been birthed.Through an innovative blockchain mechanism, Doodles owners have also been given the opportunity to swap their NFT for a spaceship-themed 'Space Doodles' NFT counterpart, whilst Doodles 2 Wearables have also been released.