Doodles Whitelist Got It Right
A couple months ago, I received an invite to a small Discord channel. The invite came from Tulip/Evan, the founder of Doodles. We had crossed paths in the SupDucks Discord, and he was bringing people in slowly to learn about his upcoming project. I bet on founders and teams first with NFT projects, and this team was full of heavy hitters. Between them, they had experience at Dapper, Microsoft, and Google (among other great places) and they seemed determined. So I jumped in without hesitation.
Truthfully, I didn't have a ton of time to engage in the Discord channel early on. Life got busy for me the last two months, and I wasn't active in any Discord channels…including dGEN's. Sometimes the real world just gets in the way. When I popped back in, I immediately felt something special. The vibe of this community was special.
While I was away, the Doodles Discord channel had grown in a bit of a grass roots manner. Eventually, the team decided to cap it. Rather than have 200,000 people with cooldown timers and a pending gas war, they limited entry and kept the culture.
From "pass the rainbow" gif trains to random memes, it was fun, and that kept me coming back to hang out multiple times a day. I felt like I was with 2,000 of my best friends. After it was capped, the main way to get in was perfectly fitting to the project – you had to create a meme that caught the attention of the Doodles team. It was a perfect way to make sure newcomers would keep the culture.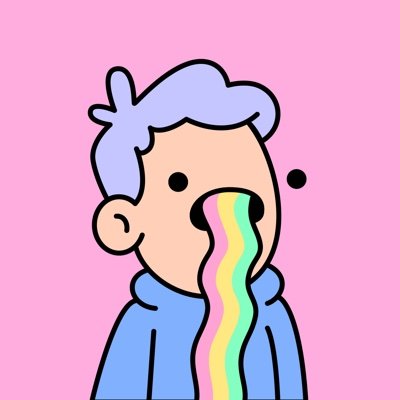 Then came the whitelist…and the critics
The Doodles team decided to allow everyone in the Discord channel to get on the whitelist to mint up to five Doodles. Suddenly, some people on Twitter were outraged. They lamented what they called "gatekeeping" and an "unfair mint." They claimed the Doodles project simply gave special treatment to "influencers."
They were upset that they were giving five mints, which could result in roughly half the supply being sold to the whitelist. Many people piled on and suggested what they felt were better ways to handle the drop.
The critics were wrong
There are lots of things to unpack in the critiques on Twitter. Let's go point by point.
Critique #1 – This is "gatekeeping" and an "unfair mint."

Is there ever such thing as a fair mint? Often times people who are active in Discord channels get screwed over by gas wars and whales. This mint style gave real community members the opportunity to get invested. They had time to plan to pay for five mints and get them. And if they sell a couple? Cool. You're STILL rewarding you community because they make money aftermarket. If anything, whitelisting a Discord, which is exemplifying with the culture you want for your project, is the most fair way to mint.

Critique #2 – The Doodles project simply gave special treatment to "influencers."

Anyone in the Discord channel will tell you that the majority of the people in there are not what you would consider influencers. Communities aren't built on influencers, and the vibe of Doodles was created by people who just want to kick it and joke around. In fact, most of the people I saw upset about the whitelist were indignant influencers with 15,000+ followers.

Critique #3 – Five mints (roughly half the supply) is too many for a whitelist

I understand where people are coming from, but I don't agree with it. As I've mentioned already, the community has a dope vibe, and it was largely not made up of influencers. The whitelist strategy allowed regular community members to become "big" holders. One of my buddies in the project (not an influencer) was excited and said, "I've never minted five of anything!" The five mints allowed people, who would normally lose to whales in gas wars and sharks minting from the contract, to casually mint a project they were excited about.
Bottom Line
The Doodles team did what they felt was best for the community and I'm 100% aligned. Before you say, "easy for you to say, you were on the whitelist," I literally missed a whitelist for Metasaurs a week earlier and my response was that I was bummed and might try to compete in the gas war.
The Doodles whitelist got NFTs into the hands of the true community and ensured that, at least for now, the culture that was built in that Discord channel would remain. The borderline indignant response I saw from many people on Twitter was wild to me; it's not like there wasn't going to be a public sale. Everyone had a shot like any other drop.
I actually think a lot of projects could benefit from the Doodles model. Closing off the community kept the right energy, made it so the chat wasn't constantly flooded, and rewarded people who were ready to invest in the project long term.
If you liked this article, check out my other articles here.
Disclaimer: This article is not financial advice. The NFT and Cryptocurrency markets are very volatile. Please don't invest what you can't afford to lose. Always do your own research before investing.