Ever since the dawn of the internet in the 1980's, online identities – be it the long-winded IP addresses of primitive websites, or the more recent URLs – have evolved over time for one fundamental reason: human convenience. Further, with Web3 now involved in the ever-evolving antics of the Information Age – albeit still being relatively nascent – the space is currently experiencing its own specialized form of online identity innovation.
Of course, what I'm talking about here is crypto wallets – i.e. the tools in which we all use to securely store, manage, and transact our blockchain residing digital assets. As we all know, such assets can manifest in the 'fungible' variety via cryptocurrencies, or 'non-fungible' via NFTs.
Evolving Crypto Wallet Addresses
As we all know, a freshly made crypto wallet comes into this world as a blank slate, wherein the only way to identify it is to seek out its unique alphanumeric string of characters. Similar to bank account numbers, these alphanumeric sequences serve as destinations for receiving crypto assets, as well as a way for generally identifying whose wallet is whose.
As owners of crypto wallets will know, these alphanumeric sequences are rather long, with the ones tied to wallets on the Bitcoin and Ethereum blockchains typically being 26-35 characters in length. Intuitively, this means that very few users can recollect their all-important sequences of identification, which, in a general sense, is by no means optimal for convenience.
Whilst copy and paste is always an option, people's lack of recollection over their own crypto wallet address can see transactions become more time consuming and jarring. Even worse, the involvement of so many characters plays into the hands of typos and errors… which within the context of monetary transactions, is the absolute peak of user inconvenience.
Just like scrapping the requirement for internet-goers to manually input specific IP addresses in order to visit websites, the need for more succinct crypto wallet addresses is now upon us. Fortunately, such an area of innovation is already here, with platforms such as 'Ethereum Name Services' and 'Unstoppable Domains' leading the way for such space.
Ethereum Name Services
Ethereum Name Services (ENS) is an open-source DAO and blockchain domain naming protocol that allows users to own a their very own customizable Ethereum blockchain address as an NFT.
The service essentially allows individuals to revamp their default 42-character alphanumerical Ethereum crypto address into a sequence of numbers and/or letters, to ultimately elicit a more personal, succinct, and readable flair to their Web3 digital identity.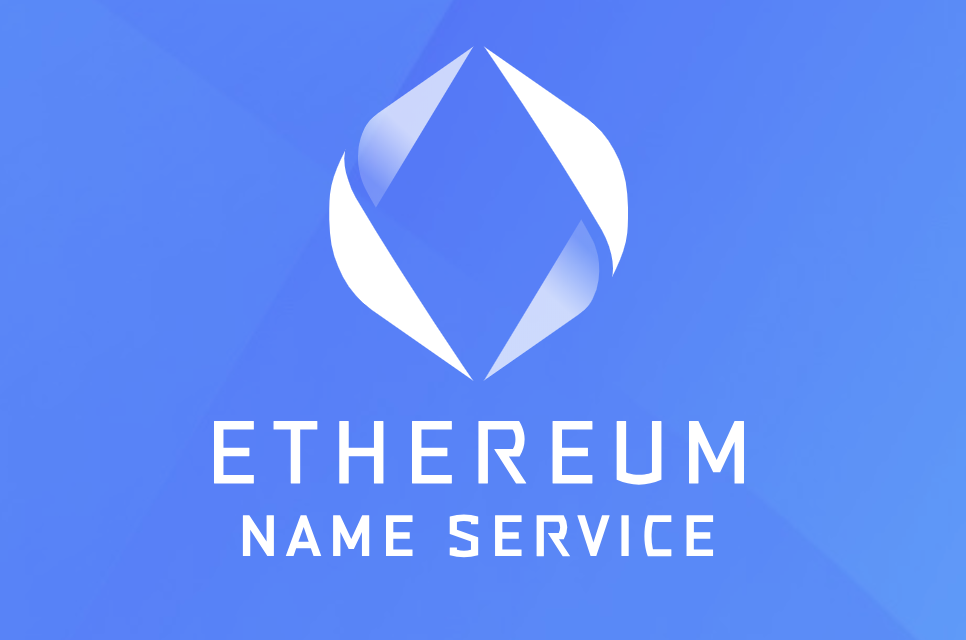 To acquire an ENS domain name, users must first 'register' it on the blockchain by minting it as an Ethereum NFT. Each ENS domain name features the extension '.eth,' with registrants able to add a sequence of numbers/letters that's formed of three characters or more.
Alternatively, if a user's desired name/ sequence has already been registered, they can attempt to purchase it as an NFT on secondary marketplaces such as OpenSea. Typically (and on an annual basis), ENS domain names with three characters will cost around $640, four-character names will cost $160, and 5+ character names can cost as little as $5.
ENS domain names are leveraged by both individual Web3 goers and businesses, as their usage allows such parties to cement their personal/ brand presence across the web3 realm. That being said, the concept has also garnered attention from speculative traders, as those who can anticipate which names//sequence are of value and exclusivity could be in with a chance of earning a quick buck.
Through such attention from traders, a strong demand for ENS domain names which solely contain a number from 001-10000 has arisen. Perhaps Ethereum Founder Vitalik Buterin contributed to this, as back in August 2020 he tweeted: "Three and four-letter ENS names: they're a fixed-supply asset *and* you can do things with them!"
Further, those lucky enough to own one of the exclusive names are invited to join a private Discord server called the '10kclub'.
Unstoppable Domains
Unstoppable Domains (UD) is a leading web3 identity platform that was founded in 2018 by Matthew Gould and Bogdan Gusiev.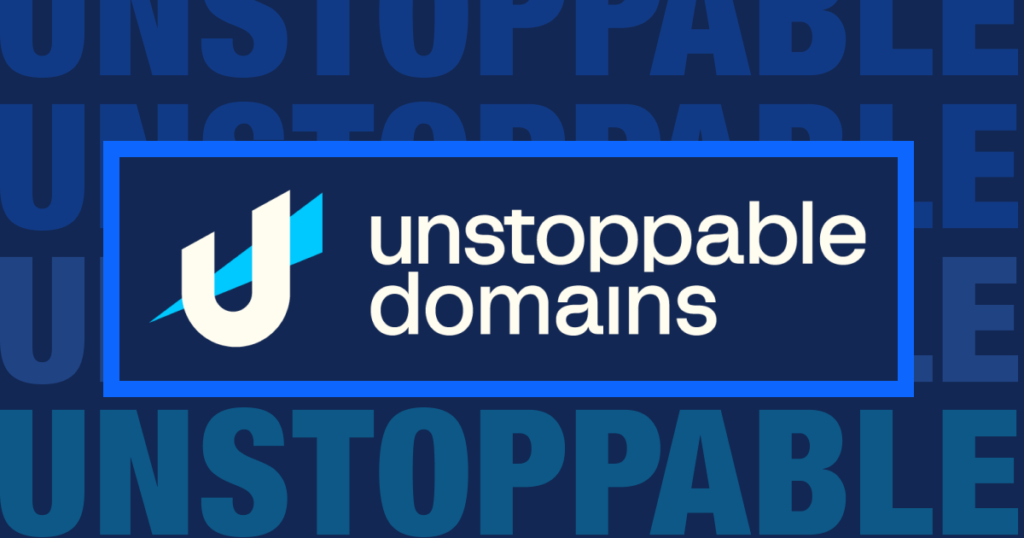 The platform was set up with the aim of connecting the worlds of web2 and web3 by allowing users to have their own interoperable digital identity that can be used across applications. UD domains can also be used to tie multiple crypto wallets into one digital identity, as well as users' associated websites, social media accounts, metaverse worlds and 'badges'. Here, 'badges' showcase educational achievements and memberships to particular Web3 entities.
Similar to ENS domain names, UD identities manifest as NFTs, with their premise being to replace long-winded alphanumeric crypto addresses with personalized names and sequences of numbers (or perhaps a hybrid of both). Again, this is to allow users to enhance their Web3 experience by adding a distinct and personal touch to their digital identity.
Embedded within the UD experience are a whole host of other personalization features, including privacy preferences which allow users to pick and choose what personal information they share.
In turn, such capabilities also mean that UD domain names can serve as the building blocks to brands' online and Web3 presence. To help such a cause, UD reserves the domain names of many established companies – where in doing so, brands can leverage the platform to its fullest, whilst speculative traders can't profit from trading the succinct UD identities of popular brands.
In addition, the platform offers several different domain name extensions – such as '.crypto' and '.nft' – with business entities also able to purchase 'corporate top level domains'. UD domain names exist like any other NFT, therefore meaning that they can be minted (with zero renewal, gas, and hosting fees) and then traded on secondary marketplaces such as OpenSea.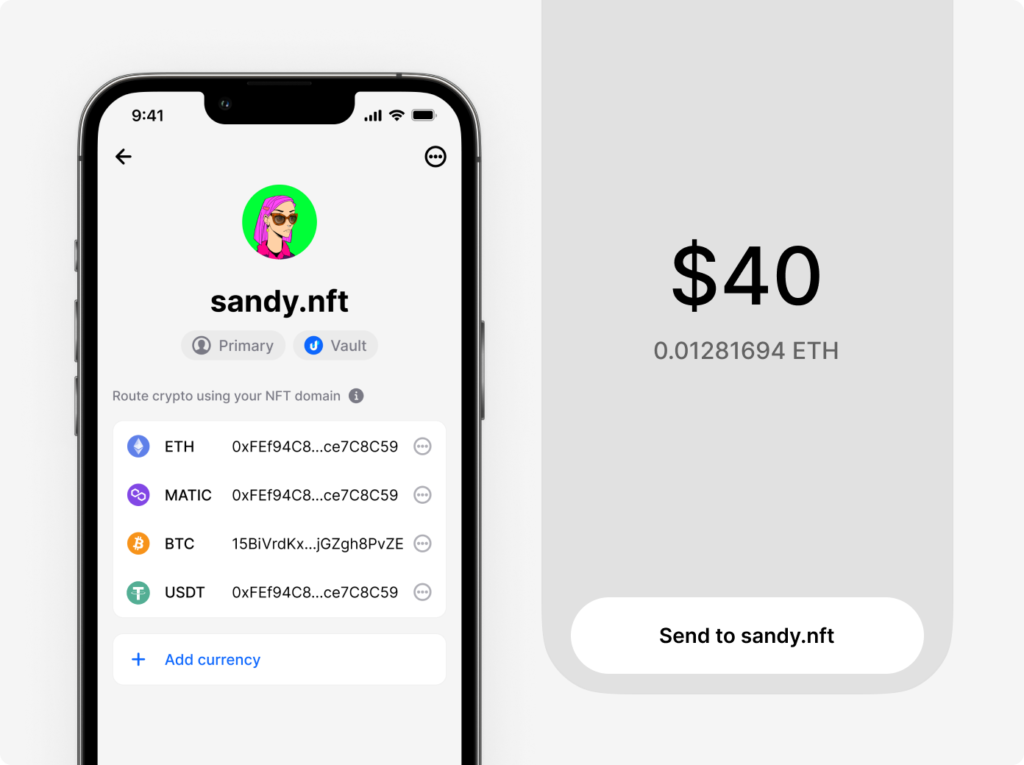 Here, the platform facilitates credit card purchases, however by virtue, users must firstly have a crypto wallet in order to participate. As of now, the platform is linked to applications built on Ethereum and its Layer-2 scaling protocol Polygon, however users can also use their UD identities across DeFi and metaverse applications built on 10 different EVM chains, as well as Solana.
UD is currently supported by a growing portfolio of 600+ different partner platforms – which collectively cover a range of different use cases such as login capabilities, wallet integration, and email encryption.
In addition, the platform is looking to add features that'll show users' DAO voting decisions and virtual real estate portfolios. When NFT tickets become more prevalent across IRL and virtual events, these will also be shown within a UD identity.
Further Thoughts
Although the issue of errors and typos is perhaps the most logical pain point in need of eradication, it's apparent that through the aforementioned features ENS and UD, the topic of digital Web3 identities is just as significant here… or if not, even more important.
Broadly speaking, 'interoperability' is the most paramount buzzword here, as both ENS and (especially) UD allow users to have their own customizable digital identity that can travel across multiple different domains (which don't necessarily have to be associated with one another). Before going on to discuss the importance of this generalized reality, it's worth noting how personalized crypto addresses can enhance more trivial/niche areas of Web3 life.
Adoption: For non Web3-natives, long-winded crypto wallets do nothing but reinforce the notion that crypto, NFTs, the blockchain, and other Web3 elements are too complex to even begin exploring. With this in mind, the use of personalised usernames – which is essentially what they are – allows the space to elicit a more user friendly and inviting vibe. Moving forward, such a scenario could do wonders for the adoption rate of Web3.
Safety, Authentication, and Ownership: Owning crypto addresses as NFTs provides ownership and control over domain names without relying on traditional centralized domain registrars. Once registered on the blockchain, domain names cannot be seized or censored by centralized authorities.
Brand Presence: Brand-named crypto addresses are literal necessities for brands wanting water-tight online exposure, as in practice, every brand wants its name to show up across all possible web searches (as opposed to being represented through an unidentifiable sequence of arbitrary characters).
Navigation: On the general navigation side of things, human-friendly and identifiable crypto wallet addresses allow for faster, intuitive, and more-seamless searches across decentralized websites and dApps. Such dynamic mimics that of the Web2 internet, as after URLs replaced IP addresses, further features such as predicted searches and history-related recommendations came to be.
With Perfect Interoperability, They're Inevitable
For those in the belief that an all-encompassing, perfectly interoperable metaverse will one-day be upon us, perfectly interoperable Web3 identities are essentially inevitable. This is of course manifested through virtue, as if all areas of digital living are to be succinctly tied to one another, our essential 'names' or 'usernames' will have to be.
As of today, we're still a very long way from achieving such possibility, however through the pioneering efforts from the likes of ENS and UD, users at least have a tangible outlet for envisioning how perfectly interoperable digital identities may one-day look like.