Ether Cards wants you to be able to do stuff with NFTs
Ether Cards are both a collection and a platform. They are a community. They are access tickets and dynamic proofs of attendance. This seems to be a very ambitious set of projects. What was initially confusing to me, became extremely compelling once I researched enough. Their primary product, is a suite of smart contracts. These contracts, which together form the platform, enable incredible things. Some of the capabilities of the platform are exemplified in the Ether Cards collection. More of these capabilities have been showcased since the launch of the cards. These have been shown through collaborations with athletes, musicians and artists. This platform allows for non-financial blockchain based projects to monetize effectively. You should be able to monetize anything be it expertise, artistry, time or access.
The Ether Cards platform is currently deployed on ethereum. There has been talk of cross chain compatibility, as well as rumblings of an L2 deployment. The Platform offers tickets, puzzles and gamification yet to be invented. It is aimed at both artists, marketplaces and collectors. So far, these smart contracts that "super charge" NFT collections and offer wonderful composeable optionality, have only been deployed by a select few. This is coming to an end soon as the platform will be opening up to the public next month. Let me explain a little bit about what Ether Cards is bringing to the metaverse. Lets start by talking about the founder a little bit.
Andras Kristof
Andras Kristof is the founder of Akomba Labs, an advisory and product development firm for distributed technologies. Akomba labs is who he built ether cards with, but he has had an active career in cryptocurrencies well before this. He is also the founder of Tembusu Terminals, the first bitcoin ATM service in Asia. He has been involved with the blockchain industry since there has been a blockchain industry. In 2014 he made a fork of ripple that did not include XRP. This fork was expressive enough to issue new tokens on and also included some privacy measures from Monero. Shortly thereafter, Ethereum was invented. Realizing Ethereum was better technology, he began building solutions on ETH, and has been doing so ever since. He has worked with Consensys and the Ethereum Foundation. He has been using NFTs to build products and solutions since 2018. Andras has issued the NFT tickets to a Devcon and will be doing the same for more in the future. It was while trying to imagine ways for a community to monetize without having a token that led him to create the Ether Cards platform with Akomba.
Once the platform was finished, Kristof and the rest at Akomba wanted to try it out. They decided to issue their own pilot project to show just what their new smart contracts could enable. This is how The Ether Cards Collection was born. This is also how my initial confusion began. When I first heard of Ether Cards I thought it was just another collectible situation. I didn't then realize that these collectible and dynamic NFT cards were just showcasing some of the features that the Ether Cards platform brings to reality. This launch was a way to demonstrate how the platform could be used for the funding, management and coordination of a community. So far the reception from the community deems the demonstration successful.
What Can Ether Cards Do?
There are 10k total cards in the Ether Cards Collection. The initial sale took place from March 18 to April 8 of this year. Now if you want one, you will have to pay up on the secondary market. There has been pretty active trading volume since the launch and the prices have trended up. The cards themselves are dynamic and interactive NFTs. These cards feature a front and back graphic as well as the option of being imbued with certain traits. The front panel of the card is done by a single artist, while the back panel is a 5 layer piece described as an accidental collaboration. There were 15 artists involved in this generative aspect of the back panel. The five layers are picked at random between the work of these artists as well as more common layers. When viewing the cards you can see and select these layers individually. This part is pretty neat to interact with and watch.
Speaking of randomness, now is a good time to mention integrations with other blockchain projects. The notable public integrations are Chainlink, Enjin and Brave. The Chainlink integration in particular has wonderful implications for Ether Cards. The Chainlink oracles will allow off chain data to flow in to the NFT economy. This can be used, for example by a sports star to issue a sports card that updates his stats as he plays. The Chainlink oracles are the part of this process responsible for getting data from the real world on to the ethereum blockchain in a trustless manner. Chainlink also brings its VRF or verifiable random function to Ether Cards. This allows the chance element of the grab bags and raffles offered on the platform to be truly random. This VRF function is also deployed in the accidental collaborations on the back of the Ether Cards. The implications of the Brave and Enjin integrations can only be guessed at so far.
Back to the cards themselves! Aesthetically, the cards are beautiful. When I clicked on and explored my favorite pieces, I kept seeing the name Dirty Robot. I was unfamiliar with this artist, but his work is fucking cool. There were a total of 70 artists that were deeply involved in the creation of the collection and platform. Some of the other notable artists are Nusi Quero, Bazso Lossonczy, Daniel Quinta, Agnes Szabo, Vizie, Zsolt Kosa, Carlos Alcocer, Daniel Poynton, Humberto Baca and many others.
There are four types or tiers of Ether Cards in the collection. Founder cards 1-9 are the most rare although they are not meant to have monetary value. These were created as memorabilia for people important to the project and are unlikely to be sold. The remaining tiers are OG, alpha and Founder. These tiers have 90, 900 and 9000 cards in them respectively. All three of these tiers have the collaborative back panel. The Og and Alpha Cards have front panels that are done by featured top tier artists. These tiers are guaranteed at least 3, 2 and one trait slot respectively.
As I stated above, these cards have the chance of coming with any number of traits. These traits are specific to the community that the NFT belongs to and will make sense in that context. One trait available to Ether Cards is lucky. If you have a card with the luck trait in your wallet, this increases your chances of finding more rare cards when pulling from blind bags. The royalty trait grants one VIP access to the Ether Cards platform in addition to a percentage of the revenue collected by the platform. The reforge trait will allow the holder to re-roll the collaborative layers on the back of the card. Art drop trait will give you a chance of receiving an NFT from each new collection that comes out from the platform. The free ticket trait sounds pretty awesome. This enables a buy one get one opportunity anytime you buy an NFT ticket to an event. These traits are designed by the issuer and can even be added to the cards after issuance. A recording artist may have a trait where you can get VIP access to a show if you hold an NFT with that trait. All 70 visual artists involved in producing the first 10k Ether Cards all received their own card.
These creator cards all have a trait wherein the creator can use the platform fee free in perpetuity. The possibilities are endless. While the team has rolled out some neat traits for the original ether cards, it will be interesting to see what future artists enable with traits. There are also some traits that can be redeemed for real world items. Speaking of real world items, Kristof has described an interesting technology he and Akomba have developed. He describes the use of NFC (near field communication(like a hotel key)) enabled chips embedded in a physical item. These chips would have their own Ethereum wallet that owned an NFT of themselves. This will connect an NFT with its corresponding physical item permanently and in a meaningful way. They invented this and developed a proof of concept 2 years ago. Nobody was interested in NFTs at the time, so it didn't make waves. I imagine next time this technology is implemented it will be a pretty large deal. I will certainly write about it.
What's Next For Ether Cards?
September will see the launch of their self service platform. This means you will be able to create and issue your of NFTs with the dynamic and supercharged capabilities that the platform has allowed its feature artists to use. You can make your own generative PFPs. You can issue dynamic NFTs who have real world data from chainlink to update their dynamic functions. You can add layers and randomness to your projects. You will be able to either issue these directly, or gamify their issuance in to blind bags. Blind bags, are where, instead of selecting an individual NFT, you blindly buy a "bag" of them. You can buy 5, 20 or a 5 million NFT bag. The type of bags available is customized by the issuer and the randomness is supplied by chainlinks VRF. This platform is marketplace agnostic. This means you can sell these NFTs on any other existing marketplace. Ether Cards does not see themselves as competition with marketplaces but rather wishes to specialize in the issuance and gamification of the NFTs. The team foresees other marketplaces integrating the Ether Cards technology in to their own platforms. If you are not a marketplace or a creator, you can still benefit from gamification. Collectors can use the Ether Cards Platform to offer raffles or other gamified sales. The launch slated for September is going to be phased in nature.
The battle royale is an upcoming competition that certain cardholders will be eligible to enter. This competition has astounding prizes! The team behind this project is sitting on thirty cryptopunks and thirty meebits. They ran in to a bit of legal trouble when trying to distribute these prizes to the community. This is why the battle was created! I think the issue they ran in to must have been gambling related. All of the communications from the team stress that this game will be skill based and involve little to no luck. See governments? Nobody is playing games of chance here, these people just want to reward their skillful community. Anywho, the game is said to be a deck building game. Examples provided include Pokemon, Hearthstone and Magic The Gathering. Kristof did say several times that those familiar with basic game mechanics will be able to pick the game up and it is not terribly technical in nature. Just technical enough not to be gambling. While it takes the ownership of certain Ether Cards to be eligible, these cards do not factor in to the game. Once the game starts all participants will have the same resources with which to build a deck. There is no way to buy favor in this tournament. Everyone who enters will have the same chance theoretically. The game will also be asynchronous and turn based. So there is no element of dexterity and presumably all with access to a computer in any way would be on equal footing. The results of these battles will all be verifiable on chain. That's probably good given the value of the prizes at this point. The whole team is excited to get these prizes in to the rightful hands of the community. The date is temporarily set for September tenth, but this is subject to change.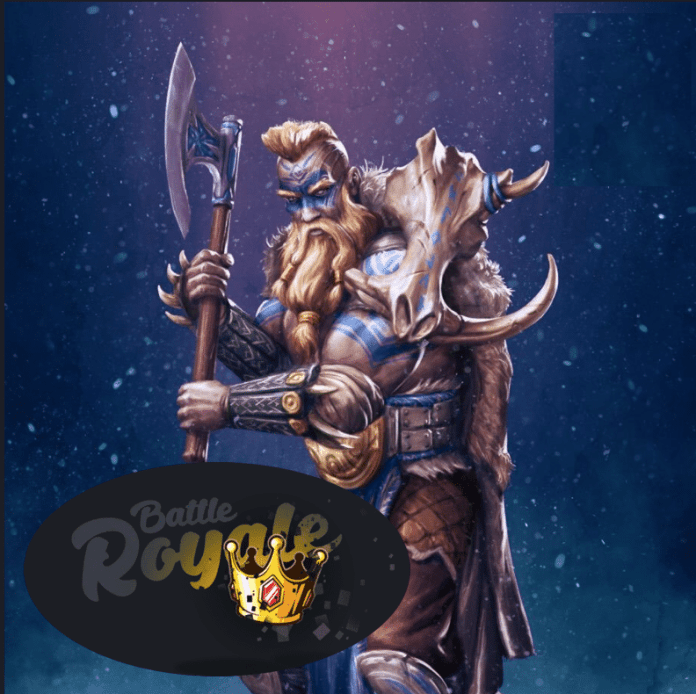 Who's Already Using Ether Cards?
So, other than the Ether Cards Collection issued by the Akomba team, has the platform been used for anything else yet? Steve Aoki is a DJ and graphic artist who has had many notable NFT drops. He has used the Ether Cards Platform for his animated NFT collection Dominion X. Specific sets of these NFTs will be forgeable in to even more rare NFTs. Some are redeemable for the physical puppets used in the making of the shorts. Additionally, you can win tickets to his future shows by holding some of his NFTs.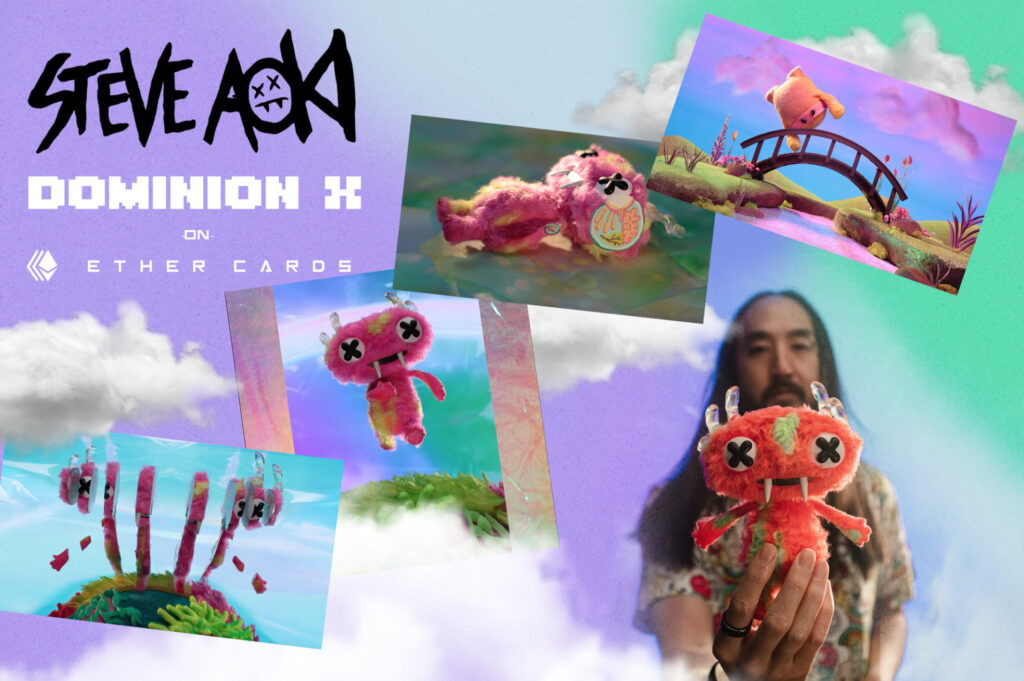 LaMelo Ball is an American basketball player. This point guard for the Hornets was the youngest player in NBA history to win a triple double and has his eye on rookie of the year. He is also the first basketball player to release awesome, automatically updating NFTs on ethereum. Of his 10k collection, 500 are dubbed "evolve tokens". These tokens will change in response to Balls performance on court. Using the chainlink oracles, real world data will be able to be reflected in the NFTs. If ball does win Rookie of the year, these dynamic NFTs will, in the words of his marketing team "evolve into a more powerful version, featuring the exclusive Gold Sun". I think the ability for an issuers NFTs to dynamically and automatically adapt to real world activity is one of the coolest things Ether Cards enables in its communities. Ball has also announced redemption of some NFTs for real world memorabilia as well as using NFTs as tickets to his games.
The Ether Cards Collection as well as the work with the creators in the intervening months has shown only part of what the Ether Cards Platform can do. It is up to you and all the other artists and community engineers to design the next part of the metaverse that we all need. I will leave you with the words of Mr Kristof "what DeFi did with erc20 tokens, we want to do the same with NFTs. We want to create and kick start this kind of lego like ecosystem."
If you'd like to hear more about Ether Cards, check out episode 14 of the Ape and Pony Show with founder Andras Kristof.
-Farmer Michael