According to a press release, the Royal Bahamas Police Force arrested FTX founder Sam Bankman-Fried.
Arrested, Development
The arrest came after the US filed criminal charges against SBF and the country expects the US to request that Bankman-Fried be extradited from The Bahamas soon.
"As a result of the notification received and the material provided therewith, it was deemed appropriate for the Attorney General to seek SBF's arrest and hold him in custody pursuant to our nation's Extradition Act," the statement, attributed to Attorney General Ryan Pinder, said. "At such time as a formal request for extradition is made, The Bahamas intends to process it promptly, pursuant to Bahamian law and its treaty obligations with the United States."
A tweet from the U.S. Attorney's Office for the Southern District of New York confirmed that prosecutors in the U.S. indicted SBF, though the indictment remains under seal.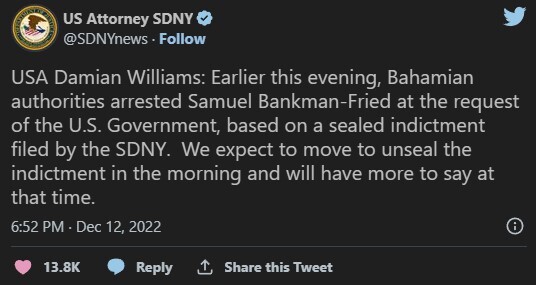 On Tuesday, SBF was scheduled to testify virtually before the House Financial Services Committee about the collapse of the exchange.

The Senate Banking Committee had asked SBF to testify about his failed company at a hearing on Wednesday, but he refused, according to the committee. Senators Pat Toomey and Sherrod Brown have threatened to subpoena Bankman-Fried in a letter if he does not appear.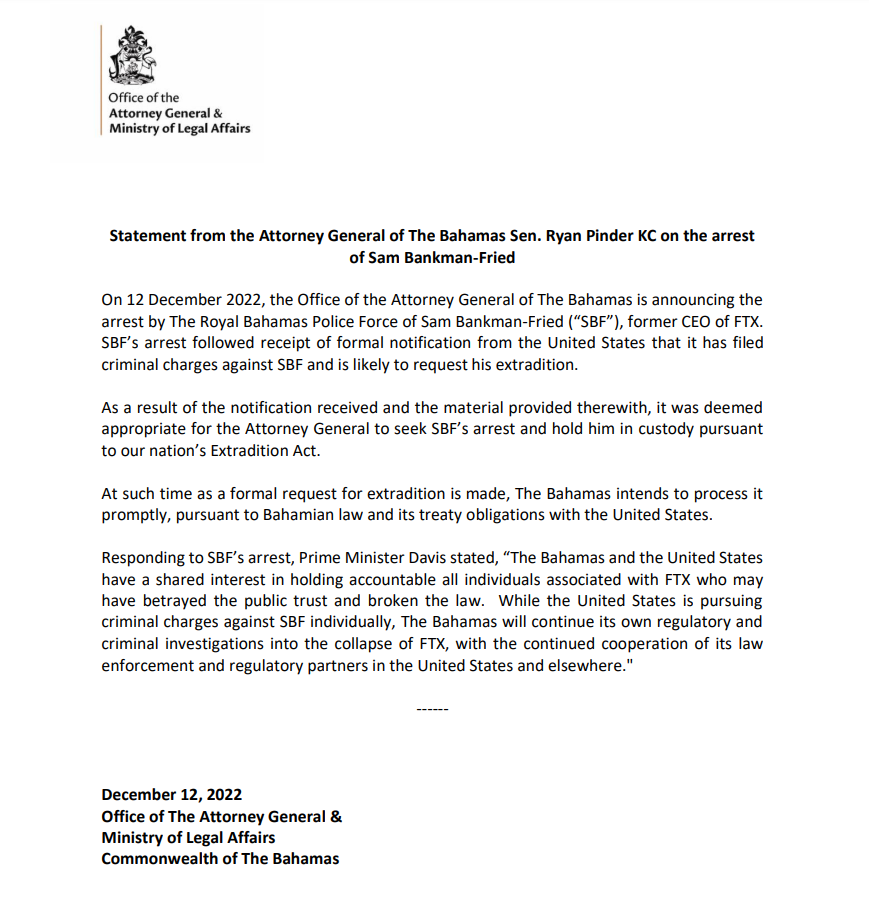 Last month, FTX fell after it was revealed that Alameda Research, a sister company founded by SBF, held a large number of FTT tokens issued by FTX.

Just over a month ago, FTX declared bankruptcy. In court filings and prepared Congressional testimony, its new CEO, John J. Ray III, stated that he had never seen anything like the corporate governance and documentation failures that he discovered at FTX.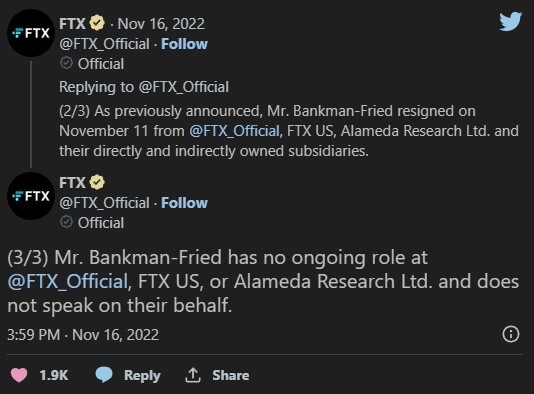 Among other things, he discovered that FTX had heavily commingled customer and corporate assets, resulting in billions of dollars in losses. In his prepared remarks, which were released earlier Monday, he stated that his new team had secured approximately $1 billion in company assets to date.
After leaving his company, SBF went on a press tour, speaking to the New York Times, New York Magazine, Vox, and numerous other news outlets. He spoke earlier in the day on Twitter Spaces and in a live Forbes interview on Monday.