Introduction
The past few months have not been easy for Ripple. The company still has an ongoing dispute with the US SEC regarding its alleged violation of securities law.
The XRP token, however, is currently the sixth-largest cryptocurrency in the world by market cap. The XRP ecosystem witnessed some groundbreaking innovations as well.
Ripple has now dipped its toes in the NFT world. XRPL, the blockchain behind XRP, started its support for NFTs on OCT-31. This move follows after it initiated a $250M Creator Fund to explore NFT innovations on XRPL.
So, what are the advantages of NFTs on XRPL?
Advantages of NFTs on XRP Ledger
Bridge hacks have made the headlines of late. The Ripple developers took a no-smart-contracts approach. This allows NFTs on XRPL to be less vulnerable to any bridge hacks. It also reduces network congestion and has lower costs.
This approach addresses the difficulties associated with NFTs on leading Layer 1 blockchains, such as Ethereum.
The XLS-20 standard that is used opens up a door of endless possibilities. Leverage auction functionality, an efficient storage mechanism, NFT co-ownerships, direct cut of secondary sales to the original minter, are all possible.
The ledger's standardized royalty enforcement is another element that will be sought after by creators and artists. The automated royalty allocation will provide artists with a portion of revenue from the trades of their NFTs.
You can even designate a third party to mint and sell your NFTs on your behalf.
What is XLS-20?
XLS-20 or XRP Ledger Standards-20 is a protocol that the Ripple developers proposed in Q1 2022 to enable NFTs on XRPL. All the advantages mentioned above are made possible by this protocol.
XLS-20 had a bumpy start. The developers had to push the protocol back when they found a bug in the system. Malicious players could use the bug in question to launch a denial-of-service (DoS) attack against NFT issuers.
Later an amendment was proposed to prevent potential DoS attacks, and 80% of validators voted in favor of it. Ultimately, the XLS-20 went live on October 31.
With the release of XLS-20, Ripple has established a uniform protocol for NFTs, marking a vital step forward for NFT projects built with the XRPL.
The current state of the Ripple NFT market
Following the eventual implementation of the long-awaited XLS-20, the XRP NFTs marketplace OnXRP.com recorded a total sales volume of 5.75 million XRP in just 2 hours.
This 2-hour volume is way more than what Reddit NFT had. In fact, it is more than a quarter of the total volume Cardano had in a month.
OnXRP.com has since been able to index 240,000 non-fungible tokens (NFTs) and 9,000 collections on the XRPL. The marketplace helped launch six projects on the ledger as well.
Sologenic, a decentralized XRP marketplace, minted 137K+ NFTs on XRP.
It has been barely a week since XLS-20 went live, yet NFT space on XRPL has expanded exponentially.
The market is still in the embryonic stage. Currently it is difficult to accurately size the XRP NFT market due to the lack of tools. But with the collected statistics, it's a no-brainer that the XRP NFT space is in for even more explosive growth.
Collections on XRPL
Many XRP NFT projects popped up before XLS-20 went live. They managed to sell NFTs to the community when the XPRL didn't support the NFTs integration.
These projects used digital IOU vouchers to sell their NFTs before the XLS-20 launch. Unlike other blockchains, where collectors and traders use the network's native coin to mint NFTs after being whitelisted, XRPL uses tokenized whitelisting.
XRPL represents non-fungible tokens as NFToken objects. An NFToken is a unique, indivisible unit without any payment function. These tokens are available for users to mint, hold, buy, sell, and burn.
Tokenized whitelisting is a way to claim the right to mint an NFT before it's launched. This unique approach can circumvent the waiting process.
For instance, the XPUNK series includes 10,000 NFTs and 5,000 XPUNK tokens. And each 0.5 $XPUNK token will provide you the right to mint 1 XPUNK once XLS-20 is made available on the MainNet.
The marketplace onXRP.com sold multiple NFTs using the IOU method.
This intriguing dynamic between the NFT and tokens will present an environment where digital IOU vouchers and NFT floor prices coexist. It has never happened before on any other blockchain.
Popular XRPL NFT Collections
Let's look at some popular XRPL NFT collections.
XPunks – The XPUNKs is the first NFT collection on the XRP Ledger. They are an official partner of Ripple. And XPUNKs have not shied away from giving airdrops to the community over the past few months. The project is building a mysterious and immersive experience called Eden.
The collection is over 40% minted, has almost 1400 owners, and saw more than 12m $XRP traded.
Links – Twitter, Discord, Website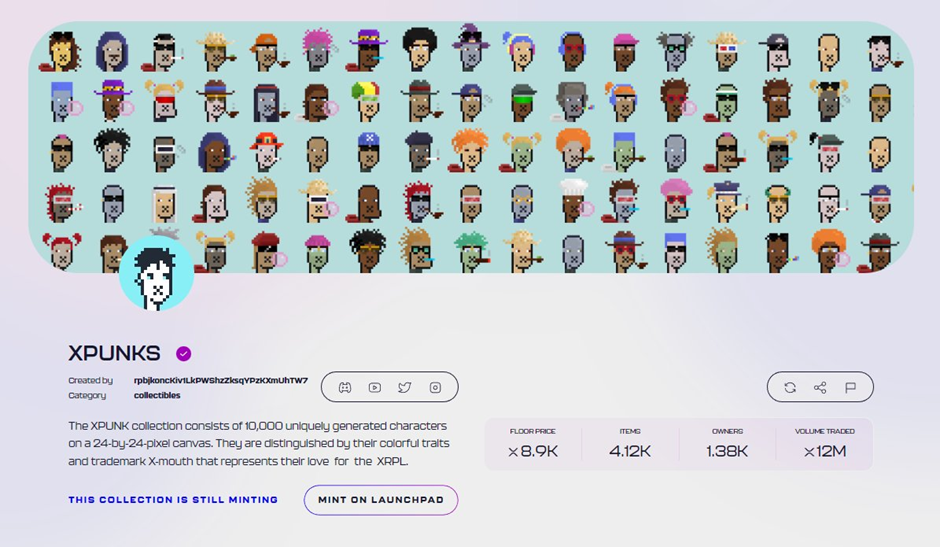 VerseX – VerseX is an open-world PC game in the immersive virtual reality Metaverse. It is a play-to-earn game, and gamers can earn $XVR, their native coin, and different NFTs. The game also has an in-game marketplace. There is no doubt that VerseX is an exciting project with great potential. Links – Twitter, Discord, Website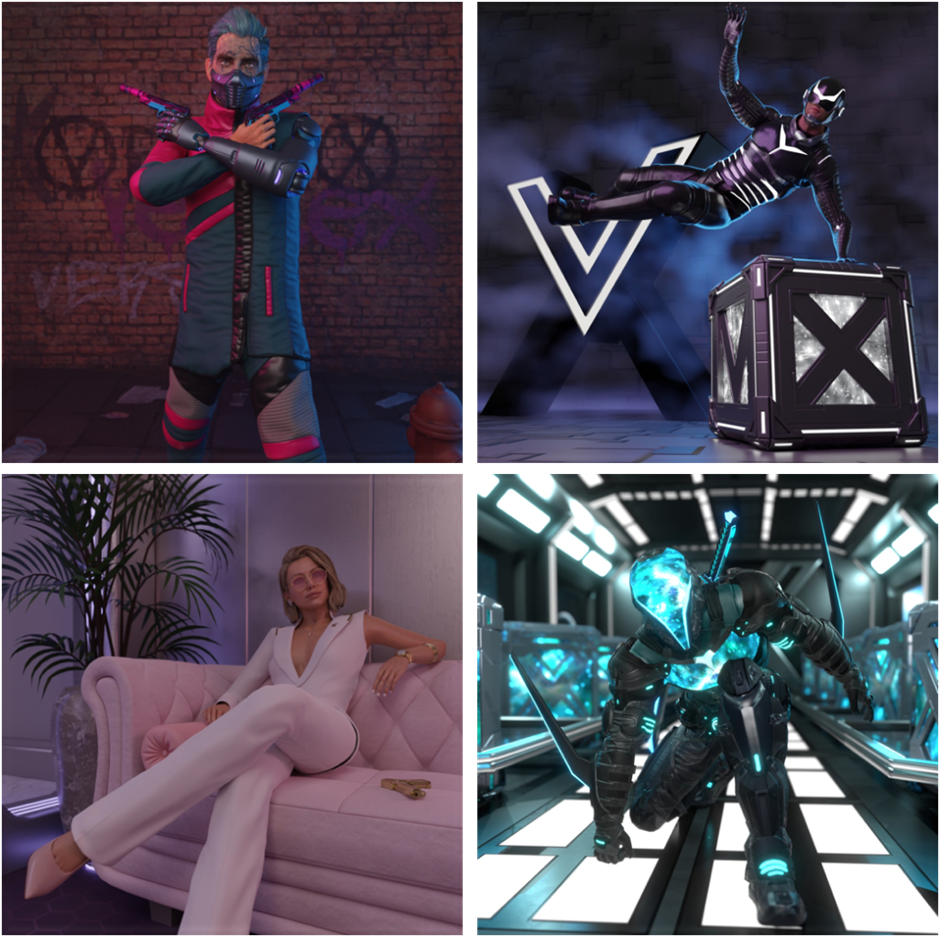 The Junkies – The project is a genesis collection of characters that provide access to P2E features in MMO 'The Junkieverse.' The Junkieverse is an upcoming free-to-play social MMORPG game with Minecraft-like characters.
Links – Twitter, Discord, Website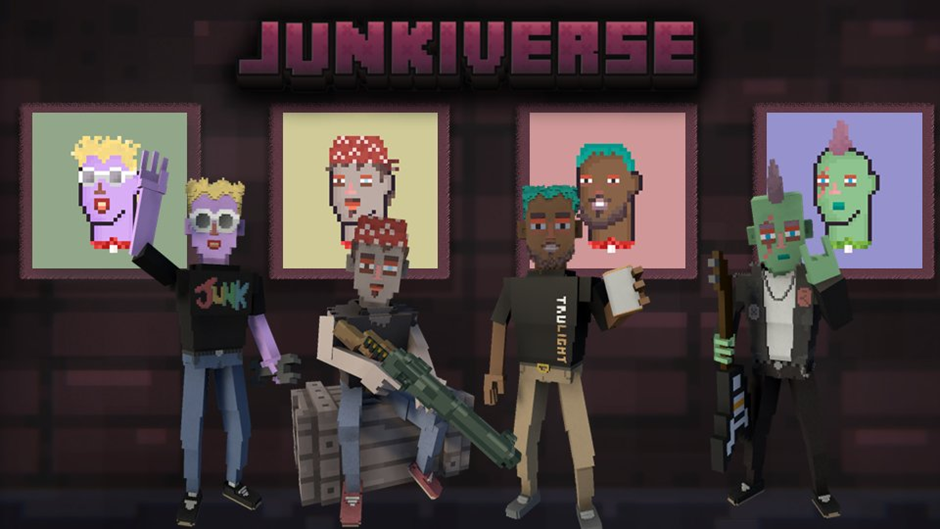 Wild Stag Treehouse – They are a unique NFT-based club featuring a collection of 20,000 individual Wild Stag TH NFTs. The project provides a range of utilities, from reducing carbon by planting trees with their business partner One Tree Planted to building treehouses for club members.
Link –Twitter, Discord, Website

Club XRPL – They are an NFT brand and exclusive membership club that provides its members with perks such as NFT art drops, special events, and mint access. The Bearable Bulls are the Genesis NFT project of the club with over 200 hand-drawn and carefully designed traits. They aim to hold a similar position in XRPL as the Apes (BYAC & MAYC) hold in Ethereum.
Link- Twitter, Discord, Website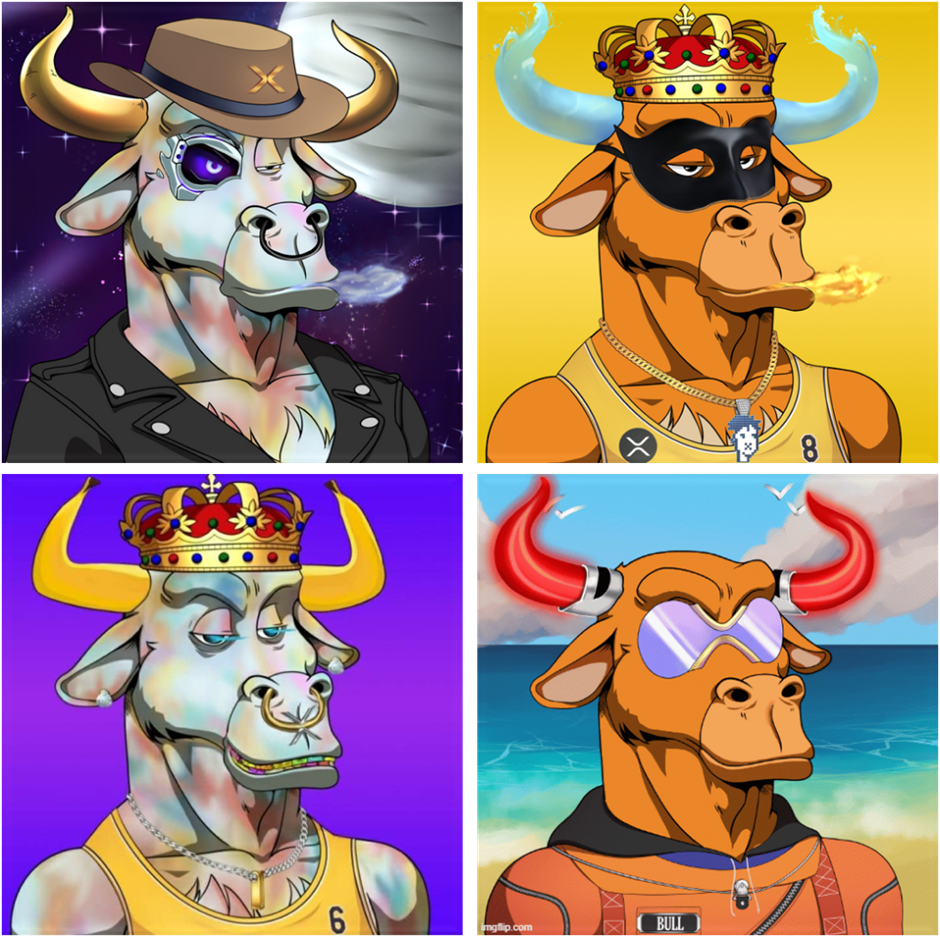 Lame Lions – Similar to Lazy Lions on Ethereum, the Lame Lions is also a story-based NFT project. The collection consists of 10,000 unique Lame Lions with over 100 traits. The project also has an MMO play-to-earn strategy game on its agenda. Lame Lions aim to bring the best of NFTs, blockchain, gaming, and DeFi. Link- Twitter, Discord, Website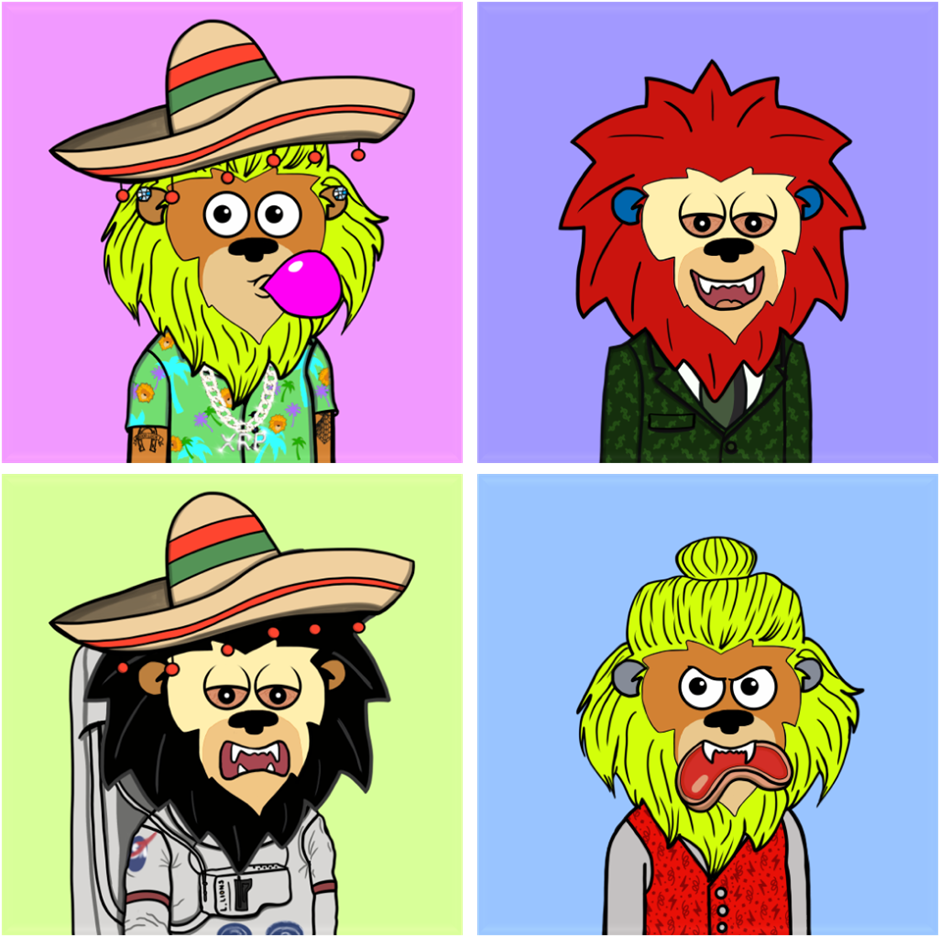 Where to buy these collections?
There are currently two relatively trustable Marketplaces in XRPL: Sologenic and onXRP.com. Sologenic is a decentralized marketplace, while onXRP.com is centralized.
To buy NFTs from Sologenic, you need to create an account on their native exchange and Wallet, SoloDEX. Once the Wallet is activated, you must have a positive XRP and SOLO balance. SOLO is the native coin of the Sologenic ecosystem.
You can connect the Wallet to Sologenic and start buying NFTs. The only action required after clicking "Purchase" is signing the transaction from the Wallet to finish the buying process.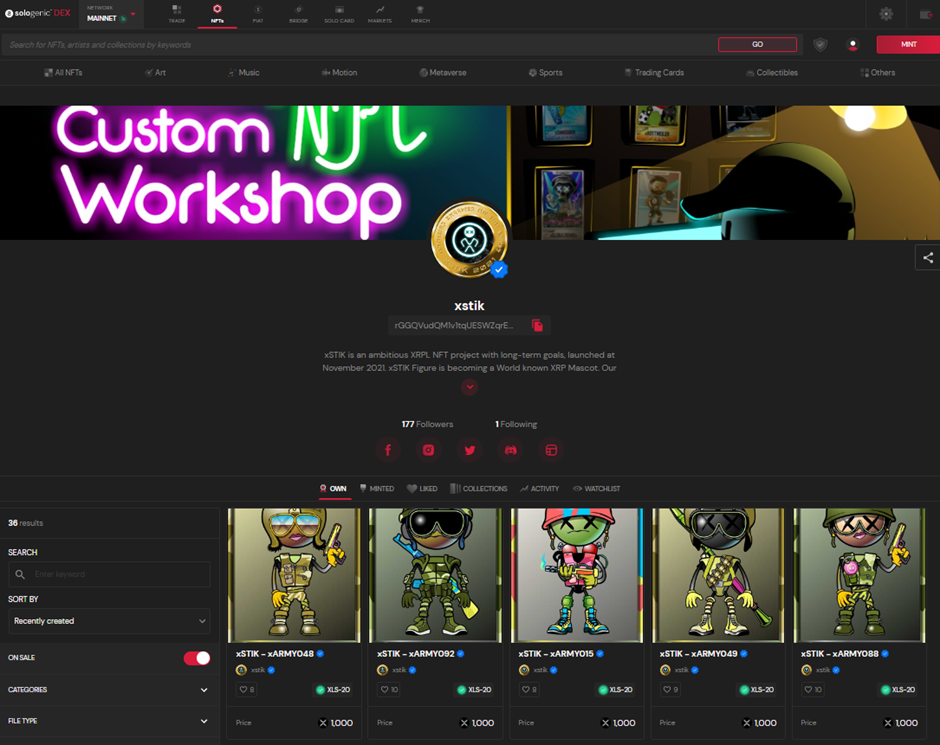 OnXRP.com is another NFT marketplace on XRPL. Unlike Sologenic, onXRP.com is centralized. The marketplace follows two payment options: XRP or OXP (the native currency of OnXRP.com).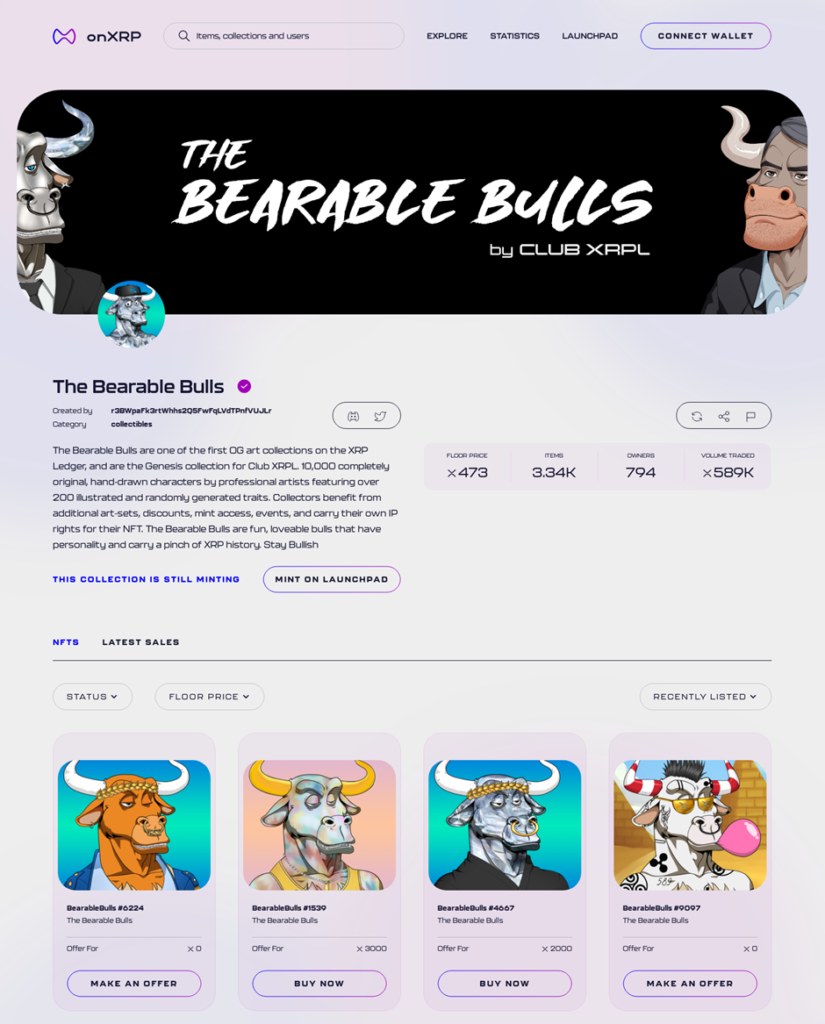 OnXRP.com has also helped launch several XRPL NFTs. The NFTs minted using their launchpad used the IOU structure we discussed before. XPUNKs is an NFT collection by OnXRP.com.
To buy NFTs from OnXRP.com, you must set up a XUMM Wallet. Unfortunately, unlike web wallets like Metamask, XUMM is only available for iOS and Android.
Step 1 – Create your Wallet by downloading the XUMM app from the App Store or Play Store.
Step 2 – Deposit some XRP to the Wallet.
Step 3 – Set a trust line with OXP.
Step 4 – Connect the activated Wallet at onXRP.com.
The rest of the buying process is similar to other NFT marketplaces.
The two marketplaces, currently do not accept fiat payments. The buying or navigating experience is not as smooth as OpenSea and others. There needs to be many more innovations and refinements to come to these platforms to be viable for an average NFT buyer or collector.
Of the two marketplaces, OnXRP.com is more user-friendly and easier to navigate. But Sologenic is decentralized and stays true to the blockchain spirit.
What NFT Investors/Traders need to know
Before you buy any NFTs in XRPL, participants must be aware of the rampant scams and rug-pulls. The XRPL space is still nascent, and you need to be extra cautious.
For a project to be even considered investment-worthy, it has to satisfy some conditions:
The project should have a Solid Community. Being part of a tightly-knit community provides an incentive to own the NFT. Providing community members with long-term benefits should be the project's main objective. You must make sure the community is healthy before buying any NFT.
A legitimate NFT project should have a Whitepaper and a Roadmap. The absence of it means the project lacks a clear vision. These are also prone to scammers and rug-pullers.
You can partly gauge the value of a project by checking the composition of the Development Team. The team should have a genuine track record and should preferably be doxxed.
The NFT has to provide value to the owners. They must have some form of Utility, like passive income-earning opportunities. NFT collections without them will deteriorate once the hype dies out.
Rug pulls are inevitable, and scammers are eyeing this space like hyenas. However, you can still avoid rug pulls once you do meticulous research on the team and their social media channels.
Make sure the project is audited, and remember to check the project distribution. You must also never invest in unreasonably volatile NFTs.
Conclusion
XRPL NFT space is in it's early stage of growth. Currently the XRL NFT eco system lacks proper NFT tools, and many existing tools have yet to add support for the XRP Ledger. Many traders would find it challenging to explore and snipe XRPL collections without the aid of NFT tools.
We know that Ethereum NFTs have the most total value locked in. However the most recent development places XRPL in an excellent position to compete with Solana, Tezos and Cardano NFTs. XPRL could help greater adoption of XRP due to the availabiliy of NFTs. Having said this, time is required for various innovations, tools and collections to enable market maturity.
You are still early, and the XRPL presents endless opportunities to for early adopters.