We're Meeting the Real Bigwigs There.
Glue Factory, written by the comic geniuses[1] behind household names that include Superstore, Saturday Night Live, Key and Peele, How I Met Your Mother, and the Tonight Show, will partner with token holders to bring a dark, animated sketch series to the screen in your living room.
Initially, the idea reminded us a lot of another project that hit the track recently, so we looked into it – and we're happy to report that this one is different. Although the cast and writers work on and around the big screen, the project's mysterious founders – The Collector and his Wife[2] – have been immersed in the crazy and wonderful world of crypto art.
They get it.
We all recently got a taste of what happens when you mix rabid fans, gilded names, and technology that's still evolving quickly; and long story short, it's nothing good.
Executing well in this space requires a little more than star power – it requires technological know-how, an understanding of communal norms, and an authentic urge to do good in the world. NFT projects do best when they're launched from the ground up, as best exemplified in the launches of two similar "Cats with Weed" projects.
Exhibit A burned $800,000 in gas.
Exhibit B has given $150,000 to Mental Health America to date.
I won't make you guess which was community led, but I'm happy to report that the fine colts at Glue Factory are part of our string[3]. Not only are they keenly aware of the damage gas wars can cause (and actively investigating ways to avoid them) but they even talked to Ethereum before launch. That's what I like to call race ready.
Glue Factory came into inception as a way to use dark humor to help some part of the stable of animals we're seeing on Twitter. After listening to her husband bray on about JPEGs for months, The Collector's Wife got him saddled up to help the most grass-roots animal rescue they could find. The Collector, a long time veteran who personally experienced the disappointment of selling out of something[4] early, worked with her to put together a team that could deliver a product that's as culturally thoroughbred as it is hilarious. Glue Factory is off to the races.
Glue Factory doesn't Horse Around
As the name suggests, Glue Factory Show is a sketch series about horses. It's a little dark, and honestly, feels a little like what you get if BoJack Horseman did a collaboration with Sarah McLachlan[5], but in a good way.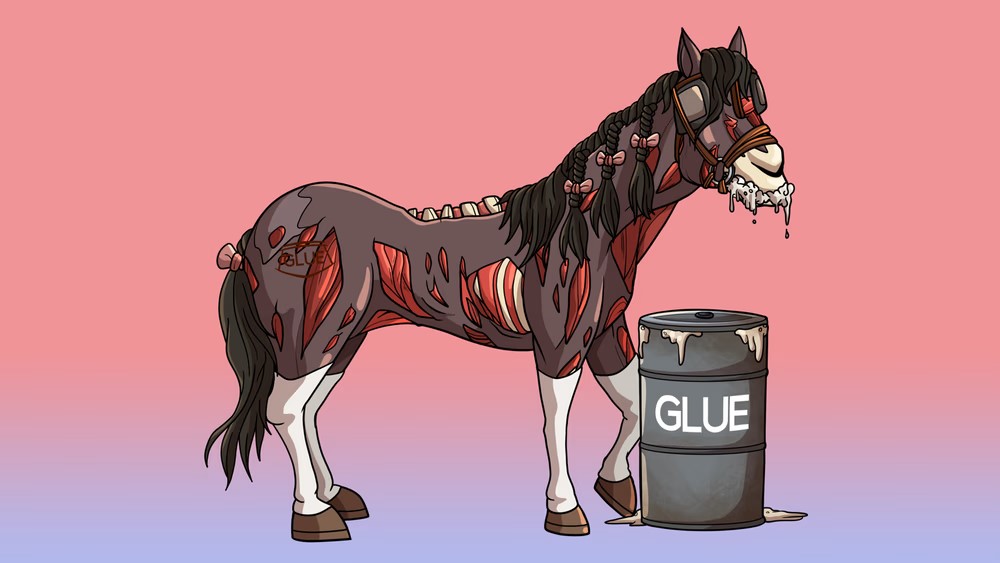 The Glue Factory intends to bring awareness to the maltreatment of these beautiful animals in America, as well as to make its mark in the world by giving 10% of initial sales to Red Bucket Equine Rescue, a charity that's been involved with rescuing, rehabilitating and re-homing our gorgeous four legged friends since 2008.
Red Bucket Equine Rescue re-deploys an impressive 98.3% of funds to the direct benefit of the horses, and houses around 140 horses at any one given time. Over 90% of the horses going to slaughter are in their prime and in good condition, so operations like Red Bucket focus on building a robust pipeline to get horses to good health, into the hands of responsible owners, and providing owners continuing support and education to ensure those ponies stay where they put 'em[6].
Red Bucket is currently raising $100,000, so our contribution would be a big deal. Just 10% of sales of a 10K project at 0.1ETH per mint, would let The Glue Factory put 100 ETH (a very healthy $264,000 USD) directly into the hooves of horses in need, while letting us all participate in creating the quality animated entertainment we've come to expect.
While the spirit of the NFT community, which can best be described as "altruistic anarchism", is hard to blend well with Big Entertainment, Glue Factory isn't that. This is a grassroots project online, helping a grassroots project in meat world prevent horses from becoming horse meat. That's good business in the charity world.
What's in it for the rest of us?
Dealing with considerations around IP rights in media is always tricky, but the team appears to be making every effort to treat participants fairly while giving the show its best run at getting into the winner's circle.
The finish line for a show like this goes beyond community enjoyment – TV series get bought up by distribution outlets, making appropriate management of commercial IP rights important to handle properly.
For the success of the show, and to keep well out of the Eye of SEC, Glue Factory is retaining commercial IP rights to the avatars[7].
Ofcourse, there are no limits on personal use – you're welcome to make as many horse-derived products as you'd like, so long as they don't involve the harming of actual horses.
And ofcourse, that's not to say token holders won't get benefits.
The Glue Factory Show is putting all jockeys in a Community Writers Room with the funny guys, where members will be able to pitch sketch ideas for the show. Ideas will be inspected by the community, and the best will be cleared for the writing team, with rewards up for grabs by contributors. All we know right now is that these rewards are supposedly, "Epic". Activation of the roadmap will also create some cool goodies in the form of NiftySlabs for horses, additional drops, merch, and figurines.
In addition to the Writer's Room, Glue Factory is also creating a Talent Fund consisting of 2.5% of sales – both at mint time, and in secondary markets – so they can pay the talent – your horses! Horse avatars that participate in showings will be bringing a payday home to their owners whenever the breed is featured in the series.
Your precious ETH at mint time not only goes to bootstrapping the acting career of aspiring equine artists, but is likely to continue to pay dividends over the pony's career.
Giddy up…
Hopefully, you're convinced. As always, DYOR[8], but Glue Factory Show promises to be a hilarious part of NFT history. Mix an all-star cast, founders that care, a real impact on animal welfare, and ongoing benefits to all the fine folks involved in the production, and you've got a clear favourite in the race to the big screen.
So what's a colt to do?
Giddy up and trot over to their Discord;
Make with the horse puns; and
Get your precious ETH ready to pay the 0.1 mint fee Sunday at 7PM EDT.
Saddle up and enjoy the show.
The Collector was an early believer in artists like fewocious and Boss Logic, and even spent some time in the Bored Ape Yacht Club (he empathizes deeply with all the poor souls who sold early). He's advised both emerging artists and some generative projects on the tech side, and understands the value of community, going as far as looking into ways to skip the gas wars (and save us all some money) so Glue Factory can build up the base of unique holders that makes every project successful.
The Collector's Wife was mostly listening to him mumble about JPEGs, but as a life-long animal lover, the zoo she saw on Twitter inspired her to think about how their household could make a difference to grass-roots animal rescues.
Morning Drop, Republished with permission
---
[1] Check the cast out on their website. We also hear rumors of a crazy list of special guests.
[2] Anonymous until the credits for the series roll. Give 'em a break – they have day jobs.
[3] Horse talk for "one of us"
[4] Pour one out. He sold Bored Ape Yacht Club.
[5] From that one SPCA commercial.
[6] Red Bucket Equine Rescue, 2008.
[7] Glue Factory Show, 2021
[8] Do your own research. We don't need to keep saying that, right?