Have Fun Staying Poor!
Are you going to make it? Here's how you know…
In crypto? You've definitely heard the phrase: Have Fun Staying Poor! Either you've been here since the beginning, just got here, or somewhere in the middle. You've heard it.
The memes are hot and heavy, no one goes by their real name, the number of cryptocurrencies has ballooned to almost 11,000 and has likely gone up by the time this article posts.
If you've been lucky to catch a 'Bull Run' at some point in your crypto journey, you know there is real potential to make life changing money here; or in stark contrast, get absolutely smoked in a bear market and lose it all! Here is some NOT financial advice for you to follow to hopefully steer you in the right direction.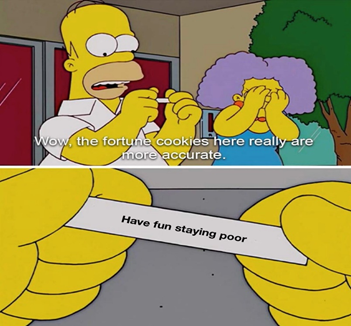 Some meme acronyms to live by for the remainder of this article:
NGMI = Not Gonna Make It
GMI = Gonna Make It
Buying Bitcoin or Ethereum
NGMI: Using margin or the derivative market is super high risk, probably best to leave this to the "professionals" and stick to a safer option. If you've got a higher risk tolerance and can stomach losing it all, maybe start small and use 3-5% leverage. If you're 100x leveraging (or higher) into some illiquid altcoin, you're gambling and will probably lose.
GMI: Dollar Cost Averaging (DCA) is the boring approach to any investment, BUT it is super low risk and usually turns out well in the end. Bitcoin and Ethereum are the establishments of the crypto market, and that's probably not changing anytime soon. Stack your sats and hoard your ETH and don't chase the pumps or sell the dumps, it will usually even itself out. And unless you're a very experienced trader and know what you're doing, probably best to avoid excessive day trading. At the end of the day, these are still volatile assets and you can find yourself in a tough spot if you're not careful with it.
Altcoins
NGMI: Aping into everything with an uptrend, not doing any research, dumping your whole wad into one or two cryptocurrencies, swapping your hard-earned ETH on SushiSwap, Uniswap, Pancake Swap or any other kind of swap for an illiquid shitcoin and hoping Elon Musk shoots your "investment" a Twitter mention…I don't like your chances.
GMI:
Let's be honest, you have to take some risk on the altcoin side, but you can be smart about it? Can't you? Smaller positions, taking profit when you are up, not being afraid to sell the bottom (it can always go lower!), researching your project, not chasing pumps, don't use margin, and probably a dozen other ways to make smart altcoin investments. Don't get emotionally attached to a project or a community, that's how you become a bag holder.
NFT's
NGMI: If you don't know what an NFT is, you can roam around our website here or do some searches, or open an OpenSea account…but, don't do it on an empty stomach, or while you're otherwise impaired! Don't just go buying everything you think looks cool unless "you like the art" (nod to Wall Street Bets). Not having an understanding of gas fees can cause issues as well and burn ETH at a rapid pace. Also keep an eye on liquidity, you don't want to get stuck with a bunch of NFT's you can get rid of. That just leads to an impressive NFT graveyard.
GMI: Jump into a Discord for a project, follow the devs on Twitter, figure out general roadmap and sentiment for a project. Is there a utility behind the NFT your looking at? What was the mint price? What is the current floor? Is it a copycat project? Do you know what it means to get rugged? Don't get scammed!! There is a lot to look into here, just be diligent and follow a similar altcoin investment plan of not dumping your whole ETH bag into a cat project (no offense to cat projects).
Taxes
NGMI: If you live in a country that taxes your crypto, and you are not paying those taxes…you're walking a dangerous line. Despite crypto's desire to be a decentralized and alternative currency, the taxing authorities have done a pretty decent job tracking it. You're not a rebel, or anti-establishment if you skip out on paying your taxes…you're just asking for trouble.
GMI: Compared to a few years ago, there are actually several reasonably priced crypto tax trackers on the market. CoinTracker, Node40 and Koinly (free for basic) just to name a few. However you do it, you should probably pay your taxes at some point. Sorry anarchists!
Exchanges and Swaps
NGMI: There are sooo many exchanges. If your exchange is listing every token or currency it can get to pay a listing fee, you may want to rethink that exchange…or at the very least dig a little deeper. Where is the exchange based out of? What do their fees look like? Have they been hacked before? Is there sufficient liquidity? How long have they been around? Are they active on Twitter/Discord/Telegram? And a bunch more questions you can run through to decide which exchanges get your business. In general, most people have a reason for using whatever exchange they use, but if you've got funds sitting in dozens of exchanges, that probably isn't the best strategy.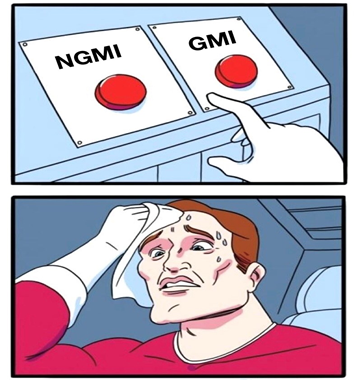 GMI: There are plenty of reputable exchanges and swaps out there, just be smart and do your research when you're picking one. A good place to start would somewhere like CoinGecko.com on the "Exchanges" tab. Your should be more or less good to go with the top 10-15 Spot Exchanges, top 5-ish DEX's. Don't stress too much on this one, if it feels shady, go with your gut.
I am not an expert, this isn't financial, legal or any kind of advice. Just one crpyto bro with a few years of experience shooting you some friendly tips. I've been on the receiving end of some eyepopping gains and some demoralizing losses. If you can even it out and get more W's in the win column, you can have fun getting rich, and we can win this game together!