A "normie's" guide to buying your first Non-Fungible Token
I'd have to say that 97% of people I know have no clue what an NFT is and when I tried to explain it to them, I got the "can't I just right click and save it"? Well, you can, but I can also take a picture of myself with a Maserati in the background, but that doesn't mean I'm going to be driving it, nor am I the owner.
So, what exactly is an NFT? In short, an NFT is a unique piece of art that is verifiable and traded on the blockchain. Here is my "normie's guide to buying your first NFT". I'll start by saying that I have been in this NFT space for about 6 weeks now and let me tell you I've learned a lot. Let's get started with the basics.
Before you get started, you're going to want to download a few apps (note, I do mostly everything on my laptop as it makes everything much easier):
MetaMask
Set up your MetaMask account, it will ask you to remember your 12-word secret access code (I wrote that down on a piece of paper). Do not just screen shot it and keep it on your laptop. You should be the only who knows those 12 words. You are going to need to add ETH (Ethereum) to your MetaMask wallet. You can do this in app by buying in app or if you have ETH stored in another wallet, for example in Coinbase or CoinSquare, you can simply transfer your ETH from that wallet to your MetaMask
Once you have that set up, head on over to google Chrome, and download the MetaMask extension and pin it to your home page. It should look like the image below.

OpenSea
Now that you have your MetaMask wallet set up, you're now ready to buy your NFTs. Kidding, you're going to make your way over to OpenSea.


Here is what you'll see when you first head over to OpenSea. Since you've already set up your MetaMask you're going to go ahead and click that option.
After you click MetaMask there will be a drop down from the pined MetaMask icon. This drop down is just showing you OpenSea is wanting to connect to your MetaMask account. You're going to go ahead and click next.
Finally, you're going to connect your MetaMask account to OpenSea, Click connect.

Once these steps are completed, you've officially connected your MetaMask account to OpenSea and it should look something like this. Any NFTs you purchase will show up under the Collected tab.
Now that you have Both MetaMask and OpenSea, you can technically start buying NFTs, but you should add two other things to your starter pack.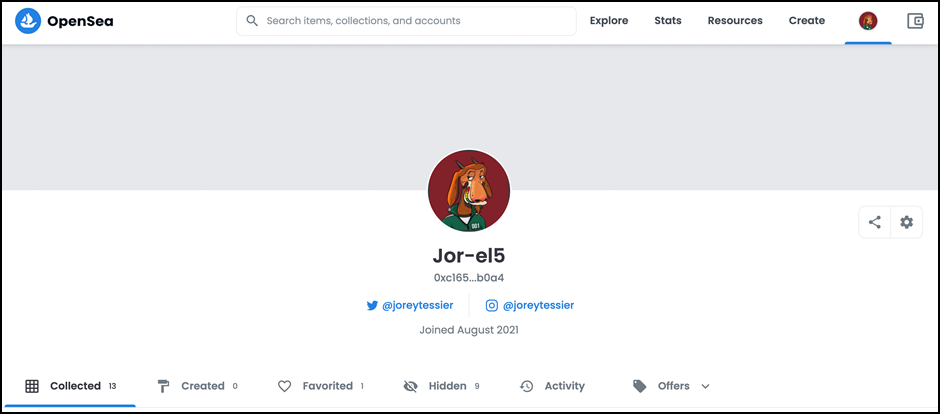 Twitter
If you don't have a twitter account, you're going to want to get one. Let's just say every single person who has bought an NFT has a twitter account. You're going to want to start following "influencers", me, I'm the influencer (far from it). Jokes aside, you are going to want to spend some time on twitter, there are lots of good accounts out there, but also some … not so good ones. If you tweet "gm" every morning you should be fine. You'll understand what this means in the first 24 hours in your NFT twitter journey.
Every NFT project will have their own twitter page which will have links to their website, their OpenSea page and their Discord.
Discord
I'm not going to go in depth on how to use Discord, because Gary V already has an article for that. What I am going to tell you about discord is that it's where you'll find the members who are interested in that NFT project, and much more. Discord is a great platform for any upcoming announcements, general chat with other people who are interested in the project and if you have any questions (because you're a newbie) to ask them. Make sure you get yourself familiarized with discord, how it works and how to keep up to date with upcoming announcements.
The last piece of the puzzle is to decide whether you are going to be "minting" or buying it "secondary".
Minting
You'll hear this term a lot as it refers to the process of digital art becoming a part of the blockchain. The minting process happens when you are the first owner of that NFT. The first NFT I minted was Cyber Hornets Colony Club. To be honest, this process was daunting initially. I was on their website, connected my wallet, clicked "mint" and spent 0.08 ETH (Ethereum), at the time was 361USD. Now what? Well, once you've minted it takes a few minutes for it to show up in your account. Hop on to OpenSea and under the collected tab you will see your newly minted NFT.
Secondary
When you hear someone speak about secondary market, it simply means they have bought it from someone else, likely off OpenSea. I have yet to buy secondary, but the process is less daunting to say the least. You pick which NFT you would like to buy and click "buy now" and accept the transaction.
Now that you have your starter pack and understand the difference between minting and secondary, what NFT are you going to buy first? I started by scrolling through twitter for a while and found a few projects I wanted to get into simply because "I liked the art".
I found other projects that their roadmap was appealing. If you don't know what a "roadmap" is, it's just another word to describe the projects overall plan. For example, some NFT projects will make a sizeable donation to a particular charity after it sells out. Other projects will give Ethereum or an NFT after a percentage of the project is sold. There are many options as to how the project gives back and the utility behind it, so know their roadmap and keep yourself in the know via their twitter and discord.
Why are you buying NFTs? Are you looking to flip them and make a quick (sometimes large) profit? Are you looking to hold because you think the project is going to be the next Bored Ape? (Research BAYC if you have not seen the value of holding one). I currently do not own very many NFTs, but I will say the one I'm most proud of currently is my Desperate Ape Wife #5820.
First, they have a great community on Twitter/Discord. Second, the art does remind me a little of the BAYC. Lastly, I minted for 0.08ETH and the current floor price as I write this 0.65ETH, which is 8x my initial investment.
Just remember, spend what you can afford, play within your limit.