In Spotlight: Joey Howell
In this In Spotlight I spent time talking to artist Joey Howell. Often, we come across artists in ways that are more chance than deliberate. Finding Joey's work was a bit of both. A tried and true method: I search out which artists are followed by artists I'm already aware of. I find this stamp of approval from other creative minds to open an entire network of interesting styles and collections.
Joey's art marries desert landscapes, celestial patterns, surrealism, and pure psychedelia. What spoke to me most is his often favoring of more muted tones over the vibrant colors associated in this space of art. It can be difficult to pigeon hole his collection into a single genre, which speaks to the overall spectrum of not just what's already there, but what can be there in the future.
Below is my interview with Joey.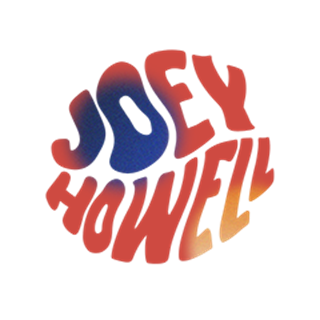 DJ: So, a little about yourself: who is Joey Howell? How did you get your start as an artist?
Joey Howell: "I was born and raised in central Florida. I am a self taught artists and learned a lot and defined my style a lot there. My style is birthed from skateboarding graphics, comics and other things I found interesting growing up. I knew when I was about 13 I wanted to be a full time working artist and since then at 26 nothings changed in that regard. I got my start in art working for ripndip and pro skateboarder josh harmony when I was about 18 years old.

This really got me cemented as a freelance artist. Before this period I was doing work for bands and other projects at a lower rate working for a "break". I later moved to Las Vegas and worked in a art gallery on Fremont, before moving to Moab, UT where I currently am now… I've turned into a desert dweller."
DJ: I've seen your designs on skateboard decks. Do designs on less conventional canvasses add inspiration for the art you're doing on it? Like intersecting skateboard culture and more traditional artistic styles?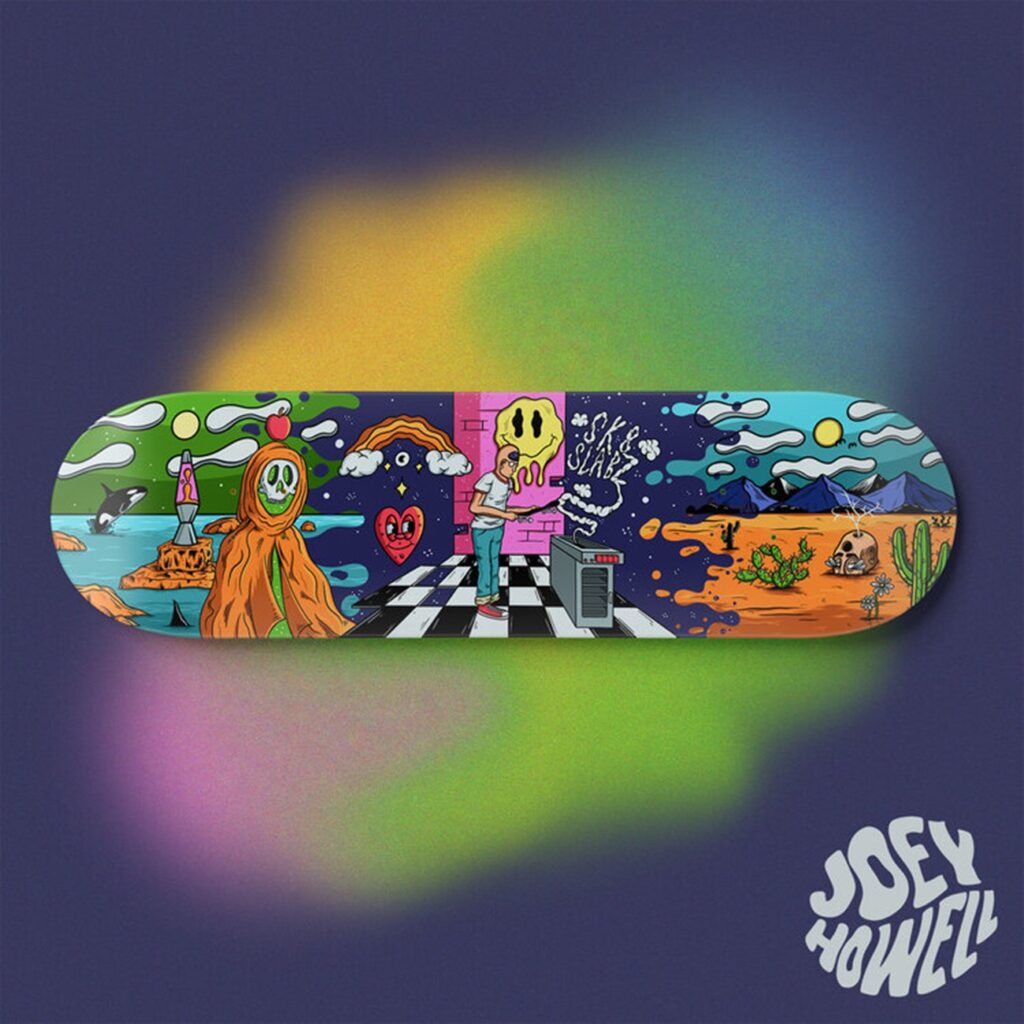 Joey Howell: "I think everyone's different when they are asked to contend with guidelines and rules making art. Which can change the outcome of a idea. A canvas can be one of those guidelines. When I look at skateboard deck dimensions I immediately see a panoramic idea in my head. I want to fit a huge scene in it and treat it more like a art piece to hang on the wall rather then skate, but I don't mind either way. In short yes! I think mediums can make you think ideas you could only have because of that medium. If its really small or really big. Different ideas come based on the thing your working on."
DJ: How did you make your shift to NFTs, and do you see a future where the most renowned artists are known from this space?
Joey Howell: "We are still very early! Which is something everyone's saying on Twitter. So I'm not sure if the most renowned artists will come from this space.. but it looks likely for that in my eyes. There's just never been anything like it before to say for sure. The shift to NFTs for me was very easy. Like other artists, I had been making art for years and years.. so I already had a lot of work to mint for people to own on the chain."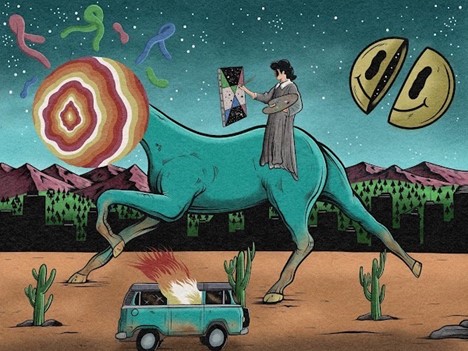 DJ: We're still so early. WAGMI. Was there a learning curve to the more technical side? It seems being an artist now means also being part programmer and crypto investor.
Joey Howell: "I haven't written any contracts or coded anything with my particular projects so no! But maybe in the future I'll run into some challenges as things progress. Haven't done any regenerative projects or anything yet. But yes your right! It is that way"
DJ: Who's your favorite musician, if you can pick one?
Joey Howell: "It's been Mac Demarco for awhile now! Cotton Jones is pretty sweet too."
DJ: Celestial patterns are a common theme in your work. Some appear to be astronomically accurate. Do you take interest in the more scientific side of astronomy?"
Joey Howell: "I had a period were I was really interested in natural science and astronomy. I like lines between celestial bodies to kinda signify things are connected in subtle and obvious ways. It is a motif I use a lot! It looks pretty too!"
DJ: Do you have a favorite piece, either NFT or physical, that you own from another artist?
Joey Howell: "Yeah! I have a NFT I own from Sam Pierson I really enjoy and I also have an original painting I commissioned from Lindsay Parker. A Juxtapoz magazine featured artist I really love too!"
DJ: Is there a specific artist / illustrator that inspired you and you most see in your own work?
Joey Howell: "It's so many artists I couldn't pick just one to be perfectly fair. But I really enjoy the work of Charlie Immer and David Lynch."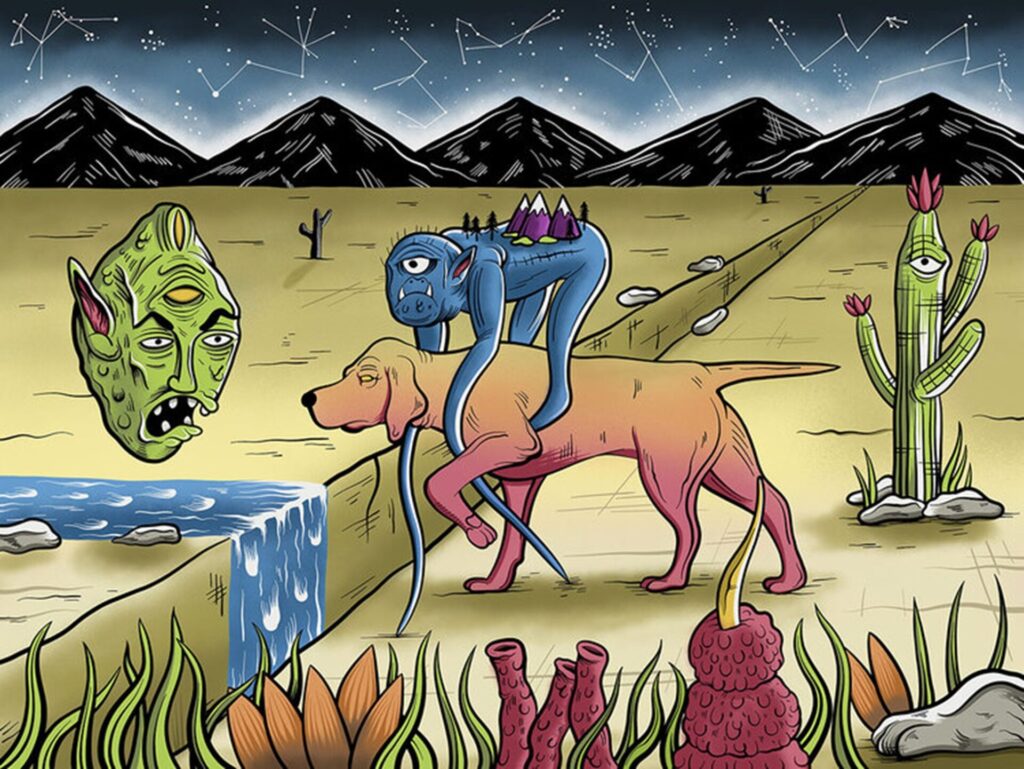 DJ: How do you determine if a piece will be a 1/1 or a collection of, say, 10?
Joey Howell: "Depends! Scarcity really makes something valuable. If it's a 1/1 it's probably a piece that took a lot of time and is visually pleasing more or very popular. If it's a 10/10 I'd imagine it's cheaper per unit and it's more on the basic side of your artistic ability. But this varies between NFT makers im sure. I have a piece that's a 20/20 at a high cost because it had a lot put into it and I've sold one of those. I think if it were a 1/1 it would be more valuable because of the scarcity I was talking about."
DJ: Are there any current trends that are catching your attention? What do you think of generative art?
Joey Howell: "Sorry if I ruffle any feathers here but no. Some illustration trends catch my attention but not NFT project trends. I think the idea behind anything creative is the most important thing aside from the execution of it. I think following trends is not staying true to your own voice that allows you to be unique. Im not a huge fan of generative art personally it seems like an easy way to make art to make money. But I've never done one so I may just sound dumb lol. This is just my opinion. Not wanting to offend anyone lol"