The battle for supremacy in the NFT marketplace intensifies as a new contender has entered the field.
Last week, Blur.io — a new decentralized trading platform aimed at "pro-traders" — launched to much fanfare thanks to a surprise airdrop. Blur is targeting "professional" NFT traders with features like "floor sweeping" across multiple marketplaces, reveal "sniping", portfolio analytics tools, and the coup de grace, incentivized royalties.
Only time will tell if Blur can compete with the likes of OpenSea & X2Y2, but for now, lets take a deep dive into the new marketplace and see how it compares to its competitors.
What is Blur.io?
Blur.io began by raising over $14 million of backing from a group of investors led by venture-capital giant Paradigm, and includes other big names such as NFT-native investment fund 6529, Cozomo Medici, Keyboard Monkey and many more. The team consist of builders with experience from MIT, Five Rings, Brex, Square, and Y Combinator, and took over 276 days to bring the marketplace to launch.
They promise to be community owned through its governance token $BLUR, which launches in January 2023, and has already purchased the ens domain "Blurdao.eth", hinting that token holders may be able to vote on various decisions for the marketplace down the road.
Airdrop(s)

In an effort to become a marketplace that the entire NFT community owns and profits from, Blur's launched coincided with an airdrop of Care Packages to ANYONE who has traded an NFTs the past 6 months.
Care Packages can be opened for $BLUR when the marketplaces launches its token and protocol governance in January. In addition to the initial airdrop, Airdrop 2 will be for all traders who actively list on Blur through November.
They claim the 2nd airdrop will be much bigger than the first, so traders who are eligible may earn significantly more Care Packages. Some tips on how to maximize Airdrop 2 include:
Listing blue chip NFTs
Listing from more active collections
Use all our listing tools — you can list by floor price, trait floor price, and ladder list
The more you list, the more you earn!
Blur also allows you to list on other marketplaces through Blur to become eligible for Airdrop 2 — meaning you have nothing to lose and many Care Packages to gain simply by using Blur.
Blur.io Features
"Sweeping the floor" of an NFT project has never been easier using their aggregator. You can now buy NFTs at floor price from any marketplace in one click instead of individually, saving on time and gas fees when trying to sweep a trending project.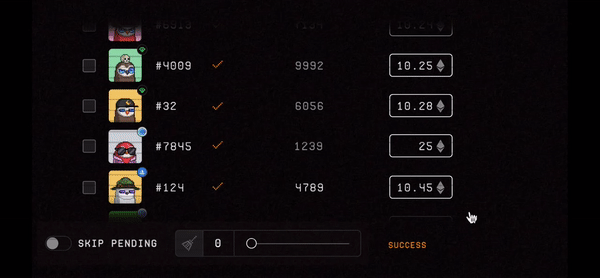 The Activity tab of the site allows you to see listings posted in real time nearly instantaneously. This allows you to snipe postings before they hit NFTNerds.AI or Gem.xyz, the leading NFT aggregator recently purchased by rival marketplace, Opensea.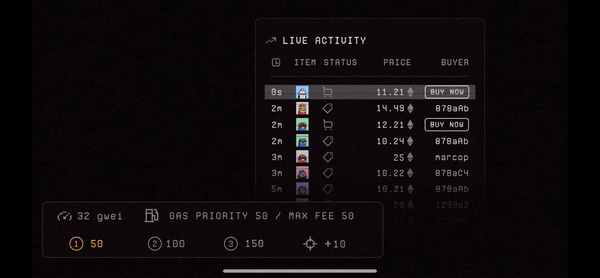 The advance analytics in the portfolio allow you to see your unrealized profit/loss in real time, helping traders to keep track of cost. Blur also allows you to see your final proceeds post sale after any fees, and set your royalties as you wish, unlike other marketplaces which let you opt in or out of a set rate paid to creators.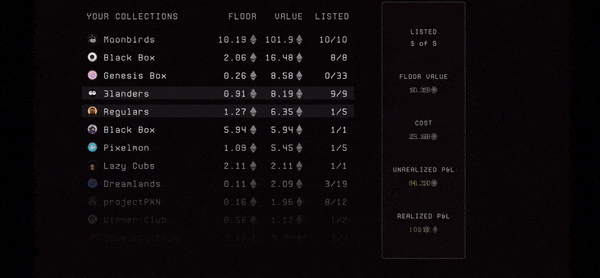 Royalties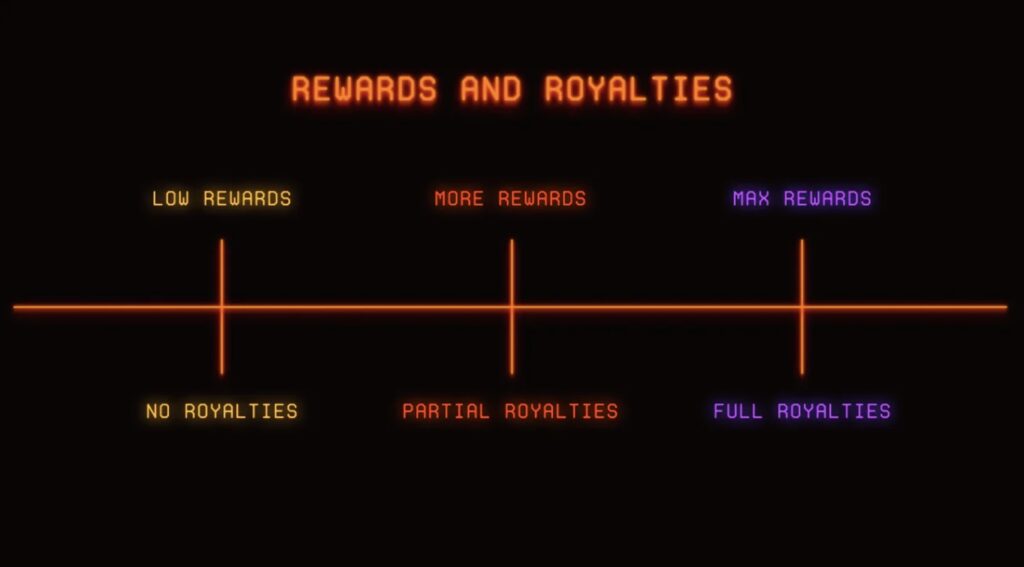 Debate around creator royalties have swirled around the NFT space after Magic Eden's move to optional royalties.This controversial move has also been made by other marketplaces, including LooksRare, X2Y2, and Sudoswap, who ultimately pays 0% fees to creators.
Blur plans on addressing this situation by introducing three tiers of unspecified rewards to sellers for participating in the royalty program. The incentive mechanism will reward those traders who prefer to use royalties proportionately, meaning more airdrops will be given to traders who place higher royalties.
Why I'm Bullish
I firmly believe that its not about who does it first, but about who does it right, and Blur has combined alot of pre-existing popular NFT mechanisms into a very attractive and exciting marketplace. Although the notion of airdrops at launch are not new, Blur's three tiered royalty program will not only incentivize the sellers, but repairing the strained relationship between marketplaces and creators.
The threat of marketplaces removing royalties has sent shockwaves throughout the NFT space, with just last week, Metaplex announcing that they will redo the ENTIRE NFT standard on the Solana blockchain to now enforce royalties. Some speculate that collections may start to blacklist certain marketplaces in their code to avoid missing out on these fees, ending an era of open marketplace competition that's help to grow the industry exponentially over the past few years.
Projects rely on royalties to continue building and expanding the ecosystem around a collection, thus ensuring your NFT has a life cycle past the initial mint. If Blur becomes the favored destination for future mints from blue chip collections, Opensea and other platforms could slowly see its appeal start to dwindle to "professional traders"; the sole source of liquidity left now that retail has been washed out in the bear market.
The future of Blur looks very promising, but with the platform being less than two weeks old, it still has several hurdles to climb. LooksRare saw its steam extinguished due to heavy wash trading and the X2Y2 token has plummeted to rock bottom since its launch; so January 2023 will be a defining moment for the success or failure of the marketplace with the launch of the $BLUR token.
Blur is off to a great start, quickly becoming the 2nd largest Ethereum marketplace in total volume, but it remains to be seen whether Blur can dethrone Opensea as the undisputed champion of buying/selling NFTs.