MAGNUM by Thrush Holmes
Elton John, Dan Gilbert, Halle Berry and Def Jam Records all have at least one thing in common, they've all owned a piece created by Thrush Holmes. Now is your chance to join them as a Thrush Holmes collector as he begins to explore the world of generative art.
Holmes is a Toronto-based painter who is almost entirely self-taught, working in a romantic and idealistic style which pulls from some of the greats, Picasso, and Matisse. His Genesis NFT was a Cube NFT which was a limited run /65 release focused on bridging the digital and physical when it comes to utility. Holders of his genesis mint have burn options, receive airdrops, and have access to holder exclusive events.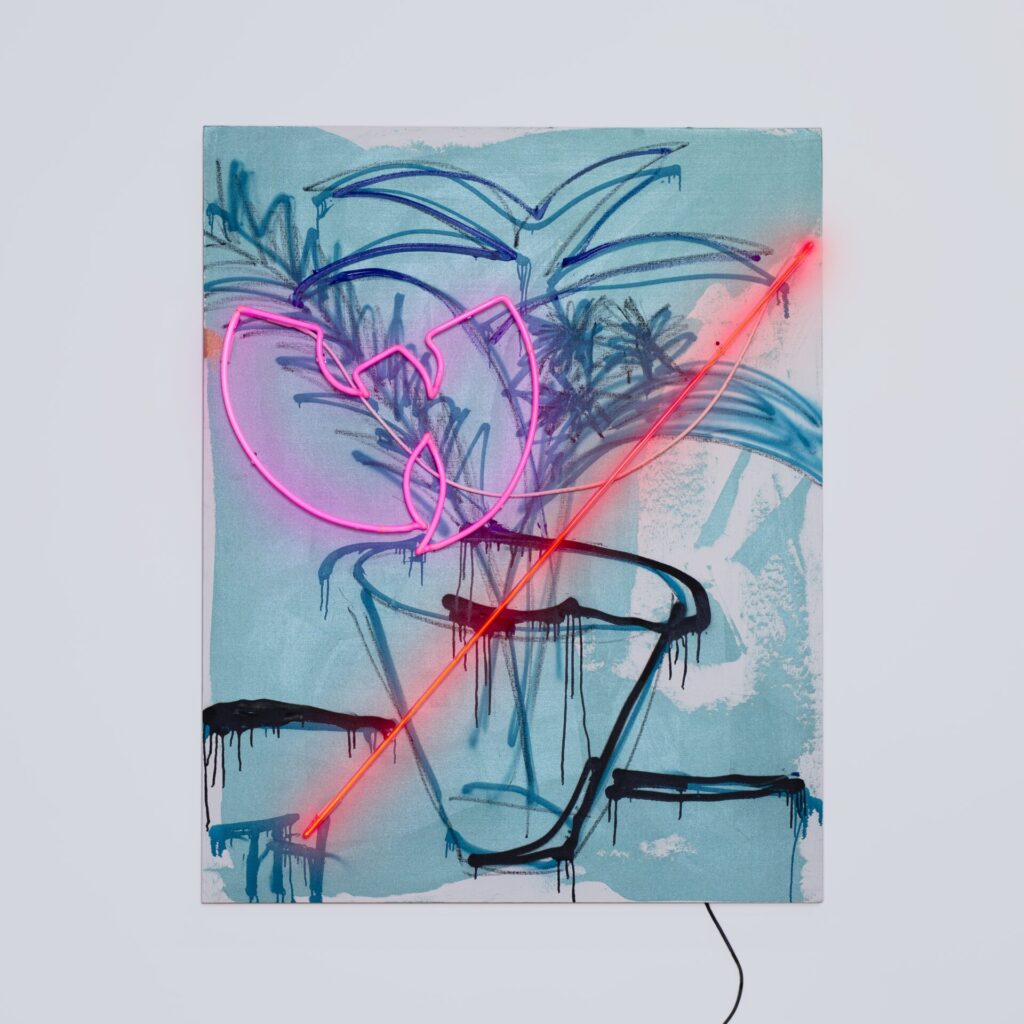 Holmes's generative release will continue the groundwork his genesis release started. The art is focused on three key components: overlays, neon, and unique backgrounds. The combination of these core aspects are blended together in a way to be thought provoking, and aesthetically pleasing.
ROADMAP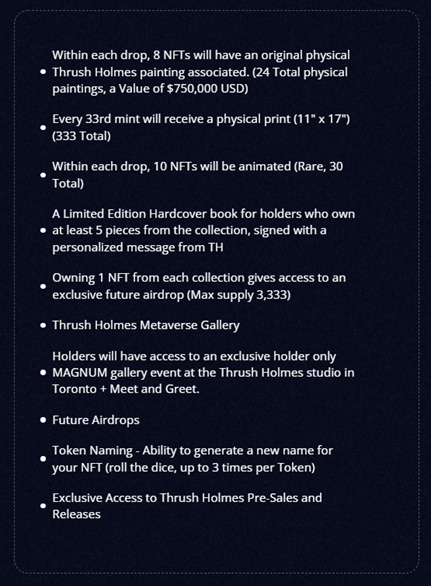 The roadmap itself is relatively standard with varying rarities, getting lucky to win specific mint-oriented giveaways and future airdrops, BUT the access to future Thrush Holmes releases, his metaverse gallery and an exclusive event all add additional value to holders.
I'm personally excited about this project in part because of the names I recognize from the NFT world supporting Holmes as an artist. This includes Josh Ong, JJ Lane and GirlDad who have all voiced support for the upcoming drop! It's great to see those with a voice in the NFT world supporting artists that are taking the risk and jumping into the NFT space.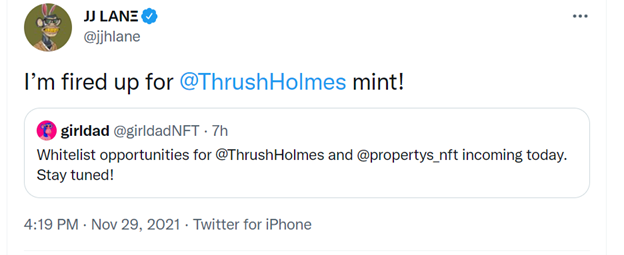 Key Intel
Website: https://magnum.thrushholmes.com/
Twitter: https://twitter.com/ThrushHolmes – 1470 Followers
Instagram: https://www.instagram.com/thrush_holmes/ – 42k Followers
Total Supply: 10,000 released in three tranches.
Presale
November 30th 3pm ET
Price: 0 .1 ETH
Supply: 3,333
Up to 2 NFTs per wallet
Public Sale 1
December 7th 3pm ET
Price: 0.15 ETH
Supply: 3,333
Public Sale 2
December 14th 3pm ET
Price: TBA
Supply: 3,334
Disclaimer: This article is not financial advice, The NFT and Cryptocurrency markets are very volatile. Please don't invest what you can't afford to lose. Always do your own research before investing.
Check out my other articles here.