ApeCoin DAO elections for Special Counsel are in full swing. There are many worthy candidates being considered for this important position. Over here dGEN Network, we had the opportunity to catch up with one in the midst of her media tour.
Here's what you need to know about Swickie: she's a boss. As the Founder of SpaceDustHQ and creator of TheOtherBlock, Swickie isn't here to play games. She means business. She is practical, capable, and ready to bring real change to the ecosystem through the ApeCoin DAO. Furthermore, she is relatable, funny, and authentic – "a founder, not a plus-one, bish."
A Visionary with a Purpose
When Swickie speaks, you can't help but be captivated by her vision and feel her passion. Currently running for a seat on the ApeCoin Special Council, she graciously took the time to chat with me about her campaign.
"My motivation to run for Special Council stems from my love of building genuine relationships with people and communities, a shared belief in the potential of the ApeCoin community, and a chance to level up," Swickie explains.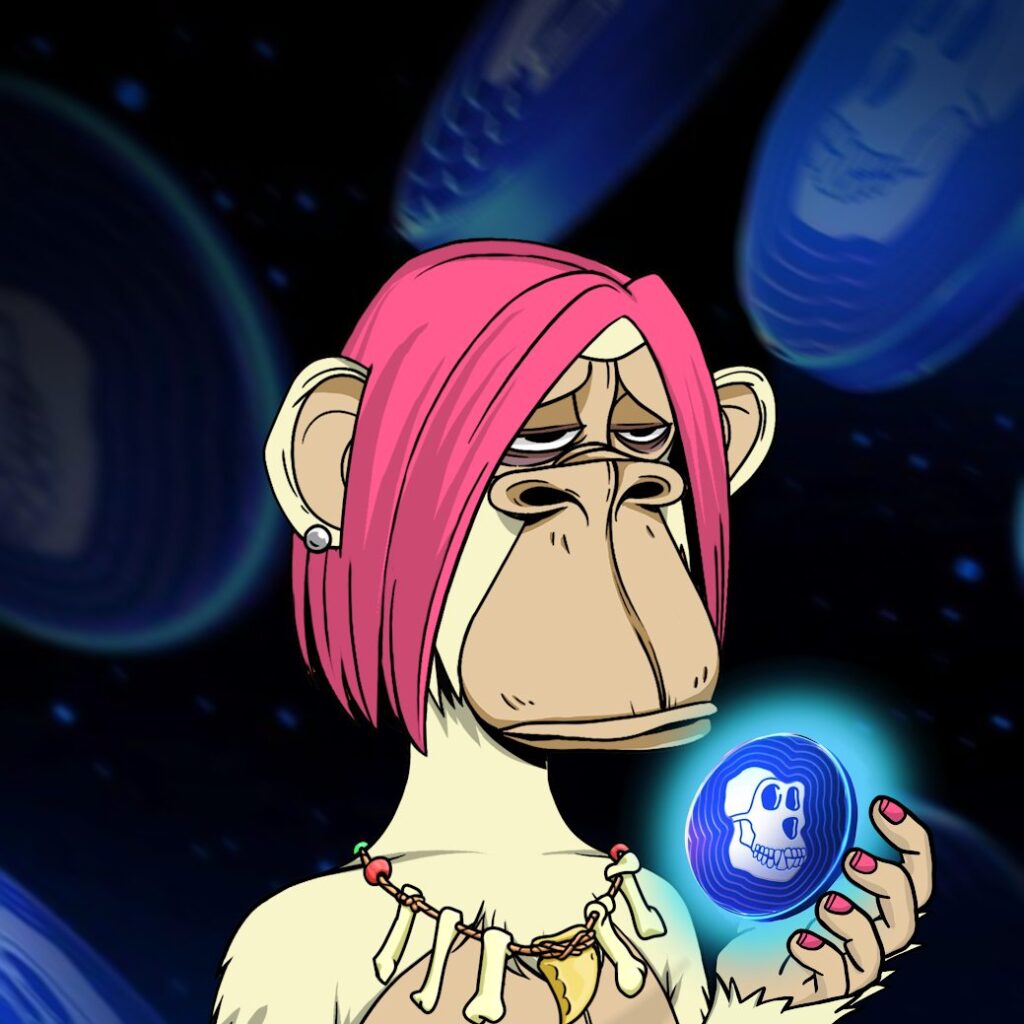 Unwavering Commitment to Community
Swickie's journey in the ApeCoin DAO has been marked by her unwavering commitment, genuine relationships, and belief in the potential of blockchain and community empowerment. She's ready to take her service to the next level and bring about positive change. So keep an eye out for this creative powerhouse – Swickie is just getting started.
A Multifaceted Talent
Swickie is not only a force within the DAO but an accomplished musician as well. She has played the piano since the age of six, and, fun fact, she was so good that she got an invitation to try out for Julliard's, which she declined. (gasp) — It's still a sore spot for her parents. Hailing from a family of high achievers, her sister can play not only the piano but also the harp and the violin. Swickie herself has mastered two instruments: the piano and the flute. Her diverse interests and talents reflect the multifaceted individual she is, bringing a well-rounded perspective to her role in the ApeCoin community.
Embracing the Possibilities of the DAO
What fascinates Swickie the most about the DAO are the endless possibilities it presents. She envisions the community extending its reach beyond the confines of the DAO, creating non-monetary value that can effect real change. By embracing opportunities to bring value to the broader community, she sees a future where ApeCoin becomes more than just a token – a catalyst for curiosity, collaboration, and meaningful impact.
Dedication to Education and Cross-Community Connection
Swickie's campaign for the ApeCoin Special Council is grounded in her dedication to education, cross-community connection, and exploring the boundless possibilities of the DAO. Her genuine passion and drive to make a difference are evident in every aspect of her candidacy. As the community looks to shape its future, Swickie's voice and vision offer a refreshing perspective that promises growth, inclusivity, and innovation.
A Creative Powerhouse with a Drive for Change
Beyond her campaign, Swickie wears many hats. She's a Founder at SpaceDustHQ, a photographer, visual artist, and co-owner of NFTBA and @topshotswickie. With an impressive array of titles and accomplishments, Swickie brings her wealth of experience and expertise to every endeavor she undertakes.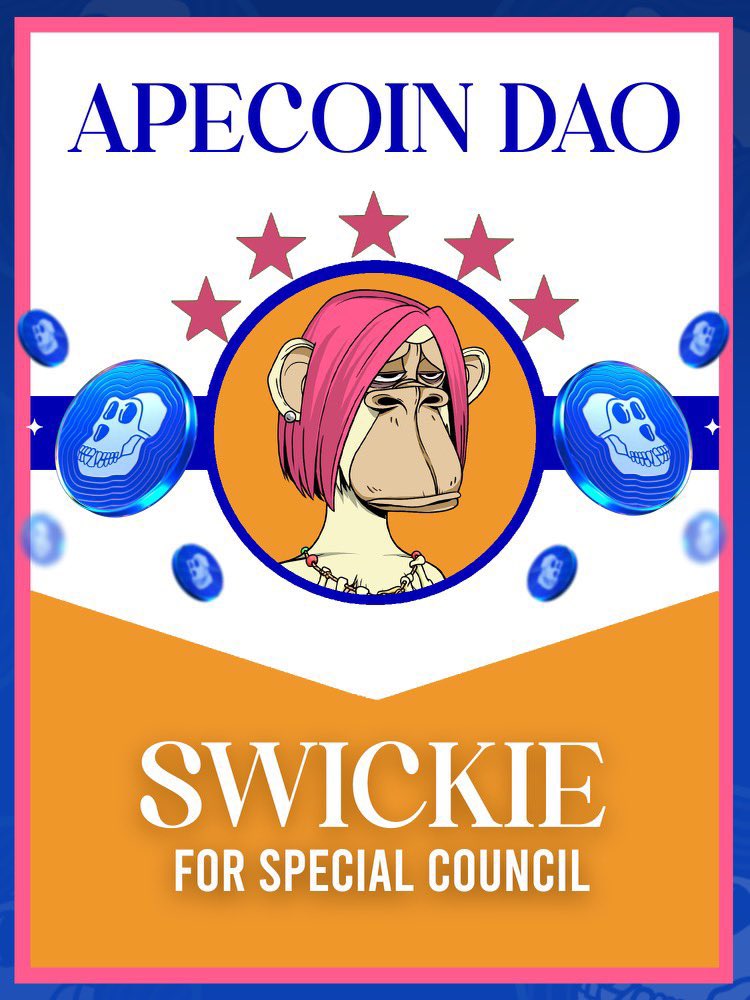 There are many worthy candidates with varying experience that would benefit the ApeCoin DAO Special Counsel. Follow Swickie on Twitter to witness her remarkable journey to drive change within the ApeCoin community and beyond.
If you own any amount of ApeCoin, then utilize your ability to vote for ApeCoin DAO Special Counsel. Be an active participant and stay informed. Every vote counts!
Check out other articles by Emilie here.