Welcome back to Mizzle's Tool Box. In this week's installment I'd like to jump into one of my new favorite tools: NFT Inspect. Unlike most tools available, NFT Inspect tracks the usage of PFPs as well as reach of influencers. These metrics may often go overlooked. Let's dive in and learn how to use it.
NFT Inspect: Instant access to NFT data, directly from Twitter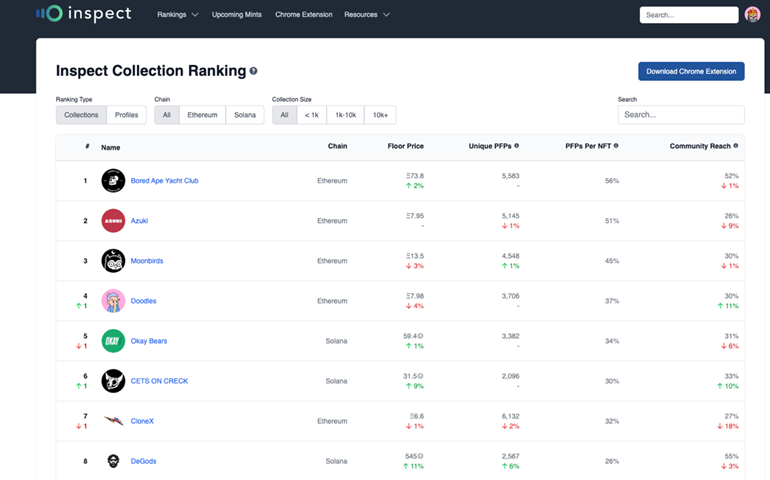 Let's start with collection analysis. NFT Inspect has a clean and simple UI that tracks PFP usage across Twitter. What better metric to see how strong a community is then by tracking how many unique nfts are being used as identities. Let's use Moonbirds as an example.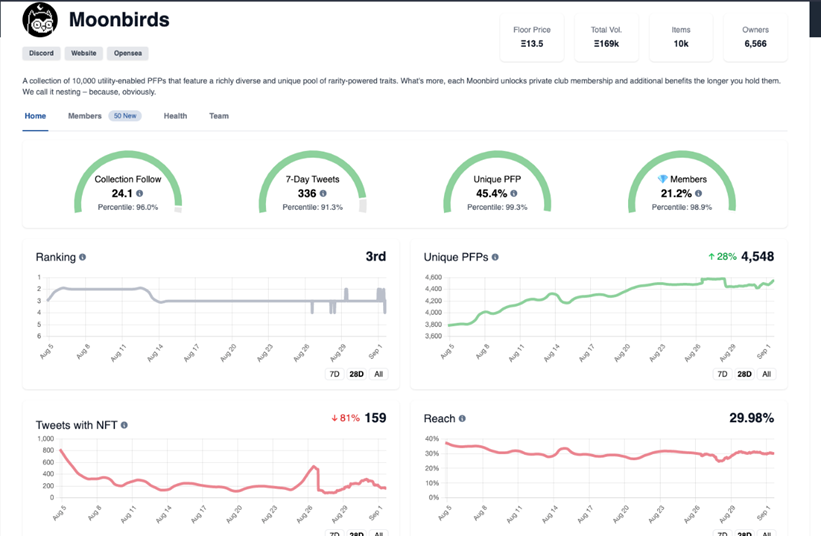 For almost any collection there is in depth metrics that tracks how PFP projects are faring. Tracking something as simple as tweets for a project is something I never would have thought of. As we've recently seen some holders like constant updates from the team. There has been an outcry from some Doodle holders that feel like the team hasn't given enough updates for the Month of August.
Gauging a collection's reach and diamond handed members (holders who have used their NFT for at least 80% of its life cycle) or great metrics to finding communities in it for the long haul.

Another feature that NFT Inspect offers is tracking the reach of influencers on Twitter. It also assigns badges that are only earned by some of the top profiles in the space.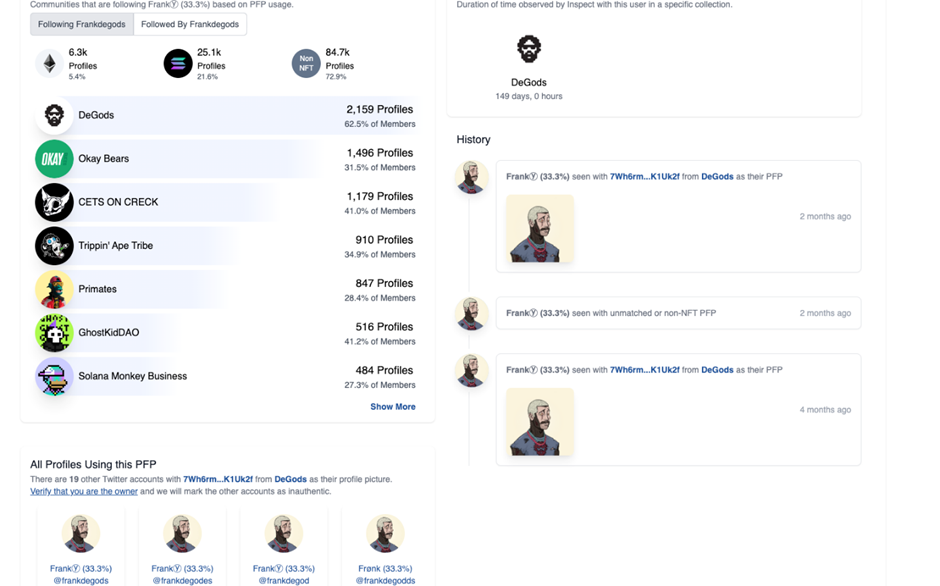 Sitting at #1 is Frank, the creator of DeGods and Y00ts. Looking at the kinds of profiles that follow Frank, we can see that only 5.4% of users are rocking ETH PFPs, whereas over 21% of the users following them are using SOL NFTs for their identity. No surprise DeGods are the most used PFP that follows him.
NFT Inspect also lets you track any twitter profile and get deep metrics for your audience. Check out mine! Are you reaching more people than me?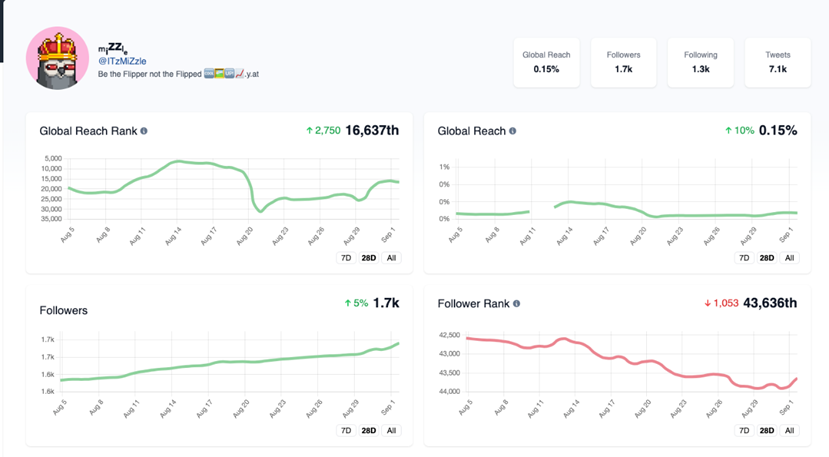 The next feature that is offered is upcoming mints. This feature is offered by multiple sites, but NFT Inspect has added a twist that I haven't seen anywhere else in the space. Upcoming mints tracks the latest mints but also who is talking about it. There's a good chance that if top influencers are talking about a project there is a good chance that it will mint out.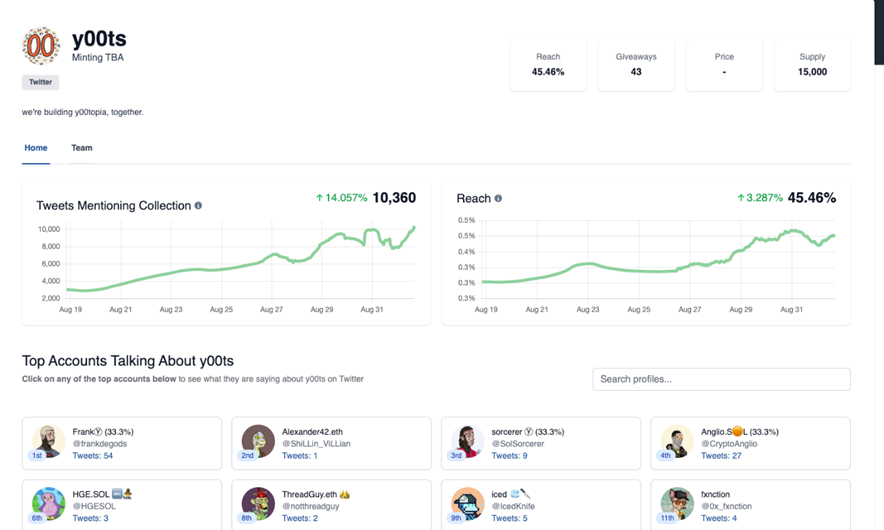 As we can see with the y00ts, some of the biggest influencers in the space have been talking about it. We can also see that the reach and tweets mentioning the collection are only tending up. There's no doubt in my mind that y00ts will be an instant cook for anyone lucky enough to get a scholarship to mint.

Finally, NFT Inspect offers a chrome extension that can be paired with your twitter experience. Holders of popular collections will have the chain symbol that their NFT is on in the bottom right of their profile. If you click on that icon, you will be able to see in depth info about the collection and token directly from Twitter.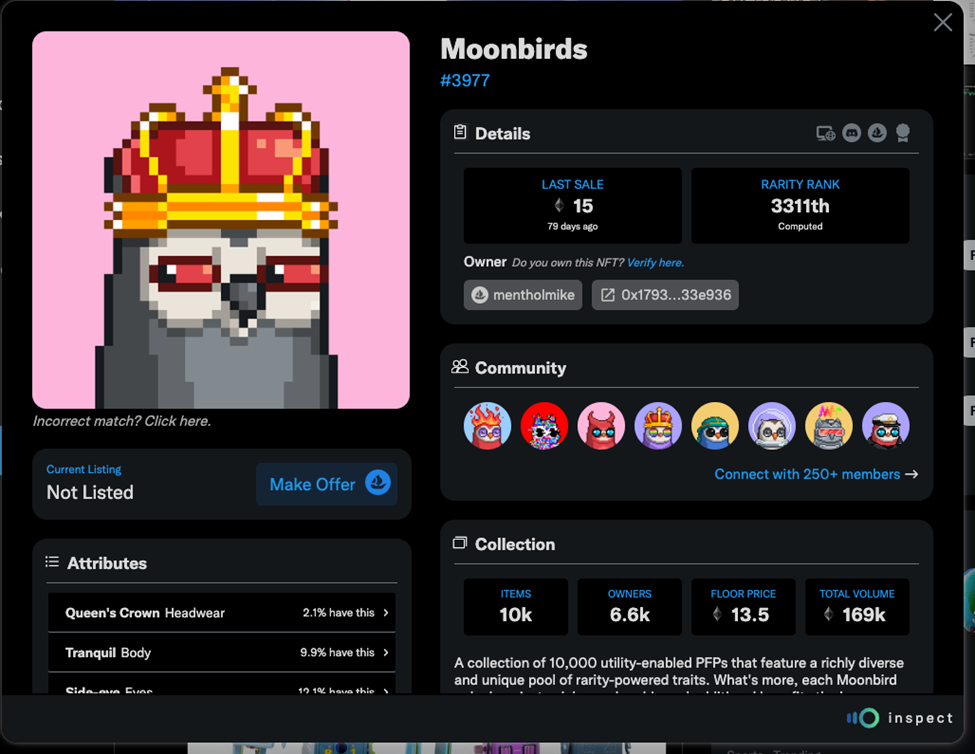 NFT has a suite of metrics that I haven't seen in the space before. The team has built a unique platform that is become my go to when evaluating communities. With that I give NFT Inspect a score of: SCALE TIPPER
If you have found this information helpful, please check out my other articles here.