Mizzle's NFT Tool Box: NFT Sensei
Today we'll be taking a deep dive into NFT Sensei. If you're new to the series make sure to check out my other write ups where I we've looked at ninjalerts, moonbears, and Rareboy. In each installment, there is a 3-tier rating system that each of these tools can have: Good Tool, Game Changer, or Scale Tipper. Let's get started.
NFT sensei is one of my favorite tools out due to the variety of features the platform offers. For anyone new to the platform, Sensei is an all-in-one NFT analytics, sniping and automation toolkit that gives anyone using an edge on the rest of the market. This platform is chalked full of features and getting familiar with all of them will make you better trader all around. Let's dive into some of the features
First things first, my favorite feature of the platform is the minting bot. Earlier this year when goblins came out, they had a 1 per wallet limit on goblins. Wouldn't it had been nice to purchase 2, 5, 10, 20 gobs? With mint bots this is possible. The Sensei bot allows users to import multiple wallets, supply them all with ETH, and fire away at mints all in one beautiful dashboard.

Holders can import the contract address of the nft they are trying to mint and set a list of conditions pre mint for the bot to execute. Want to preset the gas to anticipate a gas war? Or maybe set it to run when the dev flips the "Sale Active" function? Sensei has you covered.
The feature is the sniper tool. So, you barely missed out on the next big mint and are scrambling on OpenSea to try and buy but you're getting out gassed left and right. With the deal sniper tool users can set the bot to run certain conditions on the marketplace. With a similar UI has the mint bot, a holder can select a collection and set parameters to snipe deals as they appear. With the ability to set the price, rarity range, gas, marketplaces, and node missing out on the rare that someone paper handed on the floor is a thing of the past.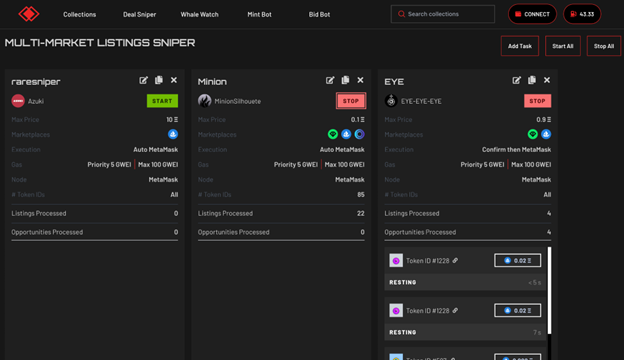 NFT Sensei also has advanced analytics tools to keep the would-be trader informed. All tools ranging from sales history charts, floor/volume summary, and holder distribution. Combining these metrics can be key in determining the meta in the market. Combined with the rest of the tools in the suite, it can make any trader a nice bag of ETH.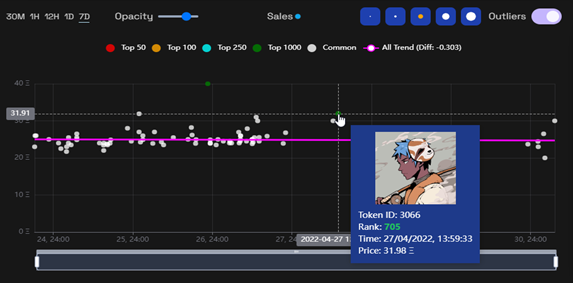 The Team behind Sensei is one of my favorite teams in the space. Out of all the tools I use this team provides the most updates value to its users. Usually, teams that are not doxxed is usually a red flag but seeing how often they look to add value its hard not to take advantage of this tool for this reason. Zion, Ms Miko, Tei Ryō, BK, MeowMeow are the brains behind Sensei.
The team is constantly in discord chatting with the community which is a major plus in my book. How can you get access to this suite of tools? The Sensei team has created the NFT sensei pass which allows holders lifetime access to all the tools and any new ones that they are adding for the platform. Currently a Pass .52 ETH (Roughly $950 USD).
So far this is the most expensive tool in our series by a good bit. But the amount of value packed in one suite is hard to ignore. If used properly, Sensei is the ray gun in call of duty zombies while everyone else has a pistol. With that being said, I have no choice but to give NFT Sensei the rating of: Scale Tipper.

For more information on the product check out their docs here: https://docs.nftsensei.xyz/introduction/nft-sensei
Check out my other articles here.