Mizzle's NFT Tool Box: RareBoy
Browser extensions are often overlooked when it comes to NFT tooling. RareBoy is looking to change this!
In this week's installment I'd like to look at a different kind of tool then what I've reviewed so far. For anyone that is new to this series, Mizzle's Toolbox is a weekly write up of tools that will give all of our dGens an edge in this crazy NFT market. Along with this I assign 1 of 3 ratings (good tool, game changer, or scale tipper).
RareBoy is a chrome extension that provides users with in-depth knowledge of certain NFT collections. What's so special about this is it lets users see if items are still claimable. This is huge because if someone wanted to find this out they would have to go to the smart contract of the collection and interact with read functions for each individual token ID.
So far, RareBoy supports: 10ktf Crafting & rarity, Goblintown Berger claims, World of Women galaxy claims, IllumantiNFT Dao Token claims, Coolmans Universe Baby claims, Pudgy Penguin: Lil Pudgy claims, Moonbirds nesting data, and Gutter Clone availability.

Users can head over to https://rareboy.com/ and find the link to the app in the chrome store. Once the tool is downloaded, head over to OpenSea and click the chrome icon to see all of the different collections it supports. For 10ktf holders this tool is awesome for seeing if an item is a genesis piece (which they have mentioned the importance of several times) or if it was crafted in the shop.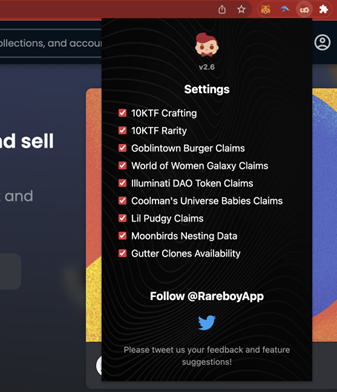 For the sake of the article let's head over to the Goblintown collection. Here you will notice extra info letting you know if bergers for the goblin have been claimed or not.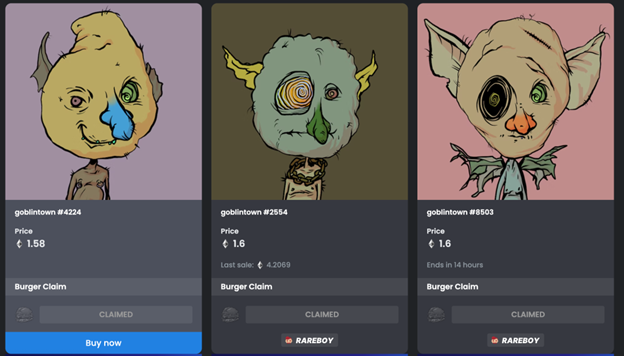 Recently I used this tool to snipe a goblin that was given out in one of the Illuminati NFT giveaways! Factoring in the burger I saved around an ETH at the time!
The founder of RareBoy (https://twitter.com/Wirah) is also one of the minds behind Postmates. There is a reason that this app is carefully crafted and one of the only tools out currently like this on the market. Having plugins like this makes sniping that much more profitable and saves you ample amounts of time. That's why this week I will be giving RareBoy the score of Game Changer.
The only drawback to this tool is it only supports OpenSea at the moment. If this extension were to support aggregators like Genie or Gem (so it could support other marketplaces such as Looksrare and X2Y2), then it would make it even more of an irreplaceable tool. The next time you get ready to snipe the floor of one of these collections, I highly recommend that you have your RareBoy plugin installed and ready to go.
Check out my other articles here.