Momoguro is the next project preparing to make waves in the web3 world. Developed by Baobab Studios, an interactive animation company that creates story and character driven cinematic experiences, Momoguro is set to release a storytelling RPG on March 2nd, 2023.
Project Background
Baobab Studios, a 9x Emmy-winning multi-platform franchise, has produced content in films, books, TV shows, and games. Also, their mission statement, "to inspire you to dream, bring out your sense of wonder, and make YOU matter," aligns with the web3 ethos. How well will they execute?
The Co-Creators of Momoguro, Nico Casavecchia and Martin Allais, have been building on the project for the past 3 years. They've partnered with a company that is stacked with talent and experience in a variety of areas. The studio's Chief Creative Officer, Eric Darnell, has an impressive résumé with experience as a writer/director on all four Madagascar films and on Antz.
The CEO, Maureen Fan, was recently VP of Games at Zynga and has previously worked on Pixar's Toy Story 3 film. The Chief Technical Officer, Larry Cutler, began his career at Pixar Animation Studios as a Technical Director of films such as Monster's Inc., Toy Story 2, and A Bug's Life. Not to mention a deep board of advisor, including Pixar Animation's Co-Founder and former Disney President, Ed Catmull.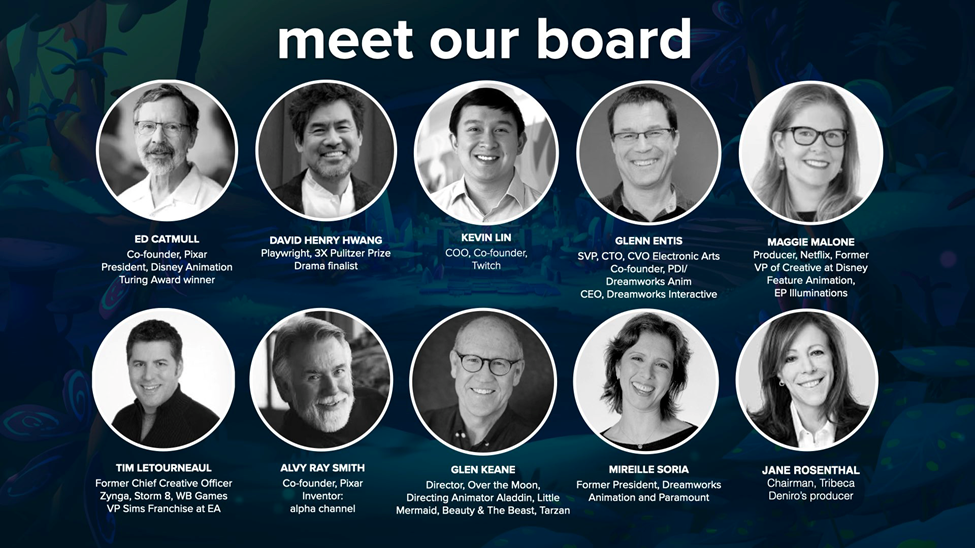 According to the project's medium article, Momoguro world's first release is a digital game that allows players to go on interactive story quests, collect Momos, and uncover the mysteries of the Uno Plane by taking on the role of a rookie Holoself. It's clear Momoguro is intended for collectors to be part of the storytelling.
The Story of Uno Plane
The story begins in the World of the Uno Plane, where creatures use Momoguro Energy to form Momobeasts with unique abilities. The player's mission is to defend the world against evil forces. To access the world you'll need a Holoself Avatar and in order to succeed there will be collaboration with other players required.
With a unique Holoself Avatar, players will get early access to the digital collectible game and other digital collectibles, web3 platforms, and an expansion of the Momoguro franchise across media and entertainment. Learn more about Momoguro from their official website.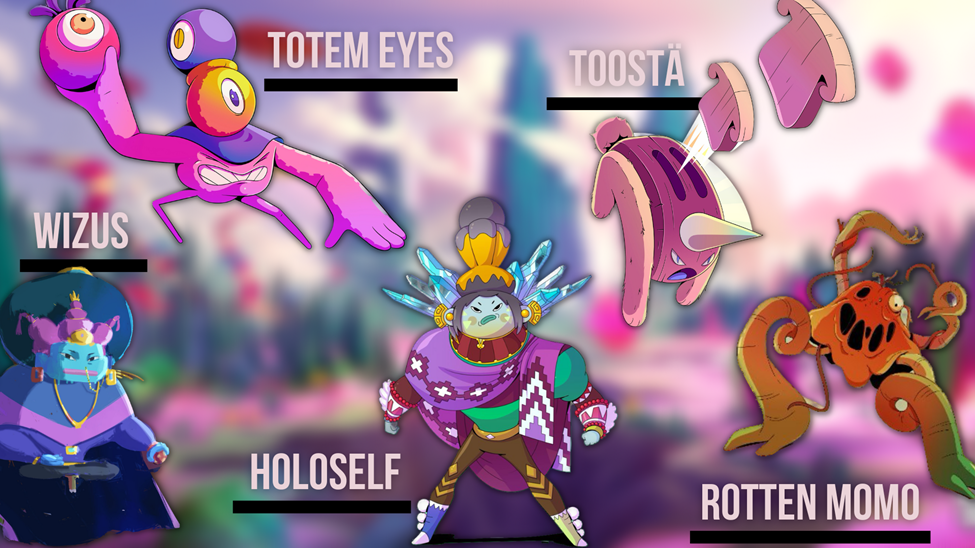 Momoguro currently has five characters, each with their own Twitter identities. Holoself is the first of five characters that plan to be introduced. The other four characters, Rotten Momo, Toostä, Totem Eyes, and Wizus will be introduced at a later date as the story unfolds. In the future, the Momo universe will contain "hundreds of characters," per their tweet.
Mint Details
The Momoguro collection will contain a supply of 8888 with a mint price of .22 eth. This makes their raise approximately $3.2 million based on eth prices ($1,635) at the time of this writing.
There is a lot of buzz around this project with unconfirmed rumors that Momoguro allowlists have been selling for 1.5 eth prior to mint. The only way to get on the allowlist was via an application process. Many of the pending applications were placed on the waitlist, alongside some community members who participated in a lore writing contest. Momoguro will mint in two phases:
Allowlist: 2 per wallet, March 2nd from 10 am to 8 pm ET (guaranteed)
Waitlist: 2 per wallet, March 2nd at 8 pm ET (overallocated)
It's important to note that both mint phases only allow ONE transaction per wallet. A very limited supply will reach the waitlist, which likely means a gas war for community members looking to mint. Heavy secondary volume is expected, but time will tell where the floor price will settle.
Post Launch
The company has multiple games already built and in beta. The storytelling RPG will be token-gated by the Holoself NFT, but Momo Metaverse will be an open-world universe not requiring a specific token. The beta requiring the Holoself is set to release shortly after mint.
The Momoguro IP is more than a digital collectible, it's built with a long-term vision in mind. The company has been developing a metaverse game for a top gaming platform, a TV show, and collectibles all in parallel. Baobab studio's acknowledge the difficulty of bridging from web2 into web3. They've been conducting research for the appropriate onramps and mainstream funnels. This is why Baobab chose ImmutableX to release their story-driven game.
Baobab is already one of the top creators on Oculus, which gives them exposure to millions of users. The company also has two books, a couple of Disney+ series (Intercats and The Witchverse), and an HBO Max animated short (Namoo). Baobab has the onramps necessary to reach a mass audience and draw them in with their master storytelling experience.
High Expectations
The web3 community has been drooling for an experience like this. The Baobab team ran focus groups back in March and used web3 communities to help shape the project. In addition, the company reached out to a web3 marketing agency, Conduct3, to further learn how to bring a web2 brand into web3 the correct way. Everything is set up for success.
Now, we've seen other big names enter the web3 space and fade away. Momoguro has set high expectations for themselves and committed to an ever growing ecosystem. However, the team has extensive experience in the animation and production world, which gives them an opportunity for great success.