NBA Top Shot: My NFT Gateway
My first attempt at getting into crypto was not NBA Top Shot or NFTs. It was in the back row of my investments class at Northeastern University.
Instead of paying attention to the lesson, most of my time was spent trading stocks. I had heard about Bitcoin and that its price was rising rapidly and thought I could easily throw a few hundred dollars into it as though it was a penny stock. I was wrong. There were so many barriers between me and buying Bitcoin and being an undergraduate student, there were lots of other things that drew my attention away from fake internet money.
Ten years later and I now have a pretty deep background in finance and work as a product manager in a market research company. Clearly, I should have invested the time into figuring out what I was doing years ago but instead, I have spent the past decade dreaming about the profits I could have made.
Those barriers to entry did prevent me from jumping in when I was at university but today, we hear a lot about crypto, NFTs and how major corporations are also starting to dabble in the space. I recently started dipping my toes into crypto and NFTs.
I had been reading about Bitcoin for some time, tracking the different price movements through the news but it turned out that my gateway into crypto and NFTs was Top Shot, the NBA affiliated digital moment marketplace. I was hearing from my friends about these cool little NBA collectibles they were buying and selling and saw the developers of Top Shot had a partnership with the NBA.  Bringing one of my childhood joys into the digital era was enough to get me started so in February 2021, I dove in head first. 

Giving it a (Top)Shot

The lack of any barriers to entry was a huge draw for me and others who had not yet quite figured out cryptocurrencies or the economy behind them. Anybody could sign up with an email account and a credit card. Top Shot being NFTs minted on the flow blockchain meant little to me. These collectibles are priced in USD and while there are blockchain compatibilities for liquidity, it's not a pre-requisite.
Top Shot moments are basically, collectible digital items. They are specific highlights from NBA games which have been immortalized into limited edition Moments.
Moments have a specified rarity: common, rare, and legendary. Moments of a certain rarity can only be found in their own tier of packs or higher. This means you can find common moments in rare packs, but you will not find a legendary moment in your common pack!
Serial numbers are tied to the moment that has been minted. Meaning, even if there are 12,000 copies of a moment, each copy will have its own unique number. There are some obvious sought-after serial numbers like #1 and the player's jersey number, and typically, there is also a higher demand for lower serial numbers. Moments that are currently being minted will receive a CC (Circulating Count) designation. Once the count for a moment is closed, it changes to LE (Limited Edition) and minting stops. Beware CC moments can increase their overall circulation! We saw this happen during Series 2 where base moments increased from 35k to 40k.
Pack drops are how most people get started with their collection. Packs are similar to how we've all experienced trading cards previously, except with the catch that there aren't always enough packs for everybody! Packs are a collection of moments the user can buy directly from Top Shot and opening them is one of the real thrills in the collecting process.
When there aren't enough packs for everybody, all eligible users will have to join a randomized queue to determine who will receive the coveted pack. A queue lobby will typically open about an hour before a drop and countdown until the drop is supposed to start. Once the drop has started everybody in line will receive a random position regardless of who they are or when they joined the queue.
Challenges drive substantial swings in the market. A challenge is a Top Shot event where users are expected to accumulate a group of moments to receive another moment as a reward. Challenges typically do not have great expected value but can be addictive and users complete them nonetheless. They're like quests to complete and prove a collector's worth.
Some are these concepts may seem strange until you dive in, but the intricacies are part of the fun of getting involved. From the NFT projects I've seen, the onboarding experience with Top Shot has been the best so far. They really did make it easy to get started collecting your favourite teams and players.
The Drop from the Top
What goes up must come down and February 2021 was a time of irrational exuberance. I had joined in the middle of a bubble. It didn't matter what player, moment, or serial number an individual purchased. Everything in the market was increasing in value. My friends and I were sending each other screenshots of our collections doubling in value every night. Moments in the marketplace had all just become limited edition and everything appeared rare. This couldn't go on forever and transaction volumes and prices tumbled.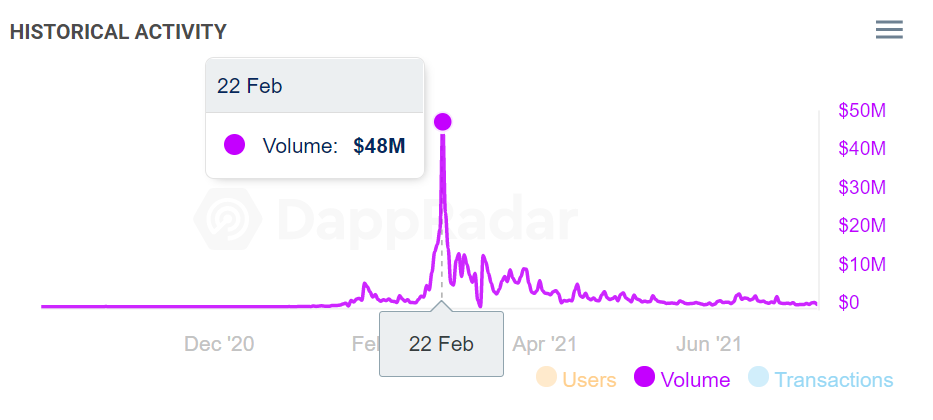 Source: https://dappradar.com/flow/collectibles/nba-topshot

There were a few major items issues at the time, including oversaturation, slowed user growth and continued technology hiccups but that has still not stopped users from continuing to grow their collections. Researching trends in the market, searching for great deals on specific moments or trying to predict what has the best long term potential are all part of the excitement.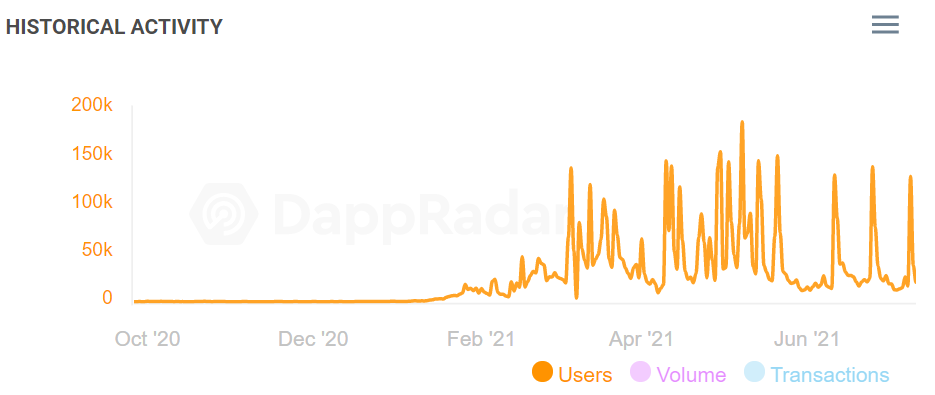 Source: https://dappradar.com/flow/collectibles/nba-topshot



What's Next?
Top Shot's goal is to encourage long-term collecting and it continues to develop. A variety of perks have been implemented, including a Collector's Score to identify those who hold moments, and team specific perks such as the Phoenix Suns promotion raffling off a VIP experience to game 5 of the NBA finals.
MomentRanks has dropped their version of daily fantasy, which leverages your Top Shot moments. Users can enter daily contests or head to head matchups using their moments to field the best team.
The Top Shot community has always had some extremely strong personalities that have continued to drive the brand forward, even without being employed by Top Shot. The management team is very active, and you can frequently catch Roham, Top Shot's CEO, on Discord or Twitter.
Community engagement overall is a great reason to get in and stay involved. Something that struck me about the overall NFT market is the amount of data analysts that are part of the community, and it's no different with Top Shot. Members of the community are out there using on-chain analysis to dive into the data and then sharing their findings. The information available on the blockchain adds a huge amount of transparency into what is happening.
If you want to know more, then content published and shared on Twitter such as LiveToken, FirstMint, OwnTheMoment and MomentRanks can help folks do their own research on Top Shot. The whole NFT space is still in its infancy. Top Shot is well positioned to be a player in it for years to come. Whether it's players, types of plays or superstars – collect what you love.
Disclaimer
I currently own a variety of cryptos and NFTs including, but not limited to, Top Shot moments, Slacker Duck Pond and Lucky Manekis.