In the years following the meteoric rise of NFTs, these digital assets have transcended their niche status to become a thriving billion-dollar industry. However, amidst this rapid growth, the NFT industry is not only rampant with scams but also with disengaged communities resulting from unsuccessful NFT projects. On the other hand, successful NFT projects often stand out by employing unique marketing strategies and cultivating a loyal and active community.
Thus, understanding the art of building an NFT community is a crucial marketing strategy. In this article, we will delve into the fundamentals of NFT communities, guide building one, and shed light on seven common mistakes to avoid throughout the community-building process for NFTs.
What defines an NFT Community?
You've probably heard this term tossed around in NFT land. But "NFT Community" is more than just a buzzword. Communities play a pivotal role in the success of any Web3 project, and NFT communities are no exception.
So, what exactly is an NFT community? Imagine a virtual gathering of like-minded individuals coming together to immerse themselves in NFTs. They share, discuss, and dissect the collection, latest news, developments and revel in the excitement of trading and exchanging these unique digital assets. Now, if we're talking about the OGs of NFT communities, we can't ignore the legendary Rare Pepes 4chan group. They were pioneers, no doubt.
But let's not forget the groundbreaking project that rocked the NFT world back in 2017: CryptoPunks. These pixelated collectibles set the stage for countless NFT projects that followed suit, each with its own buzzing community.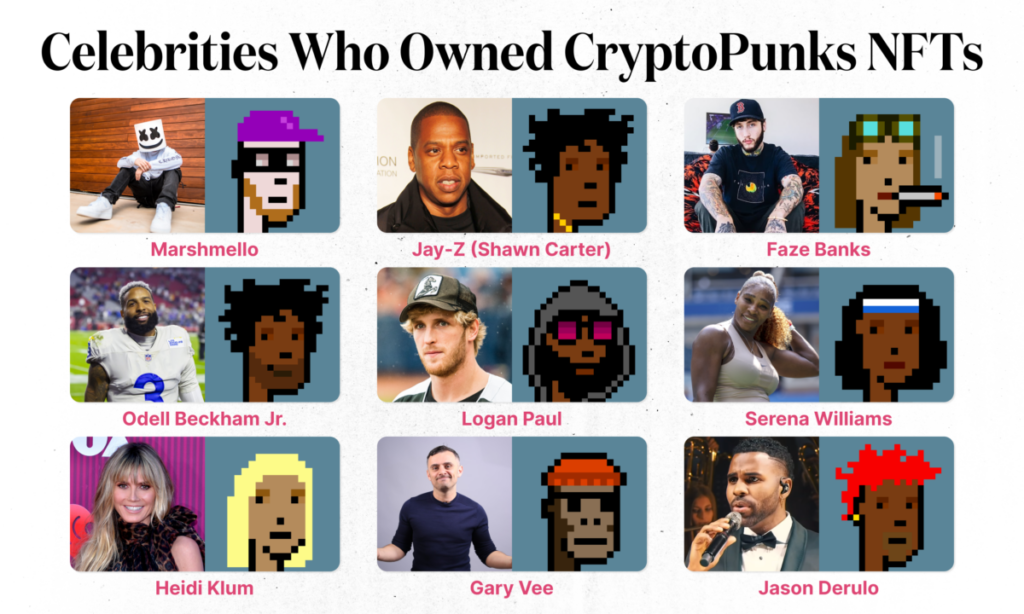 CryptoPunks not only pioneered the concept of unique digital collectibles but also established a vibrant community comprising collectors, enthusiasts, and artists. This groundbreaking project paved the way for subsequent NFT initiatives and the emergence of diverse NFT communities in the following years.
Why Create an NFT Community?
The success of NFT projects hinges on the power of social dynamics. Exclusivity plays a crucial role in generating demand and establishing social status. However, the true potential of NFT communities lies in their remarkable marketing capabilities, as customers evolve into brand ambassadors through their participation.
There are numerous advantages to building an NFT community, including:
Showcasing your work: An NFT community provides a platform to display and promote your creations to a targeted audience.
Exchanging ideas: Engaging with fellow community members allows for exchanging insights, knowledge, and creative concepts.
Pitching to investors and buyers: An NFT community is an ideal environment to attract potential investors and buyers interested in supporting or acquiring your NFTs.
Collaborating on projects: Collaborative opportunities within the community can lead to exciting partnerships and the creation of unique NFT projects.
Finding like-minded individuals: NFT communities bring together individuals with similar interests and passions, fostering a sense of belonging and camaraderie.
By launching an exclusive NFT community, a project owner or brand can establish a self-governing ambassador program that unleashes unprecedented levels of engagement. It is one of the primary reasons why numerous global brands have enthusiastically embraced NFTs. They recognize the potential for a symbiotic relationship between their most loyal fans and the brand itself, leveraging the passion and enthusiasm of their community to propel their brand forward.
For example, Adidas purchased space in the Sandbox Metaverse and collaborated with the PUNKS Comic, gmoney, and Bored Ape Yacht Club communities to create their first NFT called "Adidas: Into The Metaverse."
In the metaverse, challenging the impossible is the reality. On Friday we landed in the world of Web3 with one of the most widely-distributed NFT drops in history.

1/10

— adidas Originals (@adidasoriginals) December 20, 2021
This partnership highlights the significance of communities in facilitating successful brand entry into the NFT realm.
What Makes a Great NFT Community?
1. Exclusivity and Celebrity Membership
Typically, successful NFT communities share several key characteristics, with exclusivity being prominent. The top communities are not open to just anyone, and membership opportunities are often limited and scarce.
For instance, joining groups like Bored Ape Yacht Club often requires purchasing an expensive NFT, and invitations are typically exclusive.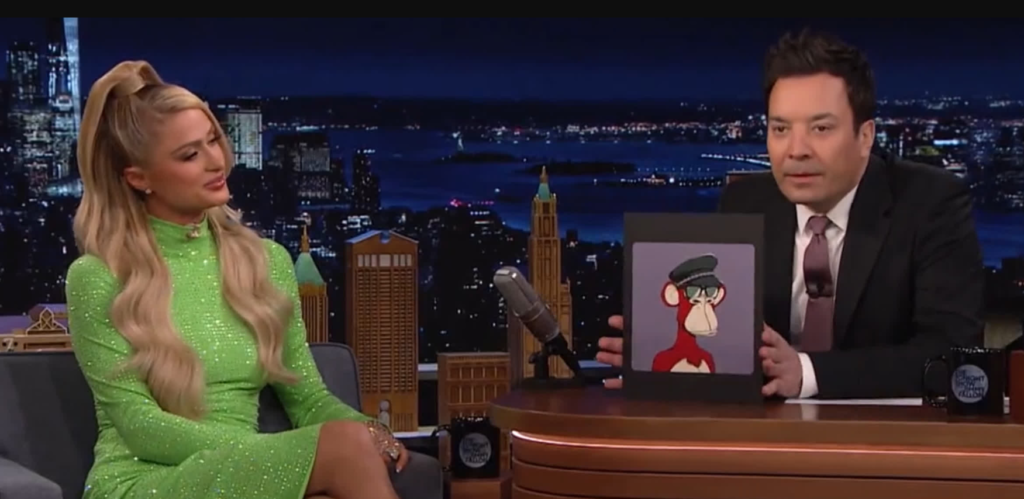 Celebrities like Jimmy Fallon and Mark Cuban and athletes such as Stephen Curry and Shaquille O'Neal own Bored Ape NFTs, solidifying their membership in the community. With only 10,000 NFTs in existence, the exclusivity adds to the allure.
2. Clear Roadmap and Effective Communication
Creating a clear roadmap and implementing effective communication strategies are vital to community-building. Bored Ape Yacht Club (BAYC) serves as a good example. The brand established clear goals and shared regular updates on its progress.
BAYC is more than just collectible #NFTs.

It's a club.

When the pre-sale ends, The Bathroom goes live. Inside is the first collaborative art board for #NFT holders. After that we have Roadmap Activations that include a Treasure Hunt, Members-Only merch store, and NFT breeding. pic.twitter.com/YOAQmy3spH

— Bored Ape Yacht Club (@BoredApeYC) April 24, 2021
It is crucial to outline the roadmap (ideally quarterly) and provide consistent updates through blog posts, Discord, Telegram, or other communication channels.
3. Consistent Branding and Incentives
Powerful and consistent branding is another unifying factor among thriving communities. These communities find ways to engage and captivate their fans, often by offering access to rare NFTs, exciting new drops, or special pricing.
For instance, Mattel Creations celebrated the launch of its Hot Wheels NFT Garage Series II by giving away special edition promo car NFTs through engaging activities like "ask me anything" chats on Twitter Spaces and Discord.
We're back for our next @TwitterSpaces to learn all things about Hot Wheels NFT Garage Series II.

Have questions? Tweet them to us now, for a chance to be answered when we go live at 9am. #HotWheels

— Hot Wheels (@Hot_Wheels) March 28, 2022
The Bored Ape Yacht Club took it a step further by providing branded cryptocurrency, ApeCoin, to NFT owners and organizing real-life events. These events, such as celebrity-filled yacht parties and warehouse parties featuring renowned artists and entertainers, added value to the ownership of Bored Ape Yacht Club NFTs and strengthened the community.
4. Hosting Tangible Events and Incentivizing Engagement and Rewards
Moreover, hosting in-person events like VeeCon 2023 and NFT.NYC can foster community growth through engaging activities.
For example, VeeCon 2023 allowed NFT holders to meet the development team, explore the latest tech in the NFT space, and even interact with celebrities. These events attracted thousands of attendees.
3-days, 200+ speakers, and endless memories later, VeeCon 2023 is a wrap. #SeeYouAtVeeCon 2024! pic.twitter.com/wkRnfDKAyc

— VeeCon (@veecon) May 26, 2023
Besides, organizers can also reward participants with POAP (Proof of Attendance Protocol) NFTs as a token of appreciation.
Find POAP Team member @iamaveefriend in Indianapolis during @veecon and get a digital collectible to celebrate meeting her 🤩 pic.twitter.com/tPMnxn2z7N

— POAP – Bookmarks of your life (@poapxyz) May 16, 2023
5. Cultivating a Defined Culture and Purpose
Incentivizing people to join a community through exciting rewards and activities is crucial for building an engaged following, but it is not the sole requirement.
GM! We're delighted to be entering our 5th month of @Qissathestory! We've loved the positive response and can't wait to share more incredible stories with you. Let's take a look at all the voices that we have amplified together on Women Rise & @QissaTheStory. 🧵(1/8) pic.twitter.com/YVhCReIRWl

— Women Rise (@WomenriseNFT) May 26, 2023
Clearly defining the community's culture and purpose, such as the Women Rise community that supports women coders, activists, scientists, and artists on the blockchain, is also essential in building a thriving NFT community.
6. Providing Quality Education to the Community
As the larger NFT community continues to expand, it becomes crucial to provide newcomers with a high-quality education about the NFT space. Offering learning opportunities free of charge can effectively grow your brand and, ultimately, your community.
For instance, platforms like Bankless and Cryptonary focus on providing education and insights about the NFT and blockchain realm, successfully nurturing their respective communities in the process.
7. Alpha Content and Influential Figures
Many top NFT communities feature influential figures, early adopters, or successful players who possess unique insights, influential connections, inside information, or a track record of identifying valuable NFT opportunities. While all NFT communities strive to share valuable information with their members, it can be challenging to discern between gossip, hearsay, and genuine insights.
As more people become aware of important upcoming events or developments, the value of that information tends to diminish. Alpha groups, prevalent in industries centered around investment and speculation, are also prominent in the NFT space. No surprise there!
Dark Echelon has about 250 members.

Dark Echelon recently received:

– 200 WL spots for @akidcalledbeast
– 200 WL spots for @Hasbulla_NFT

With the many long-term opportunities we present our members, we also have one of the highest, if not the highest WL raffle odds.

— Dark Echelon (@DarkEchelonn) January 19, 2023
NFT communities like Dark Echelon, Champs Only, and OnChain Buccaneers (OCB) are renowned alpha groups within the NFT ecosystem.
8. Power of Virality
An exemplary instance of a project thriving solely on the strength of its community is Goblintown.wtf. In fact, there is no better case study than Goblintown.wtf. When we analyze the project's journey, one key aspect becomes evident: the enduring power of virality. Despite the absence of a comprehensive marketing plan, partnerships with established brands, or associations with influential figures in the NFT sphere, Goblintown.wtf has made a significant impact within its community.
In essence, Goblintown's concept, characterized by its irreverent "nothing really matters" tone, struck a chord with collectors who had experienced weeks of stressful financial losses. Moreover, the project's absurdity and lack of logical sense piqued curiosity and generated a sense of FOMO (fear of missing out).
Questions arose: What is this project? Could it be a clever strategy by a significant player? What if I miss out? These factors coalesced, propelling Goblintown into a viral sensation and rapidly transforming it into a thriving community.
Found a random @goblintownwtf goblin at @NFT_NYC … 🧐 what conference talks does a goblin attend? 😂 pic.twitter.com/1p3lRdD4P6

— JaySerpens (@JaySerpens) June 23, 2022
However, it is essential to note that emulating Goblintown's approach when building an NFT community carries substantial risks. In the following sections, we will guide you on how to establish a community more safely and strategically, avoiding potential pitfalls.
Building Your NFT Community
Building an NFT community requires dedication and resources, but the rewards can be significant. The most valuable communities are virtual spaces where individuals can connect, engage, and feel heard. To grow your online NFT community and connect with like-minded people, consider the following steps:
Define your target audience: Whether you're a brand or an individual, identify the specific audience you want to reach and interact with online. This audience should align with your brand identity and be enthusiastic about your offerings.
Set a vision for your community: Great NFT communities are built on a vision that resonates with the values and interests of your target audience. Establish clear rules and a cultural focus that sets the tone for your brand and attracts like-minded individuals.
Build awareness and generate excitement: Creating events and initiatives to generate interest and hype around your community can be a powerful way to start. Tailor these events to your audience's interests to maximize engagement and excitement. (Ex: DeGolf)
Establish an online presence: A solid and consistent online presence is crucial for creating a sense of community and belonging. Engage with your online community as much as possible to foster passion and loyalty toward your project.
Be reliable: Consistency and authenticity are vital in building a trustworthy network and earning the respect of your peers and community. Stay true to the vision and mission you have set for your project to maintain the trust of your community.
Provide value and utility: An NFT community should offer more than just a platform for trading and exchanging NFTs. Explore ways to provide value and utility to your community, tangible or intangible. Consider real-life, online, or virtual functions and purposes that align with your community's interests.
Where to build your NFT community?
When considering where to build your NFT community, it's crucial to consider the current landscape of social media platforms. While TikTok and Instagram are popular, the NFT community primarily thrives on Twitter and Discord. Almost all NFT initiatives use Twitter for public communication and engagement within the broader NFT community. It allows you to interact with a larger audience, share updates, and participate in conversations related to NFTs.
Twitter can be an effective platform for building brand awareness and attracting a wide range of individuals interested in NFTs. On the other hand, Discord is highly valued for its direct communication capabilities and is particularly suitable for fostering micro-communities.
By setting up a well-structured Discord server, you can create a seamless onboarding experience for new members and facilitate direct interactions and discussions within your NFT community. Moreover, Discord offers features such as voice channels, text channels, and various community management tools to enhance engagement and collaboration.
While Twitter and Discord are the primary platforms for NFT communities, it's also beneficial to leverage other social media platforms to attract a wider audience and provide quick project updates.
You can use platforms like TikTok and Instagram to showcase visual content, share behind-the-scenes glimpses, and highlight the unique aspects of your NFT project. Utilizing a combination of these platforms can help you reach different segments of the NFT community and maximize your community-building efforts.
A Few Snags To Avoid While Building an NFT Community
Building a thriving NFT community requires dedication and patience. While taking shortcuts using social media tactics for quick gains may be tempting, these shortcuts are unlikely to benefit you in the long run. Authentic community engagement is the cornerstone of a strong NFT community. Using fake engagement methods, such as bots that artificially inflate views, likes, or comments, might seem like a way to boost your community numbers, but it will ultimately harm your brand.
Instead, focus on a long-term strategy centered around organic engagement and authenticity. Genuine interactions with your community members, fostering meaningful conversations, and providing valuable content will build trust and loyalty among your audience.
Remember, the value of your NFT community lies in the relationships you form, and the genuine interest people have in your brand. Building a community based on authenticity and organic growth will yield more substantial and sustainable results for your NFT project in the long term.
When building a community for NFTs, it's essential to avoid these seven common mistakes:
Neglecting communication and engagement: Keep your community informed and involved by actively communicating with them, listening to their feedback, and providing timely updates.
Ignoring feedback and failing to iterate: Embrace feedback from your community and use it to improve your project. Iterate on features, strategies, and initiatives based on their input to foster growth.
Neglecting community management: Assign dedicated community managers or moderators to nurture the community, address concerns, and foster a positive and inclusive environment.
Focusing solely on sales and promotion: Go beyond transactional relationships by providing value beyond sales. Offer educational content, artist showcases, and community events to create a sense of shared purpose and connection.
Lack of transparency and authenticity: Be transparent about your project's roadmap, progress, and challenges. Avoid misleading information and demonstrate integrity to build trust within the community.
Neglecting community incentives and rewards: Motivate and reward community members by offering meaningful incentives such as exclusive access to events, early releases, or gamification elements. It fosters engagement and loyalty.
Lack of moderation and handling conflicts: Establish clear community guidelines, address conflicts promptly, and encourage respectful communication. Create a safe environment where participants can express differing opinions constructively.
Conclusion
In the ever-evolving world of NFTs, the dynamics of community-building have transformed. Initially, NFT communities formed organically around the rising values of projects like CryptoPunks and Bored Ape Yacht Club.
However, as the NFT landscape matures, projects are now embracing a community-first approach right from the start, incorporating incentives and tangible value into their foundations. Launching an NFT project and embarking on the journey of building an NFT community is not a task to be accomplished overnight.
Undoubtedly, challenges will arise along the way, and there may be moments of discouragement. Yet, it is vital to stay committed to your vision and strategy. By persevering and putting in the effort, you have the potential to cultivate a robust and vibrant NFT community.
As the age-old adage goes, trust the process!