OpenSea has attempted numerous times to standardize NFT marketplace functionality. From buy/sell options to featured collections, they've served as the model for other marketplaces to either improve functionality or operate with different structure.
However, one recent addition to their site, an Open NFT Rarity Standard, has implemented another feature that has people and projects alike boxed into accepting or eliminating from their purview.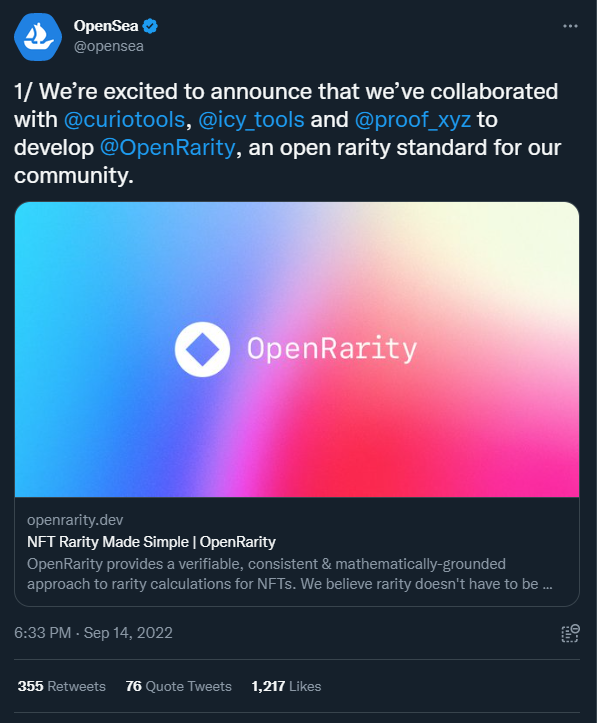 OpenRarity was announced as the new standard for ranking trait rarities on OpenSea back in September. According to their help center, they adopted this standard "to provide a unified and transparent set of rarity rankings across our marketplace."
The collaboration with icy.tools, Curio, and PROOF has provided eligible collections with a visible numerical rarity ranking on the item page and collection page.
Stated on their launch post back in August, there were three main problems they looked to address. This resulted in their goal to "create a verifiable, consistent, and mathematically-grounded methodology for producing rarity ranks that can build more trust in the space in the long-term".
Does this mean that other rarity ranking systems are wrong? Do other collections have skewed results because of investor/degen choice of alternate rarity ranking sites? Is OpenSea providing an authentic tool to the NFT community?
Let's inspect OpenRarity and its offerings.
OpenRarity: A closer look
It's better to provide their words as stated on the OpenRarity website to start:
"We believe that community matters most for creators & collectors. To be clear, we are not advocating for NFT creators & collectors to optimize for rarity rankings.

But, rarity is a factor that many people in the NFT ecosystem look at to make transaction decisions, to understand how collections are organized & to understand how to navigate new projects. And, for too long, existing rarity tools and calculations have made this process opaque, confusing & expensive (especially for emerging creators).

We hope that OpenRarity starts the process of demystifying & standardizing rarity calculations and kickstarts a broader conversation about the factors that matter when participating within the NFT space."
Regardless of project awareness, utility, and funding, OpenRarity looks to provide a free rarity ranking solution if desired.
Information content is the basis of their methodology. As stated on www.openrarity.dev, they chose this because they argue "summing probabilities is inaccurate." For example, adding probabilities generates token probability of having a red hat OR a green hat. Multiplying them generates token probability of having a red hat AND a green hat.
Their process has changed since initial launch, committing to the open-source community-based solution it intends to be. They included the double sort solution which generates two "scorings" to inform the rank: 1) Information content (as it is) 2) Unique trait count – Each NFT receives a count of unique traits it possesses. This was done to ensure that 1 of 1 NFTs will always be rarer than non 1 of 1s.
The second change was adding trait count as a meta trait. Trait count is the sum of unique traits an NFT has with a non-empty value (ex. None). This was a heavily requested item from community members and was implemented in October. This was designed not to conflict with collections that already had this as an existing trait within their metadata.
One small reminder, this is only applicable to eligible collections on EVM chains and Solana with certain properties:
Only ERC721/non-fungible items (no ERC1155/semi-fungible items)
Only string attributes (no numeric attributes)
Attribute information exists
(via the OpenSea support site)
There are still several things out of scope currently for OpenRarity as well.
Number-based traits; will be addressed in a later iteration.
Conditional probabilities of traits (e.g. probability of orange
hat given that the color of the shirt is already known).
Multichain support.
(via openrarity.dev)
Lastly, OpenSea recommends that NFT collections wait until their collections are fully revealed and can confirm that the metadata won't change before displaying rarity. But why?
According to ANONMUS, Co-Founder and Developer of the DeltaFlare NFT project, "it currently takes hours or days for the rarity to get updated when new NFTs are added through minting. That process needs to be reduced to seconds for it to be more accurate. At the current rate, you must wait until the collection is minted out, or very close, to turn that option on if you want to see any accurate feedback."
So, what's a potential solution? "Coordination with projects. If OpenRarity allowed projects to submit their master JSON files, it would also solve the issue with rarity ranks updating. The rarity can be calculated for each NFT and immediately populated, correctly, as soon as it mints," stated ANONMUS.
BROKEN RARITY: Alternative rarity ranking sites and other solutions
On January 3rd, Kevin Rose removed OpenRarity from Moonbirds, which is interesting because Proof was touted as being heavily involved in its creation. Mind you, this is no indication that rarity ranking had much value with Moonbirds itself considering the prestige and ETH value of the project more than outweighs most potential investors concerns about which ranked bird they want to buy.

If you're in any NFT project discords or scrolling your Twitter feed, you've read posts from many users that have voiced their frustrations and concerns with OpenRarity. It's even probably more common that you find people deferring to other rarity ranking sites such as rarity.tools, Rarity Sniper, Traitsniper, among various other long standing and lesser known ones.
While these tools are based on ETH collections, they are also available on other blockchains that have functionality with NFTs. I spoke with several project developers to get their viewpoints on OpenRarity's ranking system.
"I honestly don't see it [OpenRarity] as a solution or fail, but a guide so that creators, collectors, newbies, and investors can get a feel and/or idea of where to place their collection value after mint," said Alphamel, lead developer of the Ponzied Pandas NFT collection.
I also spoke with Cap10bad.ETH, one of the founders of freshdrops.io; the first, fastest, and most accurate NFT rarity sniping tool, according to their twitter profile.
"When we launched, there was only a single rarity provider – rarity.tools – and it would take weeks to publish rarirty," stated Cap10bad.ETH. "We used their rarity as a model for Freshdrops because everyone seemed to like it. That model hasn't changed since creation, and we've only ever made minor tweaks to it, so it doesn't affect overall results."
"Total rarity is only one metric to use while buying and sniping. Trait rarity and aesthetics are important too. One of Freshdrops best features is the traits table that dissects traits and their rarities and floors and lets you quickly filter to find underpriced NFTs quickly and accurately," stated Cap10bad.ETH.
One of the newer growing trends for NFT projects include creating their own marketplace. Some have chosen to incorporate their own rarity rankings within that marketplace for their collection to satisfy their own vision and value for the project. 
One example of this is Bulls and Apes NFT project. This provides those who are invested or looking to invest the one-stop shop of all information relevant to their collections.
Rarity ranking vs Utility
While rarity may be a focal point for the average degen trader/flipper, there is also inherent value in having valued investors in NFT projects. If every person purchasing NFTs was only concerned about rarity, then collections would all have their lowest 10% always listed and no one would be buying them.
Since that isn't the case, regardless of OpenRarity being active or a project choosing another rarity ranking system instead, then this means that NFT utilities can/will outrank rarity rankings when buyers make purchasing decisions.
The difficulty surrounding utility with NFT projects is the most common ones have followed other playbooks set before them with roadmap items such as staking with on/off chain token or other rewards, upgradeable items, or discounts towards the next collection, merchandise, or other products/services. For every project with a great cause/roadmap, there's tens more "the next big thing" projects that pop-up right after.
One utility based NFT project with solid foundation is music NFTs. Not every musician will hit the top of the charts, but the structure of what musicians are able to create within their ecosystem compounds an extremely appealing IRL value (concerts, virtual meets with the artist themselves, future drops, etc), along with the web3 value of digital ownership (creative rights, collection benefits, etc.) It'll be interesting to see the continued expansion of metaverse performances.
The other NFT ecosystem that shifts the perspective towards utility instead of rarity rankings is gaming. Whether you're a wolf game connoisseur, ZED RUN horse breeder, or caught the StepN wave before the markets dropped hard, games incorporating NFTs that possess stats or traits providing different value to those utilizing them.
Yes, the higher the tier or rarity of an item will typically hold more value and provide more benefit to the holder but generating revenue from a P2E environment or a PvP mode within the game is possible regardless of rarity ranking.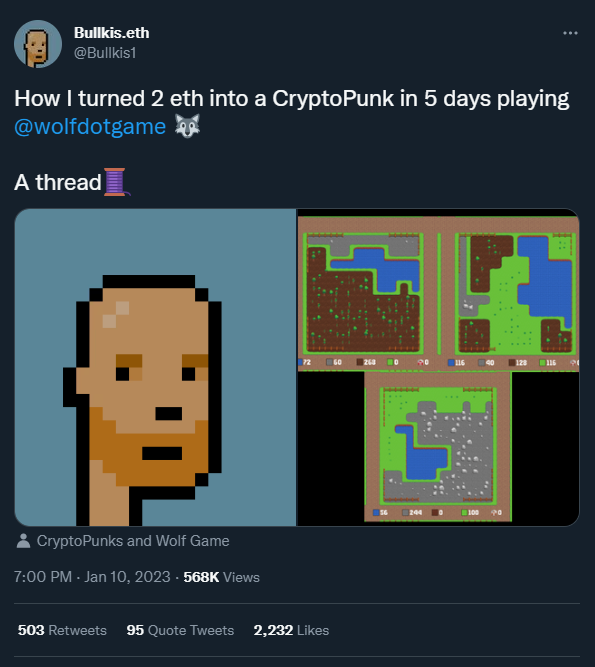 Gaming projects anticipating their launch in 2023/2024 will show the rise of utility and specific traits providing more value than its rarity ranking. Of course, the anticipation around the launch of Otherside's metaRPG will show a whole different level of utility for numerous NFT projects that will have playable character versions of the NFT collections available in their metaverse upon launch. Projects also incorporating use of their own crypto token in their gaming ecosystem stand to see increased value brought to NFT holders as well.
That's a wrap
Final thoughts: Let's take a moment and appreciate that NFT art has value across many collections. Artists ranging from hobbyists to industry professionals can showcase their talents in a way that hasn't been done before, generating direct value for them both monetarily and through consumer sentiment.
Seeing NFT art displayed on businesses, phygital goods, PFPs, or even as a good ol' fashion wallpaper on your phone or desktop screen, the art is here and readily available for people of all sorts of interest fields.
Every day we get to explore new creative pieces that we probably wouldn't have encountered without web3. The global appeal of art is undeniable.