According to data from DappRadar, Opensea surpassed $33 billion in total sales this week. Opensea announced today that the BNB blockchain will now be supported by the marketplace, allowing users to purchase and list BNB-based non-fungible token (NFT) assets.
Opensea will integrate Binance Chain into its Web3 marketplace protocol, Seaport, allowing for multiple, real-time creator payouts, improved collection management, and creators to avoid high gas — the blockchain-specific term for transaction fees — while lowering setup costs for new users.
"The integration will bring a large number of creators into the wider ecosystem, as well as empower the creators and NFT initiatives inside the BNB Chain ecosystem," said Gwendolyn Regina, investment director at BNB Chain.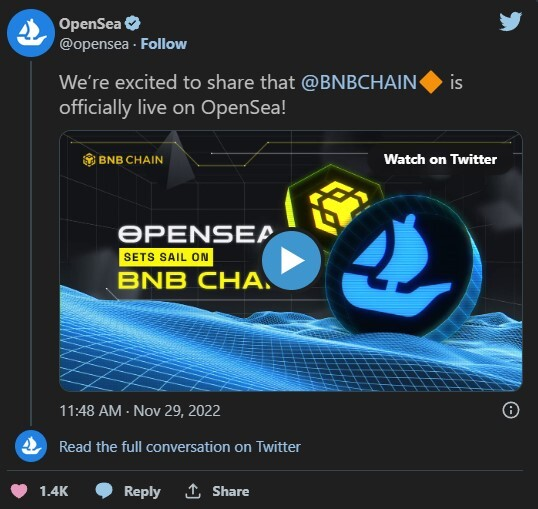 Previously, users could only view Binance Chain NFTs on Binance's NFT marketplace and a few other lesser-known marketplaces, posing an interoperability issue for end users.
With the addition of the BNB Chain, OpenSea brings the total number of chains available to users to eight, with the others from Ethereum, Polygon, Klaytn, Solana, Arbitrum, Avalanche and Optimism.
"BNB Chain will be launched on Opensea's Seaport Protocol in Q4 2022, allowing multiple creator payouts, real-time payouts, collection management, and other benefits for BNB Chain creators."
The move could put ethereum, the leading blockchain for NFT market share, in competition, as the BNB Chain is a cheaper alternative in terms of the amount of gas required to mint an NFT.
Furthermore, network congestion on ethereum can worsen during high-volume NFT events. The Otherside NFT land sale by Yuga Labs and Bored Ape Yacht Club was plagued with problems earlier this year, with the amount of gas wasted for failed transactions allegedly totaling more than $5 million.
Benefits of BNB
Binance Chain, on the other hand, has a much lower cost of minting, with prices typically coming in at pennies or less per NFT. The network typically does not suffer from the same scalability issues as ethereum, though with the anticipated increase in NFT volume, this could be tested further.
Over 1,300 dapps in various categories, including decentalized finance (DeFi), metaverse, blockchain gaming, and NFTs, are already supported by the Binance ecosystem. It launched a $10 million fund last month to incentivize blockchain growth.
The news caused a 1% increase in BNB price on the 24-hour price chart; however, the effects of this integration will most likely be seen when additional collections are added to the marketplace and volume increases reciprocally. At the time of writing, over 100 collections had been added to OpenSea via the BNB Chain in the first few hours of its launch.
At the time of writing, Binance-based NFT sales were up 26.71% week over week, totaling $826,408 in the previous seven days. According to data from the last month, Binance-based NFT sales totaled approximately $4.9 million across 180,720 transactions.