OpenSea Cuts Staff by 20%
Desperate times, desperate measures? Per a tweet from OpenSea CEO Devin Finzer, he announces that they are cutting staff by 20%. It should come as no surprise as market volume has been dwindling and other competitors have come through to take some of the market share.

Quoting Finzer's message: "…the reality is that we've entered an unprecedented of crypto winter and broad macroeconomic instability, and we need to prepare the company for a prolonged economic downturn."
Estimates put the number of employees at OpenSea at the time of the announcement in the 700-800 range, which translates to roughly 140 jobs lost. A big blow for the NFT giant that has long been the industry standard for buying and selling NFTs.
With cryptocurrency exchanges struggling across the board, including BlockFi, 3AC, even Coinbase, and leading up to the recent bankruptcy declaration by Celsius, the industry has seen a broad shakeup that could continue to have lasting effects in the NFT market. It's hard to be optimistic on NFT's for collecting, speculation or investing when the main currency used to transact is down close to 80% on the year.
The primary driver of revenue for OpenSea is listing fees. Which in nearly all cases are 2.5% on every sale. You can see by the below chart, volume on OpenSea has gone on almost a full roundtrip approaching volume numbers we saw in February of 2021: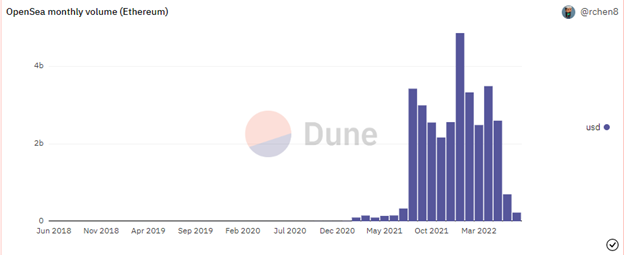 And here are the fee numbers for OpenSea as well: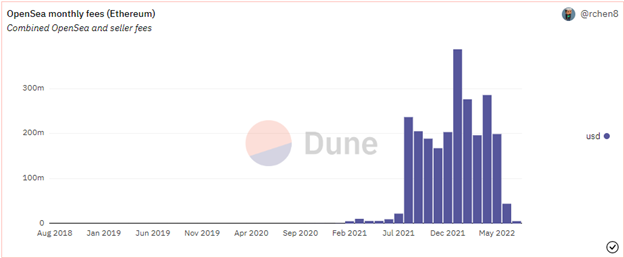 Stats courtesy of @rchen8 via Dune Analytics: https://dune.com/rchen8/opensea
It's a tough situation to be in when they likely ramped up with expectations of going public at some point and approaching IPO numbers potentially in the realm of Coinbase. Full speculation by the author, but I've got to imagine that those plans are on hold at the present time.
It's only been just shy of a year since OpenSea completed a massive funding round led by A16Z and a star studded list of investors. I wrote about this when it happened as well and you can find that here: OpenSea Secures Massive Raise: $100M at a $1.5B Valuation. Luckily it seems that OpenSea has been relatively smart with their capital raise as mentioned further by Finzer:
"We've also built a very strong balance sheet through the money we've raised and the product-market fit we've proven."
Where does OpenSea go from here?
It seems that this move was necessary for the health of the company. A company that, despite many of its customers consistently complain about not having enough customer service or dev support, in many ways is one of the pioneers of the NFT industry. If we've seen one thing in the cryptocurrency and NFT landscape, it's that the companies that make moves and outlast their competitors are the ones that have a tendency to last.
There are now 3 main competitors OpenSea is dealing with and they'll have to continue to add features that compete in the market. X2Y2 and LooksRare take turns nipping at the heels of OpenSea, and now that customers can transact in Solana on the platform, Magic Eden has also come into the picture as a layer two competitor. Not to mention GameStop and Limewire entering the fray as well, it's getting crowded!
It remains to be seen if OpenSea can fix some of the issues they constantly deal with, including stolen NFTs, reporting, customer service, lagging UI, amongst others. It gets progressively harder to come out with fixes and updates when you have to let go of engineers, customer support, and other positions. If you thought OpenSea was running on 2 employees before, wait until you see it now. (Insert OpenSea meme of your choice here.)
This could be a move that is a temporary bandage that saves some capital and prolongs OpenSea's hold as the market leader to a point where they can regroup and continue their trajectory upwards. Or it could backfire and the site could face more issues related to volume, complaints and UI experience issues and it could fall behind their competition.
As the market continues to be turbulent and we see companies that are overleveraged or poorly run start to go away, the cream always rises to the top. It would go a long way in the NFT market if this move turns into a catalyst for growth at OpenSea. We'll have to wait and see how it plays out, but in the meantime, best wishes to those effected and hopefully they land on their feet in places where they can continue to move the industry forward.