Despite being widely noted as the grandfather of all crypto, it's no secret that since its inception in 2008, Bitcoin has left NFT antics to the likes of Ethereum, Solana, Polygon, and so on.
However, if you've been keeping up to date with what's going on in the blockchain space, it would've been hard to miss the network's grand instatement of the 'Ordinals' protocol.
Bitcoin Ordinals: What It Is
As Bitcoin maxis and those alike will already be aware of, the Bitcoin blockchain doesn't support the kind of smart contracts that've helped build the flourishing NFT/ digital collectibles/CryptoArt scene that we see today.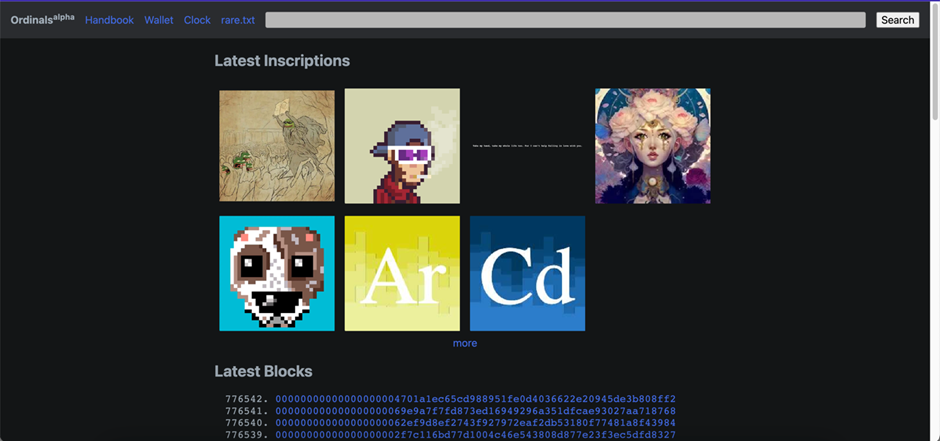 However, this- in essence- changed in January, as Ordinals was launched on the Bitcoin mainnet with the promise of Bitcoin NFTs.
Being the brainchild of software engineer Casey Rodarmor- and made possible by Bitcoin's 'Segregated Witness' (SegWit) and 'Taproot' upgrades in 2017 and 2021 respectively- Bitcoin Ordinals essentially allow users to inscribe data- such as a JPEG images- onto 'satoshis' (the smallest unit of Bitcoin).
These essential 'NFTs' created on the protocol have been coined 'digital artefacts,' and in turn are poised to attract new streams of interest, engagement, and perhaps most importantly, capital, to the crypto and NFT space. Of course, this is because developers now have scope for creating new scalability and efficiency solutions for a completely new avenue of tech.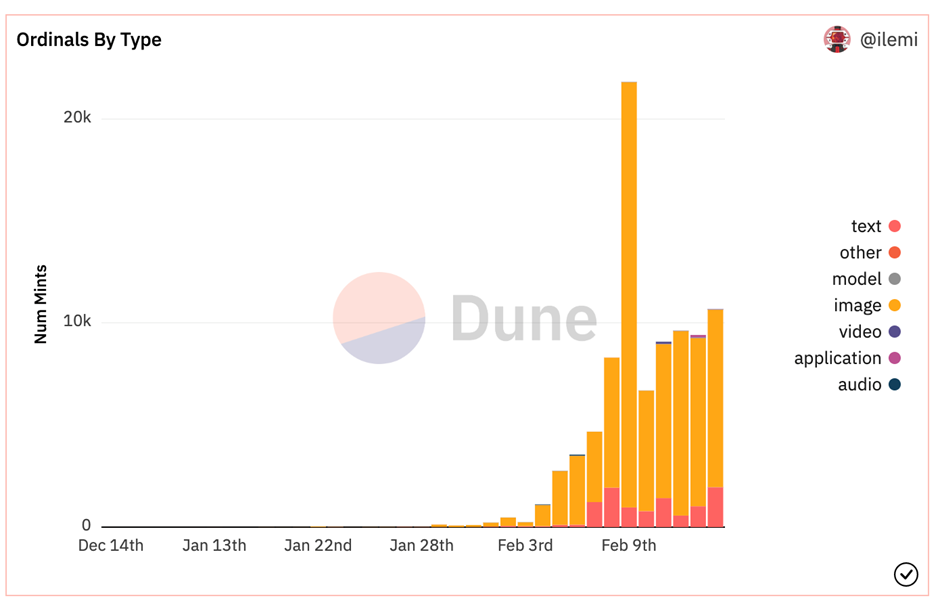 At the time of writing- and per data from Dune – there have been around 87,7000 inscriptions (i.e. creations), with the vast majority being of 'image' variety- including clones of notorious NFT projects such as CryptoPunks and Bored Ape Yacht Club. Other forms of Bitcoin Ordinals include text, model, video, application, audio, and 'other' files.
Bitcoin Miners
With the Ordinals hype causing inscriptions to regularly take up over half of Bitcoin's block space, Bitcoin miners have intuitively been able to cash-in on the new flurry of activity. Through this, many view Ordinals as a scheme that's introduced 'miner extractable value' (MEV) to proceedings- a concept that indicates the maximum value in which miners can obtain from producing new blocks beyond the block rewards and transaction fees.
Current stats from Dune indicate that 'cumulative' ordinal fees- i.e. how much Bitcoin miners have raked in- are nearing-on $625,000, with the Bitcoin network rewarding miners with 26.25 BTC per block.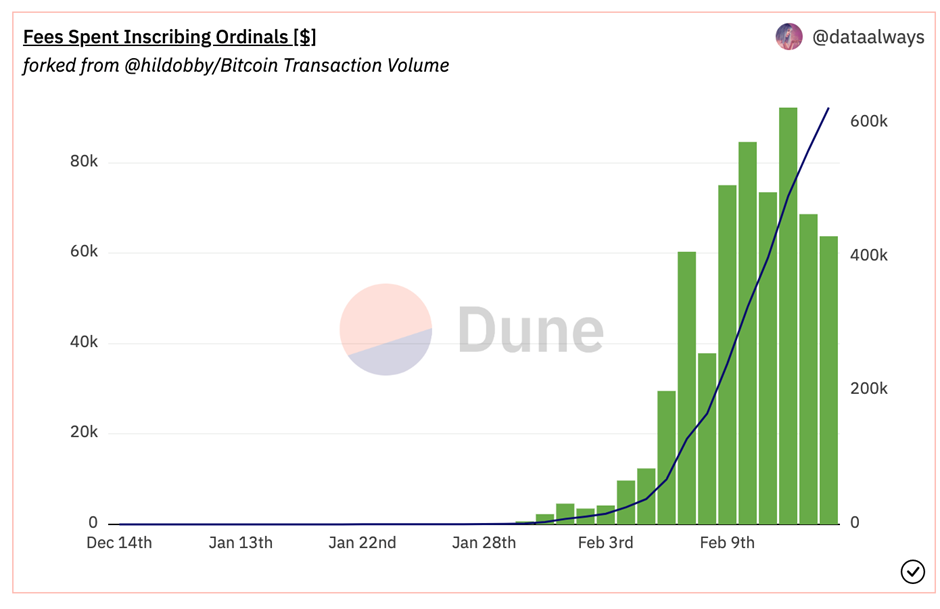 "This describes a growth in the user base and an upwards pressure on the fee market from usage beyond the typical investment and monetary transfer use cases"- Glassnode weekly report.
Controversy in the Bitcoin Community
As expected, the new network has caused a stir within Bitcoin's OG community, as it asks questions such as 'does it go against the vision of the blockchain's anonymous but synonymous creator(s) Satoshi Nakamoto?'.
Bitcoin Ordinals also increases the blockchain's blocks size, with the mean block size jumping from its average of 1.5-2 megabytes (MB) to 3-3.5 MB in February. In turn, Bitcoin's transaction costs have experienced inflation, with stats from crypto research BitMEX last week indicating that 526 MB of block space was taken up by February 7th- which in turn, cost inscribers approximately 6.77 BTC (or around $155,000).
Critics also believe that the introduction of Ordinals will price-out the blockchain's 'real' financial activity, which will subsequently damage its image and accessibility as a reliable peer-to-peer (P2P) payments network.
However, being the decentralised prophet that it is, Bitcoin is designed to be 'censor resistant,' meaning Ordinals is completely 'fair game,' and its corresponding criticisms can't instigate any tangible responsive action.
This is a cold-hard fact in which Blockstream Co-Founder and CEO Adam Back has acknowledged when commenting on the project:
Others have also coined Ordinals as an 'attack' on the Bitcoin ecosystem, with many complaining about the amount of blockspace the protocol is taking up.
That being said, and in addition to the new opportunities for creating non-fungible content and revenue streams for creatives, some Bitcoin community members have acknowledged the benefits of the protocol, such as its creation of more financial use cases for the blockchain, as well as the aforementioned opportunities it's created for Bitcoin miners.
Ethereum bull Anthony Sassano (i.e. the host of The Daily Gwei) also took a swipe at Adam Back for his aversion to the addition, as although his statement lacks any enforceable substance, he believes that publicly-made complaints from OG figures can be of detriment to the whole ethos of decentralisation:
"Adam Back and Luke Dashjr are both Bitcoin core developers who have encouraged censorship over the last 48 hours of these "undesirable" transactions…
So no, it isn't just Bitcoin maximalists – it's actual Bitcoin core developers".