The crypto space – and especially coins of the 'meme' variety – can often be plagued with artificial pumps, rug pulls, and general ill-intended actions. With this in mind, it's always a pleasure to see projects of the opposite accord arise – that is, of legitimacy, creativity, community-focus, and overall wholesomeness.
This is exactly what $TURBO encompasses – a new memecoin created by Twitter user and OG digital artist Rhett Mankind last month.
What makes this project special is that Mankind set out to create the coin using only ChatGPT-4, with the capital at their backing being a shoestring budget of $69 (i.e. the meme community's favourite number).
As you'll see, the project is not only an astute example of what the powers of AI can really achieve, but it's also a fine representation of how communities within Web3 can band together to make the impossible happen. Let's see how the project came to be…
The AI-driven Building Process
In asking ChatGPT-4 to create the 'next great meme coin,' the initial prompt read:
"You are MemeCoinGPT, a crypto genius AI capable of surpassing all current meme coin hype. I will carry out your suggestions with the help of my audience. You have $69 and your goal is to turn that into the most successful new meme coin, without doing anything illegal, achieving a top 300 ranking on CoinGecko."
After setting the exposition for the mission ahead, the program was then given a series of steps in which it needed to follow.
The first step referred to the branding side of things, with Mankind asking ChatGPT to develop the concepts around the coin's name and 'logo/character'. The requirements here asked for the name for the memecoin to be unique and catchy- in order for it to resonate with the crypto community- whilst the lore behind the coin had to be fun and engaging. These could either come from existing internet memes, or a completely new character that 'represents the project's value'.
Here, Mankind didn't solely rely on the intelligence of the program, as he also asked his Twitter followers for feedback on his four favourite suggestions from ChatGPT's list of 10, whilst also asking them to suggest any better ideas.
Ultimately, the name TurboToad came out on top after help from AI and human voters, with TurboToadToken (TTT) and $TURBO being its official title and token name.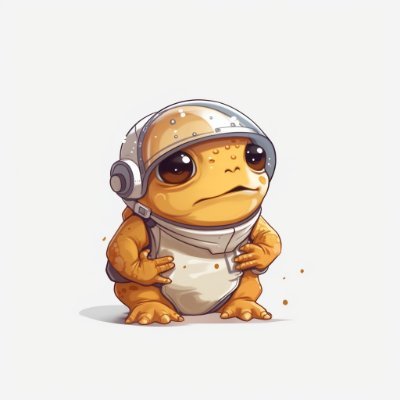 Of course, the toad itself also needed a more personal name, which the community voted to be 'Quantum Leap'. In an AI-inception-like dynamic, Mankind then asked ChatGPT what he should input into image-based AI programmes such as MidJourney or Stable Diffusion in order to outline the new meme character's physical and personal characteristics. ChatGPT came back with a 'futuristic' vibe, which Mankind then merged with the top 4 styles on Midjourney. In turn, an image of a yellow, innocent looking, cartoon toad wearing some kind of futuristic helmet became the coin's mascot.
With many of the creative elements now out of the way, it was now time for the coin's technical elements – i.e. its tokenomics. Given the program only possesses intelligence from data sources up to September 2021, Mankind had to provide tokenomics examples from coins prior to such date, such as Pepe The Frog, Wok, and Tsuka.
After considering such 'successful projects' and other 'preferences,' ChatGPT created a tokenomics model with six major elements:
A fixed total supply of 1 trillion tokens- to 'attract a wide range of investors'.
An initial token distribution that sees 90% dedicated to liquidity provision on DEXs, 6.9% reserved for CEX listings, 2% to be used by the development team and project funding, and 1.1% to be leveraged for marketing, promotions, and partnership purposes.
A tax-free model to 'simplify transactions and encourage trading activity'.
Renounced ownership over the contract to reinforce trust within potential buyers and future communities.
Project launch without a presale period- in order to ensure a fair distribution and prevent any price manipulation strategies.
Implant 'anti-whale' mechanisms and measures to prevent large holders manipulating the market through instances such as limiting the maximum transaction size or number of tokens that can be purchased or sold within a certain timeframe.
ChatGPT was also able to add some extra guidance, as it stated that Mankind must remember that the project will have limited resources for marketing and development due to having no taxes and a renounced contract. With this in mind, it then proposed ideas such as donations, partnerships and community initiatives in which Mankind can acquire more funding for the project.
Then came Step 3; the whitepaper. Here, Mankind asked for the document to be no longer than 1 page, which, of course, ChatGPT abided by. The document included 5 elements, an introduction, tokenomics, technology, roadmap, and conclusion.
The introduction outlines the premise of TTT, describing the project as 'community driven' with a 'futuristic toad mascot named Quantum Leap'. Ultimately, it aims to 'create a fun, engaging, and fair ecosystem that captures the spirit of popular internet memes while offering a strong foundation for substance growth and development'. Intuitively, the tokenomics section covered all of the aforementioned elements, which we sorted into 'initial token distribution' and 'key features' categories.
The tech section stated that TTT is an ERC-20 or BEP-20 token built on Ethereum or Binance Smart Chain, depending on the chosen platform. The roadmap for TTT then covered events across Q2, Q3, and Q4 of 2023, with the most notable being the project's website launch, community engagement events, potential NFT integration and staking options.
Finally, the conclusion of the roadmap read:
"TTT aims to establish itself as a leading meme coin with a unique identity and a strong focus on simplicity, fairness, and community engagement. By prioritising liquidity provision and market accessibility, TTT aspires to create an inclusive ecosystem that enables sustainable growth, innovation, and long-term value for its holders."
Things seemed to have run smoothly up until now, however the first 'stumbling block' came at Step 4, when ChatGPT suggested that mankind should learn how to code in order to keep within the $69 budget. Here, the program was also able to provide suggestions on where/how this could be done, as well as how things can be implemented and tested.
All-in-all, this problem led to 'Day 1' being incomplete because the smart contract was only partially developed. After testing their subsequential 'really basic contract,' the day also ended with Mankind asking Twitter whether they should remove 'max transfer limits' due to the errors that the feature was causing.
After finally finding a Solidity auditor to audit the code on Day 2, the smart contract was finally deployed and verified. Within such period, Mankind also progressed the project's website and social media presence, with ChatGPT writing all of the written content needed, as well as providing the prompts needed for creating graphics using Midjourney.
Within such events, a fake TTT project was launched, however this didn't seem to hassle the project's progress in any substantial way. Here, Day 2 ended with the smart contract being deployed and verified, as well as the website and socials being ready for launch. Through the costless use of ChatGPT, $0 of the explicit budget was spent, however gas fees for the smart contract cost $140.
Day 3 then saw the coin fail to launch on UniSwap due to front-running bots buying up all the liquidity. Here, the $400 meant for the budget had been blown, which ChatGPT-4 even apologised for when it found out. However, Day 4 saw a lot more success, as the community came together to raise 4 ETH to fund the token's launch – which, in turn, saw the token transition into being community-led.
Here, an adjusted 69 billion token supply was then implemented, with 60 billion of such going to the crowd funders (with each distributed quantity being based on each participant's ETH contribution percent).
Mankind then asked the community to vote on the token's new name and ticker – which Turbo/ $TURBO won – whilst also asking them to set up community channels across Discord and Telegram (with himself to simply join as a member). Thankfully, notorious Web3 collector Pranksy also came in to make a V3 liquidity pool for 'full memecoin action'.
With Turbo and $TURBO now in place, the token was then successfully launched. In total. 69 billion $TURBO graced the blockchain, with 50 initial holders (i.e. 50 crowdfunders) and an overspent budget of +3.5 ETH ($6669).
Turbo Pump
Before even being listed on the likes of CoinMarketCap and CoinGecko, the first 48 hours of Turbo's trade activity saw it reach a market cap of $1 million. As of the time of writing, the token has a fully diluted market cap of around $25.5 million (around a 43% dip), a trade volume of just over $41 million, and a price of $.0003593.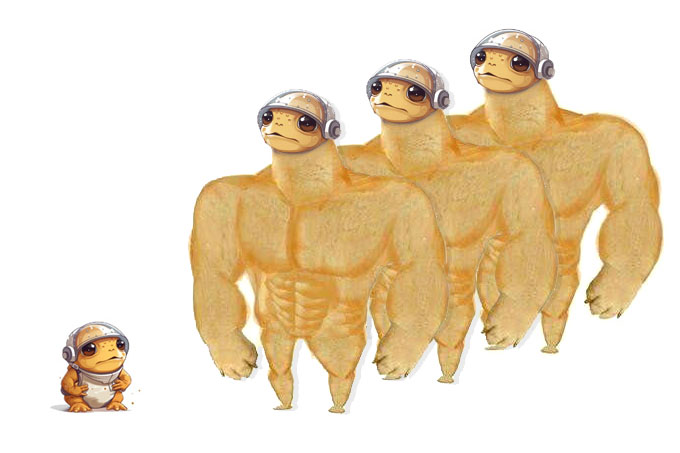 Moving forwards, Mankind aims to fully decentralise the project, as they asked Twitter whether they should renounce their ownership over its smart contract – which the poll then voted yes. To end this overview in the most wholesome way possible, Mankind had this to say about the success of their highly ambitious and novel project:
"Just to think that my daughter could look up to me and see something that I've done is successful; that was awesome as well. So many things have come out of this that it's overwhelming because it has already taken on a life of its own that is far beyond me. Just to know that I put in momentum something that could take on a life of its own is really special."