My thoughts about the future of NBA Top Shot.
If you want to read more from me, follow me on Twitter.
What?
On August 25th 2021, a LeBron James S1 finals #23/79 Legendary "moment" sold for a record breaking $230,023 on NBA TopShot. This is the first six figure sale on the platform since March 22nd, 2021 when a Zion Williamson moment sold for $115,000. TopShot has seen clear improvement since the start of that five month drought and this record breaking sale is the first step in a Top Shot explosion.
A lot has happened in the NBA Top Shot ecosystem since the original craze in February-March 2021. For the first time in months, people are excited about the future of this platform again, and I believe we have only scratched the surface of the potential . With a massive roadmap to follow, Dapper Labs and NBA Top Shot are the future of sports collectibles on the blockchain.
Collectors Are Excited Again
"NFT Summer" has been unreal; seemingly every project has increased 10x, and the NFT world is filled with happy customers. During all of this, the project that brought so many to the NFT space sat in the shadows as prices kept dipping lower. Since then, the sentiment has shifted around Top Shot. Over the last 30 days, the market has seen a sales volume increase of 63% and a 103% increase over the last seven days. The overall Top Shot community is stronger than ever and collectors refuse to sell their high end moments for low prices. As a result, prices are moving up and investments are turning green.
Buyer Confidence
A very large sale can be the catalyst that pumps a lot of NFT projects, and I believe that the record breaking LeBron moment sale ($230,023) will prove to be a watershed event that will mark the beginning of a big increase in buyer confidence and investment. If I am right, then Top Shot is in the early stages of a big bull cycle that will drive volume and price appreciation. Obviously if the NFT market as a whole goes bear, Top Shot will follow. But I believe that long term buyers feel very confident holding onto NBA Top Shot moments.
WNBA Integration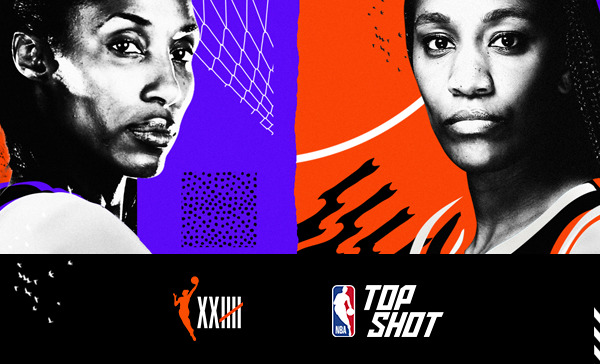 The recent addition of the WNBA to the platform is an important development that has not been fully appreciated. The WNBA will play a vital role in the future growth of Top Shot. For all the success seen by Top Shot so far, they have not had to devote extensive resources to market their product.
The WNBA will bring a consistent stream of collectors. For a sport that struggles to gain attention, this is the perfect marketing tool. An established platform that has over a million users and is already accepted by the masses is the best way for the WNBA to see growth.
Promoting NBA Top Shot means more money for the WNBA. Every user that now logs on to NBA Top Shot will be exposed to the WNBA. Major news outlets are sure to be talking about the integration and that publicity will serve to reinforce the up-cycle that has already begun.
La Liga
NBA Top Shot's creator, Dapper Labs, recently announced that La Liga NFTs are coming. When this product is finally released it is going to be big. With Dapper being so advanced so early, they are quickly going to solidify themselves as *THE* sports NFT brand. There's an estimated 3 billion (with a B) soccer fans worldwide.
The potential for global reach with this product is there. La Liga is one of the biggest soccer leagues worldwide and home to powerhouses FC Barcelona and Real Madrid. Dapper Labs is in the early stages of an empire of Sports NFTs. Dapper's growth is essential to the growth of Top Shot and they continue to deliver every step of the way.
Marketing Power
The NBA as the marketing engine behind Top Shot is one of the most important synergies for long term growth. Recently, the Las Vegas NBA Summer League had collectors raving about Top Shot. Vegas had NBA Top Shot kiosks showing and selling packs and merchandise, with NBA players in attendance to mingle with fans.
It was a huge success, with fans from everywhere having a great experience. While that was only a taste of what's to come, it hints at the creative possibilities and huge potential yet to be unlocked with Top Shot.
NBA Snowball Effect
The NBA is a very tight knit league, with many close relationships between players. This is particularly evident on Twitter, which just happens to be the platform where everything NFT- related happens. Players have massive followings on Twitter, generating thousands of likes and retweets for every post.
As more and more players get involved with and post about Top Shot, the momentum for more players to get on board will quickly build. I envision players tweeting, talking, and sharing their moments all over Twitter. Imagine players showing support by buying teammates/friends high end moments, dissing on other players by displaying their highlights, and simply buying their own moments as personal collectibles.
The possibilities are endless. Once the league is consistently talking about Top Shot on social media, millions upon millions of new users will make their way to the platform.
An Outstanding Product
Top Shot is a polished, professional product, with a rock-solid infrastructure and advancing rapidly. They took their time in early development, ignored the slander, and are they are innovating constantly in the NFT space. Sticking to their plan has paid off in a big way. Flawless servers, mastered pack drops, and an extensive core user base are staples in the Top Shot world. The platform is poised for exponential growth based on past success.
A True Pioneer
Undeniably, the boom of NBA TopShot in 2021 introduced the masses to the NFT space and was a huge part of the NFT bull run. Recently, "old" NFT projects from 2016-2019 have been seeing spikes in price and volume. We are so early in the big picture of NFTs that I believe all early projects will simply be labeled as "early." I do not think predating a project by one year despite being inferior will drive prices ahead. The important projects will remain valuable.
The year 2021 will forever be an iconic one in the NFT space: the year that NFTs really got noticed. Other than punks and BAYC, arguably no project was more important in 2021 than Top Shot.
Recently, an older project called "Wrapped Strikers" gained a ton of traction as it was rediscovered and labeled as the first sports NFT. This project ran hard in price and has settled at a pretty steep entry cost. Seeing that project run makes me even more bullish. Top Shot is the pioneer of sports NFTs, a bluechip in the NFT space.
The platform is here to stay, grow, improve and will continue to bring millions of sports fans to the market. Although they may not have been first, while the history of NFTs is being written, TopShot will, without question, be viewed as the most important early one.
Thank you for reading this article. If you want to keep up with me and what I do follow my Twitter.