Click the video below for a quick breakdown of the five Reignmakers Risers in week 3.
Interestingly, 3 of the 5 have floors slightly lower than the last sale before the early games kicked off yesterday.
Interestingly, 3 of the 5 have floors slightly lower than their last sale before the early games kicked off yesterday.

#1 on the list was one of my favorite wide receivers this past weekend heading into week 3. DeVonta Smith had played 99% of the offensive snaps through the first two weeks and while AJ Brown had been getting all the attention and hype in Philly, and rightfully so, to me it looked like DeVonta was shaping up to be the 1B to AJB's 1A in the wide receiver room in Philly.
The masses quickly forgot that DeVonta was the #10 overall pick in the first round in the 2021 draft and the Eagles traded up to get him. Rarely does that kind of draft capital get forgotten about, especially when producing. This is a perfect example of recency bias in DFS and fantasy sports, and further an example of why not to overreact to week 1.
The Eagles came out guns blazing in the opener, winning a 38-35 shootout against the Lions and Jalen Hurts quickly made believers of everyone who drafted him in Best Ball & Season Long drafts. As did the new shiny tool in Philly, AJ Brown crushed in his Philly debut hauling in 10 receptions for 155 yards. On the other side though, DeVonta was shutout, registering 0 catches on 4 targets.
Risers: The Data
In week 2, AJB posted a 5/69 line while DeVonta led the way catching all 7 targets for 80 yards with Hurts leading the team to another victory.  Most of the industry was bullish on Hurts, AJB and the Philly offense, but most had written DeVonta off, despite coming off a 7/80 game .. while a solid game, 7 catches for 80 yards and no scores after 2 games isn't going to get anyone excited.

But this is why underlying metrics, like snap count, DeVonta was almost never coming off the field and in a high powered offense like Philly which is likely to have one of the higher implied team totals week in and week out it seemed to be only a matter of time before DeVonta got his.  Opportunity and volume are the most predictable metrics in DFS and fantasy.

In week 3, DeVonta did not disappoint, once again leading the offense (not a QB)  in snaps playing 62 of 70 and this time reeling in 8 catches on 12 targets for 169 yards and a touchdown!

While he's been priced up a little, it doesn't appear that the masses view DeVonta as a 1B yet in Philly and could be potential upside if he continues to get so much opportunity on the field & looks. See details on DeVonta's Elite Tier DraftKings Reignmakers pricing and four other Risers from week 3 below.

Looking back at last week, most of the Reignmakers Risers saw a decent gain by Wednesday morning. Let's see if the Risers from week 3 follow suit.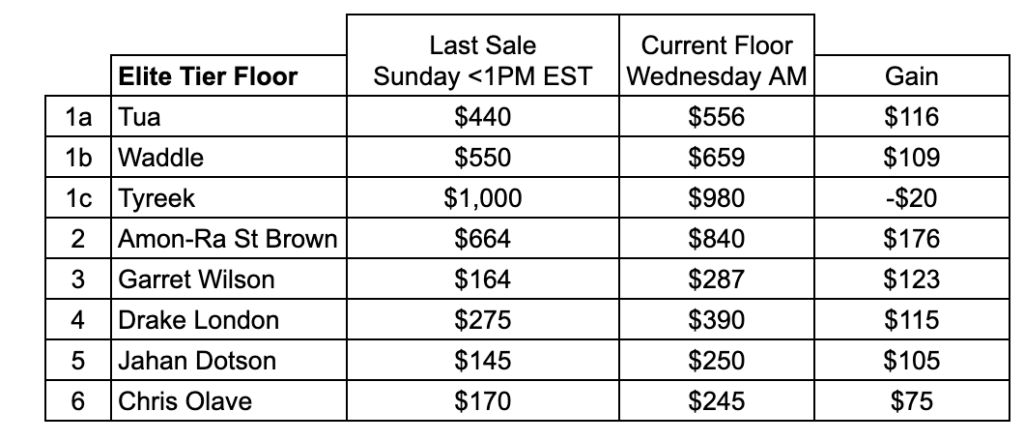 Disclaimer: This article s sponsored by DraftKings. It is also not financial advice. The NFT and Cryptocurrency markets are very volatile. Please don't invest what you can't afford to lose. Always do your own research before investing