Secrets on the Blockchain: Smart Contracts Play Dumb
The last few years have seen incredible adoption of blockchain technology for the use of decentralized finance. Many of the protocols that came out of DeFi summer now boast billion-dollar valuations and well recognized use around the financial world. Just last week the first sovereign nation recognized bitcoin as legal tender.
A few other nations have since announced their intentions to make cryptocurrencies and decentralized technologies welcome in their jurisdiction. This is a space that moves fast, and regulators should try to keep up, or they end up shortchanging their citizens. I was born in the United States of America, and I still reside there.
"This asset class is rife with fraud, scams, and abuse."

Gary Gensler, Chairman of the United States SEC, on cryptocurrency
My governments attempt to "protect me" are getting more and more financially cumbersome. This year has seen it increasingly necessary for Americans to obfuscate their nation of origin when interacting with DeFi protocols. The big outrage of the moment is the airdrops that Americans are missing. People who meet the requirements for eligibility in these airdrops, but reside in the USA, have been missing out. The DYDX airdrop is now worth over 50k for some users. That is a great deal of money to miss.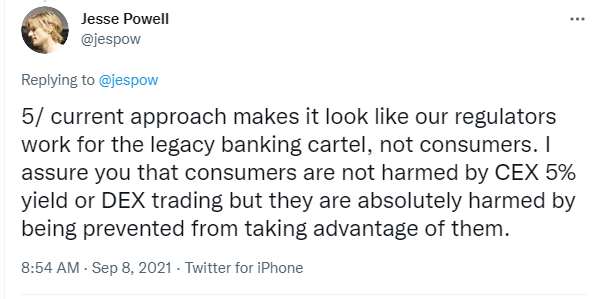 Our SEC is investigating Uniswap. However, you feel about the protocol or the UNI vs SUSHI drama, Hayden Adams and the team behind Uniswap has done more than most to advance decentralized finance. The constant product market maker paradigm has been reused over and over to great success in the last few years. Coinbase is going to court over trying to release a product that most of their competitors already offer. Luckily Coinbase has a lot of money. We may yet get some positive clarification out of their court battle.
We won't get it for a long time though. It is looking like an increasingly good idea to research privacy on the blockchain a lot more. I don't want to buy drugs or guns or anything. None of my money was made by doing any sort of crime. I just want to be able to access the best investment opportunities in the world. I don't want to wait for the oligarchs at the head of my country to give me the green light to use my money as I see fit. This is all to say I started to look at the secret network. Here are some of the things I have found.
There are many privacy focused crypto currencies. ZCash and Monero come to mind. Monero supposedly has tech so good the IRS will pay a hefty bounty if you develop a heuristic to break their privacy encryption. I guess that would help if I was trying to buy something I didn't want my government to see. All I am looking to buy right now is an opportunity to research and invest. I just want to be able to interact with decentralized finance as it develops. I want to get to use the cutting edge of financial technology.
I want this not only because of the asymmetric upside this experimentation can offer financially, but because I am curious. I like to learn. I want to spend my time and money as I see best, and Mr. Gensler should have nothing to do with that. So, what I need is not a private or secret money, I need a private platform.
Secret is a protocol that enables private by default smart contracts. I came to be interested in this platform because of its implications for DeFi. Private smart contract execution has huge implications for other areas of the industry as well though. Web three protocols can offer different options if their smart contract execution can be hidden. In these days of mass digital surveillance, there are many reasons to try our best to preserve our privacy in this new frontier.
Secret protocol was borne out of a MIT project called enigma. This team raised 45 million in a 2017 ICO that promised to build privacy focused smart contracts. Unlike most who raised money in 2017, they did what they set out to. Enigma was originally envisioned as a layer two for Ethereum that would add privacy enabling features. They decided eventually that privacy had to be integrated from the bottom up.
The community that was built around enigma used the cosmos SDK and Tendermint to create a new layer one they named secret. There was a hard fork in September of last year, followed by a bridge to bring all the holders of the erc20 enigma tokens that were distributed in the ICO over to the secret mainnet. Private smart contracts have been running on the secret network ever since.
Privacy is enforced on this blockchain using TEEs or trusted execution environments. The TEE is an isolated, secure, and protected part of the protocol to execute sensitive data. What happens inside the TEE is not viewable to validators of the blockchain or any other parties. The sensitive data that is executed in the TEE is secured with cryptography. The same sort of public/private key cryptography that allows you to publicly display your BTC wallet without revealing your private keys is in place here. In this way, the user (you and I) can interact with protocols and dApps without onlookers knowing the nature of our interaction.
Since your wallet has access to the data in the TEE, you can provide access to it to someone if you need to for tax or law enforcement purposes. There is no other entity in the protocol that can access your TEE. These TEEs are what allow the smart contracts to play dumb to would be surveillance firms. I am not going to pretend I understand these concepts very well. I do however understand their utility. Public blockchains are an incredible innovation, but their publicity can be troublesome for many use cases. Even for a person like me without many illicit uses for their money, public ledgers pose risks.
The public nature of my transactions leaves me vulnerable to sandwich attacks as well as being front ran in other ways. If I were ever to run for office, some of the food tokens I bought during DeFi summer may come back to embarrass me. The increasingly onerous nature of the regulation in my country is reason enough to want my smart contract interactions to be private. As blockchains grow, differentiate themselves by use case and find adoption more broadly, I think there is a place for private smart contracts.
So, what can be done here now? You can use your Keplr wallet for this ecosystem, so I do. As with other blockchains built with Tendermint, this chain uses a distributed proof of stake system. This means you can stake your SCRT tokens to secure the network and earn a bit of yield. There are several bridges up and running. These can help you bring funds from the public BSC and ETH into the secret network. Sienna is a DEX coming soon. Fardels is a protocol that is building a distributed social network. Secret auctions is an application for secure and private peer to peer auctions. Secret heroes is a game built on the secret network.
The secret garden seems to be a platform for aggregating and viewing your LP positions and other DeFi activities on the chain. There is a DEX up and running right now called secret swap. As with other AMMs, you can provide liquidity in pairs to earn a portion of the trading fees. As the main DEX on secret, I imagine these LP tokens will find utility in other applications as the DeFi ecosystem gets fleshed out here. Why do I think this ecosystem will be fleshed out shortly? Why, supernova that's why!
Supernova is the upgrade that the secret protocol is undergoing next month. This will enable IBC with the rest of the blockchains in the cosmos system. If you don't know what that means, then go read my piece on cosmos. Basically, the secret network is connecting to the wider crypto world in a more meaningful and useful way than a few bridges. This enables cross chain privacy. This will allow the stablecoins and synthetic assets from terra to come and transact privately on secret.
This will let the experiments going on over on Osmo come and find a private place to seek even more yield. Assets from other chains will be able to freely flow in and behave in ways nobody has business seeing. Even more wild though, this upgrade promises to allow the privacy enabling features of the secret chain to be exported to other chains. This could enable one to trade through Uniswap on Ethereum, in a way that is private and unable to be front ran, with the help of secret. As well as enabling IBC and cross chain privacy, there are many new applications set to launch around the upgrade.
Supernova is the expansion and the scaling of the programmable privacy that has been proven so far on the secret network. I think this is going to be pretty darned huge. Crucially, supernova is after project dawn, which is the deployment of IBC to terra. A platform that enables private smart contracts, and a platform that has built an incredible stablecoin and payments system, are about to be directly communicating.
If that doesn't get your DeFi hairs tingling, then I don't know what will. I think it is worth researching this chain and its ecosystem. If you are as excited as me, it may be worth bridging funds before the upgrade to start playing. Reach out to the secret team @SecretNetwork regarding technical questions or reach out to me regarding my excitement.
Check out my other articles here.