With 80% of New Year's Resolutions failing due to a lack of motivation or incentives, staying fit can be challenging. But what if you could earn rewards for your fitness efforts? Enter Move-to-Earn (M2E), a unique crypto economy that incentivizes a healthier lifestyle.
Sweat Economy entered the market with an innovative concept revolutionizing the accessibility of this M2E paradigm. But what exactly is Sweat Economy, and is it still a thing? Let's dive in!
What Is Sweatcoin and Sweat Economy?
Sweat Economy is a pioneering ecosystem that incentivizes individuals to engage in physical workouts in exchange for crypto rewards.
At its core, this innovative economy revolves around the platform, users, and various tools such as apps, wearables, and other devices- all backed by SWEAT tokens. The entire ecosystem operates on the NEAR protocol, a blockchain known for sustainable, cost-effective, and high-speed transactions.
Despite some misconceptions, Sweat Economy is far from a mere startup; it boasts a solid foundation. It emerged as an enhanced version of the Web2 Sweatcoin app, initially launched in 2015. The primary goal of Sweat Economy is to promote healthier lifestyles by motivating people to be more physically active.
Last summer, the Sweat Economy expanded its offerings by launching the Sweat Wallet app and introducing its native token, SWEAT, to establish a tangible financial unit of value for physical activity.
Global Recognition and Unprecedented Web3 Onboarding
The success of the Sweatcoin app was evident when it became the most downloaded health and exercise app worldwide in 2022.
Moreover, the platform experienced tremendous success, becoming the fastest IDO ever to sell out on the DAO Maker platform, with approximately $1 million worth of $SWEAT sold in less than 15 minutes.
The SWEAT token launch is finally here! 🚀

110M Web2 users coming to Web3, with the largest DAOMaker sale ever.

Trading is open now, check it out! https://t.co/6uojPZVNbt

— Sweat Еconomy 💧 (@SweatEconomy) September 13, 2022
Besides, as part of the transition to Web3, Sweat Economy distributed over 4.7 billion $SWEAT tokens to 13.5 million Sweatcoin users who chose to participate in Web3. This airdrop marked the most extensive onboarding of self-custody users from Web2 to Web3.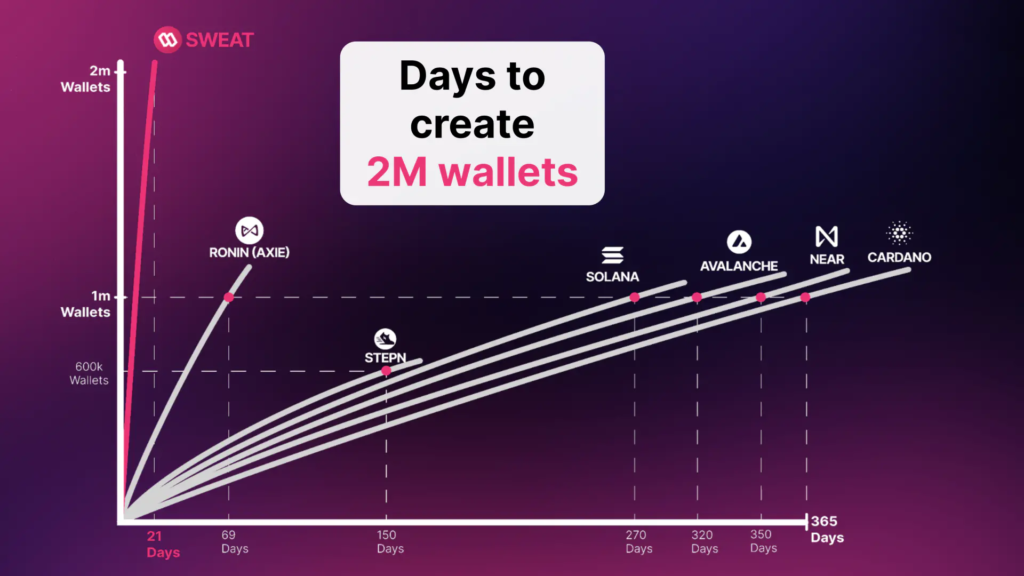 The app effectively incentivizes over 120 million users to increase their physical activity by earning $SWEAT, akin to earning "Airmiles for steps." Users can then redeem these SWEAT tokens for branded products or digital services or donate them to charitable causes.
An Open Economy of Movement
Installing the Sweatcoin app opens the door to incentivizing physical activities. Utilizing GPS and machine learning, the app diligently monitors each step you take. For every 1000 steps you cover, you earn one $SWEAT (after a 5% processing fee deduction). This rewarding process continues for the first 5000 steps you complete.
Sweatcoin seamlessly integrates with Google Fit, Apple Fit, or the default step-tracking app on your mobile device, facilitating measuring your daily steps. Armed with this data, users can walk or jog, whether in the gym or outdoors, while making the most of the Sweatcoin app's features.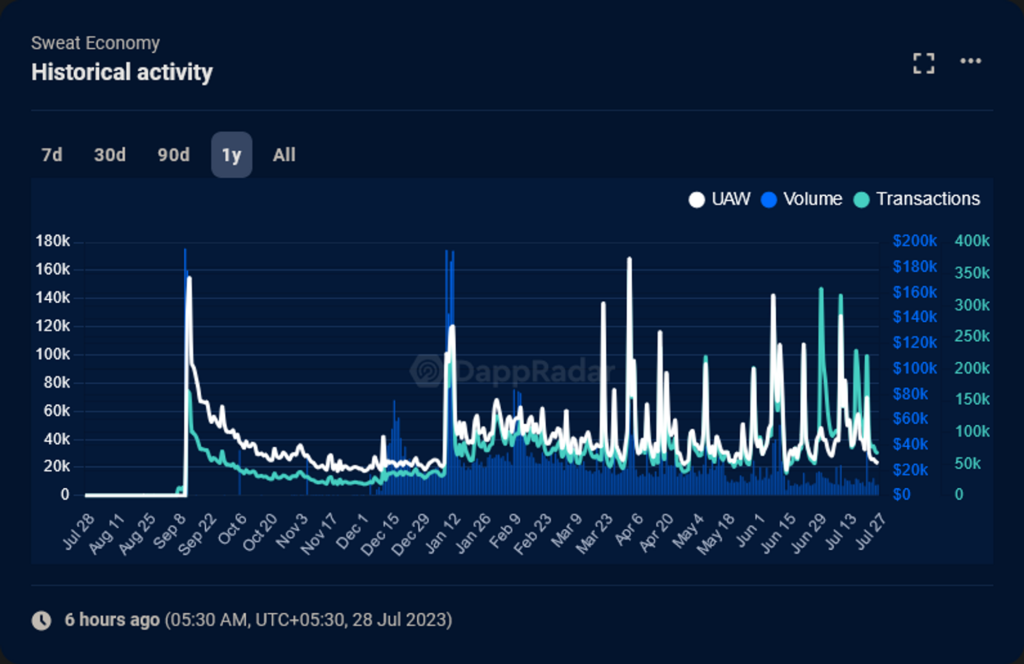 Upon analyzing the data, it becomes evident that Sweat Wallet has managed to attract a substantial audience and retain its users effectively. Over the last 30 days, more than 712,000 users engaged with Sweat Wallet, participating in over 3.95 million transactions.
Moreover, around 355K users participated in the recent Sweat Economy governance vote, making it the largest governance vote to date! These statistics indicate a strong and active user base, showcasing the platform's popularity and the value it provides to its users.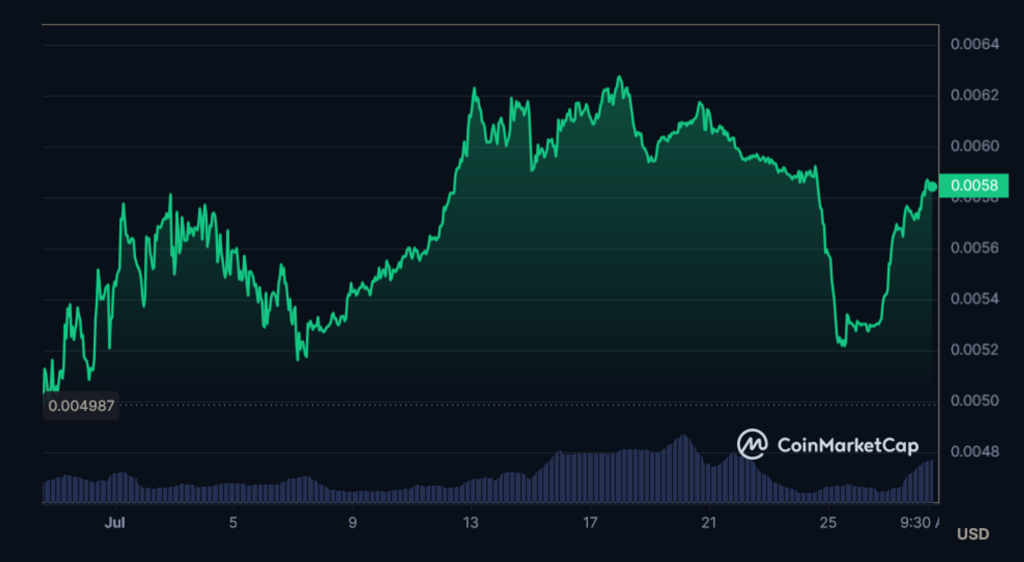 The Sweat Economy operates straightforwardly – you move, you earn. While this concept is no secret, what distinguishes Sweat Economy from other applications like STEPN?
How Is Sweat Economy Unique From Other M2E Projects?
Sweat Economy stands out as a distinctive move-to-earn dapp for several compelling reasons:
Free to Use: Users can join without initial capital or paywalls hindering entry. This inclusive approach prioritizes accessibility and allows anyone to participate without financial barriers.
Web2 to Web3 Transition: Sweat Economy started as a web2 application but has successfully transitioned its user base to web3. Doing so has introduced countless casual users to web3 without requiring any prior crypto knowledge. This smooth onboarding process contributes to its mass adoption.
User-Friendly and Casual: Sweatcoin is user-friendly and appealing to individuals with varying levels of technical expertise. You don't need to be a crypto expert to use the app.
Sweat Economy's uniqueness lies not only in its free usage model but also in its strong mission-focused approach. The platform prioritizes growth over immediate profits, striving to reach a target of 50 million casual walkers who check the app at least once daily. By encouraging daily engagement, Sweat Economy ensures a vibrant and active user community.
Furthermore, in addition to earning token rewards, users are motivated by attractive vouchers from more than 300 global brands. This combination of token rewards and appealing brand incentives adds to the overall appeal and motivates users to stay active and engaged with the platform.
A Sustainable Business Model
SweatCoin, having survived nearly a decade without digital assets like NFTs or on-chain reward tokens, developed a sustainable Web2 business model to capture millions of users. They monetized their engaged user base through in-app advertising and sponsorships, attracting fitness brands eager to offer discounts to fitness-oriented users.
This approach allowed SweatCoin to build a robust and lasting business model distinct from the crypto-native M2E apps. Now, as they transition to Web3, Sweat Economy retains its foundation while incorporating on-chain digital assets.
To ensure long-term success and sustainability, the Sweat Economy team has implemented vital measures:
The Sweat Foundation has no equity, and the team's incentives are tied solely to the success of the SWEAT token. This alignment ensures the team focuses on serving the community of $SWEAT holders.
Team tokens are subject to a 12-month cliff followed by a 36-month linear unlock, ensuring a steady release of tokens over 48 months.
Many team members have dedicated several years to developing Sweatcoin, further solidifying their commitment to its success.
For Sweat Economy to remain sustainable and support user rewards or counteract SWEAT's inflationary impact, it must generate revenue. The company achieves this through various means:
B2B Revenue: Sweat Economy collaborates with companies, allowing them to access and promote their products and services to Sweatcoin users in exchange for payment.
B2C Revenue: Within the Sweat Wallet app, users incur transaction fees using features like fiat on-ramp, off-ramp, crypto-crypto exchange, NFT purchases, and more.
This revenue's significance lies in backing the value that Sweat Economy promises to pay its users. Without a revenue stream, relying solely on emission-based rewards would be unsustainable, leading to the past failure of many other M2E projects.
According to estimates by Growjo, SweatCoin generates an annual revenue of $26.7 million through its advertising and sponsorship business model. By providing real-life utility for the reward token, such as offering discounts on products and services that align with the community's interests, Sweat Economy paves the way for sustainable long-term growth and success for move-to-earn applications.
This approach ensures that value is derived from tangible sources, making it a viable path to maintain the ecosystem's financial stability and user incentives.
A Sustainable Economy
The major challenge for Sweat Economy was ensuring that the $SWEAT value accurately represents movement. They tackled the concern of potential token dilution by implementing unique and sustainable "tokenomics" with various utility features.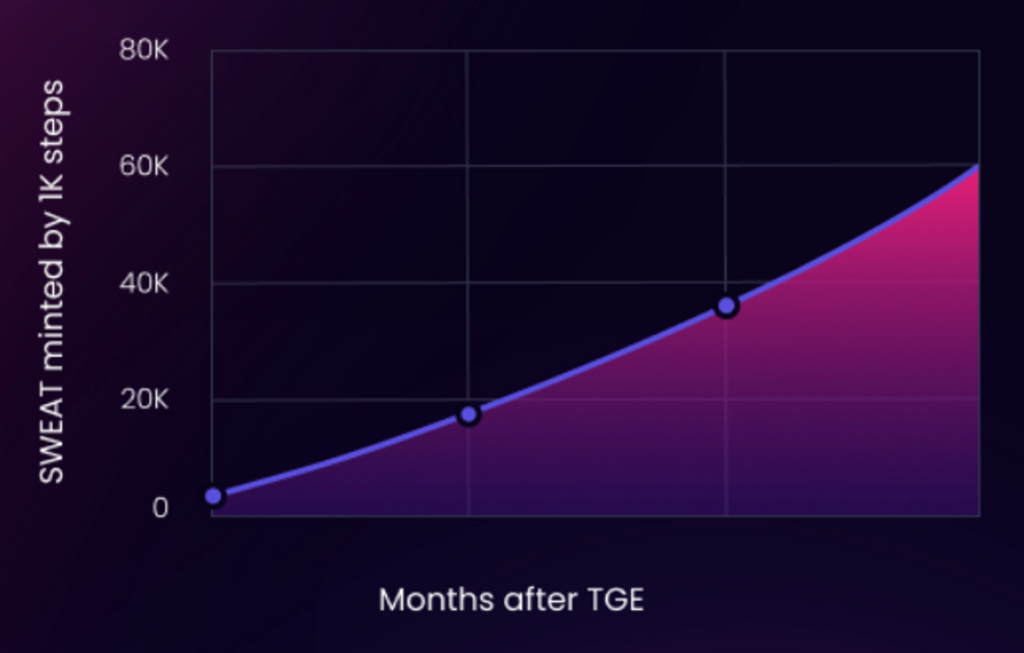 Firstly, $SWEAT is anti-inflationary, meaning its inflation rate decreases over time. As more users join the Sweat Wallet, earning each SWEAT coin becomes progressively more difficult.
Furthermore, Sweat Economy's treasury commits to utilizing at least 50% of its profits from Web2 revenue streams to buy SWEAT tokens from the open market. The platform either burns, reduce the supply, or distributes these tokens as staking rewards – based on the democratic decisions of the decentralized Sweat Economy community. It helps to maintain a relatively constant number of tokens in circulation, even as more users earn $SWEAT.
$SWEAT offers various utilities that encourage users to utilize their rewards effectively. Users can deposit their earnings into "growth jars" to receive attractive returns.
Additionally, they can win prizes, such as iPhones, fitness gear, or even a Tesla Model 3, while staking their rewards. Alternatively, users can swap their earnings on third-party crypto exchanges for Bitcoin or other cryptocurrencies.
By holding onto their rewards, users gain influence within the Sweat Economy community, empowering them to participate in key decisions, including token burning. This user-driven approach ensures long-term sustainability and value generation for movement within the platform.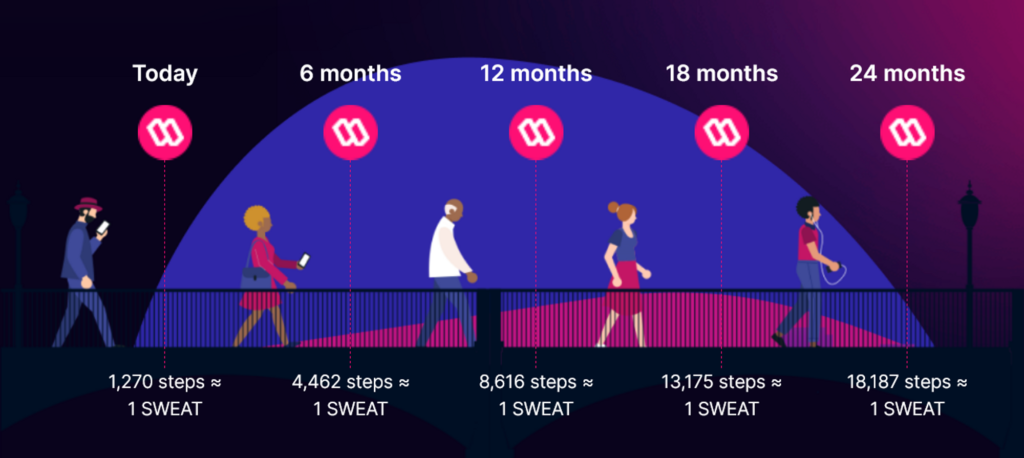 As the minting difficulty consistently increases, physical activity continues to be rewarded even in 20 years while the inflation rate approaches zero. With burn mechanisms and other deflationary aspects, the token economics design becomes inherently deflationary.
Major tokenomics update 🚨

The "Minting Pause" update is rolling out over the next few weeks 📲

In short, users who have been inactive for over 60 days will no longer mint $SWEAT in the background ❌

Read more in our blog post 👇https://t.co/ODaPUigAk3

— Sweat Еconomy 💧 (@SweatEconomy) May 31, 2023
These combined mechanisms create a positive flywheel effect, consistently drawing value back to SWEAT and benefiting Sweat Economy users sustainably.
Empowering the Community
In a groundbreaking move, Sweat Economy entrusted the fate of 2 billion dormant SWEAT tokens to its community through a governance vote on the Sweat Wallet application.
These tokens, valued at approximately $10 million, had been locked up in inactive user accounts since a token airdrop event in September 2022. Accounting for around 13% of the total supply, they were bound by a 24-month contract due to many users yet to activate the Sweat Wallet app and claim their tokens, despite reminders.
Major tokenomics update 🚨

The "Minting Pause" update is rolling out over the next few weeks 📲

In short, users who have been inactive for over 60 days will no longer mint $SWEAT in the background ❌

Read more in our blog post 👇https://t.co/ODaPUigAk3

— Sweat Еconomy 💧 (@SweatEconomy) May 31, 2023
355K Sweat Economy users participated in a DAO voting process to determine the future of these locked SWEAT tokens, making it the biggest governance vote to date.
Voters had two options: recover and transfer the 2 billion idle tokens back to the Sweat Treasury for potential future distribution, or leave them unrecovered in their respective inactive accounts.
During the voting period from June 7 to 14, over 355,000 users cast their votes, with an overwhelming 83% supporting the reclamation of idle tokens. Consequently, Sweat Economy will transfer an estimated 2.4 billion tokens from the lockup contract to its governance treasury contract.
You heard about our upcoming U.S. Launch 🚀

But did you know, we're launching in 8 other countries too? 🌎

Get ready.

The #SweatWallet app is expanding 💥 pic.twitter.com/MEGq7bzzZZ

— Sweat Еconomy 💧 (@SweatEconomy) July 25, 2023
The foundation intends to propose a new community vote to allocate the recovered tokens for the upcoming United States platform launch, scheduled for September 2023.
The significance of this governance vote lies in the substantial number of SWEAT tokens at stake and Sweat Economy's commitment to community-centered decision-making, following a "one-tokenholder-equals-one-vote" rule. The platform ensures that it listens to every voice, regardless of how many $SWEAT individuals hold.
Recently Launched 'Sweat Hero' NFT Game
Sweat Economy has embraced an inclusive approach, unlike other platforms in the M2E market. Instead of relying on costly NFT purchases through a paywall, the platform embraces an open-to-all philosophy, utilizing in-app promotions.
Initially, users could download the SweatCoin app, which rewarded physical activities with small amounts of $SWEAT. Now, Sweat Economy has elevated this concept by introducing the innovative 'Sweat Hero' gaming experience featuring dynamic NFTs.
#SweatHero –a recap!

✅Sustainable Tokenomics

✅Free Legs NFT

✅Strong Development

1/3 🧵 pic.twitter.com/WqxVGj8tMF

— Sweat Еconomy 💧 (@SweatEconomy) July 13, 2023
Sweat Hero offers a free-to-play platform, unlike pay-to-play Web 3 games, enabling millions of users to engage with and own free NFTs. Every Sweat Wallet user receives a free "Legs NFT" to start the game and a complimentary $SWEAT token upon completing the tutorial.
Players can then exchange their $SWEAT token for 1,000 Battle Coins, the minimum wager for game battles. These dynamic NFTs evolve based on users' gameplay progression, physical activities, and engagement within the Sweat Wallet app.
The game encourages physical activity, rewarding users with more 'NFT power' as they walk more. It aligns with Sweat Economy's goal of promoting global health by encouraging physical activity among players.
In the future, Sweat Economy plans to enhance its NFT game by introducing additional Arenas that players can level up to increase their earning potential. Furthermore, it will launch a dynamic NFT evolvement framework, focusing on users' gameplay, daily activities, and engagement within the Sweat Wallet app.
Recently, Sweat Economy appointed a Chief Walking Officer (CWO) specifically designed for a regular Sweat user. The platform rewards CWO with an annual salary of $24,000 for accomplishing the goal of walking 5,000 steps daily.
Commitment To Positive Impact On The Real World
Sweat Economy's vision extends well beyond technology, encompassing product development, user growth, and partnerships and a strong focus on fostering a community that makes positive real-world impacts.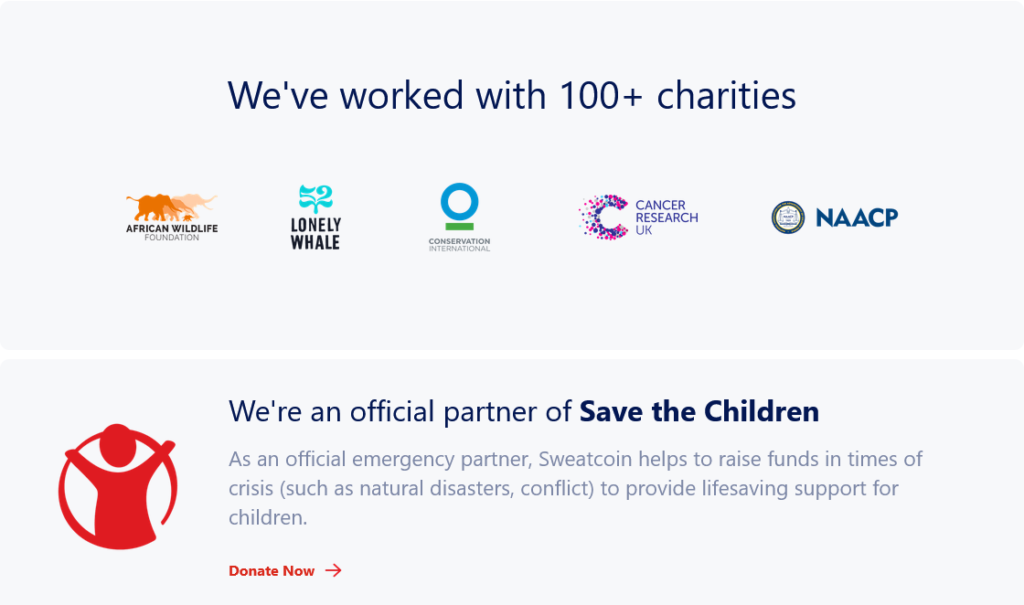 One such initiative is "Sweatcoin for Good," dedicated to supporting charitable causes, ranging from children's mental health to building wells in Guinea and more. Over time, Sweat Economy has established partnerships with over 100 charitable organizations, including Lonely Whale, Cancer Research, and African Wildlife.
A particularly significant partnership is with Save the Children International (SCI), a renowned international NGO dedicated to promoting children's rights and providing aid and support to children in developing countries. As an official partner of Save the Children, Sweat Economy actively contributes to its noble cause.
Users can participate in these charity campaigns by donating their SWEAT tokens, allowing them to contribute to meaningful causes and make a positive difference in the world. Through these efforts, Sweat Economy fosters a community that benefits from the platform's rewards and actively contributes to making the world a better place.
Conclusion
With the post-pandemic shift towards fitness and healthy lifestyles, Sweatcoin has strategically entered the web3 space opportunely. The Move-to-Earn concept holds immense potential for driving mass adoption of Web3 applications and dapps. As blockchain gains popularity, the convergence of fitness and blockchain presents an ideal use case.
Sweat Economy's success in designing a sustainable game economy and ecosystem is built on its experience creating a Web2 value loop. Their ability to learn and adapt to a decentralized and open economic landscape will be crucial for continued growth. Moreover, the availability of sweat tokens on exchanges like Gate.io and KuCoin, coupled with a sleek app, a large user base, and an active health community, positions Sweat Economy as a promising project in the near term. Additionally, the project is on track to introduce more features and progress according to its roadmap, signaling its strong momentum and continued growth.