The Forge is coming, and we all have some decisions to make. In case you've been living under a rock, Goatz is an NFT project that launched a few weeks back with the promise of an innovative feature that we have yet to see come to life – the Forge.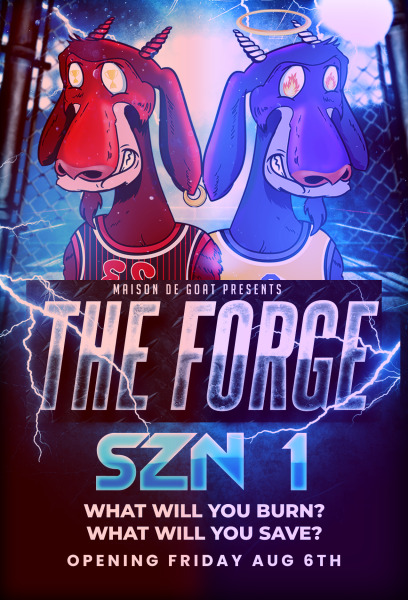 Most NFT profile picture projects give you some art and call it a day. If you're lucky, they airdrop you a companion like the adorable Bored Ape Kennel Club dogs. And, while some NFT projects have breeding, we have yet to see anything quite like the Forge.
So, what's The Forge?
The Forge will give holders of Goatz the ability to combine two Goatz NFTs and choose the features of each one to make one super Goat. For example, I have one Goat with a firefighter jacket and one goat with a firefighter hat. I plan to forge them to make a full firefighter Goat to honor my late grandfather who was a firefighter in New York City. You choose features like horns, background, fur, etc. to make your ultimate Goat. Additionally, when you forge your Goat, you receive a house in Goatzville, an area owned by Goatz in the Sandbox.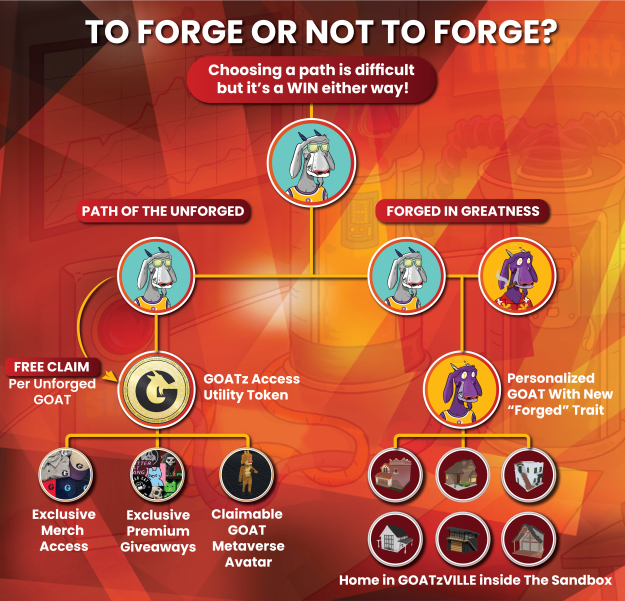 Once your put your Goatz together, the original two Goatz are burned. Your two become one, and just like that, supply has decreased. With that, the Forge lets people make Goatz with ideal ascetics and creates scarcity in the project.
So…everyone will Forge, right? Not so fast…
The possibilities for forging are endless, but it all comes with a catch. The project founders always said they wanted to make it a tough decision to Forge, and after some thinking, they came up with a way to do it. As mentioned above, if you forge your Goatz, you get a Sandbox House, and of course, your shiny new Goat you made yourself. However, people who choose to keep the original Goatz NFT will receive a Goatz Access Utility Token. Besides looking freaking sweet, the token will grant access to exclusive merchandise, premium giveaways, and a claimable Goatz Metaverse avatar.
If I have 2 GOATz, what's the right decision – Forge or nah?
As usual, I want to disclose my holdings, and I have eight Goatz at the time of this article. My current plan is to forge at least half of them, but I have a couple I really like that I want to keep OG (Original Goatz, of course). I planned to do that before we had to make this tough decision, because I have a couple OGs I'm vibing with.
For those with just two Goatz, my general lean would be toward the Forge. That Sandbox house is super appealing, especially if you don't own any Sandbox land, because it gives you a place to call your own. Plus, the founders have said that the house travels with the OG in the aftermarket, which gives an extra resale bump to Goatz who came from the Forge. That, along with the ability to pick ideal ascetics, make me feel like there's a good chance Forge Goatz carry more value than most OGs.
I wish y'all luck as you make the best decision for yourself. Regardless of what you decide, it's pretty cool we all get to be a part of NFT history with this new innovative feature. 
Disclaimer: This article is not financial advice. The NFT and Cryptocurrency markets are very volatile. Please don't invest what you can't afford to lose. Always do your own research before investing.