Open Edition NFTs are the talk of the town lately. After all, they have already raked in millions of dollars and we find ourselves asking how long will this meta last?
Depending on who you ask different answers are tabled. While some firmly believe that Open Editions (OEs), especially 1-of-1s, diminish the value of an NFT, others believe they enhance engagement in the NFT ecosystem, bolstering fans' ability to buy an artist's work and expanding the community.
The NFT market used to thrive under the notion "the rarer, the better." From limited-edition pieces to 1:1 unique collectibles, speculators were on the prowl for these priceless pieces.
However, Open Edition NFTs may change the landscape in 2023. But before we get into details, let's answer the crucial question first.
What are Open Edition NFTs?
To start, OEs are NFTs with unlimited minting. In other words, you can mint Open Edition NFTs as many times as you desire.
There are now two categories of OE drops:
Timed – The minting will close after a time frame set by the creator, beyond which minting more NFTs is impossible.
Infinite – The minting will be open forever, and users can create more NFTs indefinitely.
What is all the hype?
Although the open edition drop method is not new to NFT, the recent volume of OEs is unprecedented.
One of the first artists to experiment with the Open Edition was Beeple. A prime example is the Beeple Redux Open Edition sold on Nifty Gateway. With each priced at $969, the collection was an OE. The artist had to create the equivalent number of physical pieces as part of the utility depending on the number purchased during the allotted five-minute window.
FACES by 3LAU was one of the earliest and most successful, with 4,934 editions minted. OPERATION: MELT FACES encouraged collectors to burn one or more of their FACES NFTs in exchange for a new, rarer NFT to boost rarity.
Recently numerous artists, including Terrell Jones, Lucréce, and Marcel Deneuve, have jumped on the OE bandwagon, raking in millions. These artists started experimenting with open editions in 2022, while minting infrastructure grew thanks to platforms like Manifold and Zora.
Such experimenters include Grant Riven Yun and Isaac "Drift" Wright, an NFT photographer who released First Day Out as a 24-hour open edition in April 2022 to commemorate his release from prison a year earlier.
This drop ignited a controversy regarding the utility of the NFT market and whether or not artist works—OE, 1-of-1, or limited editions—need more value or use for collectors. It also prompted some to speculate about how such drops would affect the cost of unique works by a renowned artist.
Recently, Alex Ness, also known by the handle NessGraphics, released his Open-Edition NFT piece titled "The Money Printer Goes BRRRRRR" and raised 1404 ETH, or almost $2.2 million.
Why the hype?
This surge in prominence can be partly due to two factors:
The experimentation with open editions by well-known artists during 2022
The spread of platforms like Manifold and Zora that make it easy for everyone to create and NFTs.
A growing number of platforms, like Manifold and Zora, enable artists who lack the technical skills or capacity to launch their NFT collections. Thus, more artists enter the NFT market as these platforms accommodate artists without coding skills to mint their digital works as NFTs.
NFT collectors are looking for the "golden goose" that will let them make a sizable profit from their mints, as the mint prices for these open edition collections are often on the lower end of the spectrum.
What does it mean for NFT creators?
Some artists are concerned by Open Editions' unforeseen consequences. Nonetheless, there are some definite perks of offering OEs. They are:
1. A fresh stream of revenue – Creators will have the opportunity to earn more money as they go toward Open Edition collections. It is a novel economic strategy for most artists, whether they are brand-new to the digital art market or those who have done custom 1/1 work and decided to launch their digital art pieces to gauge demand.
An example is Lucrece, who released an open edition of "Defy" and sold over 8,000 mints (+$800,000) simply from the initial sales. The artist then followed up with the burning game titled proceed w/ caution soon after a profitable auction at Sotheby's, where all pieces sold for more than anticipated.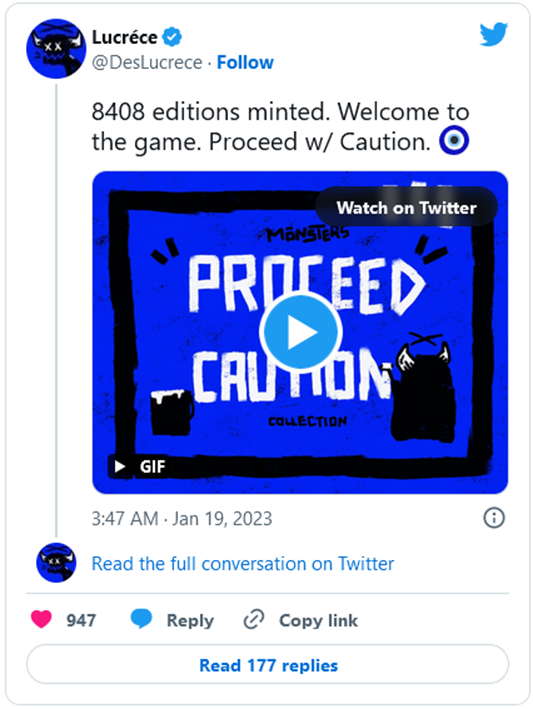 2. Sustain and expand the community– Open Editions make it possible to produce NFTs that are more reasonably priced and available to a wider audience. In addition to assisting artists in reaching a larger audience, this also encourages collectors to begin appreciating art seriously.
Launching an OEs can be an insightful marketing strategy because it enables the artist to appeal to
Current followers who are ardent supporters of their work and want to own it
As well as new audiences that have never come across their artwork before or could not purchase due to financial or scarcity
The rise in the number of unique minters over the past several months on Manifold is a testimony of this.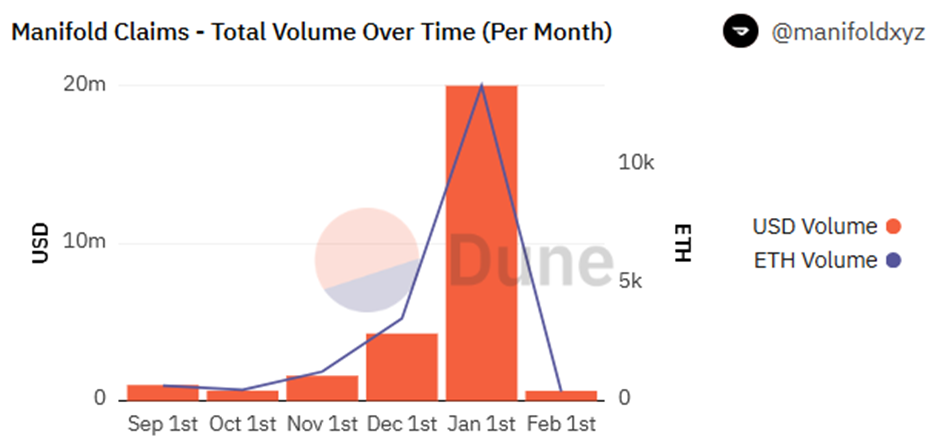 3. Furthermore, it can serve as an excellent test platform to determine how well-received a particular art style is among the general public, allowing new artists to develop their online communities and publish their digital artworks without fear of criticism.
As many have noted, supply and art value are not new concepts. Because NFTs make it possible for artists to interact with collectors in fresh ways, this age-old argument in conventional art has assimilated to Web 3.
It's up to the artists to decide how to respond, but hailing Open Editions as a panacea for the bull market or deriding them as a dilution force for collectors are both shortsighted views of change in a field predicated on creativity.
Why should we care?
With Open Edition NFTs, people's perceptions of NFTs as investment instrument is shifting. Holders of open edition NFTs are aware that the supply may end up being more than usual.
Generally, limited drops NFTs command higher values because supply and demand are clearly correlated. So, it is logical to assume that with OEs, people will manage their price expectations as they know they will not immediately receive a significant return.
As more followers of the artists enter the NFT space wanting to support their favorite artists, they are more likely to be content with owning their artwork digitally and not expect any profits.
Undoubtedly, Open Edition NFTs will perform wonders in art preservation and make it more widely available to the masses.
But it's crucial to remember that Open Edition NFTs are not for everyone (both artists and holders alike). The concept is still very new, and the space is still attempting to push the limits of what it means to have a collection of that nature.
Can Open Editions be valuable?
Since the structure of Open Editions is to meet the demand for the asset in the primary market, OEs are typically less valuable or distinguished than limited editions. Contrarily, edition limits mean that fewer editions will be issued than there is a demand for, maintaining the piece's high costs owing to the battle for ownership.
However, Open Editions can still become valuable in scenarios like:
Following the Open Edition release, the artist becomes more well-known, which increases demand for their earlier pieces.
The OEs automatically become rare if only a limited handful of open editions are minted.
The creator adds perks and benefits to the OEs.
Buring existing pieces in the OEs creates scarcity.
Where to mint?
From novices to seasoned NFT developers, anyone can mint an Open Edition NFT drop. Since Q4 of last year, platforms like Manifold and Zora have improved their NFT drop system, allowing new users to experience OE NFT functionalities.
To mint your own Open Edition NFTs, go to these websites and follow the on-screen guidelines. It's that simple!
Manifold's launch of Paid Claim Pages in October 2022 had the most influence on the OE movement to date.
While Claim Pages allowed artists to put up pages for free mint drops, Paid Claim Pages, an expansion of its Claim Pages capability, let users build a drop page for limited and open editions for ERC-721 and ERC-1155 tokens.
The outcome?
According to Dune's analytics dashboard, over 18,300 claims have been created by close to 7,000 Manifold users, generating close to 19,500 ETH ($28 million) in total primary sales volume.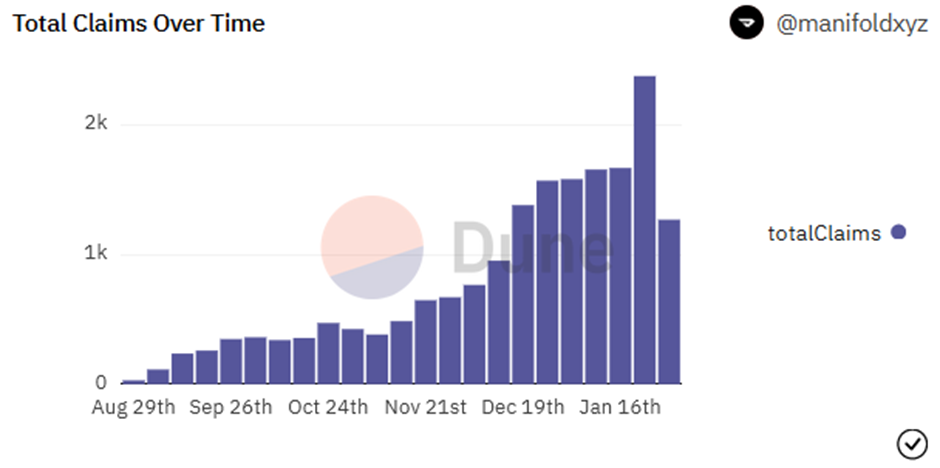 Another NFT marketplace protocol that has contributed significantly to the OE frenzy, along with Manifold, is Zora. Zora was the platform Jack Butcher chose to introduce his now-famous NFT project Checks VV.
Since the Creator Toolkit's launch in May 2022 and the provision of users with a no-code-required mechanism to mint and drop NFT collections, nearly 242,000 unique wallet addresses have minted an edition of some type, either fixed-sized or open edition.
The bulk of the more than 8,500 contracts deployed on the platform so far has been for fixed-size edition drops, but this ratio is quickly starting to change.
According to Zora's Dune analytics dashboard, more than half of the 1,665 ETH total primary sales volume that Zora's Creator Toolkit has produced since its launch (combined with more than 20,900 ETH in secondary sales) may be attributed to OE drops.
It's evident that the open edition has reached a turning point when you combine it with a noticeable statistical shift in the type of collection users are building on the platform beginning in January of this year.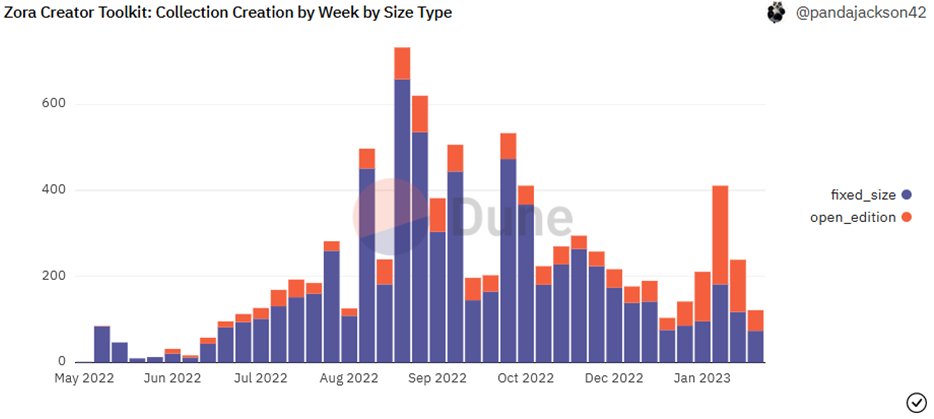 Conclusion
As Open Editions become a dynamic element within the ever-evolving ecosystem of NFTs, artists should keep a cautious eye out for any potential long-term implications it may have but daring to use them. The fact that the space is experimenting with OEs is healthy and advantageous.
Even though it's up to the artists to figure out how to use OEs, it's a short-sighted way to look at change in an industry based on innovation by either praising OEs as a cure-all for the current bear market or making fun of them as a way to throw collectors off their game.
There is an art to suit all tastes and financial capacities. So, while 1/1 art is rare, there is something to be said for the perks of being a part of an NFT group where the members have similar tastes in art. After all, it was what led to BAYC's success.
Today's society, in the words of writer Oscar Wilde, "knows the price of everything and the value of nothing."