The Memory Police | Why Defi Truly Matters
The Memory Police was my favourite read during the pandemic. Quarantined indoors for the better part of 18 months, I have no doubt we have all indulged in greater volumes of creature comforts, such as science fiction novels, to escape from the trials and anxieties of everyday life.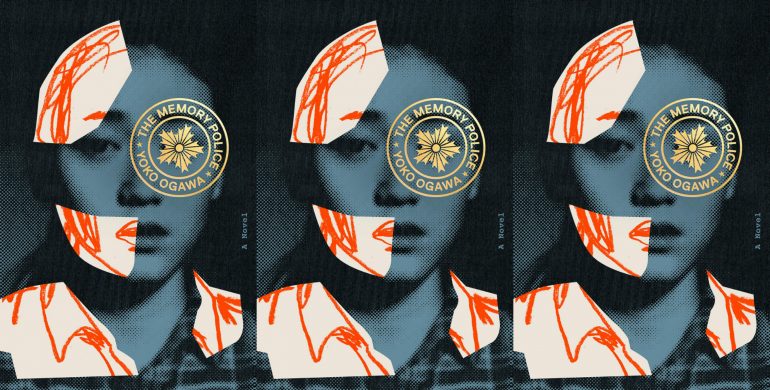 Yōko Ogawa's dystopian tale, The Memory Police, transports the reader to an unnamed island under authoritarian rule, where inhabitants are subjugated into a slow yet unrelenting march toward the loss of memory of objects, concepts, and eventually their own body parts. What struck me the most is the inevitability of the inhabitants' abdication of their rights, their cherished items and memories.
How could the characters so passively submit to the titular enforcers who outlawed and destroyed forbidden items with impunity and without reason? It seemed that with the epidemic of memory loss, the idea of endings had also disappeared—so much had been taken away that existential dread was no longer a plausible emotion. Ogawa's work depicts an allegory of collective, societal degradation, resulting from the willful blindness of the masses.
This New Yorker review posits my feelings perfectly on societal cognitive dissonance: "statelessness and slavery and fascism may be complex, but, if we fail to fully see them, this is at least partly because we have chosen to look away".[1]
—
In June 2021, the Hong Kong police arrested executives and froze assets of companies linked to a high-profile democracy news outlet, Apple Daily.[2] Activists turned to decentralized file storage platform Arweave, to archive and preserve indefinitely thousands of journalist entries from the Apple Daily. Arweave is a blockchain software that stores files permanently across a distributed network of computers, with the stated mission of allowing us to "never forget", to "remember and preserve […] history indefinitely", and to "prevent others from rewriting it".[3]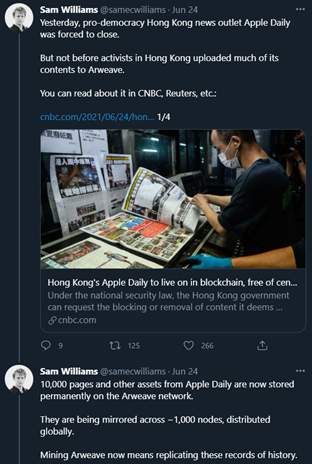 Make no mistake—this is not intended to be a pointed criticism at one regime or another. Just last week I wrote about the American government memory-wiping the atrocities of the Black Wall Street Massacre, which was only brought to the attention of the masses thanks to the critically acclaimed limited series HBO's Watchmen.
Rather, my point is that through a curious combination of (a) a government's inclination to not hold itself accountable for past transgressions; (b) the rapid narrowing of the human attention span[4]; and (c) the general passage of time, the repression, omission, and alteration of history feels inevitable.
We become enraptured by our personal goals and issues. We seek to block out the tragedy or drama of the day, exhausted and hyper-anxious thanks to a boundless stream of sensationalized news. Like most of the island's inhabitants in Ogawa's The Memory Police, we choose cognitive dissonance to preserve our own mental wellbeing.
The application of the blockchain technology to protect journalistic integrity, as seen in Arweave's preservation of Hong Kong's pro-democracy reporter archives, is a welcome sign for those of us who are bullish on defi and NFTs.
Being able to thrive and work independently without interference from state or foreign actors is something that only authenticating and distributing information over the blockchain can do. The tenets of transparency, authenticity and secured storage can do so much to protect decentralized content creation, to shield individuals from oppressive reprisals and to differentiate between real and fake news propagated on social media.
This application matters too, because until now, the mainstream perception of the blockchain has been overwhelmingly negative and skeptical. In 2021 there has been a litany of headlines written attributing the rise of NFTs to climate change. While Ethereum transactions are undeniably energy intensive, I would argue it is a false narrative to point the finger at the blockchain as the culprit for global warming rather than the mass deforestation[5] ordered by governments or the proliferation of private airfare[6] used by the ultra-wealthy.
The rising popularity of the Decentralized Autonomous Organization (DAO) as an investment vehicle in cryptocurrency has led, rightfully so, to questions as to who is ultimately "responsible if something goes wrong?"[7]
The next time your family, friend, or a stranger you meet at a social gathering presents misgivings about the blockchain, I urge you to share the story of Arweave in Hong Kong. Defi—as much as the mainstream headlines are about jpegs and shitcoins—truly matters when it comes to preserving human and journalistic integrity, creating an equalization factor for the individual to access finance, resources and authenticated data against the reality of increasing wealth disparity, censorship, and gatekeeping of knowledge.
—
The War on Drugs' Under the Pressure is a track I always seek out when I feel anxious. The track is technically superb – a whirling dervish of saxophone swells and guitar solo flourishes, accompanied by the steady backdrop of drumbeats, piano pulses and dreamy reverbs.
More than that, the track builds so organically and so effortlessly, layering instrument and hook over one another time and again. As the track surges forward, it seems as if it may buckle under the its own weight. But it refuses to do so until its explosive conclusion – delivering utter catharsis denoted by Adam Granduciel's whoops.
Granduciel's eight-minute masterpiece starts with prescient lyricism:
" Well, the comedown here was easy
Like the arrival of a new day
But a dream like this gets wasted
Without you
Under the pressure"
Sometimes the walk of life is overwhelming, and in its extremes, you can feel completely alone. On our worst days, we may feel weighed down by our very existence. We may feel too exhausted to care about anything other than ourselves. And yet, under extreme pressure, the human will perseveres. We thrive as a decentralized collective of individuals, uplifting one another against the grandest of challenges.
Stories like Arweave's preservation of information and history lift my heart. It lights the path forward for an altruistic (and profitable) view of the blockchain and its role in society. It exemplifies the uncommon, admirable feats that are made possible through the bravery and organization of individuals around the world, using a decentralized platform, to protect the integrity of journalism.
So my message to you this week is a rallying cry—although we are in the early stages of true acceptance of decentralized finance and NFTs, let us not lose sight of the value that these technologies can have on unifying the human collective, on choosing not to look away, but instead choosing to remember.
What are other ways that defi and the blockchain have done good in the world? Let me know, and as always, thanks for reading.
---
[1] The New Yorker. "How "The Memory Police" Makes You See" https://www.newyorker.com/books/under-review/how-the-memory-police-makes-you-see
[2] New York Times. "Hong Kong Cracks Down on a Pro-Democracy Newspaper". https://www.nytimes.com/2021/06/16/world/asia/hong-kong-apple-daily.html
[3] Arweave website. https://www.arweave.org/#arweave-intro
[4] The Guardian. "Global attention span is narrowing and trends don't last as long, study reveals" https://www.theguardian.com/society/2019/apr/16/got-a-minute-global-attention-span-is-narrowing-study-reveals
[5] BBC News. "Brazil's Amazon: Deforestation surges to 12-year high." https://www.bbc.com/news/world-latin-america-55130304
[6] European Transport & Environment Group. "Rising use of private jets sends CO2 emissions soaring" https://www.transportenvironment.org/press/rising-use-private-jets-sends-co2-emissions-soaring
[7] MIT Technology Review. "Why it's time to start talking about blockchain ethics" https://www.technologyreview.com/2019/10/10/132652/why-its-time-to-start-talking-about-blockchain-ethics/