The TENFT Commandments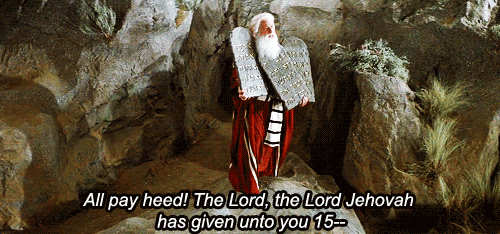 Passing my 1-year anniversary in the NFT space, I felt it important to come up with a few rules that I try to abide by. Why? Without an idea of what I am doing, how I am doing it and how I go about it, I am more likely going to make big mistakes that will cost me.
By following a simple enough framework to start with, I can, hopefully, avoid the big error, capitalize on good opportunities and be a better, more supportive builder in the Web3 community.
So, in no particular order, here are my TENFT Commandments:
Thou Shalt Shill Thy Holdings – IRL you are your own biggest cheerleader and in the metaverse, it should remain the same. Shill your projects till your hearts content my friends
Thou Shalt Not FUD Others Holdings – It is the age-old expression, "if you don't have anything nice to say, don't say anything at all." Why beat down others in the space? We really are in this ride together right now and the more we can build versus tear down, the more success that many of us in early can and will have
Thou Shalt Not Pull Rugs – stay in the space for any amount of time and I can almost guarantee you will have been involved in a Rug Pull. Don't be the one pulling the rug and do your best to avoid and help others avoid these scams
Thou Shalt Have a Plan – When I started in this space, I tried to get in on anything I could. That of course lead to more failures than successes. Look through anyone's wallet who you think has made it and I promise they have just as many losers as they have winners. By having a plan of attack on what you buy, why you buy, when you would sell and why you would sell, you will come out much further ahead. Think of your portfolio as a building. You can not start at the top floor and work your way down; you must build from the ground up
Thou Shalt Not Covet– Probably the hardest thing to do in the space is see the successes of others and think, "why not me?" Well, everyone has a different journey that has led them to where they are. We must each walk our own path towards success in NFTs. Learn from people who have made great trades or been able to accumulate blue chips, but don't compare yourself to them
Thou Shalt Support Thy Neighbor – I believe in the community aspect of NFTs. As many have expressed, a positive and supportive community can help build a project. Support the projects you hold. Share tweets, share alpha. The returns will be immeasurable in the long run
Thou Must Protect This House – Many and more of us are sitting on tens of thousands and even greater sums of ETH value in NFTs. How many use a hardware wallet? Make sure you are doing all you need to ensure your assets are protected
Thou Shalt Build Relationships – Over the past year I have been incredibly fortunate to meet some amazing people in this space. People that I have been able to turn to for questions as I learn as much as I can. People that I continue to share dialogue with around projects we are invested in, not invested in, minting and so on. This does not have to be a lonely space at home on the computer. Find people you share a common bond with and gravitate towards those who you can help and will help you along your journey
Thou Shalt Not Overextend – Understand that anything and everything in this space can go to zero. You must be prepared to handle losses and know that anything you put in could be gone. It is imperative you understand your own financial situation prior to investing in NFTs to ensure you do not create a financial conundrum
Thou Shalt Not Click Random Links or Accept Discord DMs – These are pretty obvious, but we continue to see the scammers targeting these methods. If you are not 100% sure that the link is from a valid server or trusted project, then it is always better to be safe then sorry.
Check out my other articles here.