Yuga Labs is back with their next big event "The Trial of Jimmy The Monkey". Bored Ape Yacht Club is FINALLY doing something this time, it is a claim and interactive mint, after what seemed like a quiet second half of 2022.
We have the prologue to MD v MM.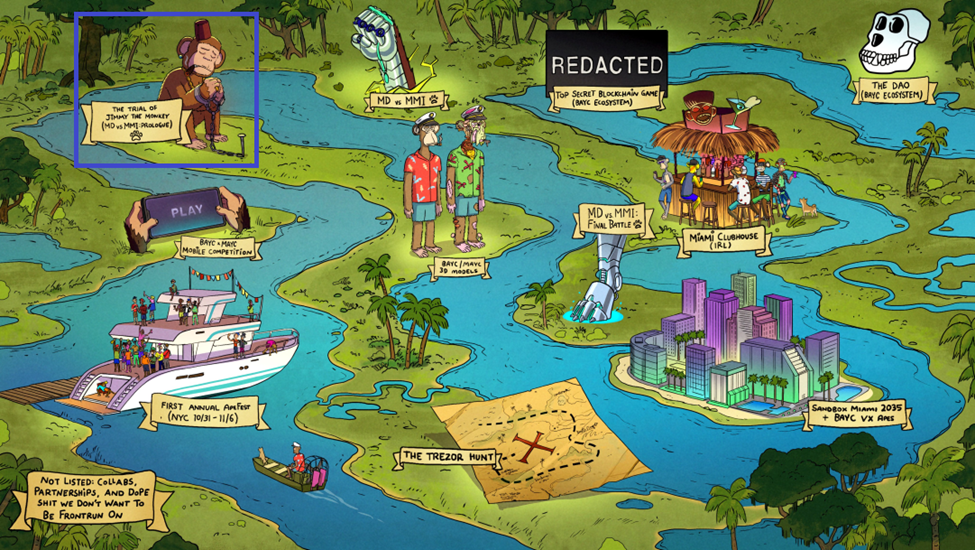 Overview:
There has been a TON of information shared thus far and more to come as we roll through the next phases of this interactive mint. Yuga Labs has been creating some extremely high quality content leading up to this experience with amazing videos and appealing visuals. That being said, this content is not for everybody, and I don't say that lightly.
This is a multi-month experience which will include claiming a sewer pass, an interactive game with a competitive leaderboard, leading up to a summoning where players will be rewarded based on their placement in the game.
Consolidated Timeline:
December 21st: The Trial of Jimmy
December 28th – The Past, Present, Future
January 11-17th – Prepare to Claim Your Sewer Pass
January 17th – Claim Your Sewer Pass (We Are Here)
January 19th – February 8th – Play Dookey Dash
February 8th – Sewer Closes
February 15 – The Summoning
The Story Continues
What have you missed so far?
The first video released on December 21st was one of the highest quality videos put out by an NFT project that I've seen to date. That being said, the storyline was questionable at best and makes me wonder how Bored Ape Yacht Club is going to ever be accepted by the mainstream.
It starts with Jimmy taking an atomic shit before a party at the Yacht Club, during the party Jimmy consumes a beverage which contains an extremely important key. Jimmy rushes to the outhouse to drop another dookie and the scene ends with the key stuck in his butthole.
Next we encountered The Great Dog Prophet who is super high and tells us a little bit more about the upcoming roadmap items. There is a lot to digest here, but it alludes to the upcoming mint experience, and the rewards for participants.
I believe it also is foreshadowing the future MD vs MM roadmap item which could be battle waged utilizing the items we get for participating in the Dookey Dash.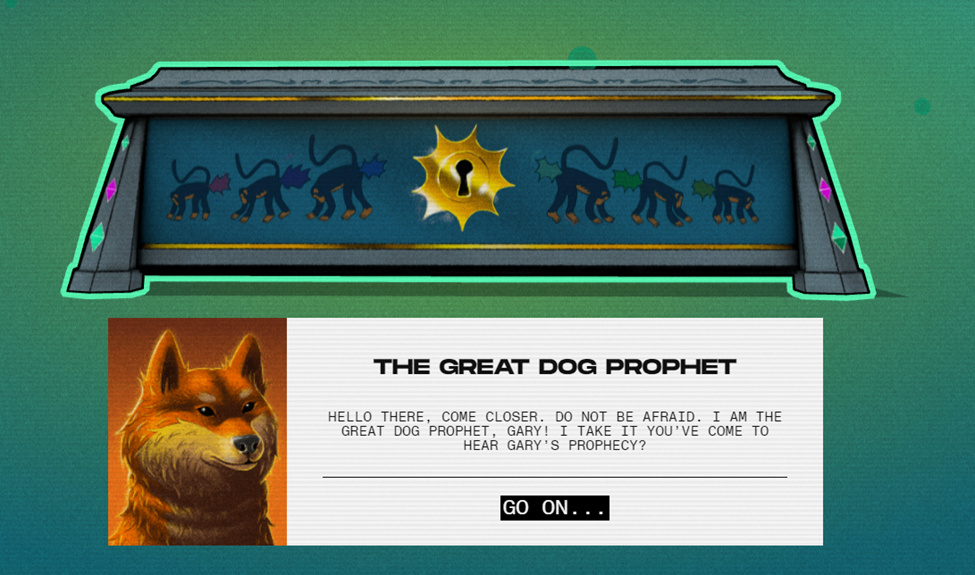 After the visit from the Dog Prophet we FINALLY got some solid information on what the upcoming game entails. Dookey Dash is a game which will require users to work their way through the sewer beneath the Yacht Club to get to the key.
Claim
The claim process is fairly straightforward. There are four tiers:
Tier 1: Mutant Ape
Tier 2: Mutant Ape & Bored Ape Kennel Club
Tier 3: Bored Ape
Tier 4: Bored Ape & Bored Ape Kennel Club
Each tier allows for bonuses to your score within Dookey Dash. This will almost certainly result in a Tier 4 being the grand prize winner, but also opens the door for more upside from a price perspective for Tier 1s. Keep in mind that the overall amount will likely be somewhere in the 25-30k range. 20k between Tier 1 & 2 and 10k between Tier 3 & 4.
Below is a screenshot of what I saw when claiming my Mutant's Sewer Pass. Yes, you read that correct "Welcome, ape", lest you forget, Mutants are Apes too.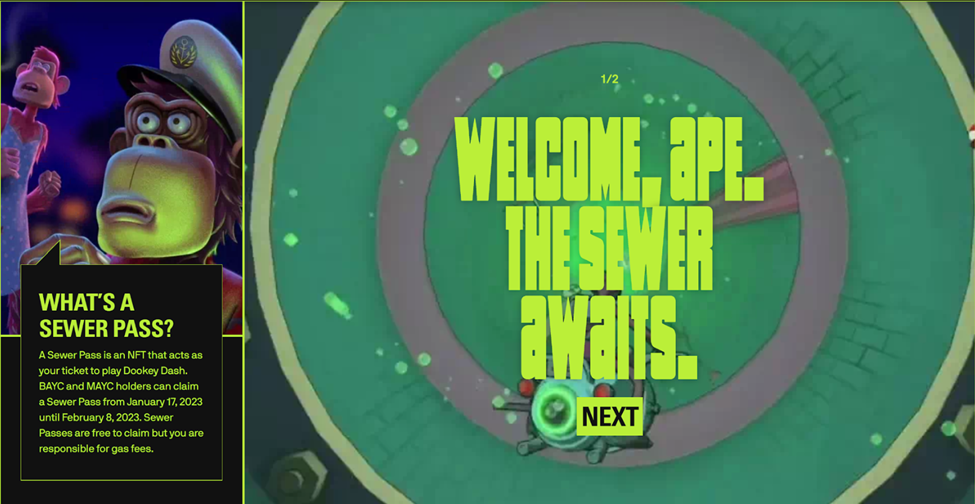 The market reacted as you would expect, with the Sewer Passes quickly jumping to the highest volume NFT on Opensea and also pushing us to a recent higher in daily eth volume transacted.
When converted to USD, we're looking at ~$13m in volume in the first 24 hours of trading. If you're wondering, yes I floored my pass at the local bottom of 1.2eth, but we're not going to talk about that.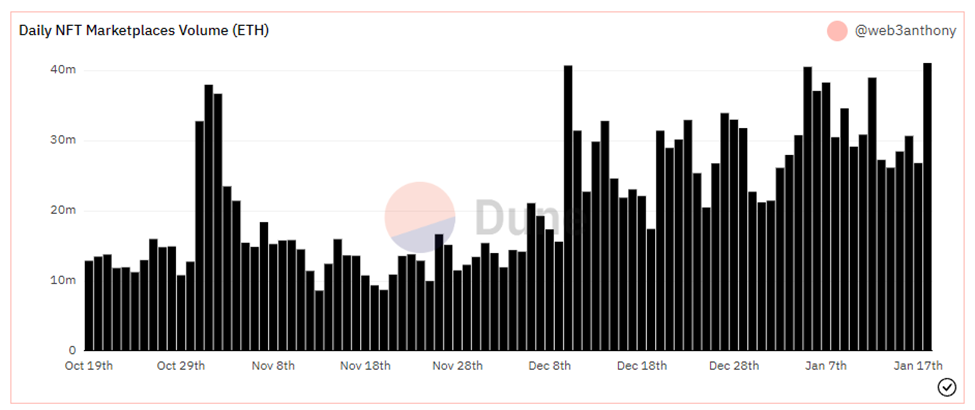 Trading prices started around 2eth for Tier 1s and quickly dipped to 1.5eth before bottoming out around the time that east coast paperhands got out of work. We saw them in the 1.1-1.2 range for a couple hours before claiming slowed going into the later portion of the night and volume not subsiding.
When I first checked there were close to 10% listed and as of this writing we're looking at closer to 5% and a floor of 1.5eth.
I suspect a lot of people are looking forward to the game which is causing a short supply crunch leading up to the start of Doo-Key Dash. My initial thought process was that the price would bottom out as more people understood Tier 1 passes and how competitive it would become in the lowest bracket, but before the game has come out those passes are still moving really well.
Interactive Mint / Game Play
Dookey Dash is a 3 week event spanning from January 19th – February 8th. Get your out of office messages prepared now.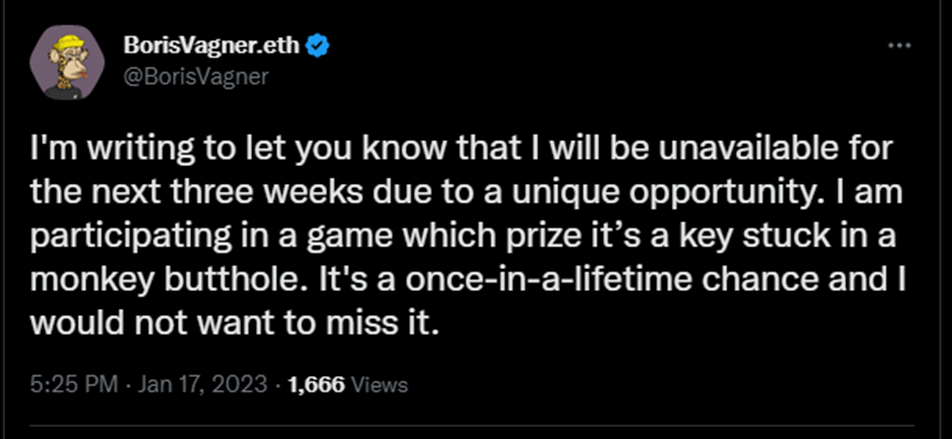 The gameplay looks a lot like Temple Run from the 2000s, you'll be an ape moving through the sewers trying to break stuff and collect artifacts. Your score is determined by how long you can survive in the sewers combined with your tier boost and what you accomplish along the way.
There is also an $APE component in which players can purchase boosters to their attempts for 2 $APE for 10 minutes of play. It's interesting to see how much this new $APE sink will be utilized, 2 $APE doesn't seem like a lot, but if there are people grinding like crazy I can see people potentially playing the most expensive video game of their lives.
Another interesting component that came out from Yuga is the endorsement of a few different "warm wallet" solutions for playing the game while using their ledgers. Many peoples' first thoughts were how they could use these solutions to leverage professional gamers to crush the leaderboard. There will be some stiff competition for first place!
FAQs: https://news.yuga.com/prepare-for-the-jtm-mint
What's Next?
The Sewer Passes are just the beginning, The Trial is the prologue to MDvMM which we haven't heard too much more about. There is speculation that the end mint based on success from your Sewer Pass will likely be tied into that epic battle which is to come. The person who places first will win the grand prize of the Key and everybody else who participates at least once will be able to join in the summoning.
Good Luck to those participating!
If you have any content suggestions, commentary or innovation you think are pushing the boundaries for success please feel free to reach out to me on Twitter @drucritt.
Check out my other articles here.
Disclaimer: This article is not financial or legal advice. The NFT and Cryptocurrency markets are very volatile. Please don't invest what you can't afford to lose. Always do your own research before investing.