The collapse of the FTX empire has sent shockwaves across the cryptocurrency sector. Digital assets are struggling to recover, and the market is counting its losses. Solana was one of the hardest-hit ecosystems last week amid steep selloffs. Its close ties and dealings with FTX have caused more harm than its longer-term positive prospects. Has the death knell rung for Solana NFTs?
Solana the alternative ecosystem
While the bulk of NFT trading happens on Ethereum, Solana emerged as an alternative ecosystem that attracted many NFT traders, collectors and builders. Solana is designed centrally with the belief of mass adoption in mind. Thus, speed and scalability are at its core. Solana has cemented itself as an industry leader in speed and scalability thanks to its TPS, surpassing Visa's and on par with Mastercard's transaction speeds. Low fees and the capability to handle hundreds of transactions per second helped Solana NFTs to gain pace. Its network efficiency made it the second-best choice among buyers and creators of NFTs.
Indeed, Solana did enjoy months of surging NFT mints and daily volumes comparatively rivalling Ethereum. But with its main marketplace, Magic Eden switching to zero royalties, sentiment began to change.
Solana NFTs down trend
As mentioned, Magic Eden is the go-to marketplace for Solana NFTs. The volume and unique active users on Magic Eden declined massively last month. We witnessed October having low trading volume. In fact, it was the lowest trading month since May 2022. We also saw a sharp decline in daily purchases on the different Solana NFT marketplaces. Furthermore, the number of traders also dropped last month.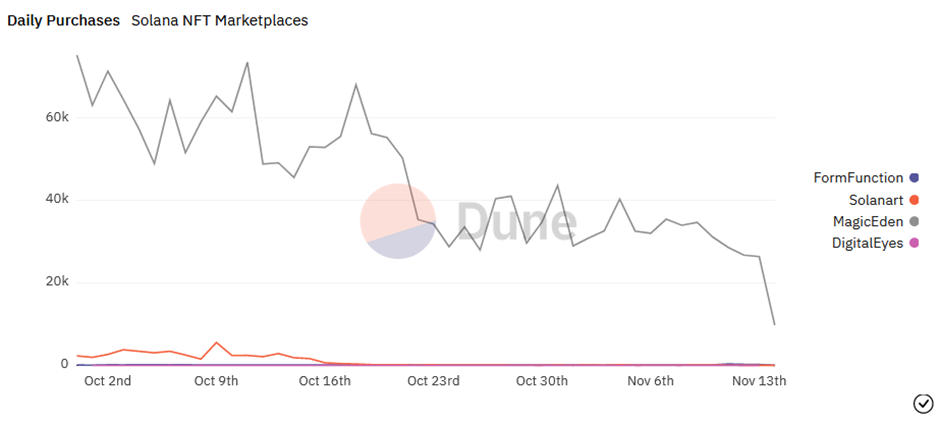 The SF (Solana Floor NFT Blue Chip) NFT Index also showed a depreciating market for blue chip NFTs in Solana.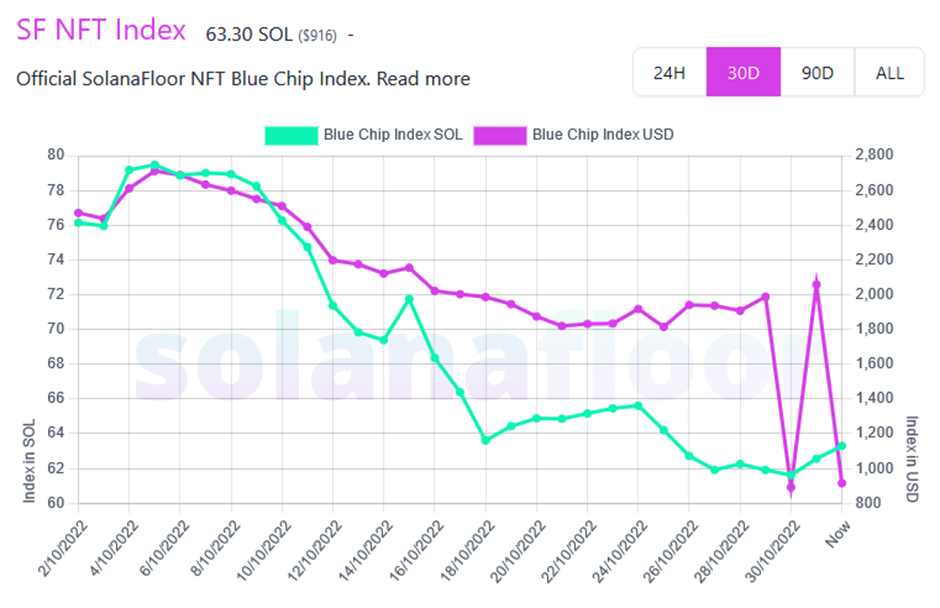 In addition to this, the network stats on Solana have been pretty bad for a few months now. The Real Volume, measured by Messari, has been declining all year.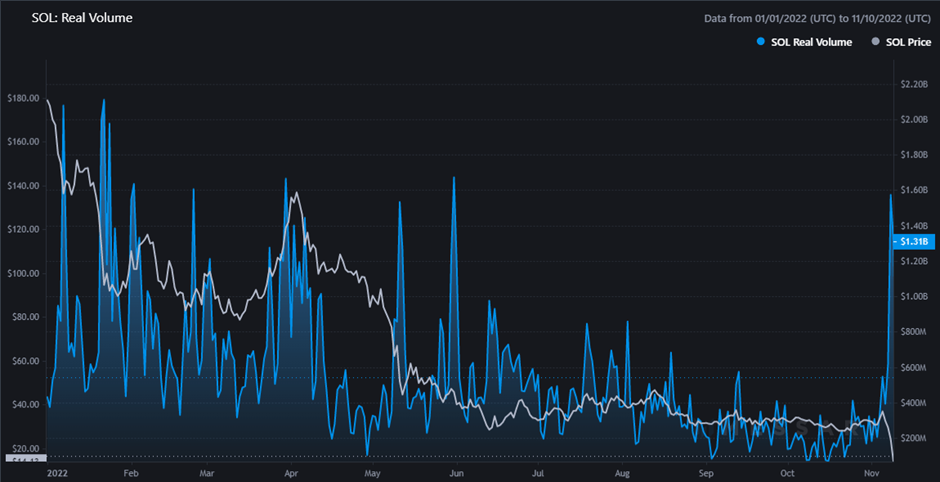 NFT buyers in Solana peaked in September but this trend didn't hold and shortly collapsed. While the number of buyers on Solana was often high, the sales numbers themselves haven't been that impressive. The numerous data sources suggest a general lack of interest in Solana NFTs. Things are looking even more grim for Solana with the FTX crisis. But why is Solana so severely affected?
Solana Unlocks and FTX
SBF, the founder of FTX, had close ties with the Solana foundation. He was an early investor in Solana and contributed to its private token sale in 2021. FTX and CoinShares collaborated to launch a Solana-based exchange-traded product (ETP) in March 2022. $SOL was Bankman-trading Fried's company Alameda's second-largest holding. According to Coindesk, Alameda Research has $1.1 billion SOL on its balance sheet. That is more than 10% of the available Solana.
There were fears that Alameda might need to dump its SOL tokens to raise liquidity. In addition Solana validators has recently flooded the market with 30 million unlocked SOL.
These series of events have led the price of SOL to tumble down to a record low earlier this week of around $12. With FTX filing for bankruptcy, Solana has lost all the support and investment from FTX and Bankman-Fried.
Future of Solana NFTs ?
According to Nansen's NFT-500 index, the price of NFTs on the Ethereum blockchain dropped 14% within days of the FTX news breaking. Even worse was the impact on Solana NFTs. According to SolanaFloor, their total floor value over the past few days fell by 68%, from $424 million to $135 million. Many blue-chip collections on Solana performed poorly.
Fearing a potential implosion, many Solana NFT holders exited the ecosystem. The bizarre spike in the trade volume of Solana marketplaces is a testimony to it. MagicEden's weekly trade volume surged by a staggering 700% throughout the crisis. We witnessed a three-fold increase in the number of traders as well.
But the floor prices were sliding. An increase in volume and traders is generally a favorable indicator. It can imply that the ecosystem is gaining momentum. This typically is followed by rising floor prices.
However, in this case, one can reasonably interpretate the movement as Solana NFT holders liquidating their assets and exiting. As shown by the sell-off, investor confidence in Solana has been shaken. It could dissuade developers and creators from creating new dApps and NFT collections on Solana.
Ultimately, the recent events and its ripple effects could stunt the development of the Solana ecosystem. With news continuing to break, at this stage, it is unclear to know the full extent of the damage and how many companies and its treasuries were on FTX.
Rumors are circulating that some top NFT collections will migrate from Solana to other chains. This includes speculation that y00ts and DeGods will migrate to Ethereum.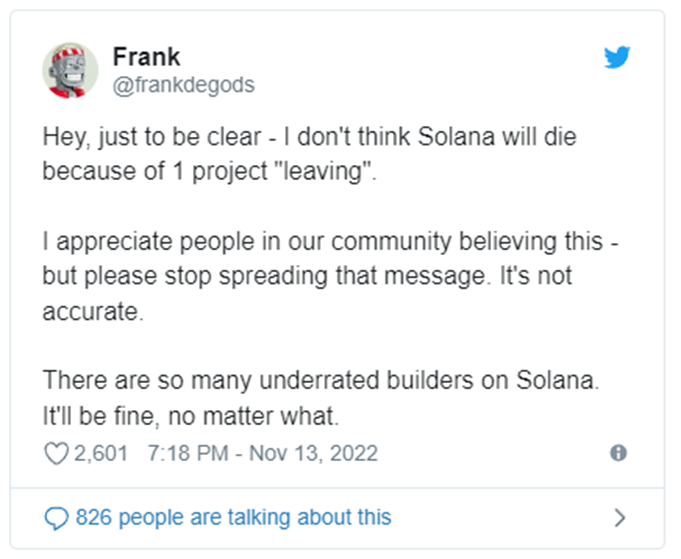 Created by the same founder, Frank, y00ts and DeGods are top blue chip collections within Solana NFTs.  DeGods currently has the highest priced floor and second-largest trading volume. On the other hand, y00ts has the third-highest floor price and the highest trading volume. It is often said that the DeGods NFT collection is the face of Solana NFTs similar to CryptoPunks or BAYC on Ethereum.
The migration of such collections could have a long-lasting and devastating effect on the Solana NFT space. It might trigger a series of other collections moving as well.
Having said that, if one collection leaves and the whole ecosystem crashes, then the ecosystem was perhaps never sustainable in the first place. The future of Solana NFTs is uncertain. We don't know who will remain and who will jump ship.
Solana's Positive Outlook
Nevertheless, Solana is touted to be one of the most-developed ecosystems in the crypto space. Despite FUD, the protocol continues to make headlines.
Mike Winkelmann, better known by his name Beeple, has established himself as one of the top creators in the NFT field. Beeple is said to join Solana NFTs to introduce immersive 3D NFTs.
In addition, Solana recently joined forces with Coinbase Global (NASDAQ: COIN) and declared intentions for a smartphone that is entirely cryptocurrency-based. There is also news that Google Cloud will soon become a Solana node validator. In the midst of the chaos that engulfed the community, Raj Gokal, co-founder of Solana, made a very optimistic forecast for individuals building their products on the blockchain.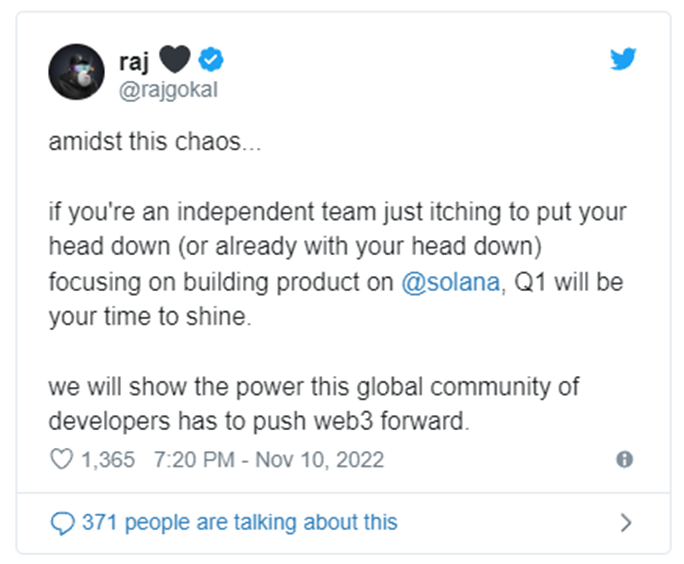 Projects that have secured funding and have ongoing developments within the Solana ecosystem will continue. The probability of Solana recovering to previous highs is likely. But the same cannot yet be said about Solana NFTs.
FTX was an internationally renowned and trusted brand, and its crash made mainstream users more fearful of and skeptical of the NFT industry. From a broader perspective, the FTX crash will affect the NFT space as a whole and not just NFTs on Solana. It will be a long road back to legitimacy.
Investors looking to place long-term bets may decide to support other top layer-one protocols and their developing NFT ecosystems. Subsequently, due to uncertainties and FUD surrounding Solana these alternatives may perform better. Cardano, Tezos and Aptos as possibilities but with so many builders, project teams, users and total value already locked in, it will take some time (if at all) to find a second NFT blockchain to Ethereum.