Welcome to Zed Run!
Alright, after winning a Zed Run horse from our very own Capt. Zwingli, I decided it was time to venture into the depths of Zed Run. My z19 Buterin Colt is aptly named dGEN War Room, which means they will surely 10x my money in merely a few weeks, unless paper handed well in advance of the big moon. As always, not financial advice.

First things first, I had to login with my MetaMask account which then needed to be linked to an email address. This was simple enough, and because I already owned a horse and had Matic in my wallet it appeared I was able to skip some steps to be ready to go. I clicked into racing and was ready to jump in the first available race!
I had no idea what I was doing and every race that was about to start that I'd clicked said my lovely Z19 legendary horse was not eligible for every single class. I had to look up to figure out what this meant…after a quick review of the Zed Run Guide, I was able to figure out that because I had an unraced horse they were only eligible to compete in Griffin class races.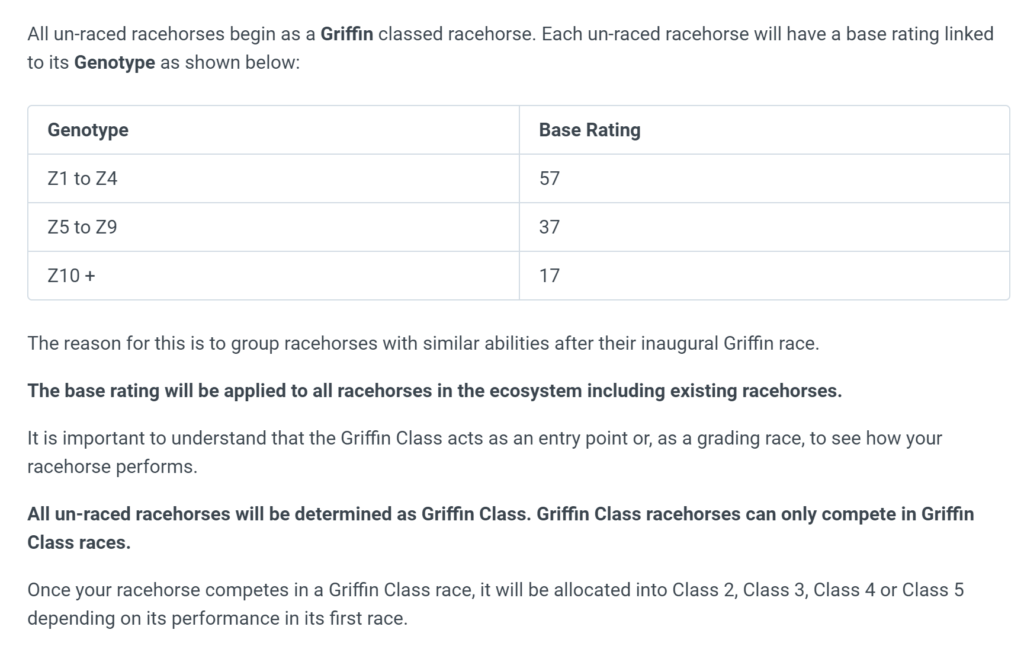 Once I got that figured out, I joined the lovely Saint Petersburg Grand Snowfall which was a race just for Griffins, 2200 meters, and a nearly $40 prize pool! My prized colt dGEN War Room was sure to bring home the bacon. I quickly learned the hard way, that just joining and having an awesome horse would not automatically win me the race.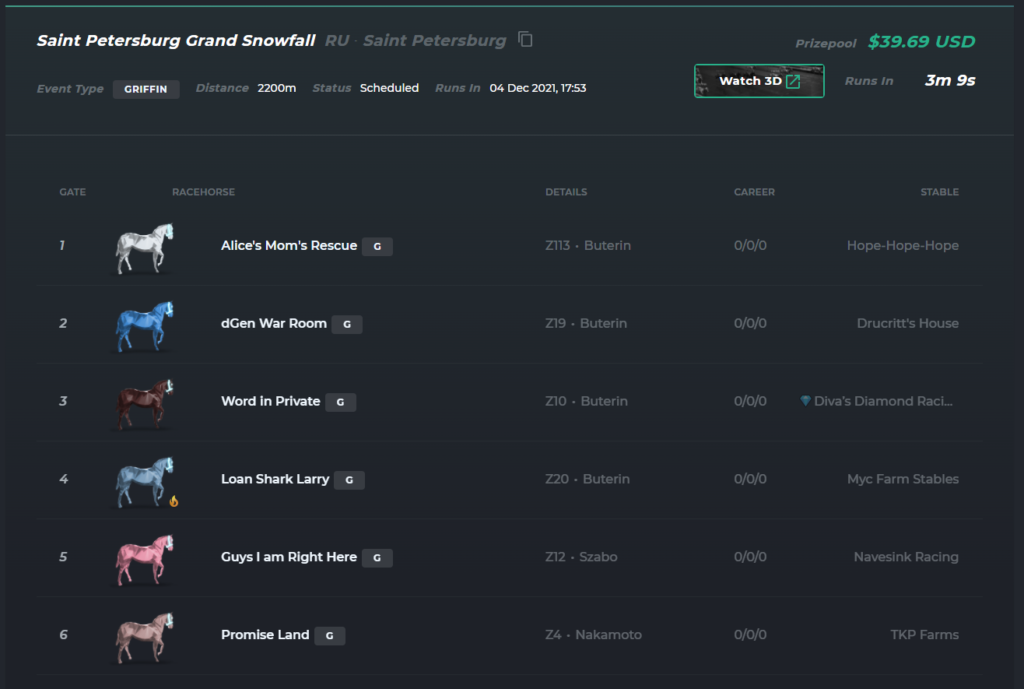 After joining and the race has filled up it will be ready to run in 8-10 minutes, but first you'll notice that a little flame was added to a few different horses that have registered. These horses apparently are considered the odds-on favorites to win their respective races. This race started and if you can believe it dGEN War Room started in last place, he legit was sitting in 12th place for the first like thousand meters of the race. I was so fed up with him that I started trying to sell
him in the dGEN Discord before the race was even over.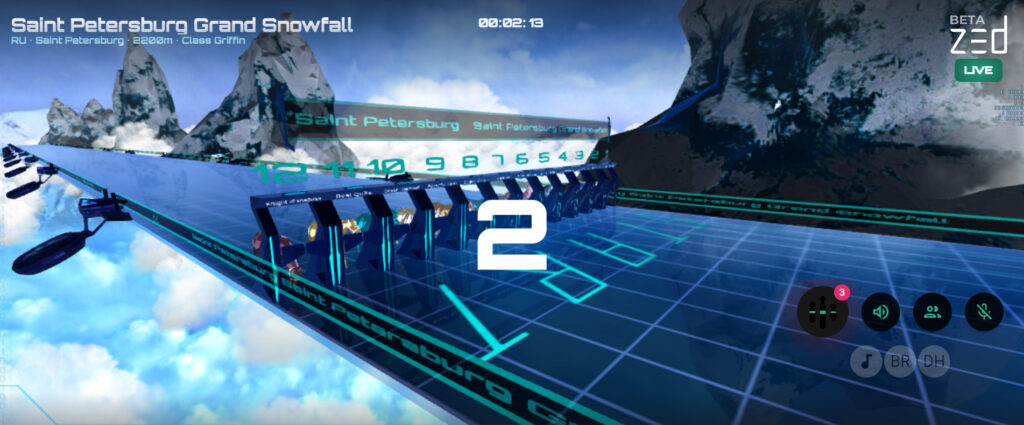 The 3D racing view is pretty sweet, and my horse isn't actually the worst. During the Saint Petersburg Grand Snowfall, he managed to pull in a 5th place after hopping up to 2nd about 1600M into the race and then falling apart in the final 200M. After this exhilarating finish, I was hooked. My colt was placed into Class V and I was ready to run this horse in every race humanly possible.
I quickly jumped in another race for 2600M, dGEN War Room looked hot until he fell short dropping all the way to 7th, and right before this race started Capt. Zwingli hit me with some alpha: my horse was bred from a STAR two-thousand-meter racehorse. This little bit of information would have meant very little to me until he also shared this site to do some digging. Know Your Horses it's kind of like when somebody says DYOR, but here is the website to do your own research.
Now understanding where my horse's legs were going to be able to take him, I was waiting for a 2k to open up, eventually I settled for a 1600M, dGEN War Room snagged a flame to start the race and we placed!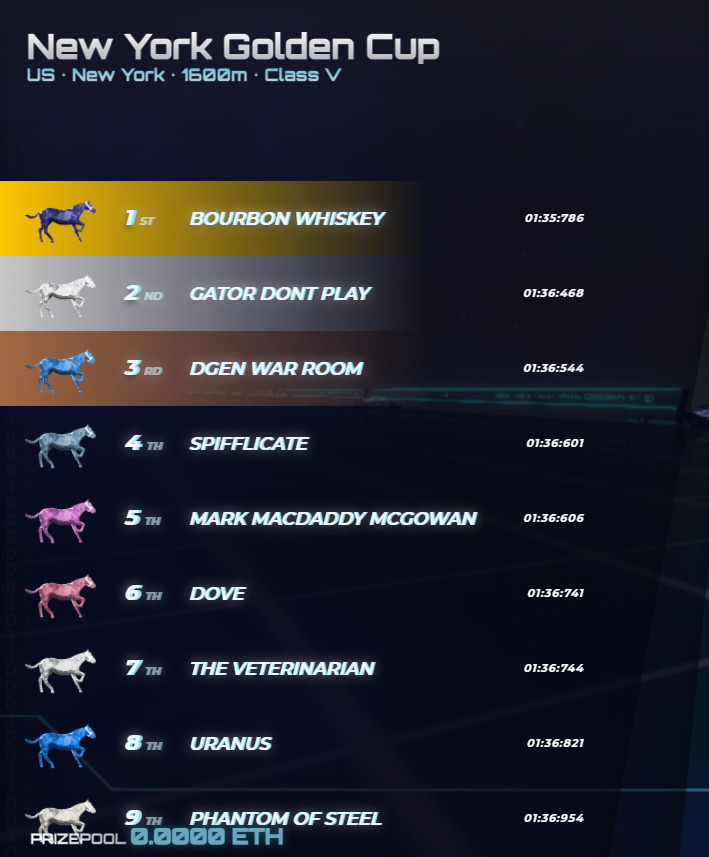 I don't think I won any eth, and I'm not entirely sure what is next for dGEN War Room, but I had a helluva time running these races. My friends watched the live feeds as well and we were devastated at the losses and enjoyed the third-place finish! It was inexpensive given I won the horse for free, and the initial races are all free to enter. We'll be slowly trying to figure out what we're doing…and sharing the details along the way. Drucritt's House (my stable name) is officially open for business.
Check out my other articles here.