Another winter is gripping the crypto industry, and this numbing chill has dampened the NFT market. We witnessed many NFT communities give up on their collections. It is demoralizing to see the most-hyped projects unexpectedly fail.
But which NFTs will survive in the long run?
The crash has shown us that no matter how loud the mass hysteria is, people will hold on to projects that give back to the community and has a robust vision and roadmap.
NFTs have more significance than many have imagined. There are applications for them across gaming, metaverse, and even entertainment. It makes sense to hold onto NFTs for the long run because the NFT space is still in the early stages of adoption, and many new projects are emerging that can capitalize on the real potential of NFTs.
A glimpse into the past
NFTs sparked such a craze last year that celebrities from all walks of life joined the bandwagon to enjoy the benefits of the digital economy. Reports revealed that the total sales volume of NFTs increased dramatically from $100 million in 2020 to $25–30 billion in 2021. It hinted at a more than 25X surge in the sales volume of NFTs within a year.
Everyone was charmed by NFTs, from famous models to singing idols, athletes to actors, billionaires to philanthropists. Celebrities like Tiger Woods, Shawn Mendes, Paris Hilton, Snoop Dog, Jack Dorsey, Lionel Messi, Jimmy Fallon, Serena Williams, and many more hopped on the bandwagon.
The fact that society is rapidly transitioning to a digital economy raises the success rate of NFTs in the global investment market. It is becoming increasingly common for us to use concepts such as Web 3.0, Metaverse, and AI in our everyday lives. With this stream, we can confidently anticipate that NFTs will prosper over time. The number of investors and sales volume in the industry is increasing.
Features of an NFT collection that can survive the winter
An asset must rise in value over time for an investment to be lucrative in the long run. In simple words, if you buy an NFT today, there should be a chance that its sale in the future will fetch you an amount higher than what you paid today.
Successful NFT collections often have comparable characteristics. Ultimately, it is NFTs with the highest scarcity and the most robust communities that are the best choices for long-term investments. Alternatively, NFTs representing prominent artwork is beneficial since art collections typically have an appreciating value structure. Whilst commitment of project teams to their roadmap is another factor that gives NFT collections compounding value.
It is more reasonable to invest in a project that continues to develop new values and draws attention to its community, even in difficult times. You will be investing in not just an art piece or a token but in a growing ecosystem. The bear market makes it harder to navigate the marketplace to find the top NFTs to buy.
Even harder are NFT projects with detailed road maps that will bring long-term returns. Investors should look for blue-chip NFTs because of their long-term financial stability. While many initiatives fizzle out after a few months, blue-chip NFTs continue to hold their worth over time.
What are blue-chip NFTs?
Blue-chip NFTs come from renowned or successful projects. They are industry leaders and have a higher growth potential than other NFT initiatives. A blue-chip NFT will exhibit some or all the qualities listed below:
It will regularly be on the NFT sales leader boards
It has established a well-known brand in the NFT space
Its parent company has a solid financial foundation
Blue-chip NFTs and blue-chip stocks share a similar profile, but they differ significantly in some crucial areas. Blue-chip NFTs haven't been around for very long because the NFT market is still in its infancy. In contrast, blue-chip stocks have a considerably longer history of success. Additionally, the NFT market is more erratic compared to the stock market.
Such disparities make blue-chip NFTs significantly riskier than blue-chip stocks. Typically, blue-chip stocks belong to companies that have been around for decades and have economic fundamental value. On the other hand, blue-chip NFTs have a much greater risk of failure due to their intrinsic value, market and macro sentiment.
Due to their pricey nature, blue-chip NFT investing is not for everyone. Nevertheless, you can get a significant ROI and exclusive benefits if you invest in one.
Well established blue-chip NFT collections guaranteed to last
CryptoPunks
Considering its worth and market demand, CryptoPunks is still the best blue-chip NFT project in 2022. In October 2021, it broke a record with the sale of $532 million for Punk #9998. Though technically, the most expensive Punk is CryptoPunk #5822, which sold for $23.7 million.

CryptoPunks is a pioneering NFT collection and holds a special place in the history of NFT. The initiative began in the middle of 2017 and quickly served as the model for the ERC-721 standard. The New York Times, Christie's of London, Art Basel Miami, and PBS NewsHour have all featured it.
CryptoPunks started the digital art revolution with a set of 10,000 punk-themed pixel art portraits created by algorithms.
Some celebrities who own the Crypto Punks:
Jay-Z
Mark Cuban
Odell Beckham Jr.
Serena Williams
Steve Aoki
Gary Vee
3LAU
Heidi Klum
Jason Derulo
Marshmello
As a Punk NFT owner, you have access to a unique group of future-focused individuals that relish the value of Web3 and NFTs. They will remain to be the collection's principal driving force.
Bored Ape Yacht Club
Bored Ape Yacht Club (BAYC) is the poster child of NFTs. It combines digital collectibles with a holders-only online club. BAYC consists of 10,000 unique Bored Ape NFTs built on Ethereum. It was initially minted for 0.08 ETH each and sold out within 12 hours. BAYC has since surpassed 2 billion dollars in all-time sales.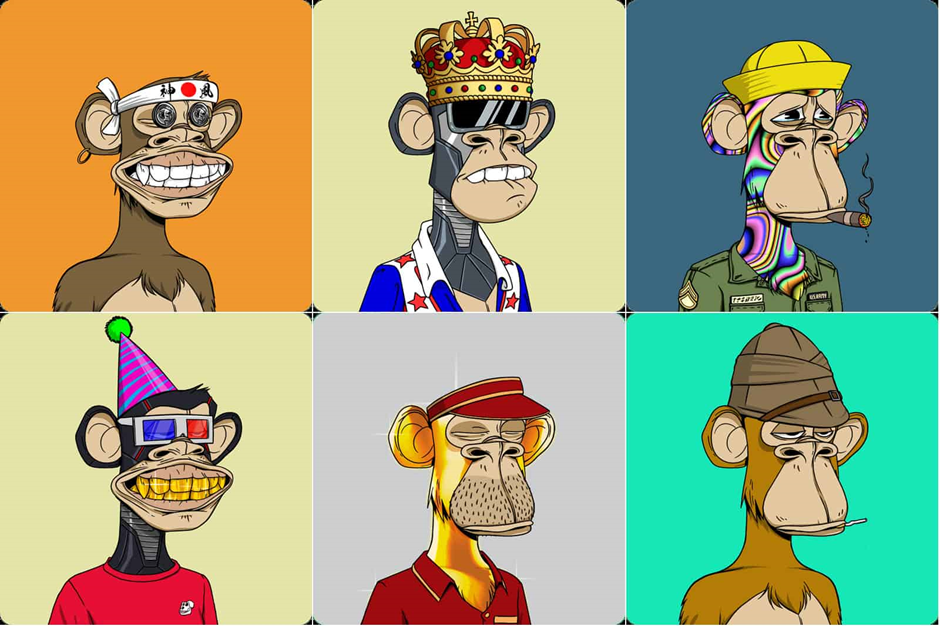 Some celebrities who own the BAYC:
Mark Cuban
Justin Bieber
Shaquille O'Neal
Jimmy Fallon
Neymar Jr
Serena Williams.
Snoop Dogg
Madonna
Timbaland
But what makes the collection more appealing is that the token owners have exclusive ownership and commercial rights over their NFT. BAYC serves as a membership card to join the Yacht Club that provides access to exclusive in-person events and a private Discord server filled with celebrities.
Bored Ape Yacht Club is the best blue-chip NFT project for commercial usage rights.
Doodles
Doodles NFTs are one of the most influential and beloved NFT projects in the NFT space. It is an NFT collection that consists of 10,000 PFP NFTs. The artwork consists of colorful cartoon characters with generative rainbow and pastel hues.

The collection has drawn many well-known sponsors regardless of the industry experiencing crypto winter. The team revealed a $54 million investment round with participation from Acrew Capital, and 10T Holdings. The project's worth is estimated to be $704 million.
Evan Keast, Scott Martin, and Jordan Castro have a stellar reputation in the NFT industry and developed the collection. They also assisted with the 2017 launch of the renowned CryptoKitties project. Doodles has managed to create high-profile partnerships with celebrities. For instance, they secured get Pharrell Williams on board as the Chief Branding Officer for Doodles.
Some celebrities who own Doodles:
Pharrell Williams
Steve Aoki
Gary Vee
Loopify
Pranksy
And many more.
The project has a treasury called The Doodlebank, which is solely accessible by NFT holders and has over 650 ETH. The Doodlebank offers a comprehensive road plan for the project's future direction. Additionally, it serves as a platform for community members to suggest changes to the project.
Doodles want to be more than a basic PFP project; its ultimate goal is to develop into a comprehensive Web3 entertainment business. With significant VC backing, celebrity endorsements, and an undeniably talented staff, Doodles is here to stay for the long run.
World of Women
The 21st century has seen several discussions revolving around contemporary topics such as an inclusive society. Artistic expressions have captured this idea in music and film.
When it comes to digital collectibles, such concepts find expression through the World of Women NFT. World of Women hopes to build the first fully inclusive web3 with the help of its community. They seek to improve diversity and secure the creation of equal opportunities for all.

WoW is a collection of 10,000 strong and diverse women on Ethereum.
Through collaborations and charity drops, World of Women frequently supports charities and organizations run by and for women. 15% of WOW's primary sales go to the World of Women Fund, which supports underrepresented artists in the crypto industry.
Some celebrities who own World of Women NFTs:
Eva Longoria
Shonda Rimes
Reese Witherspoon
FaZe Banks
Steve Aoki
Liam Payne
Von Miller
They also collaborated with Billboard and launched NFT covers to honor three of the most iconic female singers in music history – Mariah Carey, Madonna, and Christina Aguilera.
World of Women demonstrated its uniqueness by flourishing in a male-dominated ecosystem. Its success is primarily due to its mission statement, community-building, marketing strategies, and capacity to secure multiple A-list celebrity endorsements.
Other Projects that deserve a mention
The NFT space moves at a rapid pace. Hundreds of new collections are created every month. Grail collections will remain forever STRONG. They are inherently built into the history of NFTs. Such collections include Chromie Squiggles, Fidenzas, Ringers, Nouns and works by XCOPY and others. Whilst these are based on art, ecosystem projects such as Moonbirds (Proof), Illunminati (Truth), ZenAcademy 333 give exclusive access to networks of builders, creators and people of influence. Overtime these could increase further in value as the NFT space continues to grow and mature.
New commers such as Renga, The Potatoz and old timers such as, Azuki, 10KTF and Forgotten Runes Wizards Cult are doing an outstanding job in staying relevant, engaging their communities and almost gamifying their holders experience. Each collection is doing something unique and relatable within the NFT space. With such vision, community spirit and an empowered project-teams, collections such as these could be future powerhouses.
Final Thoughts
Blue-chip NFTs are a cut above standard NFTs because they are a status symbol and more likely to give investors a profit than other types of NFTs, despite their eye-watering expensive price tags. If you find investing in blue-chip NFTs expensive, you can invest in future blue-chip NFTs. The upsides are enormous, but the risks tend to be bigger.
You'd be wise to avoid projects that exhibit some or all of the qualities listed below:
Weak community
Anonymous teams
Unnatural price pumps
Unofficial derivative of other projects
Creators with unclean track records
Terrible price history
No roadmaps or future vision
NFTs remain as a risky asset class. Due to the anonymity nature of the blockchain, collectors and holders will never know the true health of an NFT collection that are buying into. Unless this was disclosed, even the best teams with the best roadmaps could suffer. This could range from bad management or black swan events where liquidity and corporate treasuries could be affected if risks and business decisions are not carefully assessed and mitigated.
As always DYOR and none of this is or was financial advice.