Why I Think You Should Try Out a POAP Event
On June 24 I witnessed Ethereum undergoing its London hard fork upgrade, and I celebrated this by participating in a POAP event, a painting party. This concept might sound vague to you now, but I will explain to you what a POAP is and why I think it is the future.
So what is POAP?
POAP stands for Proof of Attendance Protocol, and it means that you can earn a badge by proving that you have participated in one of the POAP events. Each event has a unique badge, and the only way to earn these badges is to attend the event. It's a bit like taking a picture at a festival to show your friends you were there or collecting the wristbands of every festival you have been to, but instead of a photograph or wristband in the real world, your POAP is a way to prove it online by collecting badges.

The badges you can collect also look fantastic, and I think artists can be creative in designing them. POAP is also much more entertaining and closer to an experience than a screenshot to prove that you participated in something online. I can collect my badges in their mobile app, which is available for both Android and IOS. It is user-friendly and also allows me to show my gallery to friends.
What is a painting party?
As I mentioned earlier, I find a POAP much more entertaining than taking a screenshot, and the main reason for this was because I participated in one of their painting parties. But what is a painting party?
Poap.art is an experiment that POAP launched about three months ago. It is an interactive digital canvas that allows participants to work together on creating an original piece of pixel art. Once created, you can mint your creation as an NFT, stored forever on the blockchain. Because this NFT resembles an event, I think it could even become valuable in the future.
I participated in the painting party that Ethstaker launched during the Ethereum London hard fork upgrade. Along with all the other participants, we painted a pixelated piece of art during the Livestream. I noticed that some of these painters were very skilled and painted Big Ben with an Ethereum logo, but I was not as artistic as them and decided to keep it simple. As a crypto enthusiast, this was a pretty historic moment for me, and enjoying this with others during a livestream of ETHStaker was great.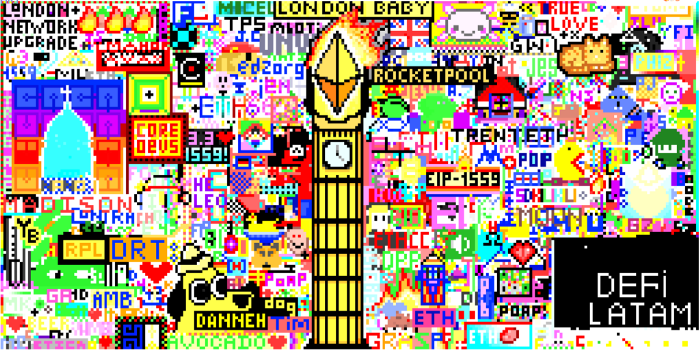 Since I participated in this event, I was able to earn three poaps one is the "EIP 1559" poap, the second is the "Block 12965000" poap, and last but not least is the "Pixel dropper" poap. All these collectibles will allow me to prove to my friends that I was there, and since I participated, Because I placed more than 100 pixels I was also eligible for a raffle created with Poap.fun.
I now get what a painting party is but poap.fun?
Well, Poap.fun is another layer of the poap ecosystem where anyone can create raffles for their participants. As the raffle creator, you can decide whether participants have a single chance with their entire POAP collection, or whether each token means a chance to win. It is really easy to create these raffles, and it doesn't cost any money to do so.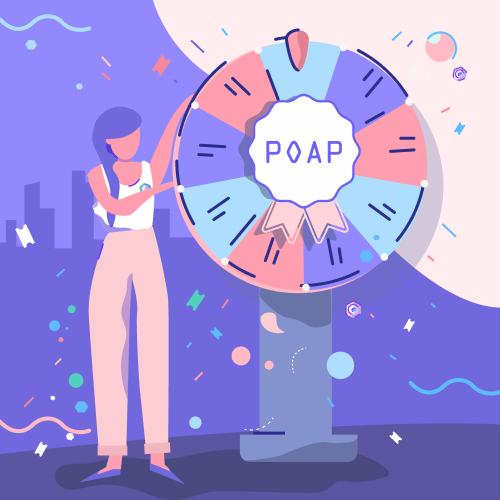 Ethstaker also created a raffle for his event, and he decided to giveaway 1 ETH to a lucky winner that placed at least 100 pixels during the painting party. I first felt like a giveaway like this could be rigged, but after reading the FAQ on poap.fun their website, I found out that they have a very innovative way to prevent this. The project uses an elimination system based on the POAP token ID and the gas consumption of Ethereum blocks. The last number of gas spent in the block where the raffle starts is used to eliminate all POAPs whose ID ends on that digit. The results are fully verifiable with an open-source tool that is user-friendly.
If you are interested in entering any of these Poap raffles, you can look at poap.fun website to see what events are currently running one or plan to do so in the future.
Why should I care about all this?
The NFT space is still in its early days, and I believe Poap is one of the few projects ahead of its time. The world is slowly becoming more digital, and companies are positioning themselves for the metaverse. With Poap, you can now prove that you participated in these early events in the crypto and NFT space, as I did during the London Hard Fork upgrade.
Their ecosystem also allows you to do this in a fun way by combining poap.art and poap.fun. But as this space grows, companies can also use it for real-world events, and their app makes this easy. I do not think you need a lot of knowledge about cryptocurrencies or NFTs to understand it, and because it's an app, you can easily show your poaps to anyone from your phone.
Want to learn more?
If you want to learn more about POAP or get to know the community behind this project, I recommend joining the POAP Discord or the POAP.art Discord. Both Discords have given me a lot of knowledge, and I was able to meet other enthusiasts. Another way to keep up to date with changes in the POAP ecosystem is to follow the project on Twitter.
Links
Their Twitter: https://twitter.com/poapxyz
Their Discord: https://discord.gg/euH3Ud3w
My Twitter: https://twitter.com/stan3web