Words Matter: OpenSea
What Happened at OpenSea was Wrong, but it was not Insider Trading
---
Full Disclosure: I am an attorney, AML compliance specialist, crypto-enthusiast, and OpenSea user. Nothing in this article should be construed as legal advice, financial advice, or even life advice. Do your own research.
---
I fear the NFT community has just suffered one of its largest, self-inflicted wounds to date.
As you've probably heard by now, a popular OpenSea employee was called out by Twitter user–and apparent blockchain sleuth–@ZuwuTV for using non-public knowledge about upcoming featured NFT Drops that enabled the employee to buy the soon-to-be featured NFTs and later sell them for a profit after those NFTs were promoted on OpenSea's front page.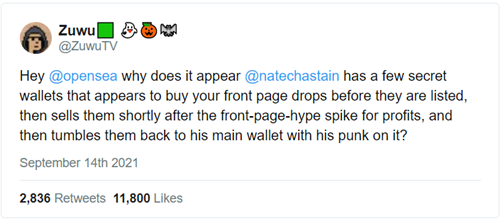 But that's not the self-inflicted wound of which I'm speaking.
What the OpenSea employee did was clearly wrong (not to mention unethical, fireable, and potentially fraudulent). However, the real danger to the NFT space is that within minutes of ZuwuTV's tweet, and countless times over the next twenty-four hours, members of the NFT community began, almost unanimously, to refer to the OpenSea employee's actions as "insider trading."1
This was certainly a welcome development to salivating regulators eager to do that thing they do, but as someone who is bullish on the future of NFTs and bearish on overregulation, I'm dismayed that everybody was so quick to invite the comparisons against which so many have been fighting.
What is Insider Trading?
I hate to do the disclaimer thing again, but I'm not a securities lawyer. Thus, although I'm more-than-familiar with the topic at hand, I'm not ashamed to rely on experts for the definitional heavy-lifting. Enter, Mark J. Astarita, Esq.:
There is no statutory definition of "insider trading." As defined by the courts, it refers to purchasing or selling a security while in possession of material, non-public information concerning that security, where the information is obtained from a breach of fiduciary duty, or a duty arising from a relationship of trust or confidence.
Isn't that Exactly what Happened Here?
Not exactly. As defined above, insider trading requires the trading of "securities." NFTs have not been identified as securities by the United States Securities and Exchange Commission (SEC) or any other governmental body in the world (as far as I am aware). In fact, many experts (and know-it-all blowhards like me) feel that NFTs are far more akin to collectibles and works of art than they are to the type of equity interests traded on major stock exchanges.2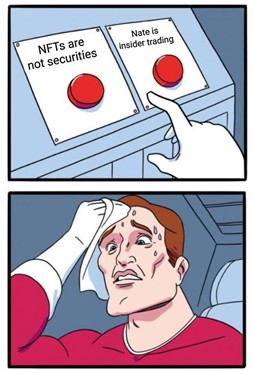 In an overly simplified example of insider trading, the CEO of ABC Company, which is traded on the New York Stock Exchange (NYSE), sells shares of her ABC stock in advance of bad news becoming public (or buys shares of ABC in advance of good news). This is textbook insider trading and it is illegal.
Substituting the facts of our OpenSea situation into this example, the analogy starts to fall apart because the bad actor essentially worked for the marketplace (the NYSE), not for the company whose stock was traded. Now, a stock exchange employee could also certainly be charged with insider trading (depending on the facts), which is why the NYSE doesn't have a list of "featured stocks," picked by exchange employees, on its home page.
Seriously though, the very fact that OpenSea does promote certain NFTs on its home page is evidence that it is far different than a marketplace for securities. Is there a better example, in the physical world, of a centralized marketplace that could present opportunities for employees of that marketplace to be bad actors? How about eBay?
If an eBay employee used his non-public, business-specific knowledge (such as item bid data, reserve price data, or buyer or seller personal data) to buy items at a discount (or list his own items at a premium), he would likely be breaching eBay's code of conduct and potentially breaking the law. He would not, however, be prosecuted by the SEC for insider trading. I think it is far more instructive to think of what the OpenSea employee's action in these terms.
As an aside, in the securities world, company employees and other insiders are allowed to trade stocks provided that the trades are reported to the SEC and made public. At one point in my professional career, I worked in the compliance department for a registered investment advisory firm.
One of the duties of my role was to review trades by employees and make sure that SEC regulations were followed. Oh, how much easier that job would have been if all the information was publicly available on the blockchain for me to see. True insider trading investigations can take the SEC years to complete (to say nothing of the cost). ZuwuTV tracked down the suspicious transactions made by the OpenSea employee in hours, using only etherscan and his investigative chops.
Why Does it Matter?
Words matter because of headlines like this one on CNBC:

I've seen bad headlines in my life, but very few where almost everything included is false. As discussed, insider trading is a defined legal term and this activity probably wasn't insider trading. Regardless, even if it was, OpenSea did not "admit" to it. In fact, the press release issued by OpenSea CEO Devin Finzer doesn't even use the term "insider trading," let alone admit to it happening.
Much of the world has not yet encountered, nor do they understand, NFTs. A large portion of the media attention devoted to crypto generally, and NFTs specifically, is negative (e.g. environmental concerns, money laundering fears, hacker horror stories). The ridiculous article that I've highlighted, and others like it, paint this scandal as evidence of rampant market manipulation in NFTs, not simply the actions of an unethical individual. We need media that educates the masses and highlights the benefits and promise of NFTs.
Lastly, those of us in this space understand the benefits of NFTs. We understand how this transparent, decentralized, and trustless technology can change the world if given space to grow, evolve, and adapt. This is why some have fought so hard to explain why NFTs should not be saddled with burdensome regulations (like those the SEC would implement).
Not because we want to operate in a lawless metaverse, but because we believe the technology allows for effective self-policing. Using the language of the SEC to describe a gross episode in our nascent industry doesn't help in that fight.
Headlines and articles like the ones I linked above will not be revised or retracted by media outlets. Time moves fast in the NFT world and the furor has largely passed. Many in crypto like to use the phrase "the blockchain is forever." This is true. To a certain degree, aspects of "web 2.0" are also forever.
These articles are part of the permanent record. They will serve as a reminder that the first time one of our NFT marketplaces encountered a scandal, the NFT community, perhaps inadvertently, sent out a terminological S.O.S. to the very regulators that we are proving, daily, aren't needed.
---
1 Some have alternatively claimed that the proper term for the OpenSea employee's behavior is "front-running." Front-running is similar to insider trading with the difference being that the bad act is performed by a broker and not by the insider. As far as I'm concerned, neither of these similar terms is correct, so I find no need to discuss them separately.
2 To a certain degree, every unique category of NFT will eventually need to be individually analyzed to determine if it qualifies as a security and, therefore, whether it can be regulated by the SEC (or others). For purposes of this discussion, I'm not referring to fractionalized NFT or NFTs that provide future benefits (e.g. ownership interest in an associated project, revenue sharing, etc.) to the NFT owner. These types of NFTs are much closer to securities than are the one-of-one and limited edition art pieces at issue in the OpenSea scandal.