Yuga Labs and Bored Ape Yacht Club took 2021 by storm as the price skyrocketed. Just when holders didn't think things could get any better, Yuga released a token, ApeCoin, for their holders to claim. Prices of the token quickly moved from the $8 range to above $20 before tumbling down to $2.
As the bear market rages on, traders have to make bets on what tokens will see an increase in value during the next bull run. It begs the question: Is ApeCoin a falling knife and how much lower can it go? Yes, ApeCoin currently has limited utility, but do we really think there won't be more use cases in the future?
What is ApeCoin?
ApeCoin (APE) is both a utility and governance token designed to empower the Yuga Labs community and foster integration within the ecosystem. This token emerged from a project, known by most who have spent time in Web3, called Bored Ape Yacht Club (BAYC). ApeCoin was launched on March 17, 2022 by the APE Foundation as an ERC-20 token.
ApeCoin, as a governance token, allows holders to actively participate in the decision-making process of the APE ecosystem through ApeCoin DAO (Decentralized Autonomous Organization). As a utility token, it acts as currency within the ecosystem and has the ability to be integrated via third-party apps.
ApeCoin and other cryptocurrencies often indicate the success of a Web3 project. It's important to acknowledge the high-risk nature of these digital assets. Cryptocurrencies are subject to extreme price volatility, regulatory uncertainty, and market speculation. Before considering purchase, individuals should conduct thorough research into the specific coin they intend to purchase and evaluate the associated risks.
ApeCoin Price History
As per CoinMarketCap, the maximum supply of ApeCoin is 1 billion tokens, with a circulating supply of 368,593,750 as of August 16th 2023. If you're interested in the unlock schedule, then check out the about section of the ApeCoin website. With APE's current price, ApeCoin has a fully diluted market cap of over $1.8 billion and a market cap of over $650k, which ranks the 56th largest crypto globally as of August 16th 2023. ApeCoin traded above the $20 mark for a very short time, but has been slowly declining from the $6 mark since January 2023, as it currently trades around $2.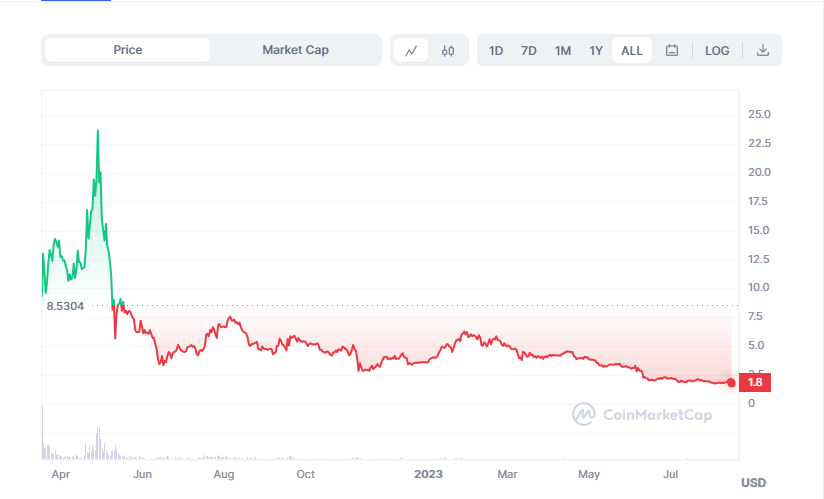 ApeCoin Allocation
ApeCoin was distributed as a "reward" to BAYC and Mutant Ape Yacht Club (MAYC) holders. According to CoinGecko, the initial distribution of ApeCoin tokens were broken down as:
DAO Treasury and Resources – 470,000,000 (47%)
BAYC/MAYC – 150,000,000 (15%)
Yuga Labs – 150,000,000 (15%)
Launch Contributors – 140,000,000 (14%)
BAYC Founders – 8,000,000 (8%)
Jane Goodall Legacy Foundation – 10,000,000 (1%)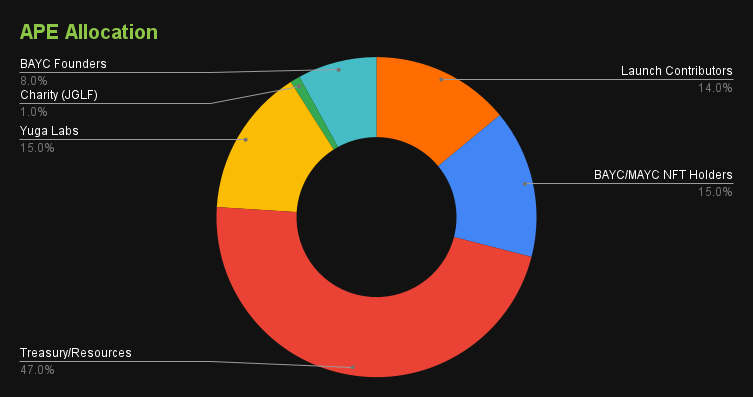 In March of 2022, BAYC holders could claim 10,094 Ape per NFT and MAYC holders could claim 2,042 per NFT. This was equivalent to ~$18,000 and ~$3,700 at current prices, but the price was much higher (approximately $5 per APE) at the time of token distribution. Additionally, there was an additional token allocation if the holder held a Bored Ape Kennel Club. BAYC holders could claim 10,950 APE (~$19,700) and MAYC holders could claim 2,898 APE (~$5,200) at current prices.
ApeCoin Staking
In Dec. 2022, APE could be staked via ApeStake.io through four different methods to start accruing rewards. There is 100 million APE distributed into four separate staking pools as rewards. The split is as follows:
ApeCoin ($APE) Pool: No stake maximum and no NFTs required, just $APE. The total staking pool is 30,000,000 $APE.
Bored Ape (BAYC) Pool: A maximum stake up to 10,094 $APE for each BAYC you own. The total staking pool for Apes is 47,105,000 $APE for Year 1.
Mutant Ape (MAYC) Pool: A maximum stake up to 2,042 $APE for each MAYC you own. The total staking pool for Mutants is 19,060,000 $APE for Year 1.
Pair (BAKC) Pool: A Dog (BAKC) cannot be staked alone and must be paired with a Bored Ape or a Mutant. The total staking pool for a BAKC pairing is 3,835,000 $APE for Year 1.
Note: if you choose to sell your NFT while it's staked, all your staked rewards will go to the new owner. Make sure to unstake your NFT before selling it.
Is ApeCoin a Buy?
ApeCoin is a far cry from the all-time high of $39.40, according to CoinMarketCap, as its astronomical value was unable to hold. Determining if ApeCoin is a buy requires considering both sides of the equation.
There are many that believe $APE is on an inescapable mission towards $1 or less. It's hard to disagree when the state of global and crypto markets seems so dire. Nobody knows what the future holds, but all signs point to more pain.
The case could be made that $APE is undervalued, as it holds significant upside potential. Those within Web3, specifically NFTs, should see some optimism. In the short-term, there will likely be good scalping opportunities, as more $APE use cases are developed. In the long-term, it's unlikely that $APE will return to all-time highs, but those who believe an NFT bullrun will arise again may be willing to take the shot. Especially since BAYC is still far more valuable than a majority of other NFTs.
In my opinion, ApeCoin holds upside potential, but there are still questions to consider. Will crypto and NFTs continue to bleed further? Will metaverse gaming ever gain traction? Will there ever be another NFT bull run?
Note: none of the information provided is financial advice. Cryptocurrency is extremely volatile and as with any investment, it's crucial to research tokens before making purchases.
How to Buy ApeCoin?
For those interested in participating in the DAO, utilizing the token as a currency, or holding long-term, ApeCoin is available through various centralized cryptocurrency exchanges. Find the appropriate exchange for you, create an account, make a deposit, and then you're able to purchase the asset.
Users can also use decentralized exchanges, such as Uniswap, and swap directly with peers using a crypto wallet. Before utilizing any exchange, make sure to do your research.
The Bottom Line
ApeCoin's journey from meteoric highs to a subsequent tumble reflects the rollercoaster nature of the crypto landscape. Its emergence as both a governance and utility token within the Yuga Labs ecosystem underscores its potential. However, caution must be exercised, as the volatile nature of cryptocurrencies, regulatory uncertainties, and market speculation remain ever-present. As ApeCoin teeters between potential undervaluation and the unpredictability of global and crypto markets, the decision to invest becomes a balancing act of optimism and wisdom.