Fear, skepticism, and suspicion regarding its ties to the infamous cryptocurrency exchange FTX put Solana's ecosystem in a precarious position.
The ecosystem has been attempting to disassociate itself from former FTX CEO Sam Bankman-Fried since the exchange imploded. On December 15th, Messari published a thorough analysis of the ecosystem and how the collapse had affected it.
However, a few airdrop projects have recently made news, skyrocketing in value.
Crypto traders are always in search of the next big coin to 'moon'. No wonder a new meme coin is at the eye of the storm, that too in the Solana (SOL) ecosystem – BONK.
What is a BONK?
BONK is marketed as the first "for the people, by the people" meme coin with a dog motif on Solana. The creators stated in their official document that contributors were sick of the disastrous 'Alameda' tokenomics.
They developed Bonk to "create a fun meme coin where everyone has a fair shot." Although it was released on December 25, the team began giving hints in its first tweet on December 8.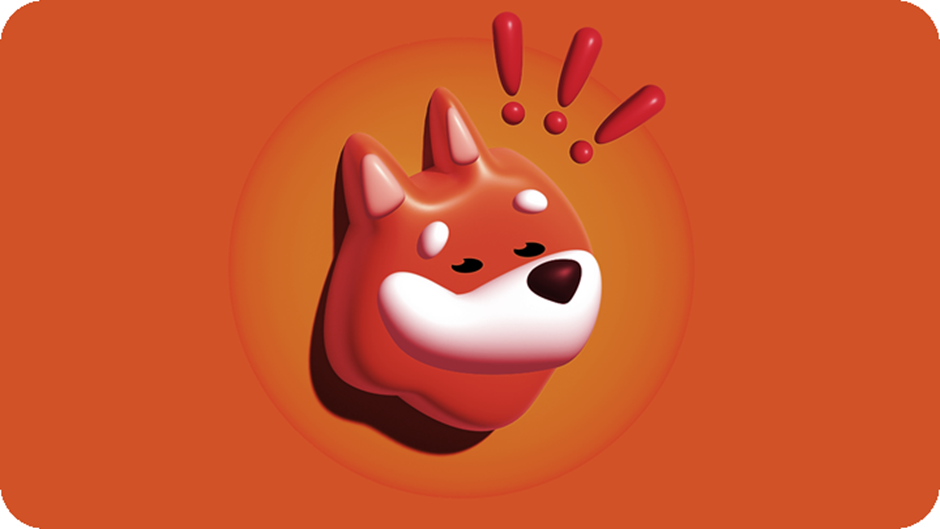 Of the 100 trillion BONK tokens available, the team airdropped 50% to OpenBook traders, artists, collectors, developers, and 40 Solana NFT projects.
It has several collaborators, including well-known Solana projects such as Famous Fox Federation, Orca, Raydium, and Solend. The team also airdropped tokens to network developers, drawing attention to the project. On top of that, a recent token burn has garnered even more interest.
The massive burning of $BONK tokens over the past few days has made it one of the most active platforms. The team has developed specific tools that let users burn tokens on their own. Not to mention, they have burnt the 5 Trillion $BONK tokens allocated to them.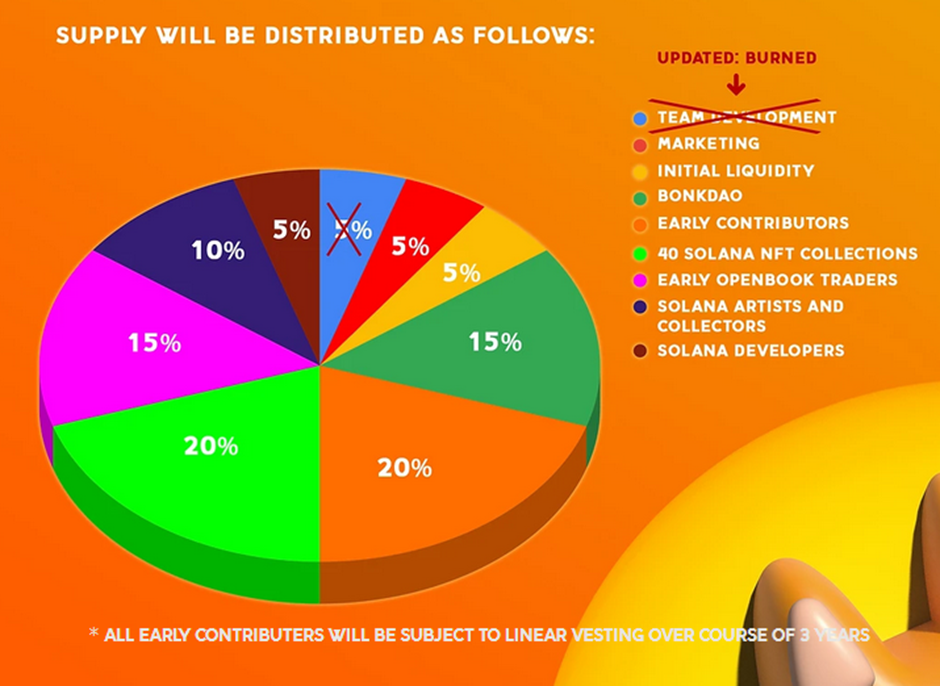 Since its debut, Bonk has witnessed a surge in support for the token. Several platforms, including Gate.io, ByBit, Cream Finance, Form Function, Kamino Finance, and Zeta Markets, have listed BONK.
The team has also released an NFT project, a 15,000-piece PFP NFT collection named the BONKz NFT project, which sold out within a few hours of its launch.
The recent on-chain metrics for Bonk reveal a growing amount of interest and acceptance. It has registered more transactions in the last three days than Ethereum did in the same time frame.
According to data from Solscan, as of January 12, more than 127,205 wallet addresses are holding BONK coins, a number that has increased by 99.9% since December 25 2022.
It's price went up by as much as 3,600% in the first week after its launch. BONK was trading at $0.00000009197 on December 30, 2022, and on January 5, 2023, it soared to a high of $0.000004922. Following the massive rally, BONK has seen its price plummet and is now trading at 0.000001066 with a market cap near $60M.
Although it has fluctuated over the past few weeks, it appears to have rekindled interest in the Solana space.
That said, despite the hot new meme coin leading the charge for Solana in 2023, there is still some uncertainty. The distribution of the 100 trillion tokens to various parties is the sole information in their brief whitepaper.
Besides, the data from Orca, an automated market maker (AMM) for Solana on-chain liquidity, shows that Bonk has an unsustainable rate of over 1% per hour just for providing liquidity.
Overshadowed by Bonk, Fronk and Chili are another two trending meme coins.
What is FRONK?
The FRONK meme coin's official Twitter profile went live on January 5, 2023, and it announced its plans for the airdrop. Fronk is another knock-off of Shiba Inu, which is a knock-off of Dogecoin. (What is this, inception in crypto?) The token has Pepe the Frog as its face and is also a meme coin.
According to the Twitter account, holders of DeGods, y00ts, Okay Bears, and Cets On Creck, plus others who were unfairly excluded from the $BONK drop, will receive airdrops of $FRONK. Additionally, they clarified that there will only ever be 100 trillion $FRONK coins in circulation.
Even with the massive token burn last Friday, the BONK coin's developers were unable to stop the price decline. A token burn is a common practice to lower the supply of a coin, which might stabilize the price. And FRONK coin, which debuted on January 7, 2023, could use this opportunity to surpass BONK's popularity.
The first FRONK coin airdrop was to their four chosen NFT communities on January 7. The recipients of 45% of the FRONK supply are those who did not receive BONK: Holders of Cets on Creck, Okay Bears, DeGods, and y00ts.
Many crypto influencers who received billions of FRONK coins started giving them away to their followers, continuing the gifting chain that it started.
With all that said, Fronk coin's official Twitter page is currently temporarily restricted. However clicking the view profile button allows you to proceed onto the account.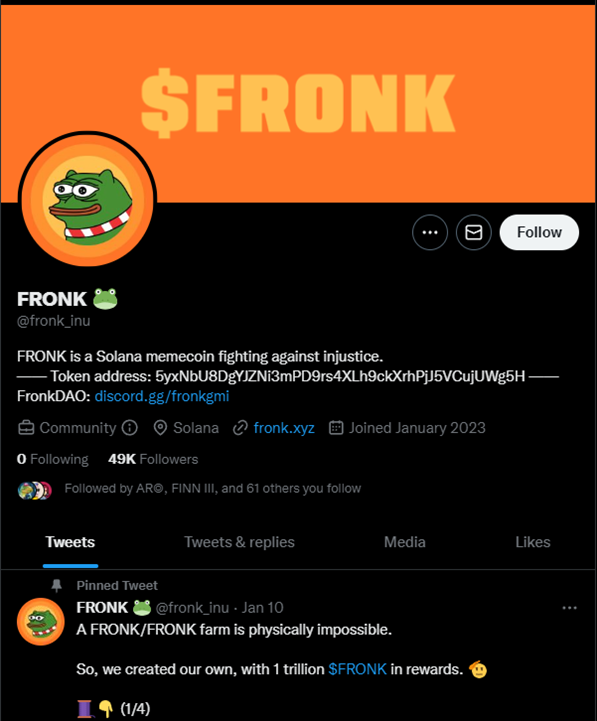 What is CHILI?
Although not as popular as Bonk or Fronk, Chili is another Dogecoin knock-off in Solana. Chihuahuas are used to symbolize Chili instead of the typical Shiba Inus. It is, in essence, a meme coin and has no other utilities.
The first token airdrop was on January 6, 2023, and the team allocated about 77.2% of the total Chili token supply for airdrops. They randomly airdropped Chili tokens to various Solana communities and some web3 influencers.
The project also has plans to burn Chili tokens between 1B and 1T in different quantities for seven days. They have already burned 700 million Chili Tokens from people gambling with $CHILI.
The project has not seen as much traction as Bonk or Fronk, and like the rest of 99% of the airdropped tokens, Chili is trading red after the drop.
But….
What can you do with these airdrops?
Airdrops are profitable for users in several ways. Firstly, they get free tokens without having to buy them. It can be especially attractive for users interested in investing in but may not have the funds to purchase it. Additionally, they may benefit from the potential appreciation of the airdropped tokens, as they may be tradable on exchanges.
Interestingly these three tokens have some things in common.
Most of their token distributions are set aside as airdrops
Anonymous teams
Limited use cases.
And the trend looks to continue with the latest DINU token. $DINU will be listing on Raydium on January 14 at 6pm UTC.
In essence these are plain old meme coins gathering some momentum on the Solana ecosystem. As degenerate as they are, it is bringing fun and interaction bank into Solana. Something that has been missing for some time. In turn, this is creating some much-needed attention in the crypto and NFT twittersphere.
Early predictions indicate that it is only suitable as a temporary investment. Moreover, it is essential to have a sound investment strategy. Yes, a long-term hold could be risky, and yet every meme coin has a chance to become as popular as DogeCoin. But no one knows when or how. As always, DYOR and tread carefully!