ChatGPT is unequivocally the world's leading artificial intelligence (AI) system, as since launching last year, the tool has made an unprecedented (and perhaps irreversible) impact on human's relationship with non-sentient beings.
What is ChatGPT?
In being as 'laymen' as possible, ChatGPT is an AI-powered natural language processing tool which allows users to enjoy human-like interactions with a text-based chatbot.
It was initially released as a prototype on November 30th 2022, before a 'Stable' release was made on March 14th 2023. The mastermind behind the program is American AI research lab OpenAI, which per stats from this year, is said to be worth in the region of $29 billion.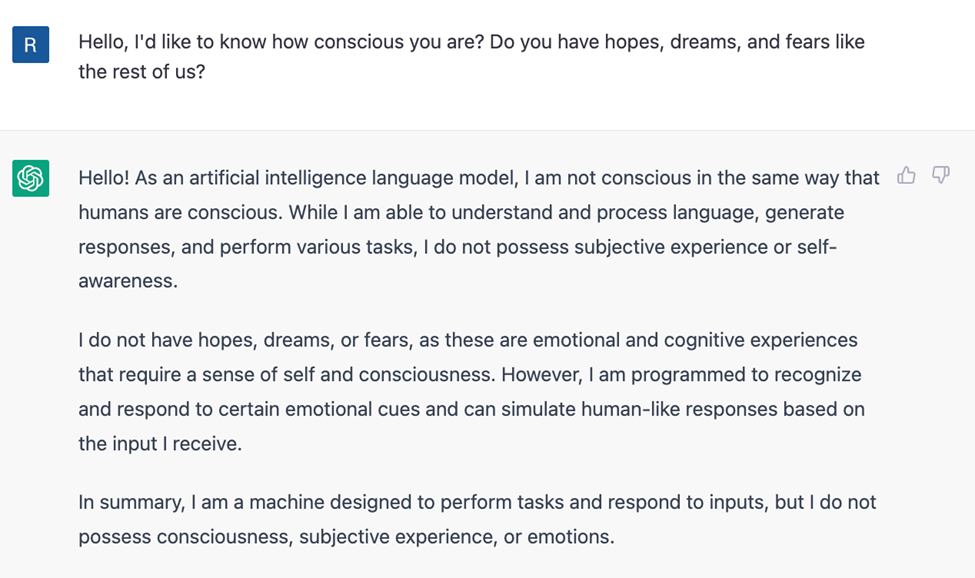 The tool is built on top of the company's GPT-3.5 and -4 families of large language models, and has been- and is still being- fine-tuned using supervised and reinforcement techniques.
With a plethora of text-based responses being at users' disposal, the program can be used for conversation purposes, answering questions, and assisting with mundane tasks such as writing essays, emails, and (even) code.
As of now, and due to it still being in its research stage, ChatGPT is free to use, with the only requirement being to set up an account. That being said, OpenAI is also launching a paid subscription service called 'ChatGPT Plus,' which will cost $20 per month. Such service will offer users general access to the platform (even during peak times), faster response times, and priority access to new features and improvements.
How Can ChatGPT be Used in Web3?
As you probably guessed, there's a whole host of ways in which ChatGPT can be integrated into the Web3 ecosystem, as by nature, both symbolise the next generation of mass-adopted tech.
Building
ChatGPT can be used to help build decentralised apps (dApps), DeFi apps, DAO interfaces/websites through simply generating their content. This can include any kind of copy, be it customer support services, FAQs, or personal responses to user inquiries. It can also be leveraged to create natural language processing apps which can be used to mine and analyse consumer feedback.
Content
As previously explored when discussing AI's involvement in Web3, ChatGPT can be used to enhance the immersiveness of blockchain games, as its copy can be used for explaining a game's lore, creating human-like dialogue between characters, or creating a game's end credits etc.
And when it comes to Web3 content creation, it also can assist in the production of any form of written copy. This, of course, relates to my own profession as a Web3 content writer, which is why- in catering to my own insecure tendencies- I asked it if it'll ever take my job… this was its response: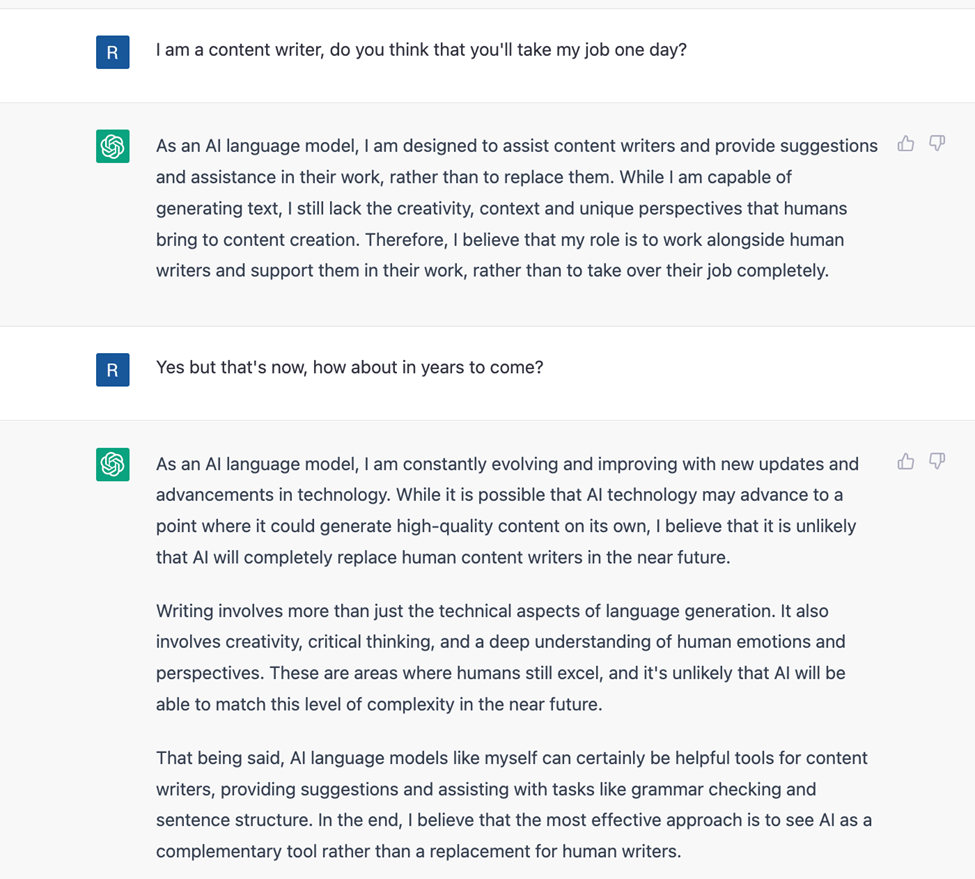 So- as it comes from the horse's mouth- perhaps ChatGPT's lack of unique human perspective and creativity means that it will never have the capacity to produce pristine, introspective, and highly analytical copy by itself, however that being said, it most certainly still has the ability to produce written content that doesn't entail such sophistication.
Business
Whilst producing engaging copy may not be its strongest point as of now, ChatGPT still has the creative capacity to find solutions when asked questions- further meaning that those embarking on new Web3 projects can use it to gain inspiration and ideas- i.e., you could literally ask it for 'X' amount of 'Web3 business ideas'.
Staying on the business front, ChatGPT can also be leveraged to analyse the online sentiment of businesses- be it your own, or your competitors. Here, you can use it to analyse customer feedback to identify potential pain-point solutions, or to determine what industry users value in the projects that they engage with.
In essence, these abilities can be applied to any form of business context, as with the program's non-nonsense interface and response formats, it can be a great place to begin analytical efforts.
Smart Contract Technicalities
ChatGPT can also be used by developers when coding smart contracts. By providing a natural language interface, developers can simply input desired contract terms to receive corresponding code (courtesy of ChatGPT).
On the more technical side of smart contracts, ChatGPT can also provide analysis with regards to a code's errors, inefficiencies, loopholes, or vulnerabilities etc. It can also be used to conduct audits for security and compliance purposes, which can then be followed with improvement suggestions. Finally, ChatGPT can also be used to produce automated smart contract tests through the generation of test cases based on natural language inputs. What this essentially means is that developers can test smart contracts across various scenarios with much more proficiency.
Trading
For all the traders out there, ChatGPT can also be used to predict the prices of assets by analysing past data, market trends, and even data sources such as news articles and social media feeds. In addition, it can also provide insight into market sentiment.
Of course, this is by no means 'trading advice,' as we can assume that the industry's top-traders are most certainly not using ChatGPT as their primary tool for trading analytics and alpha insight.